20 Best Mods For Star Wars Jedi: Fallen Order
This post may contain affiliate links. If you buy something we may get a small commission at no extra cost to you. (Learn more).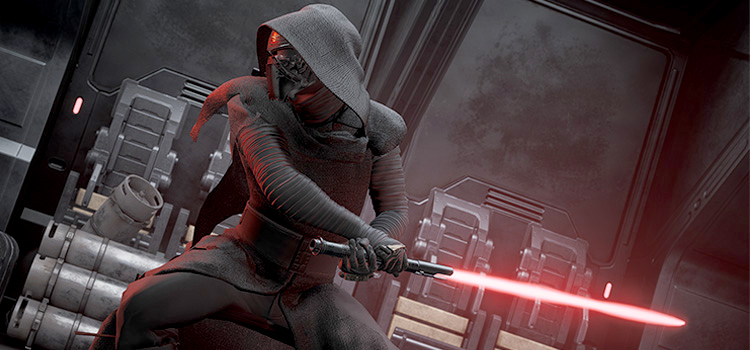 Star Wars Jedi: Fallen Order was simply one of the best games of 2019.
That's coming from a huge Star Wars nerd of course, but bias aside, it made "top games" lists for many others as well.
Taking the epic action sequences of games like Tomb Raider, and combining it with familiar combat like from Sekiro and the Souls titles, Fallen Order makes for a great mix of challenging saber duels and exciting cinematic moments.
And the modding community has been keeping busy since the game's launch as well, giving us plenty of interesting ways to customize the game.
Here are some of the best ones I've come across so far.
20.

Faster Startup and Config Tweaks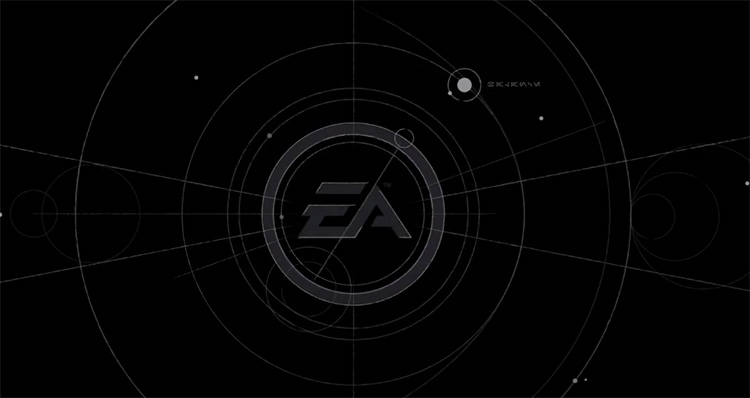 Fallen Order was quite a demanding game for when it was released. And in case you haven't gotten around to upgrading your system, you're going to want to get yourself the Faster Startup and Config Tweaks.
For starters, the mod makes the game load up much faster by removing the videos that show when you run the game.
Beyond that, it gives you access to graphics settings that you otherwise wouldn't be able to customize like Motion Blur, Depth of Field, and Bloom among others.
If you're struggling to run the game at a decent frame rate, this mod is definitely worth a shot.
19.

Skywalker ReShade FX – True HDR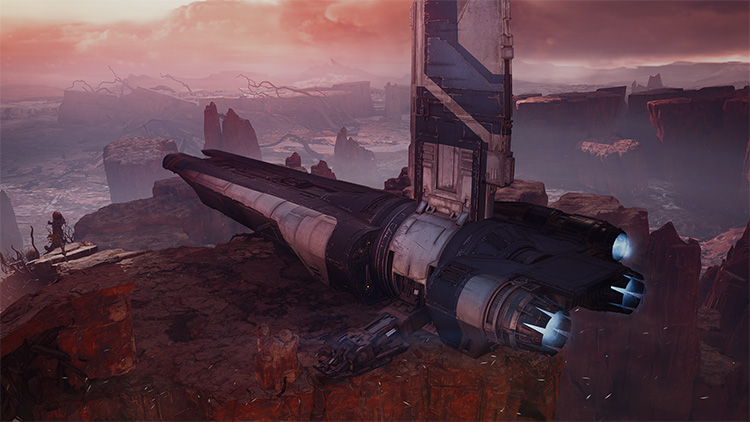 As with most games that already look good on their own, the most your going to get in terms of graphical upgrades is usually a ReShade preset.
The Skywalker ReShade FX – True HDR is by far the best option for enhancing the game's visuals, offering a solution to its HDR issues.
This mod uses ReShade to give you a carefully curated mix of visual effects with the goal of simulating what the game should look like on an HDR monitor.
The result is a much more vibrant, less washed-out look overall.
18.

Better Sabers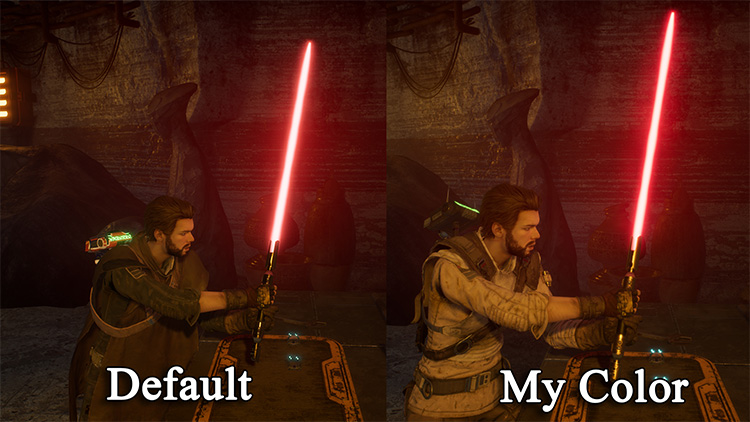 Creating anything Star Wars is quite a tall order, given the hordes of cult fans who remain dedicated to the original lore.
That said, it can't be avoided that things are going to get combed through in detail. And one of the first things people notice has to be the lightsabers.
There are a number of mods when it comes to lightsaber customization, one of the best being BigTP's Better Sabers.
This mod changes the colors for all lightsabers making them appear much brighter than vanilla.
17.

Lightsaber Color Editor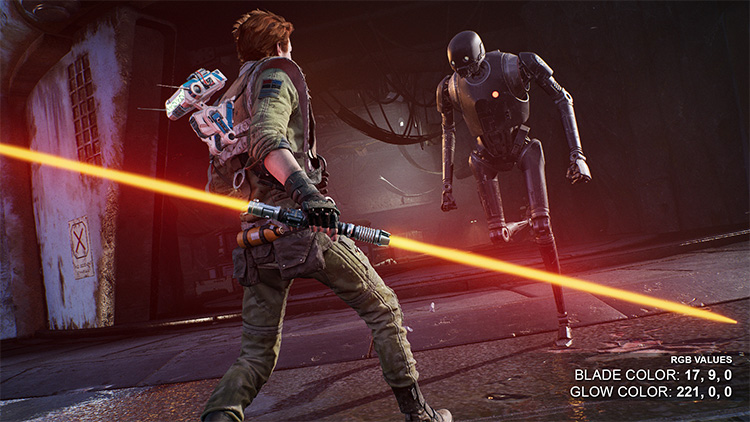 Each Jedi has an established lightsaber color of their own. And you're probably going to want the same for Fallen Order's hero Cal.
If personalization is what you're after, Callyste's Lightsaber Color Editor is your best bet.
This mod gives you complete control of what color lightsaber you use in the game, allowing you to input any color within then RGB spectrum.
As if that wasn't enough, the mod will let you customize your saber's sound effects as well.
16.

SooperSnell's Sabers Pack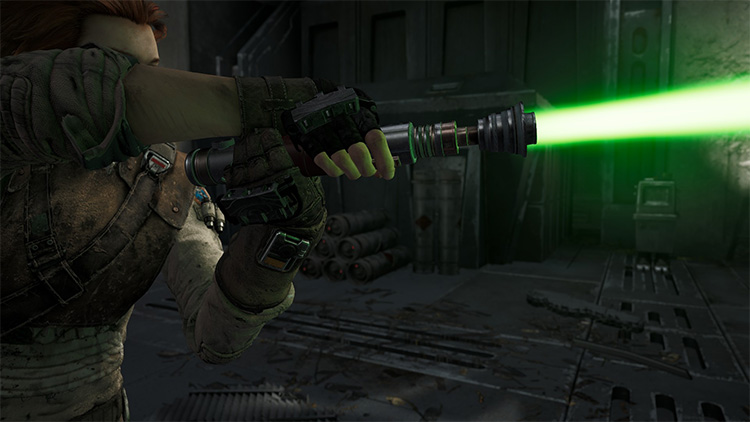 For those who are already quite familiar with the game, you'd know that looting different chests around the world rewards you with cosmetic lightsaber parts to modify your weapon with.
The parts are purely cosmetic of course, but offer a simple way to personalize your weapon and make if feel more unique with every new piece you unlock.
SooperSnell's Sabers Pack replaces some of the saber parts you find throughout the game with some of the more well-known ones, making it feel more like an easter egg hunt than random loot drops.
With this mod installed, you'll be able to piece together sabers wielded by Darth Revan, Qui-Gon Jinn, and even Darth Vader.
15.

Cal Customizer
Lightsabers aren't the only things getting customized. Many fans wanted more control over how the young jedi apprentice himself looks in the game.
Many modern RPGs offer a variety of character styles to create a completely unique character. But Fallen Order is no RPG.
The Cal Customizer might not allow you to create a character from scratch, but it does offer a few ways to change things appearance-wise.
The mod gives you 15 hair, 30 eye, and 15 skin colors to work with to give Cal a much more personalized look.
14.

Better Call Cal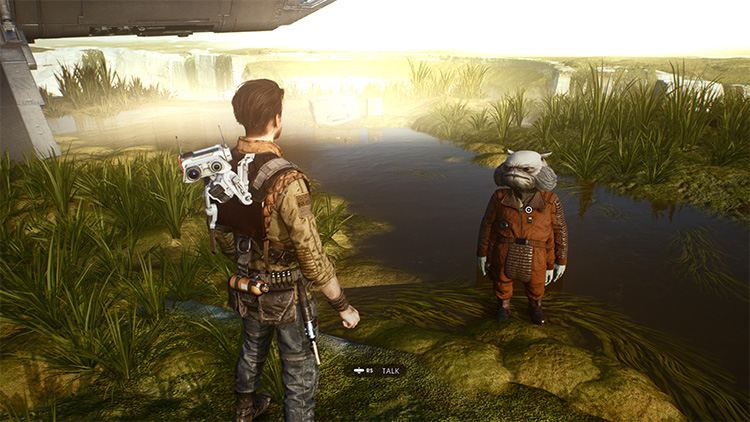 Better Call Cal is another popular option for changing Cal's appearance in the game.
The mod overhauls Cal's looks with two pre-made versions to choose from, Hipster or Scrapper Cal.
The modder threw in some additional options as well including new outfits, armor sets, and even new Mantis and BD-1 textures.
13.

Jedi Knight Cal
If the less refined looks of the previous mod don't exactly suit your taste, this next one takes a more traditional approach to clothing a Jedi.
Mr Fox's Jedi Knight Cal does exactly as advertised, dressing Cal in traditional Jedi robes instead of that boring riggersuit.
The mod comes with two options, allowing you to choose between the regular light robe as seen on Qui-Gon Jinn and Obi-Wan, or a darker variant similar to the one worn by Anakin in the films.
12.

Armour of the Jedi General – Inquisitor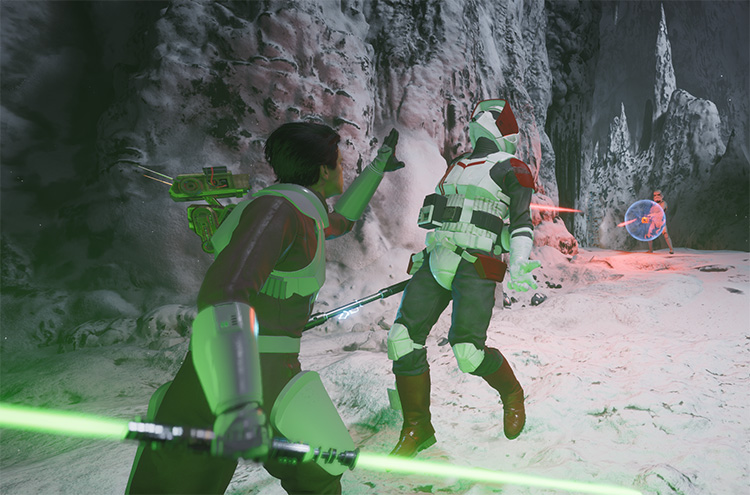 Star Wars fans have really gone down to even the smallest details with their custom mods, as you can see here.
Cal's Inquisitor Armor has gotten a complete makeover, receiving a complete retexture to better match what was seen in the films.
While the new armor isn't an exact copy of the one from the films, it was inspired by what Obi-Wan was seen wearing during The Clone Wars – and it's actually pretty close.
11.

Female Jedi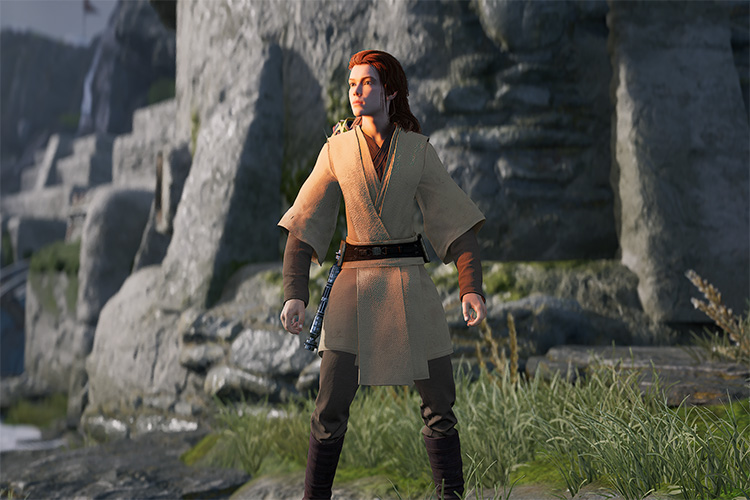 You could take a different route and trade in the default Cal for a woman, thanks to AlexPo's Female Jedi mod.
This mod simply reshapes and retextures Cal's head and body to have more feminine features, offering yet another option to go with in terms of character.
While it's great to have the option to use a female character, the mod doesn't replace any of the male voices in the game – so it may just end up ruining your immersion.
If that doesn't bother you then go ahead and give this a try.
10.

The Clone Wars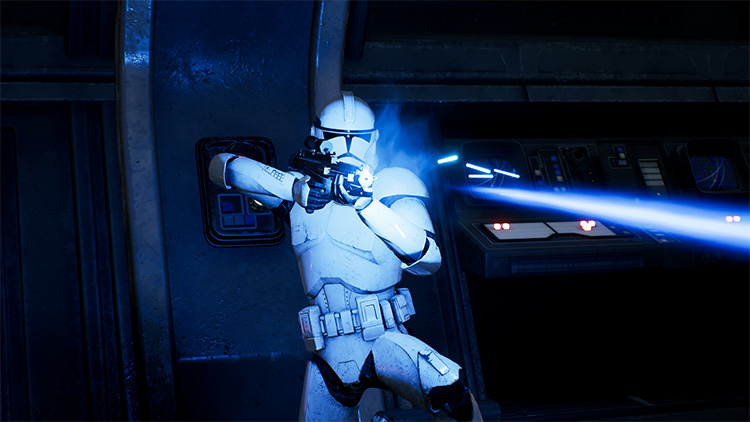 With fans attempting to bring the game closer to what we've seen throughout the films, we want to makeover other characters beyond our MC.
The Clone Wars have always been a popular event within Star Wars canon.
And modder Mr Fox aims to bring the same feel to Fallen Order.
He does so by replacing Storm Trooper textures to appear more like the Clone Troopers did, including new textures for – Storm Trooper, Heavy Gunner Storm Troopers, Official Storm Troopers, and Rocket Launcher Storm Troopers.
9.

Ahsoka Tano
Other than the Clone Troopers, fans have found ways to bring some of their other favorite characters from the series to the game.
If you don't like Cal, then why not have someone you do like take his place instead?
Well here's one solution, just note that the story and voices remain the same for the most part.
Regardless, this mod lets you play as Anakin's former Padawan Ahsoko Tano.
8.

Playable General Grievous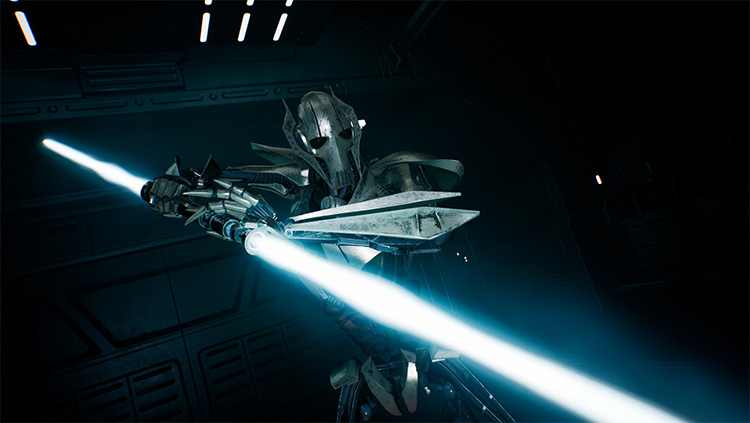 General Grievous was one of the most feared characters during the Clone Wars era. And he's making an appearance in Fallen Order as well.
Grievous was neither Jedi nor Sith, but was a sworn enemy of Obi-Wan and the Jedi as he relentlessly attacked during his military expeditions.
Take advantage of his advanced cybernetics with this mod installed.
7.

Darth Maul – Shadow Hunter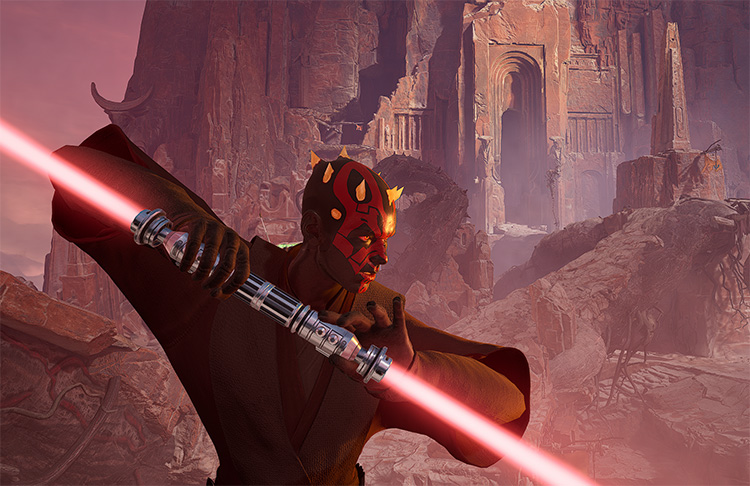 If you find yourself leaning more towards the dark side, there are mods for that as well.
This one replaces Cal with one of the main antagonists of The Phantom Menace – apprentice to Darth Sidious turned Sith Lord himself, Darth Maul proved to be a worthy adversary to Obi-Wan and the rest of the gang.
Known for his devil-like appearance and double-bladed lightsaber, Maul is definitely one of the more exciting characters to play Fallen Order as.
6.

Kylo Ren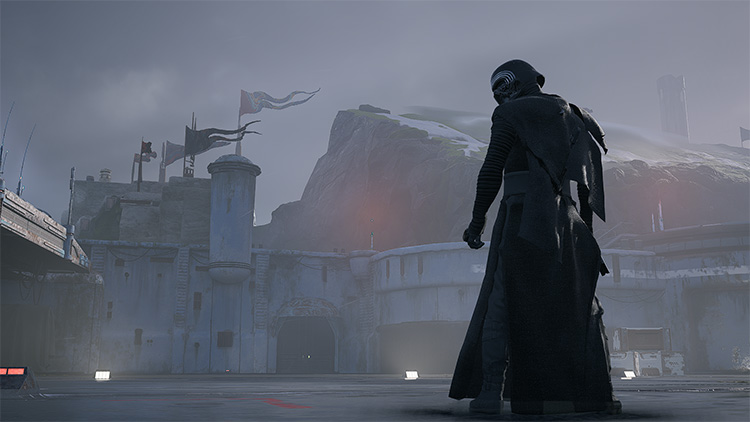 Up next we have Star Wars' most recent villain from the sequel trilogy, none other than Kylo Ren.
While Ben may have been conflicted in the films, he's definitely one with the dark side in this version – inspired by his hooded appearance in The Force Awakens.
And while Kylo Ren's signature lightsaber is the only one to feature a crossguard, this mod doesn't capture that detail, so you'll have to make do with a regular red one.
5.

Lord Vader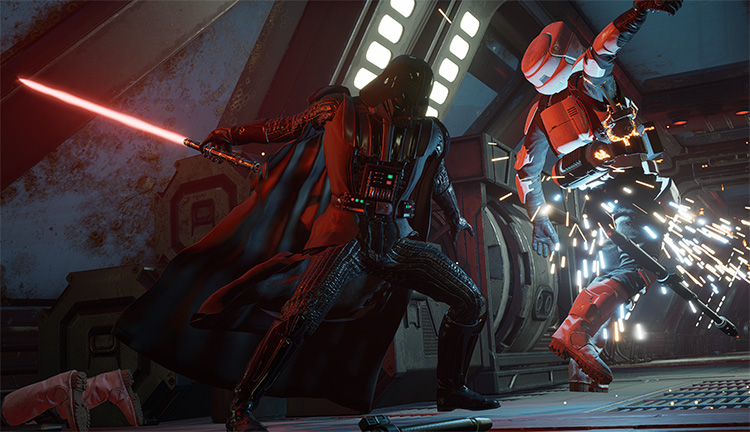 Of course, the Sith Lords wouldn't be complete without Lord Vader.
Still one of the most iconic villains in any film to this day, Star Wars just wouldn't be complete without an appearance from the Dark Lord himself.
This mod even comes complete with modified physics to make sure his cape works as intended, though his signature red lightsaber isn't included in the pack.
That's no problem though: since you have the Lightsaber Color Editor mod for that.
4.

The Mandalorian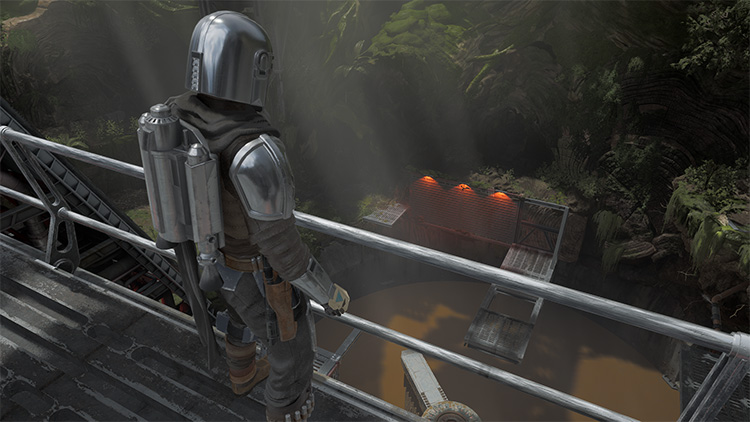 To many fans, The Mandalorian is the TV equivalent of what Fallen Order is in terms of gaming.
The original films set the standards so high that it just isn't easy to please the hardcore fans.
Many consider The Mandalorian to be the best Star Wars release recently, especially since the sequel trilogy mostly received mixed reviews.
With that, it's only fitting that Din Djarin makes an appearance in the Fallen Order as well.
This mod includes his complete Beskar armor set, and these textures look great by the way.
Just don't expect to see the weapons he uses in the show – even I think that would be a bit too much.
3.

Dismemberment Alpha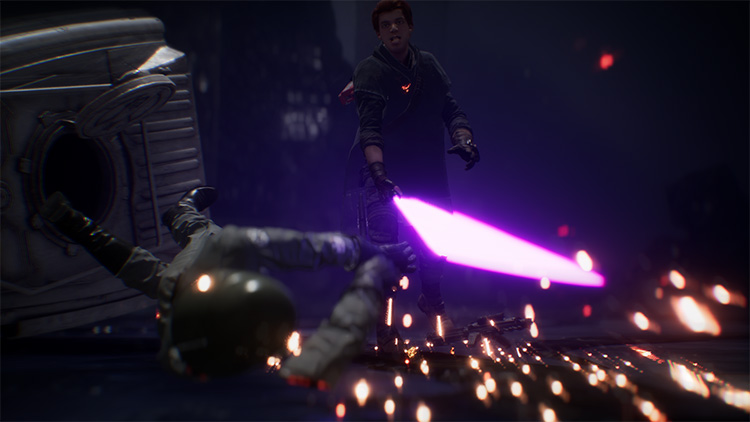 Now that you have a whole cast of Star Wars character to play with, why not make slashing through troopers just a bit more fun?
Fallen Order has received a lot of praise for how the lightsaber mechanics feel. But many have found the visual effects of slicing enemies with (basically) a laser sword have been quite underwhelming.
While we didn't really see a lot of flying limbs in the films, this mod makes it possible – altering death animations to make everything much more violent.
2.

True New Journey Plus
Another common criticism Fallen Order was its lack of content.
Many consider the game to be too short, and the lack of a true new game plus didn't help either.
A NG+ mode was added recently, but due to how the game works, most of the unlockables will still be unavailable in your new playthrough.
Fans still weren't satisfied.
Which resulted in modder Callyste providing his own version of NG+, allowing you to start a new game while retaining everything you've unlocked in your prior playthrough.
1.

The Empire Strikes Harder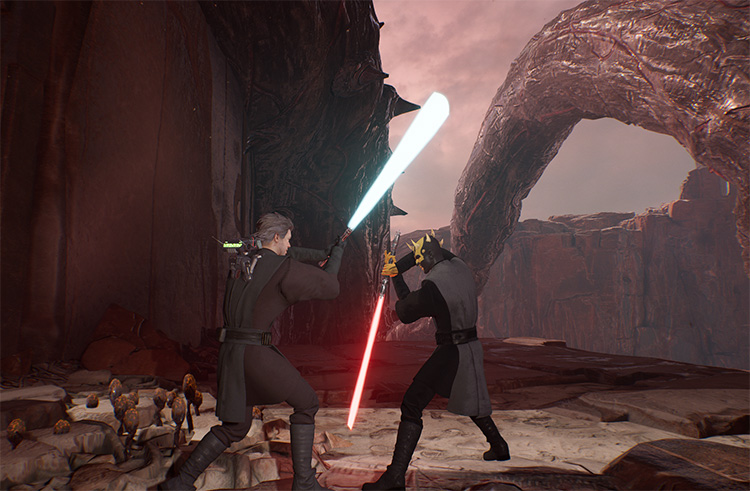 If all this still isn't enough to scratch your Fallen Order itch, why not up the difficulty of your next playthrough with Mr Fox's The Empire Strikes Harder?
If the clever name wasn't obvious enough, this mod reworks certain aspects of gameplay to make things a bit more challenging.
One of the mod's main features are the enemy replacements, adding in some popular Star Wars villains as mini bosses that you'll encounter throughout the game.
This includes battles with Savage Opress and Darth Maul, which definitely weren't part of the original game.
Browse:
Lists
Star Wars
Video Games