KH1.5 EXP Items Guide (How To Get All EXP Boosting Items)
This post may contain affiliate links. If you buy something we may get a small commission at no extra cost to you. (Learn more).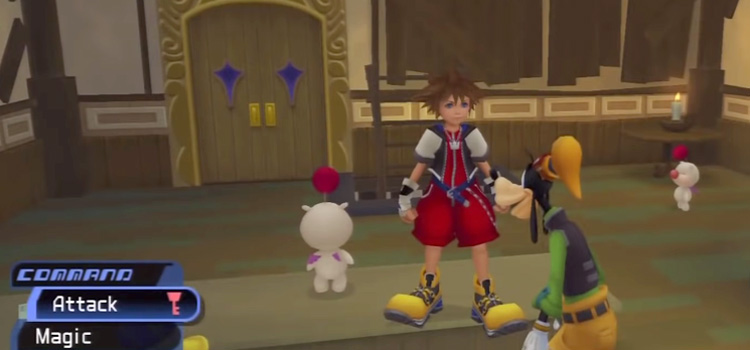 In Kingdom Hearts 1.5/KHFM there are four different accessories that increase your experience earned. They are as follows:
| Accessory | Experience Increase | Location |
| --- | --- | --- |
| EXP Ring | 20% | Hundred Acre Wood |
| EXP Earring | 20% | Moogle Synthesis |
| EXP Bracelet | 30% | Moogle Synthesis |
| EXP Necklace | 30% | Optional Boss 'Unknown' |
The experience boosting items affect all party members, not just who has it equipped. Furthermore, their effect stacks, so you can build up a tremendous EXP boost!
Let's discuss how to get each one.
EXP Ring Location
You get the EXP Ring by completing the Muddy Path page in Winnie the Pooh's book.
The Muddy Path is the last page, so you'll have to find, and clear, the previous four pages.
Here are the locations of all five pages:
| World | Location |
| --- | --- |
| Agrabah | Cave of Wonders: Dark Chamber. Enter from the Relic Chamber using the Waterfall. |
| Monstro | On a high platform in Chamber 6. |
| Atlantica | In Ariel's Grotto, on a shelf about halfway up. |
| Halloween Town | On a bookshelf in the Research Lab. |
| Traverse Town | Rescue 50 Puppies for Pongo and Perdita. |
EXP Earring Location
Synthesizing an EXP Earring with the Moogles requires the proper materials:
Four of the seven items you'll need drop from unique heartless that appear in specific areas in specific worlds.
Here is a table that tells you what and where:
| Unique Heartless | Where and How |
| --- | --- |
| Gigas Shadows | Wonderland – Bizarre Room. Enter and exit from Queen's Court until you see a bunch of small shadows. Defeating all of them will eventually cause the Gigas Shadows to appear. |
| Sniperwild | Traverse Town – Second District. Approach them from behind and cast Stop, then hit them a few times. Be prepared for a few packs and don't get spotted! |
| Pot Scorpion | Agrabah – Palace Gates. When you enter and see rows of pots, break all of them but the one the scorpion is in! Move pots by running into them. The one immovable pot is the scorpion and shouldn't be attacked. |
| Pink Agaricus | Deep Jungle – Treehouse. When you enter and see frozen white mushrooms, hunt down all three and cast stop on them to spawn the Pink Agaricus, which you need to hit as many times as possible to increase the odds of a Serenity Power dropping. |
Dark Matter is the last ingredient, and can be found in various chests, as well as eventually able to be crafted with the Moogles.
EXP Bracelet Location
The EXP Bracelet provides a 30% boost to experience earned. It only makes sense that this kind of boost requires items obtainable only in the endgame.
Only three of these items come from unique heartless, but they're the trickiest ones out there.
Let's take a look:
| Unique Heartless | Where and How |
| --- | --- |
| Stealth Soldier | Hollow Bastion – Grand Hall. They're invisible, so you'll have to lock-on to find them. Use magic to beat them quickly! |
| Jet Balloon | Neverland – Deck. Cast an Aero spell to deflect its missiles and cast stop when you get near it. It's amazingly fast, but has low HP. |
| Neoshadow | End of the World – Linked Worlds. Continuously and quickly keep defeating the shadows before they can keep multiplying. |
Orichalcum can be found in various chests and eventually can be purchased from the item shop in Traverse Town.
Dark Matter is the last ingredient, and can be found in various chests, as well as eventually able to be crafted with the Moogles.
EXP Necklace Location
Earning the EXP Necklace (and its 30% boost) requires defeating the game's ultimate challenge: the Unknown.
After visiting the End of the World, a mysterious portal will appear in the Castle Chapel in Hollow Bastion.
Entering this portal will pit you against a mysterious (but also awfully familiar) cloaked person. This is by far the toughest fight in the game and requires a high level, a strong stock of items, and lots of practice.
Fill Sora's inventory with Elixirs and Megalixirs
Equip him with the longest keyblade you have, preferably something like the Ultima Weapon or Diamond Dust
One more good idea is to remove any combo-extending abilities
The last hit in Sora's combo is where the real damage is – and being able to reach it quickly not only increases your overall DPS, but is a safer approach overall.
Defeating the Unknown takes a lot of practice.
He has three different phases and each one has a different set of attacks. Once you finally bring them down though, you'll earn the EXP Necklace (and the last Ansem's Report).
Browse:
KH1.5
Kingdom Hearts
Video Games