The Best Bilgewater LoL Skins (All Ranked)
This post may contain affiliate links. If you buy something we may get a small commission at no extra cost to you. (Learn more).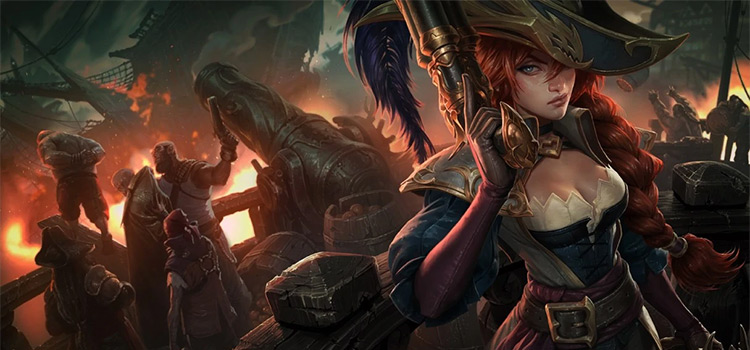 Bilgewater, the port city from LoL's lore, houses all kinds, from smugglers, sea monster hunters, and dock gangs, to adventurers in search of otherworldly realms.
But there's one group that stands out from the rest: pirates.
Yep. Bilgewater is all about the "seafaring" life.
Sadly, aside from Gangplank and Miss Fortune, there aren't actually that many famous, or I should say, infamous pirates in Bilgewater's current lore.
So if you're after a pirate champion to battle it out with, your options are pretty limited.
But there is a way around it. Simply invest in one of the skins below.
They give champions a pirate-themed glow up — we're talking captain hats, hooks, eyepatches, cannonballs, the lot — and are sure to get you in the plundering mood.
Let's dive in!
17.

Bilgerat Rumble
Released: April 26th, 2011
Price: 520 RP
Bilgerat Rumble is one of those skins that you either love or hate.
On one hand, you get to cruise around the Summoner's Rift in a pirate ship and throw cannonballs at your enemies.
On the other hook (ba dum ts), the overall design feels clunky and Rumble kind of looks like a smurf.
Personally, I'm in the hate group.
I can't get over the fact that they turned Rumble blue. It just seems so bizarre and ruins the pirate aesthetic.
16.

Ironside Malphite
Released: October 7th, 2015
Price: 975 RP
I… honestly don't have the faintest idea what Riot were trying to achieve in this skin.
He looks like a combination of a mecha robot and pirate ship.
Unfortunately, it just doesn't work for me. It's clunky, strange, and looks nothing like Malphite.
Regardless, I'm sure there are players out there that appreciate the rugged, quirky look, and the animations do complement the skin well.
15.

Pirate Ryze
Released: October 26th, 2012
Price: 975 RP
Pirate Ryze is another skin which doesn't quite win my heart over.
Nothing about Ryze's character screams pirate, so while the skin model is packed with pirate-themed qualities, it feels extremely forced.
This awkwardness becomes even worse once you start fighting – Ryze's mythical abilities jar with the old-school scallywag outfit.
With that said, you do get a nifty new animation on your Q that lets you shoot cannonballs at your enemies (albeit magical ones).
14.

Bilgewater Katarina
Released: August 29th, 2010
Price: 975 RP
Right. If you can look past the horrendous splash art, Bilgewater Katarina is a pretty decent skin.
It gives Katarina a sleek black hairdo, some pirate charm, and a nifty eyepatch.
While it does get you in the "it's a captain's life for me" mood, I personally wouldn't fork out RP on this skin.
There's nothing overly unique about the character design and you don't get any new particle effects.
13.

Kingpin Twitch
Released: November 20th, 2009
Price: 520 RP
This skin is… questionable, to say the least.
It turns Twitch green, and yes, he does look like he got doused in a chemical concoction from Singed's lab.
If you can look past the excessively green body hue though, the skin does have some nice touches.
You get a neat eyepatch, pirate-themed weaponry, and a seafaring-ready outfit.
The splash art is also brimming with style, swagger, and gold.
12.

Sea Hunter Aatrox
Released: July 22nd, 2015
Price: 750 RP
Sea Hunter Aatrox is one of the most unique skins in the line.
You're essentially transformed into a half shark half demon beast, ready to slay any pirate ship that dares come for your bounty.
While this skin sounds badass, it's unfortunately been ruined for me.
I just can't help but think of DC's King Shark whenever I see it in game.
Yeah. Hopefully, I haven't ruined the skin for you too.
11.

Rogue Admiral Garen
Released: July 22nd, 2015
Price: 750 RP
Rogue Admiral Garen's splash art is utterly insane; everything about his character design draws you in, from the battle-hardened body and badass shark-themed shoulder pad, to his killer, snarky smile.
Even his pose gives off tough pirate energy.
The in-game character model though?
It's… Well, disappointing. You can barely see any of the awesome details from the splash art.
Instead, Garen just kind of looks like a run-of-the-mill dude in clunky armor.
But hey, at least the in-game sword is still just as impressive.
10.

Cutpurse Twisted Fate
Released: July 21st, 2015
Price: 750 RP
Cutpurse Twisted Fate is a solid all-round skin for the price.
He looks like a fantasy anime protagonist with some buccaneer flair, and the new W card design is a great touch.
While I personally love the overall look, I can't put this skin any higher up on this list.
After all, they took away the one thing that made Twisted Fate perfect for this skin line: his hat.
Yep. It would have been so easy to spruce up his hat with some pirate inspo, but instead they threw it away.
A total missed opportunity (and an insult to Twisted Fate mains everywhere).
9.

Corsair Quinn
Released: July 22nd, 2015
Price: 750 RP
Corsair Quinn is a pretty simple skin, but every element is polished and looks great.
It has a total Lara Croft vibe with some swashbuckler goodness thrown into the mix, like an eye patch, rebellious hair style, and striped trousers.
Valor has also been given a subtle touch up.
He now rocks a befitting array of black, cream, and yellow feathers.
My only real complaint about this skin?
The splash art.
It doesn't really show off Quinn and instead relegates her to the background.
8.

Dark waters Vladimir
Released: May 31st, 2018
Price: 1350 RP
I have mixed feelings about this skin.
I do like how it turns Vladimir from a blood-hungry vampire into a water-bending pirate (move over Katara), but it just falls a little flat.
The color palette is pretty much just blue, and aside from the color change, the character model isn't that much different from Vlad's base model.
With that said, the gold details and animations look great.
I also absolutely love the recall, particularly the hands reaching out from the whirlpool – it adds an element of horror which obviously suits Vlad as a champion.
7.

Cutthroat Graves
Released: July 21st, 2015
Price: 750 RP
Cutthroat Graves bears a striking resemblance to Captain Jack Sparrow, with a red headband, thick boots, and open coat.
The only thing missing? A bottle of rum.
Jokes aside, the skin is solid and really gets you in the mood to sing some sea shanties.
The cannon weapon is also top tier and makes you feel ultra powerful whenever you land the killing blow.
However, I do have to deduct some points because of that misleading splash art.
I honestly thought Cutthroat Graves belonged to a whole other skin line before I saw how it looked in game.
6.

Bilgewater Swain
Released: October 5th, 2010
Price: 520 RP
I absolutely love every part of this skin. Sure, it doesn't offer any flashy animations, but it makes up for this with its badass character model and insanely cheap price.
Swain looks like the ultimate pirate captain.
He struts around (and dresses) like he's found a hoard of treasure, and he also has an anime husbando vibe going on, which is something we can all low-key appreciate.
Plus, his shoulder pads are a total statement.
What really wins me over though is the fact that when you ult, you literally gain a pair of parrot wings.
It's hilarious yet equally gorgeous.
5.

Fiddle Me Timbers
Released: April 26th, 2010
Price: 750 RP
Fiddlesticks' skins were given a major glow up after his rework, and Fiddle Me Timbers is no exception.
It essentially transforms Fiddlesticks into Davy Jones.
The outfit is equal parts snazzy and terrifying, and he rocks all the essential piratesque features.
Aside from looking arrgh-some – sorry, I couldn't resist – the skin also feels great to play with. Sure, you don't get any fancy new particle effects, but his current animations complement the skin perfectly.
But the best part of this skin?
It's the actual name.
Whoever came up with that pun deserves a raise.
4.

Buccaneer Tristana
Released: June 27th, 2011
Price: 520 RP
Buccaneer Tristana is one of the first skins I ever owned.
And for good reason: it's cheap, well-designed, and just works so well with Tristana's kit.
I mean, she already throws out bombs at her enemies.
Plus, this skin ups Tristana's cuteness by tenfold – there's just something adorable about a Yordle like Tristana waddling around in a pirate hat.
While there's no new sound effects and partial effects, the splash art is wallpaper-worthy and shows off Tristana's rebellious personality.
3.

Dark waters Diana
Released: May 31st, 2018
Price: 1350 RP
This skin is an absolute showstopper.
It basically combines together the pirate look with Diana's assassin nature, and it works shockingly well.
Riot have also blessed the skin with a new recall, particle effects, and sound effects.
Everything feels slick and smooth and the skin is sure to make you feel like a badass as you decimate enemy after enemy.
Sadly, while I do like the animations, I feel they don't quite match Diana's character.
But then again, they do work well with the pirate theme, so I'm not complaining too much.
Dark Waters Diana also comes with plenty of chromas, which is something we can all appreciate (our wallets certainly won't, though).
2.

Captain Fortune
Released: July 30th, 2015
Price: 975 RP
There's no skin more iconic than Captain Fortune.
It's basically an improved version of Captain Fortune's base model; she now truly looks like the badass, health bar-destroying gunslinger she was always meant to be.
Every element of it is bursting with intricate, pirate-inspired details, and her captain hat is pure perfection.
Even her hair has been given a vibrant red hue, highlighting her equally fiery personality.
Her guns are also top tier and I absolutely love the touches of gold.
Oh, and the splash art?
It's gorgeous.
Tough, mysterious, ready to blow your brains out – all of MF's attributes are encapsulated in the art.
1.

Captain Gangplank
Released: August 9th, 2015
Price: 975 RP
Gangplank suits this skin insanely well.
And that won't surprise any OG player — it's based on his old character model and backstory (ya know, before he lost his arm).
Aside from being a nifty slice of history, the skin delivers on all fronts with the pirate theme.
He rocks an iconic pirate hat embellished with gold, an equally dapper pirate outfit, and a badass fiery sword.
Plus his beard is absolutely marvelous.
The overall look is classy and sure to shiver your timbers.
What really makes this skin worthy of the top spot though? The voice.
Yep. Captain Gangplank has a whole new voice that just ups his pirate vibe by tenfold.
Just hearing him speak makes me feel like I'm traversing the open seas in search of bounty and treasure.
Note: this content was created under Riot Games' "Legal Jibber Jabber" policy using assets owned by Riot Games. Riot Games does not endorse or sponsor this project.
Browse:
League of Legends
Lists
Video Games