Best Dark Star Skins in League of Legends (All Ranked)
This post may contain affiliate links. If you buy something we may get a small commission at no extra cost to you. (Learn more).
Let's be real:
Nothing soothes the heart like smashing through some planets and a universe or two.
Dark Star skins let you destroy everything in your way, all while looking like a total intergalactic badass.
So get your inner chaos and evil desires at the ready, because we've ranked the Dark Star skins from worst to best, based partially on how much they'll make you feel like Thanos.
11.

Dark Star Malphite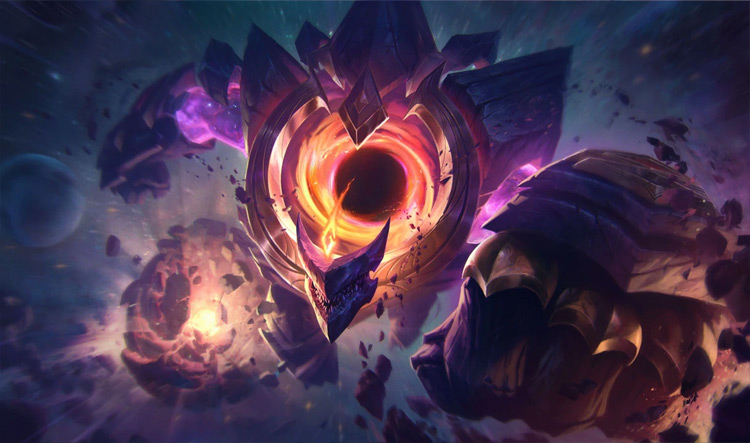 Released: March 26th, 2020
Price: 1350 RP
Sadly, Dark Star Malphite is a bit mediocre in my opinion.
It feels bland compared to other skins in this list.
To be honest, I don't blame Riot too much – it's hard to make a decent skin when all you've got to work with is a pile of rocks and an outdated model.
With all that said, the skin does have some redeeming points.
The inner cosmic core looks utterly gorgeous, and the recall is totally smashin' (pun well intended).
The Prestige Edition, however, is a complete flop.
It feels nothing like a Dark Star skin, nor would I ever consider the changes worth a "Prestige" price.
10.

Dark Star Xerath
Released: March 26th, 2020
Price: 1350 RP
Dark Star Xerath is a bit disappointing.
Looks-wise, it feels like a fancy chroma; instead of blue energy coursing within him, it's now just purple energy.
That said, the skin does have a few nice touches – like the black hole at the center and the galaxy texture on his hands.
Animations are also slick here. And his kamehameha ability, ahem, the Arcanopulse, feels a heck of a lot more powerful.
Plus the new sound effects really immerse you in the sci-fi theme; his Q even sounds like it came straight out of Star Wars!
9.

Dark Star Kha'Zix
Released: May 3rd, 2017
Price: 1350 RP
When you're one-shotting your enemies left, right and center, you've got to look the part.
Dark Star Kha'Zix delivers on all fronts.
It transforms him into a monstrous beast that devours planets for breakfast and breaks black holes as a pastime.
The skin also has great visual clarity and feels smooth and responsive.
That said, I do feel most of the particle effects are a little bland.
The ult is pretty cool though; Kha'Zix dips in and out of black holes to travel across the map.
Plus the splash art is downright awesome.
It shows Kha'Zix's immense size and… hunger to destroy all life on Earth (I promise I'm not that tasty, Kha'Zix!).
8.

Dark Star Orianna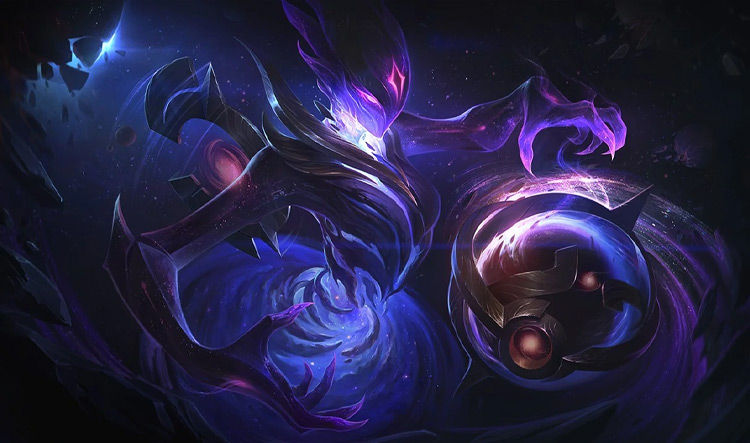 Released: May 3rd, 2017
Price: 1350 RP
Dark Star Orianna honestly makes you feel like an exterrestrial god.
Even her recall plays up to the god theme, allowing her to control an entire galaxy and customize it to her liking.
Now, while I do like this skin overall, I'm not overly won over by the character design.
It just feels a bit too undefined and lacks detail for me; everything blurs together.
That said, the blur effect does help her come across as mysterious and unearthly – both godly qualities.
7.

Dark Star Shaco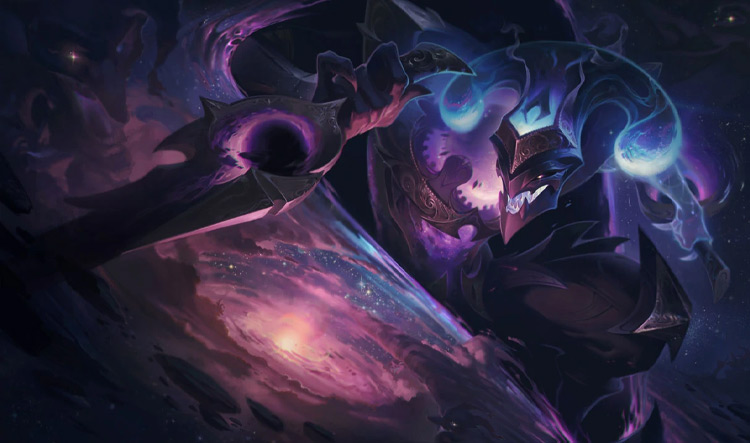 Released: June 13th, 2019
Price: 1350 RP
What's more nightmare-inducing than a sadistic killer clown?
Well, how about a sadistic killer clown that can traverse space and time and find you no matter where you are in the universe?
Jokes aside, Dark Star Shaco looks utterly terrifying, badass, and is brimming with alien vibes.
Even his jack in the boxes have even been turned into horrific alien-like creatures that control black holes.
Animations are superb, fun, and extra flashy.
His Q also has phenomenal visual clarity, which is sure to help you secure the killing blow in your ranked games.
My only complaint about this skin?
Shaco loses his iconic sadistic smile, and the clone is a little too washed out for my liking.
6.

Dark Star Jarvan IV
Released: March 1st, 2018
Price: 1350 RP
This skin transforms Jarvan into a rogue warrior from an extraterrestrial realm.
His armor is made from dark, alien-like shards, while his body is covered in otherworldly flames and imbued with purple energy.
His lance has even been turned into a space sword which absorbs the power of a black hole to charge itself up.
Yep. Totally badass.
Particle effects are brimming with cosmic inspiration, and the recall is pretty much a mini sci-fi movie:
You get to watch Jarvan battle it out (and win) against a being from another dimension.
5.

Dark Star Karma
Released: June 13th, 2019
Price: 1350 RP
Why take the path of enlightenment when destruction is just so satisfying?
Karma has gone to the "dark side" in this skin, and it honestly suits her more than I would like to admit.
Her power source is now a black hole – which she wears as a crown (100% badass) – and her outfit makes her look like an evil, mystical empress.
Her particle effects are also smooth and offer great visual clarity – something you'll be needing when you poke the enemy ADC to death (while your own boosted ADC takes all the credit).
Plus the red chroma also makes Karma look like a satanic queen.
4.

Dark Star Varus
Released: June 15th, 2016
Price: 1350 RP
Dark Star Varus looks like a badass intergalactic ruler.
There's heaps of intricate detailing in his character model, and every attack feels imbued with pure power.
The skin lets you shoot fireballs at your enemies, and his weapon can even evolve.
What really makes Dark Star Varus shine though is the animations; the skin offers the smoothest, cleanest, and most visually-pleasing experience by far.
No other Varus skin can top Dark Star in the animation department.
Oh, and take a look at that splash art.
Loading into a game with it genuinely makes you feel like a challenger player.
3.

Dark Star Thresh
Released: June 15th, 2016
Price: 1820 RP
Dark Star blesses Thresh with a killer intergalactic look & animations packed with power.
He controls a black hole within his palm, his ult entraps his enemies in a cage made up of demonic space hands, and his hook feels impactful and has been given a sleek, gold makeover.
Plus, his auto-attack's particle effects actually change based on distance – a much-appreciated subtle touch.
And if you're after some spicy Thresh commentary?
You're in luck;
This skin gives Thresh new voice lines which further add to his sinister persona, with nightmare-inducing lines like "infinity, rapture, I am their harbinger" and "we sup upon the living galaxies themselves."
2.

Dark Star Cho'Gath
Released: July 13th, 2018
Price: 10 Gemstones
Cho'Gath isn't blessed with the most exciting skins.
Most are pretty much recolors with some barely thought-out particle effects thrown in.
Dark Star Cho'Gath, however, finally gives our boy a badass and original skin (which he rightly deserves).
It transforms him into an extraterrestrial being powered by a dark star.
The razor-sharp teeth are nightmare-inducing, and his head has a fiery glow to top off his otherworldly look.
The recall reflects his badass personality too; he opens up a rift in time and space, then dives through it without any hesitation.
What really makes this skin top tier though is that it transforms as you progress through the match.
The more stacks Cho'Gath gains, the more badass he looks.
So yep, you can finally feel like you're becoming an OP god as you chomp on enemies, rather than just feeling like No-Face from Spirited Away.
1.

Dark Star Mordekaiser
Released: March 26th, 2020
Price: 1350 RP
Everything about Dark Star Mordekaiser is pure perfection.
He looks like a warlord from another planet, ready to devour the souls of any who dare rebel against his regime.
His power feels (and is) absolute; he vanquishes planets by smashing them into pieces in his recall, and dark energy swarms around him.
Even his heart has been replaced with a fiery eclipse – apt for a sadistic planet destroyer.
Plus the animations are smooth & the particle effects are absolutely stunning, jampacked with flames, black holes, and stars.
To top it all off, the ultimate is the definition of badass: it lets you literally transport your enemies to an outer space realm.
Oh, and the skin is only 1350 RP – a total bargain since it's essentially a legendary skin in quality.
Note: this content was created under Riot Games' "Legal Jibber Jabber" policy using assets owned by Riot Games. Riot Games does not endorse or sponsor this project.
Browse:
League of Legends
Lists
Video Games