Fiddlesticks' Best Skins in League of Legends (Ranked)
This post may contain affiliate links. If you buy something we may get a small commission at no extra cost to you. (Learn more).
I think we can all agree that Fiddlesticks' rework was one of the most impressive feats Riot has ever done.
They took are goofy little scarecrow dude and turned him into the sleep paralysis demon he was always meant to be!
And this meant all of his skins got spruced up as well, making some of the old favorites fall flat, and others even better than before.
10.

Union Jack Fiddlesticks
Released: February 12th, 2010
Price: 520 RP
I will admit that Fiddlesticks doesn't really have any bad skins.
So this list will be nit-pick central.
My main gripe with this skin is that it looks extremely bland in-game. Like when you zoom into the character model and really look at all the fine details, it looks pretty great.
But in a teamfight, it just looks like regular Fiddlesticks wearing a blue coat.
And that's a shame, as his face alone can and will give me nightmares.
I will point out, however, that it's quite the collector flex skin – as this one is only available during the Olympics.
9.

Bandito Fiddlesticks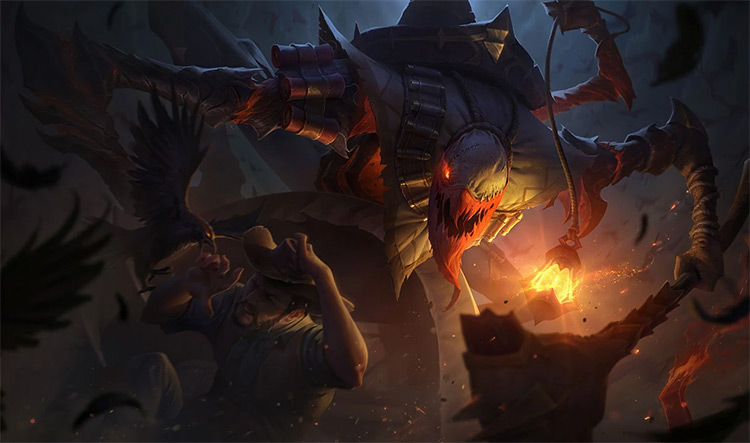 Released: August 10th, 2010
Price: 520 RP
Before you burn me alive, just hear me out.
I'm putting Bandito so low out of pure spite.
This skin used to be hilarious before the rework, and I was slightly disappointed to see the more polished but also way more bland update.
You don't feel like a whacky outlaw going around murdering folks, but rather like regular Fiddlesticks who happened to come across a sombrero.
The color pallet is fitting, the price is reasonable, and the splash art is cool.
But I will never stop yearning for my old stick bandit.
8.

Pumpkinhead Fiddlesticks
Released: October 19th, 2010
Price: 520 RP
You already know this skin was planned for Fiddlesticks the second he was released.
Since fear is his whole schtick, giving him a Halloween makeover made too much sense to pass up.
However, don't get too excited, as it's only a base model change.
Unlike Union Jack Fiddlesticks, you can recognize this skin from a mile away. And since Halloween is such a natural fit for the champion, the base animations don't detract from the overall spooky vibe.
Overall just a really decent skin.
7.

Spectral Fiddlesticks
Released: March 16th, 2010
Price: 520 RP
This one just offers great value in every way.
Sure, it isn't the most popular or most talked about among Fiddle mains.
But it does its job splendidly – and at such a low cost it's insane!
It actually offers completely new animations that really hammer down his new ghostly appearance.
Lots of greens and blues make up this spooky specter, and the addition of a hood makes him look downright haunted.
It's not as thematically distinct as some of the others in this list.
But it's still definitely worth considering if you're looking to ball on a budget.
6.

Fiddle Me Timbers
Released: April 26th, 2010
Price: 750 RP
Unlike the previous skin, Fiddle Me Timbers is just so iconic.
Even though it's more expensive than Spectral Fiddlesticks (while offering no new animations), it is somehow really hard to pass up.
Firstly, can we just talk about how good that name is? Absolutely brilliant.
Secondly, being a pirate is objectively way more fun than being a scarecrow.
Thirdly, my dude is out here stealing Nautilus' whole drip and rocking an anchor and a hook hand.
So get some rum, blast some pirate music, and do what you want – because the pirate is free.
5.

Risen Fiddlesticks
Released: April 29th, 2015
Price: 1350 RP
We've finally reached the fancier skins of the bunch.
Risen Fiddlesticks is another skin idea that fits the champion perfectly – and really adds to their overall appeal.
I mean, who isn't terrified of mummies?
His new animations are just to die for, pun intended, with his W and R animation in particular being downright gorgeous.
That shade of green works so well with the design. And the choice to substitute the crows with cicadas during the ult animation was brilliant.
I don't really have anything bad to say about the skin, other than that the following three skins in our ranking just offer slightly more for the same (or even a lower) price tag.
4.

Dark Candy Fiddlesticks
Released: December 14th, 2012
Price: 975 RP
I don't usually cry myself to sleep during Christmas. But Riot decided to change that apparently.
Even though the Christmas theme might sound goofy in conception, it's actually very well-executed with this skin.
His death animation features a star-shaped soul leaving his body, his backing animation is both jolly and terrifying, and he even carries a Christmas tree around the Rift, decking your halls if you get too close.
The splash art is also gorgeous here.
And the price is very generous, so compliments all around.
3.

Praetorian Fiddlesticks
Released: November 8th, 2018
Price: 1350 RP
I really thought I would hate this skin initially. It just seemed like such a stretch for Fiddlesticks.
However, to Riot's credit, they did manage to deliver some high quality stuff with this skin.
His scythe just looks amazing – and I really like how the implemented holograms into his design with both his arm and his passive clones.
He also has some new voice lines that go beep boop, and brand new animations that really sell the whole "robotic takeover" vibe.
I've seen lots of Fiddle mains praise this skin.
However, it can't compare in certain departments when it comes to the next pick in our list…
2.

Star Nemesis Fiddlesticks
Released: July 14th, 2022
Price: 1350 RP
Honestly, this skin almost made it into the number one spot. In fact, if Riot had just made it a legendary, there'd be no competition.
Nevertheless, it's still pretty dope.
Star Nemesis Fiddlesticks feels like a slightly darker version of my actual number one pick.
The character model is designed like some demonic jester, with your mouth hanging open in a grin while you wait for your next victim. Which is pretty in character for Fiddlesticks.
The skin also adds a fun new element – as you now have a familiar. You can see it pop up during your backing animation and within a cage in your chest during your W channel. This makes the skin even more terrifying (when thinking of the implications of it all) as well as unique!
I do have a few gripes, but they're all pretty minor.
Namely, the ult sound effect doesn't completely fit the vibe and your E is a bit bland.
Overall, the skin has a lot of cool stuff going for it – and could've been the king had Riot just made a few more tweaks.
1.

Surprise Party Fiddlesticks
Released: October 27th, 2011
Price: 975 RP
God, I am so glad they did not ruin this skin.
In fact, they made it even better!
Surprise Party Fiddlesticks is absolutely iconic. Because there are few things in this game as satisfying as a surprise murder party initiated from fog of war.
The base model looks equal parts goofy and terrifying, and the murder clown aesthetic is very hard to miss.
Some of his new voice lines are also just brilliant. In particular his backing voice line and that little laugh he does when he dies.
But of course, the real selling point of this skin is his dance emote.
Never have I felt so cool while spamming an emote, so for the dance alone, Surprise Party Fiddlesticks gets S-tier status.
Note: this content was created under Riot Games' "Legal Jibber Jabber" policy using assets owned by Riot Games. Riot Games does not endorse or sponsor this project.
Browse:
League of Legends
Lists
Video Games