The Best K/DA Skins in League of Legends, All Ranked
This post may contain affiliate links. If you buy something we may get a small commission at no extra cost to you. (Learn more).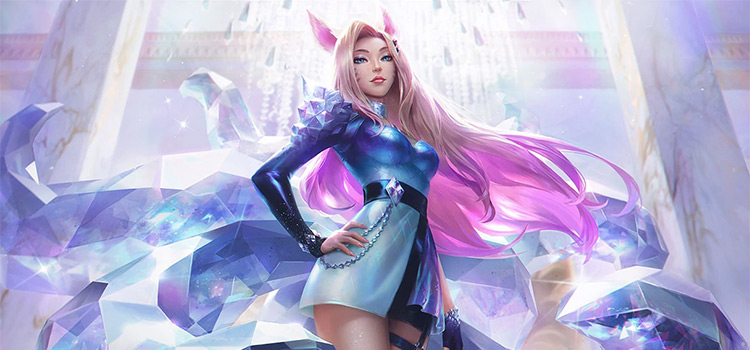 When Riot announced they were establishing a virtual kpop group, it sounded ridiculous.
And boy were we proven wrong.
Their first song "Pop/Stars" went viral, topping Billboard's World Digital Song Sales chart and amassing hundreds of millions of views on YouTube.
Since then, K/DA have released several unforgettable and hardhitting songs, from "The Baddest" to "More."
If you too are a hardcore K/DA stan, you'll no doubt be wanting to get your hands on one of the many K/DA skins in game – and below we've ranked them all.
9.

K/DA ALL OUT Akali
Released: October 29th, 2020
Price: 1350 RP
Right, so this skin did not live up to expectations.
Riot played with our hearts when they teased K/DA ALL OUT Akali riding a bike in the MV trailer, and then the skin was released with no bike in sight.
Total betrayal.
But aside from that soul-crushing disappointment, the skin is still gorgeous, with clean sound effects and smooth animations.
The recall is also Met Gala worthy; Akali struts out some moves on a flashy, glamorous stage.
8.

K/DA Evelynn
Released: November 3rd, 2018
Price: 1350 RP
K/DA Evelynn is pretty mediocre. In my opinion, it pales in comparison to ALL OUT which retails at the same price.
I just find the colors flat, and I don't get the "wow factor" like I do from a lot of the other skins in the K/DA line.
That said, it does give Evelynn's character model a groovy look and the animations are cute.
The ultimate is also flashy, impactful, and really puts the spotlight on you – which, um, might be a drawback since Evelynn is meant to be a stealth assassin.
Oh, and the splash art is desktop wallpaper worthy.
The Prestige edition totally transforms this skin for the better: the colors are vibrant, and the character model looks slick and stunning in every way.
7.

K/DA ALL OUT Kai'Sa
Released: October 29th, 2020
Price: 1350 RP
K/DA ALL OUT Kai'Sa has a modern pop star look complete with sparkly blasters.
While not the most unique K/DA skin out there, the recall is solid; it puts Kai'Sa on an anti-gravity stage and lets her show off her acrobatic dance moves.
The animations also look and feel heavenly – the R is particularly awesome, with color and detail virtually everywhere.
Sadly, the Prestige Edition is honestly a downgrade.
While colorful, it just looks really… weird.
It feels stiff, the outfit doesn't work, and her hair lacks any semblance of texture.
6.

K/DA Ahri
Released: November 3rd, 2018
Price: 1350 RP
K/DA Ahri is essentially Pop Star Ahri, but made a thousand times better.
Her character model looks hip and trendy and her tails have a neat purple, holographic vibe.
Even her orb has been transformed into a disco ball, meaning you can literally send your enemies dancing to their deaths.
My only complaint?
While gorgeous, the particle effects are a bit too obtrusive for my liking.
In my opinion, they don't offer the greatest visual clarity and their flashiness can actually be quite distracting.
That said, the skin's Prestige Edition has much better visual clarity, swapping out the white flashy hues for toned-down but luxury-looking gold and yellow shades.
Prestige K'DA Ahri also rocks a new hairdo which ups her sexiness by tenfold.
5.

K/DA ALL OUT Seraphine
Released: October 29th, 2020
Price: 1350 RP
Next up, K/DA ALL OUT Seraphine.
This ultimate skin gives you three forms in one – indie, rising star, and super star – with each reflecting a different stage of Seraphine's music career.
The indie skin is super cute and feels cozy to play with
Rising star has beautiful pastel hues and scatters musical notes across the Rift
And Super star is flashy, sparkly, and red carpet worthy.
Each form blesses your ears with catchy tunes, and the animations are ultra-smooth.
Sadly, I find this skin pretty underwhelming overall.
Sure, you get three different forms. But none have an "ultimate" feel.
Animations aren't overly unique, the forms don't stand out from other non-ultimate K/DA skins, and emotes aren't that spammable, nor memorable.
My main gripe with the skin though is that you have to complete grindy missions to unlock all the forms (which you paid an extortionate amount for in the first place).
Oh, and also the fact that you can't swap forms in game like you can with Elementalist Lux.
Seraphine might be the most optimistic kpop star out there, but I unfortunately can't match that optimism when it comes to this skin.
4.

K/DA Kai'Sa
Released: November 3rd, 2018
Price: 1350 RP
K'DA Kai'Sa is a little more laidback with the kpop theme than other skins in this line.
However, that isn't necessarily a bad thing – the skin really suits her.
She rocks an outfit that looks like it came straight out of the Matrix, and her blasters have been given a flashy upgrade.
Animations are colorful and really pop out on your screen.
What I absolutely love about this skin though is that she's wearing heels.
Yep. There's nothing more badass (and hilarious) than killing opponent after opponent while strutting around in a pair of swanky heels.
The Prestige Edition adds a more sophisticated look, but I prefer the OG skin colors; the Prestige version is pretty much just gold, gold, and gold.
3.

K/DA ALL OUT Evelynn
Released: October 29th, 2020
Price: 1350 RP
K/DA ALL OUT Evelynn is edgy, sexy, and brimming with diva energy.
The entire outfit is fanservice galore – and her lashers look stunning, adorned with neat holographic spikes.
The spikes help show off her inner, succubus persona; beautiful but deadly.
The back animation is insanely creative, and her iridescent jacket is also a work of glittery art – I'd actually wear it 24/7 if it existed IRL.
To top it all off, animations are super smooth and accompanied by funky, robotic sound effects.
2.

K/DA ALL OUT Ahri
Released: October 29th, 2020
Price: 1350 RP
Okay, Riot literally went "all out" on this skin – it's drop-dead gorgeous.
The outfit makes her look like a total kpop star, and the particle effects are super cute and flashy without losing any visual clarity.
Her recall animation is also colorful and unique.
Sound effects are top notch and really immerse you in the kpop vibe.
But the best part of this skin though?
Her tails have an amazing iridescent disco-like hue, and they actually change color based on the ability she uses (which will 100% come in handy in your games).
A pretty badass feature considering this skin is only 1350 RP.
1.

K/DA Akali
Released: November 3rd, 2018
Price: 1350 RP
When Riot released this skin, I knew from that day on I would be an Akali main, no matter how much I inted and no matter how many ranked games it caused me to lose.
This skin is just that good.
It essentially transforms Akali into a total musical badass, sporting a killer outfit and a snazzy cap.
It honestly makes her look like she's the true leader of K/DA (move over Ahri), and the detail is phenomenal.
The animations are also god tier; no ability feels lackluster, and every hit blesses your screen with flashy eye candy.
When K/DA Akali is battling it out and using all her abilities, it genuinely turns the Rift into a disco.
The Prestige Edition gives the skin a bougie "glow up" with a gold outfit and plenty of sparkles.
Plus it's packed with extra touches, from the ult now spelling out KDA, to the shroud transforming Akali into her killer MV form.
Akali is truly the reigning queen of kpop.
Note: this content was created under Riot Games' "Legal Jibber Jabber" policy using assets owned by Riot Games. Riot Games does not endorse or sponsor this project.
Browse:
League of Legends
Lists
Video Games