Lux's Best Skins in League of Legends (All Ranked)
This post may contain affiliate links. If you buy something we may get a small commission at no extra cost to you. (Learn more).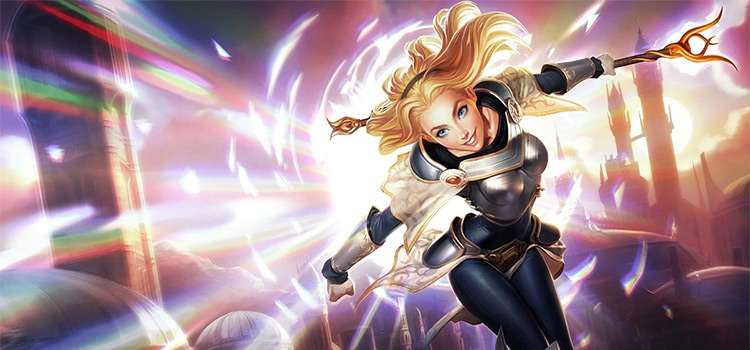 Note: this article was last updated in August 2022 by Alec P.
Lux lights up the hearts of LoL players with her gorgeous voice lines, optimism, and sparkly magic.
And of course, who could forget her endless number of light puns?
Now while Lux's personality may be bright, her base skin is a little… well, dim.
It's bland. And really doesn't capture the luminosity within her – nor her noble cause.
Luckily, Lux is blessed with plenty of sparkling skins that turn her into the brightest thing in Summoner's Rift. And we'll be ranking them all in this list.
15.

Steel Legion Lux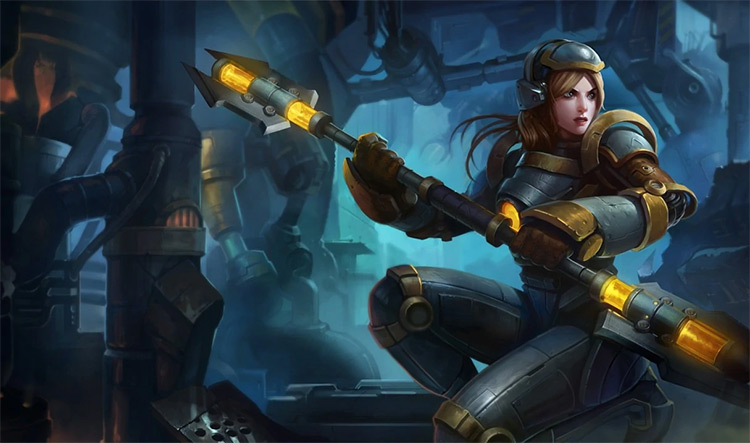 Released: February 1st, 2013
Price: 975 RP
There's really not much to say about Steel Legion Lux.
While it gives Lux a total makeover, it lacks any depth or unique appeal in my opinion.
It essentially turns Lux into a forgettable extra from a sci-fi movie. Ya know, the type that's going to fall out of a spaceship at some stage and let out the infamous scream.
Okay, I'm probably being a little too harsh; the weapon has a steampunk vibe going on, which is pretty neat, and if you're into droids or mecha?
Steel Legion is the closest skin you'll get to witnessing Lux as either of those things.
14.

Sorceress Lux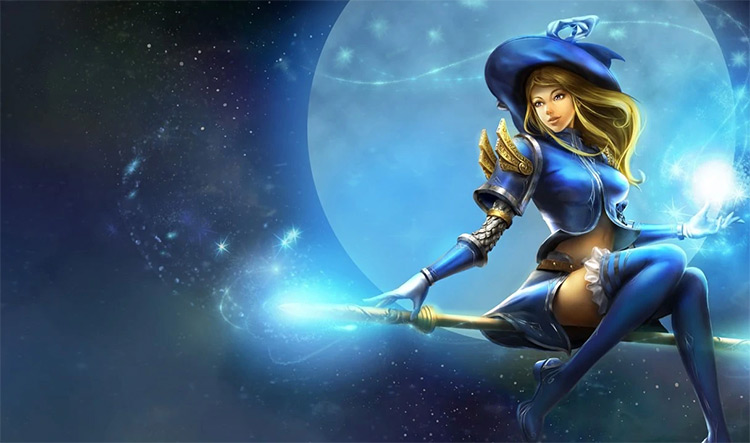 Released: October 19th, 2010
Price: 520 RP
While Lux may have to hide her true nature, she's a sorceress at heart.
This skin allows her to finally show her true magical colors: it literally turns her into an adorable witch.
She's got a witchy hat, a magical staff, and an outfit that makes her look like she's straight out of Little Witch Academia.
Although the skin is cute and a good tribute to her lore, it does fall a little flat.
The design is very simple and the blue hue is a bit too overpowering.
13.

Spellthief Lux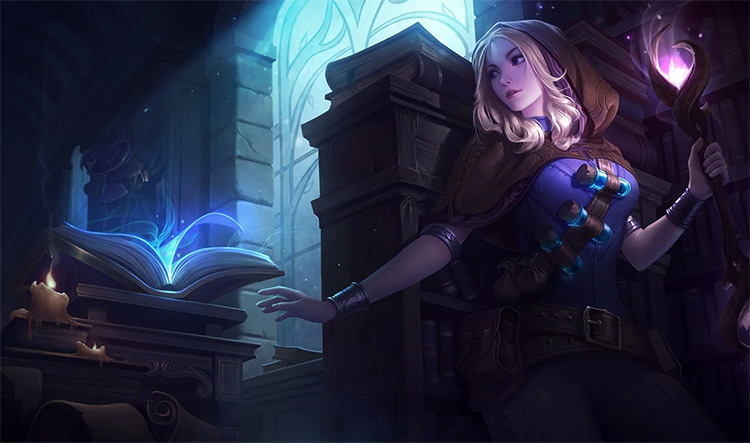 Released: October 19th, 2010
Price: 750 RP
Spellthief honors Lux's lore the best out of all the skins.
It truly captures how Lux is forced to hide her magic and repress her true self.
She wears a secretive hood and an outfit that screams "getting up to no good – the forbidden, sparkly kind."
While this skin is the complete opposite of Sorceress Lux, it's unfortunately plagued by the same problem: the design is basic and the colors are lackluster.
12.

Commando Lux
Released: June 17th, 2011
Price: 520 RP
Scrap Demacia, scrap OTT castles and scrap medieval warfare.
This skin turns Lux into a badass commander ready to take down any opponent who dares insult her light puns.
Besides being badass, Commando Lux is also downright stylish:
The armor really complements her figure (in more ways than one), and her new haircut, while lacking in texture, has a boldness to it I can't help but admire.
Now, this skin will make you camouflage in with the Rift (seriously, the skin is green from head to toe). But a fun and unique design at 520 RP? I can't exactly fault it.
11.

Imperial Lux
Released: November 29th, 2011
Price: 975 RP
Okay, this skin probably doesn't deserve to be so low.
It's essentially Commando Lux with a shorter haircut, some bolder color choices, and a little more imperial influence.
But for some reason, every time I see Imperial Lux, I can't help but imagine a cute Pokémon trainer. It can't just be me – she legitimately looks like one!
When I play as Imperial Lux in-game, camps in the jungle turn into Pokémon I need to catch, while my opponents become rival Pokémon trainers.
As a side note, Lux would definitely be Helioptile if she was a Pokémon – cute and powered by the sun.
10.

Lunar Empress Lux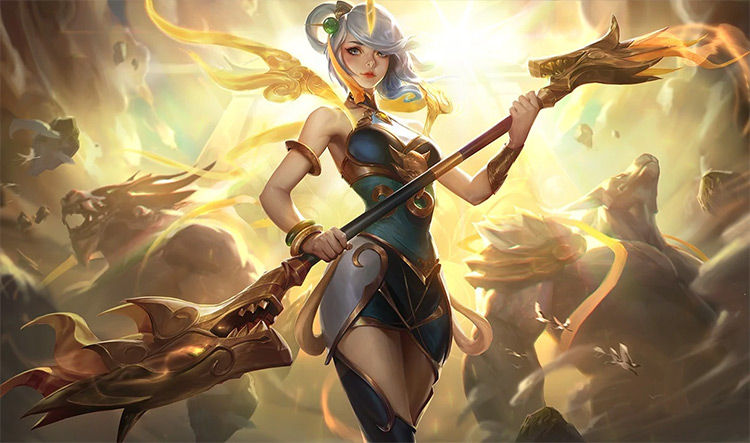 Released: February 8th, 2018
Price: 1350 RP
Now we're finally getting to the super good stuff!
This skin transforms Lux into a gorgeous mystical queen.
Her shoulder pad armor resembles glowing wings – a total goddess vibe – and her basic staff has been swapped out for one adorned with fiery, golden dragons (sleek AND luxurious).
Her attack animations are also the definition of "blinding light" – seriously, they're so bright and sparkly they actually burn my eyes.
The best part of this skin though has got to be the recall animation. Lux magically summons two cute doggos that prance, bork, and float around.
Utterly adorable.
9.

Battle Academia Lux
Released: May 15th, 2019
Price: 1350 RP
This skin turns Lux into a superhero that wants nothing more than to light up the world with her overwhelming power and positivity.
But until then, she's learning the art of magic and battling it out in the wild, chaotic cringe-filled realm known as "high school."
Jokes aside, Battle Academia Lux is a fantastic skin.
Especially if you dig the hit anime series it's clearly based on (Hero Academia).
Battle Academia Lux sports a magical schoolgirl outfit complete with cute frills and knee-high socks. Her staff has also been given a badass makeover, and her abilities are much more vibrant.
Plus the Battle Academia Lux ult (a blinding, giant laser beam) totally puts Goku's Kamehameha to shame.
8.

Space Groove Lux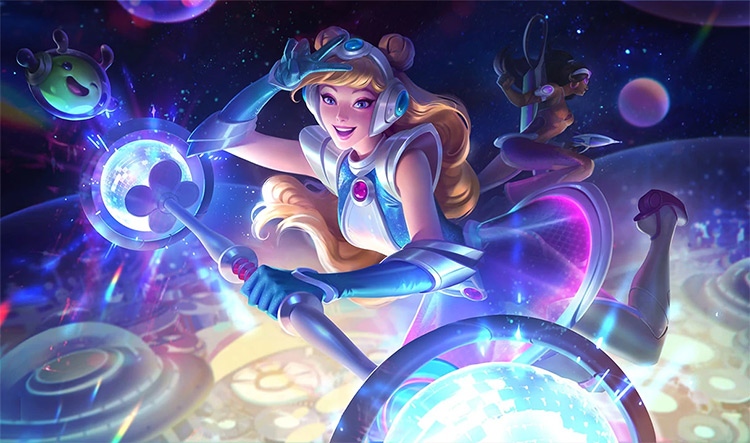 Released: April 1st, 2021
Price: 1350 RP
When this skin first came out, it received a lot of hate. However, this wasn't because it was a bad skin.
Rather it was because the pre-released version outshone the official version.
The animations were way funkier and smoother, but due to similarities to Battle Academia, Riot Games reverted Space Groove's animations back to the unfunky base model ones.
Nevertheless, everything else in this skin is top notch. And I feel it's still worth the buck!
The skin blesses Lux with a groovy dress, a Sailor Moon-esque hairstyle, and a staff powered by disco balls.
Her attack animations are also super colorful and bubbly.
Plus the recall is hilarious: Lux slips into some skates and gets rollin' and dancin' to sweet disco beats.
7.

Battle Academia Lux (Prestige)
Released: May 15th, 2019
Price: 2000 MSI tokens
The Prestige edition is essentially Battle Academia Lux if she was in the most elite badass high school out there.
Everything about her is sparkling, dazzling, and dripping in gold.
She also sports a classy new hairstyle and ultra-shiny staff – blinding your enemies with light is overrated anyway. Blinding them with status and bling is the new in.
This skin isn't all looks and no substance, though.
Her attack animations have also received an upgrade. Instead of just a plain gold hue, they now have gorgeous splashes of purple and pink (and of course, tons more sparkles!).
6.

Porcelain Lux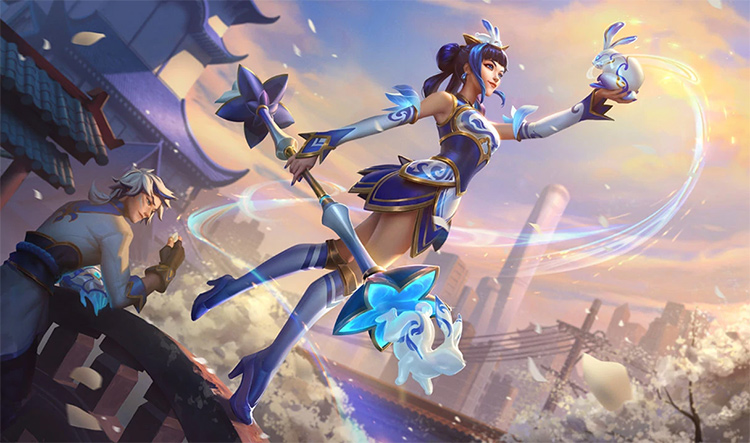 Released: January 26th, 2022
Price: 1350 RP
This skin doesn't make a lick of sense – but it still kind of works.
Let's talk about the positives first.
I think this skin has some S-tier animations and particles. Your Q is a literal bunny that charges at your foes. And you have the most satisfying passive proc I've ever seen (mostly due to the sound effect).
The E (if you let it run out) just has a bunny who can no longer control its immense power and explodes (which is quite the fresh take). And your ult is just beautiful – with a giant flower being the source of your beam.
Needless to say, all of the abilities are quite eye-catching.
This goes double if you opt for the Prestige edition – as the revamped color palette makes the abilities pop even more. You even get a new backing animation where you and your seemingly immortal rabbit hang out for a bit. Makes sense and ties in the theme even further.
However, I can't say that I'm in love with the character model. Mostly due to the fact that she looks like a schoolgirl, and I don't understand why.
The rabbits on her head and on her staff are understandable – but exactly why Riot had to lean into the sex appeal this much is a mystery to me.
So even if we take the chromas into account, the character model just isn't doing it for me chief.
Overall, Porcelain Lux has some amazing animations and great sound design. It also has a really nice Prestige version and some decent chromas. It's just not my favorite of the bunch because of the character model.
5.

Pajama Guardian Lux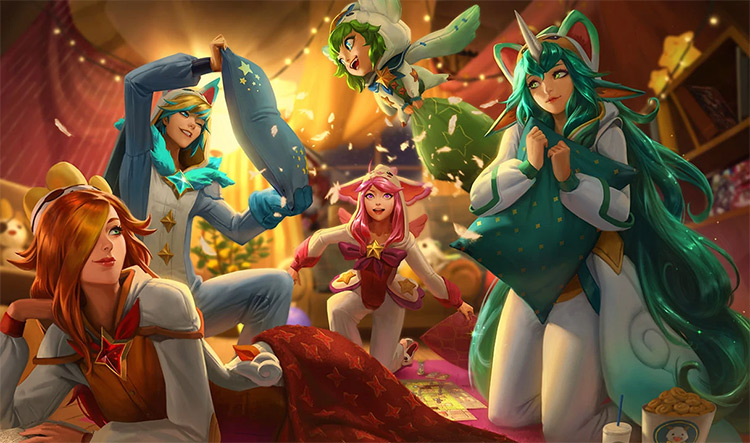 Released: November 21st, 2018
Price: 1350 RP
Okay. I know this is controversial – most LoL players probably feel like PG Lux doesn't deserve a top 10 spot, let alone a top 5 spot.
But hear me out.
Pajama Guardian is the cutest and derpiest Lux skin available.
You literally get to blast your enemies to death while wearing a bunny suit. It even comes with a pair of matching, fluffy bunny slippers.
Plus if you own the actual Star Guardian skin, you can get this skin at a discounted price.
Sure, it's a "Star Guardian copy".
But the hilarity of parading around the map in such a skin is worth every penny in my opinion.
4.

Cosmic Lux
Released: March 26th, 2020
Price: 1820 RP
A long time ago in a galaxy far, far away, there was an otherworldly being blessed with beauty and unrivalled power.
She fought to protect the universe from evil, and bring peace to planets, stars, and galaxies alike.
While those around the universe knew her by many names (the lady of luminosity, sun wielder, master of light puns) those close to her knew her true calling: Cosmic Lux.
'Aight. Enough with the opening crawl. Let's get back to the Rift.
If you haven't guessed already, this skin essentially turns Lux into a majestic sentient being capable of controlling stars, planets, and galaxies.
Her skin and hair are aglow with mystical power – the Captain Marvel kind of glow up – and her outfit is brimming with "sci-fi heroic empress" vibes.
Plus her emotes are creative, playful, and out of this world (ba dum ts).
3.

Star Guardian Lux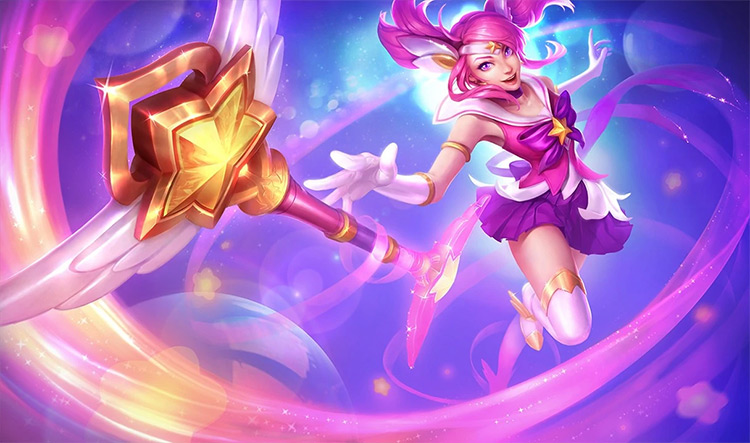 Released: May 17th, 2015
Price: 1350 RP
Let's be real: we all spent our childhood dreaming we would one day gain sparkly anime powers, discover our destiny to be a legendary warrior, and battle the forces of evil (with a cute feline sidekick helping us through it all).
Okay, maybe it wasn't all of us. Maybe I'm just projecting.
But hey, if you shared the same dream as me, this skin will spark a whole lot of joy in your heart (as Marie Kondo would say).
Star Guardian Lux literally transforms you into a kawaii magical girl, where you can destroy your enemies with sparkles, optimism and rainbows.
The only drawback?
You'll probably be tempted to bingewatch Sailor Moon again (say hai to no sleep for the next few weeks).
2.

Dark Cosmic Lux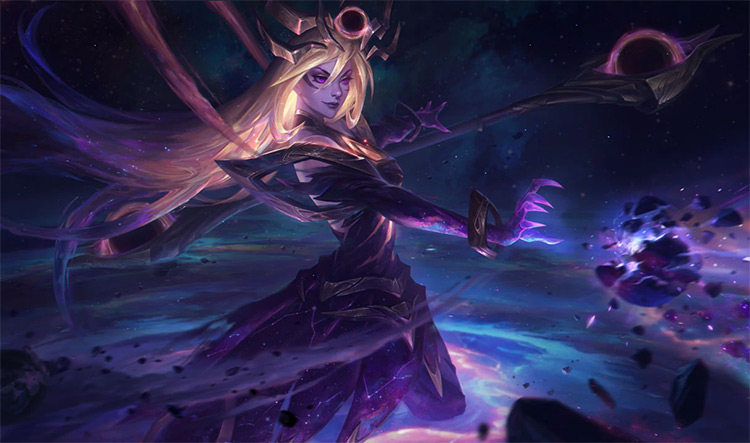 Released: March 26th, 2020
Price: 1820 RP
Next up is Cosmic Lux's evil twin, Dark Cosmic Lux.
'Aight. I don't usually support those hellbent on destroying the universe, but even I have to admit that the dark side is totally winning in the style department.
This skin honestly surpasses Cosmic in every way.
Dark Cosmic is x10 more badass, x10 more stunning, and x10 more eye-catching than a 0/10 Yasuo running it down mid.
A fiery thematic that would make even the Infernal drake jealous? Yep.
A dress that truly captures the beauty (and darkness) of the universe? Mhm.
A befitting crown? Well, if a crown made out of a literal eclipse works for you, yep and yep!
Even her voice lines have been given a mythical, evil touch, making it impossible not to feel immersed in the skin's theme (and inevitably be drawn to the dark side…)
Just like Cosmic, Dark Cosmic has some fantastic emotes too.
In one emote she rocks out and plays Beat Saber with planets – a move that's sure to make Thanos proud.
1.

Elementalist Lux
Released: November 28th, 2016
Price: 3250 RP
Owning Elementalist is every Lux main's dream, and there's a good reason for it.
Elementalist isn't just Lux's best skin.
It's one of the best LoL skins Rito has ever made.
It gives you 10 element-inspired skin forms to play with in-game, each with their own unique model, particle effects, and attack animations.
All the skin forms are dropdead gorgeous, have a magical feel, and boast exceptionally smooth animations.
None of the skins are lacking in detail either.
You can also change the forms throughout the match, meaning you can treat your enemies to a new sight every time you slay them.
Plus, playing Elementalist Lux honestly leaves you feeling like the next Avatar (water bendin' Brand to death is the best feeling ever).
Now, Elementalist Lux might break your bank, but it will heal your broken heart.
Note: this content was created under Riot Games' "Legal Jibber Jabber" policy using assets owned by Riot Games. Riot Games does not endorse or sponsor this project.
Browse:
League of Legends
Lists
Video Games