The Best 'Program' Skins in League of Legends (All Ranked)
This post may contain affiliate links. If you buy something we may get a small commission at no extra cost to you. (Learn more).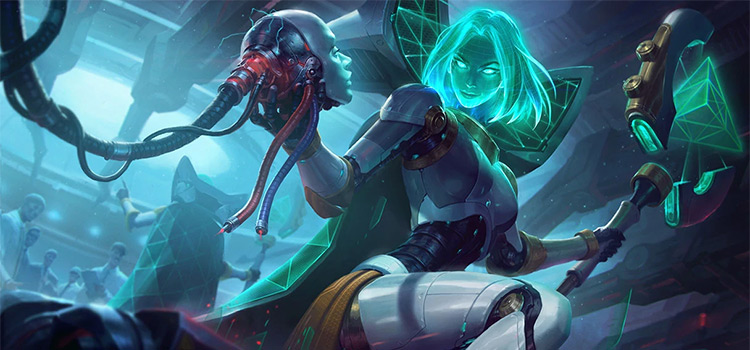 Ever wondered what the Rift would look like if Riot gave it a cyberpunk makeover?
Yeah, probably not.
But I'm sure you're definitely wondering now. I mean, how would cyborg turrets look? And the Baron as a mecha beast? It would be downright awesome.
While the Rift will probably never become a sci-fi battlefield anytime soon — Riot, I'll be willing to pay, hmu — there is a skin line that lets you play as cyborg, virus-wielding entities.
Enter the Program skins… calibrating in 3…2…1…
7.

Program Nami
Released: November 15th, 2018
Price: 1350 RP
Water and electricity don't exactly mix well together.
So, it isn't a surprise that Program Nami — a skin that attempts to combine both of these things — doesn't work either.
The character model makes Nami look like the weirdest mermaid ever.
Her locks have been swapped out for bulky cords, her tail is now some kind of awkward, holographic contraption, and her face is just a lifeless, budget version of "Liandry's Anguish."
The cyborg theme just feels insanely forced and doesn't suit Nami whatsoever.
And even if you can look past the dire character model?
Most of the animations are just green recolors of the base animations. So yeah, a hard miss.
6.

Program Lissandra
Released: April 6th, 2016
Price: 1350 RP
I'm not entirely won over by Program Lissandra.
The character model is jampacked with cyborg goodness, the animations turn the Rift into a Matrix battlezone, and the sound effects are distinct and satisfying, with a neat glitchy filter.
Yet… I just can't help but see a ward every time I look at her.
Scale down Program Lissandra to the size of a ward, and I guarantee she would blend in perfectly.
Jokes aside, if you can look past the ward resemblance, this skin is still fire and worth every penny.
5.

iBlitzcrank
Released: March 1st, 2013
Price: 1350 RP
This skin pretty much turns Blitzcrank into EVE from WALL-E, and I'm here for it.
Sure, the character model might not be as slick as EVE, but it's still just as adorable.
The skin even gives Blitz the iconic face screen. Every time you hook an enemy you genuinely feel like you're pulling them in for a hug.
And it's just so, so heartwarming. Well, until they get obliterated by your ADC, but we don't talk about that.
Sadly, apart from its cuteness, this skin doesn't have much else going for it.
You get some unique particle effects, but they're pretty underwhelming, and the recall isn't anything to write home about either.
4.

Program Camille
Released: December 12th, 2016
Price: 1350 RP
Right. Let's be real: most champion release skins are… disappointing, to say the least.
But Program Camille actually exceeded my expectations.
It essentially shows us what Camille would look like if she took her augmentations a step further.
And yes, the whole cyborg look complements her character model insanely well.
This skin also delivers in the animation department; each attack has a Matrix vibe, the recall is totally badass, and her ultimate transports her enemies into a virtual battlefield.
Plus, you get some unique voice lines — something incredibly rare in a 1350 RP skin.
My only real complaint?
Her mask.
It makes Camille look like she's cosplaying Master Yi.
3.

Program Soraka
Released: April 6th, 2016
Price: 1350 RP
I honestly have no idea how Riot made a half-human half-horse cyborg work so well, but I'm pleasantly surprised.
The character model is total cyborg waifu material, the animations are bursting with sparkly cybernetic effects, and everything feels clean, powerful, and slick.
Even the unique sound effects are awesome.
The colors, especially the subtle touches of pink, are also gorgeous and really accentuate the skin's features.
All in all, Program Soraka is a great, all-round skin that, while won't win over everyone with its pink hues and sparkles, is more than deserving of the no.3 spot.
Oh, and it also packs a generous amount of hip game.
2.

Program LeBlanc
Released: November 15th, 2018
Price: 1350 RP
Right, first of all, I've got to show some love for that splash art. I mean, it's not every day you get to see LeBlanc grotesquely beheading her enemies.
It's the definition of "badass".
The in-game model doesn't disappoint either.
Sure, it's not as chaotic and evil-looking as the splash art model, but it still wins me over with its holographic qualities and sleek steel body mods.
Plus, the animations are smooth, flashy, and ultra-satisfying. Each one makes you feel like a total "hackerman" –- aka breaking the game's code.
To top it all off? The recall is seriously fun to spam.
You get to watch LeBlanc customize her body in all kinds of ways.
At one point she even wears a top hat.
1.

PROJECT: Mordekaiser
Released: May 27th, 2021
Price: 1820 RP
PROJECT: Mordekaiser is a cybernetic showstopper.
A mecha-themed character model that makes you feel like the ruler of the universe? Check.
Badass, visually clear particle effects? Check.
An ultimate where you can literally suck the life out of your enemy and the Rift itself? Yep!
You even get tons of unique and spammable emotes, with one allowing you to groove out to some techno beats.
The sound effects are also top notch and there's plenty of sweet new voice lines.
My personal favorite?
"If technology is your god, then you will bow before it. You will bow before me."
Yeah, aside from being a social commentary on today's world, it's such a satisfyingly powerful line to spout at your opponent.
All in all, every element in this skin is a feast to the eyes — no other skin can match the cyberpunk vibe quite like Project: Mordekaiser can.
Note: this content was created under Riot Games' "Legal Jibber Jabber" policy using assets owned by Riot Games. Riot Games does not endorse or sponsor this project.
Browse:
League of Legends
Lists
Video Games