LoL: Rengar's Best Skins, All Ranked
This post may contain affiliate links. If you buy something we may get a small commission at no extra cost to you. (Learn more).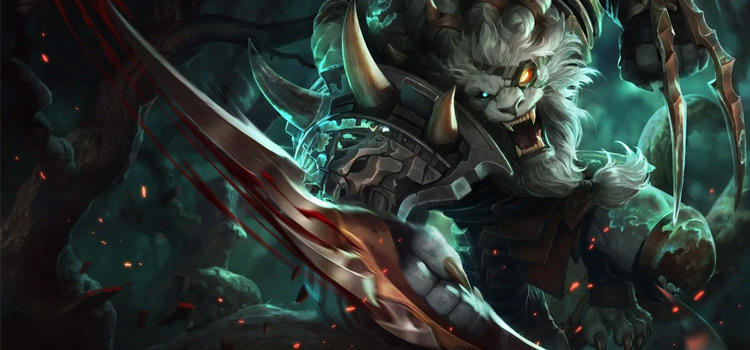 Rengar truly does exemplify the duality of League of Legends:
The fun of one-shotting someone, and the expense of therapy after being one-shot.
And if you're already planning on running everyone's day, you might as well look good while doing it.
So let's have a look at all of Rengar's skins and rank them based on overall appeal as well as price.
7.

SSW Rengar
Released: May 13th, 2015
Price: 750 RP
This skin just doesn't do much for Rengar.
If you want an unusual and goofy skin, there's a different choice that's way better elsewhere on this ranking.
And if you want a badass skin, this is the tamest and lamest of the bunch.
If we don't compare it to the rest of the catalogue, it's okay. The dreads look nice, the colors all mesh together well, and the splash art is pretty ferocious.
But again, it truly is the master of no single trade.
In conclusion: only get it if you're really into the eSports scene, or if you like looking casual while inflicting trauma.
6.

Guardian of the Sands Rengar
Released: January 22nd, 2020
Price: 1350 RP
Full disclosure, SSW was the only Rengar skin I didn't vibe with.
So the others are extremely close when it comes to ranking.
This skin just makes you feel like you were that one Khajiit who managed to rob the Dragonborn or something, as your pointy ears and exotic golden armor make you quite the memorable face.
As you may have guessed, there were a lot of sand particles added to nearly all of the ability animations here. So even if you don't kill someone, you know they'll be pissed off in the morning.
The only complaint I do have is that the glow around your hands when you use your Q looks slightly off-putting.
But all-in-all it's a great and memorable skin.
5.

Mecha Rengar
Released: November 9th, 2017
Price: 1350 RP
Rengar mains seem to be torn on this one, but I honestly quite like it.
I don't usually associate robots with stealthy assassins. But give them a Halo blade and I'm all ears.
The base character model here is pretty well made, although you do look like a fox moreso than a lion. And the animations have been altered to fit the cyber theme too.
Then again, that just means putting hexagons all over the place and giving the champion a robotic voice.
Jokes aside, the animations flow pretty well, and the backing animation is top-tier!
Then again, I must share in the community's disappointment that you don't turn into a car while in your ult.
If Sion is allowed to be a train, I don't see why this is pushing the line Riot!
4.

Night Hunter Rengar
Released: May 19th, 2014
Price: 975 RP
Night Hunter Rengar is very simple and very effective.
The skin just puts extra emphasis on the stealthy assassin aspect by giving you a cool hood and turning your fur blue.
But just because it's simple does not mean it's worth passing over!
The hood toggle is an extremely rare and beloved feature in the game. And the character model does make you feel pretty badass.
Plus, all of your abilities have also been recolored to fit the whole "blue-dabadee-dabuhdi" theme better.
Although I will say that the face is pretty derpy.
Nevertheless, this skin is a Rengar classic, and should be given a certain level of respect for it.
3.

Sentinel Rengar
Released: July 22nd, 2021
Price: 1350 RP
Most Rengar skins like to make you look and feel somewhat brutal.
Like a true killer that likes to drink the blood of his enemies.
This skin, however, just makes you look like a sophisticated hitman. It also makes you look like Yasuo, which no one saw coming.
And the skin just flows so naturally!
The particle effects are distinct but not needlessly tacky. And since there's no distinct theme, like sand, it never feels too out of place for the champion.
The backing animation is really well made too. And the splash art is downright terrifying.
I don't have any real complaints about Sentinel Rengar – and it only lost out to the following two by a razor thin margin.
2.

Pretty Kitty Rengar
Released: March 27th, 2019
Price: 1350 RP
I never thought that Rengar would get a joke skin.
And I definitely did not think that he would get one as good as this!
Like seriously, Riot put on their A game for this Pretty Kitty.
Let's get the obvious out of the way first: you are in kitty pajamas.
It might look stupid at a glance. But the more you play with this skin, the more natural it will become.
You see, you can now just hear agitated cats whenever you attack anyone, your E is a literal ball of yarn, and your backing animation has you sit in a box that you barely fit into.
*Insert 2000s cat meme here*
But probably my favorite part about this skin is that your ult now features a soft cat purring.
You would think that psyching a Rengar player up would be the way to go, but no, calming cat purrs are the future.
So if you don't take yourself too seriously and don't mind the relatively high cost, definitely get this skin.
1.

Headhunter Rengar
Released: August 21st, 2012
Price: 975 RP
Considering that Headhunter Rengar is literally just a base model overhaul with no new animations or particles, it seems weird to put it at the top.
However, I think this is the most "Rengar skin" out of them all.
The Predator theme was always a natural fit for the champion. And the character model design here absolutely blew me away.
The intricate armor, the shoulder skull, the blades, it all feels very natural – and more importantly, very badass.
And if you're rocking this skin against a Kha'Zix, it becomes infinitely better.
Your ult even has the Predator sound effect!
There are very few skins that can give you this level of roleplay while still looking & feeling amazing when you just want to play seriously.
Note: this content was created under Riot Games' "Legal Jibber Jabber" policy using assets owned by Riot Games. Riot Games does not endorse or sponsor this project.
Browse:
League of Legends
Lists
Video Games