Best Snow Day Skins in League of Legends (All Ranked)
This post may contain affiliate links. If you buy something we may get a small commission at no extra cost to you. (Learn more).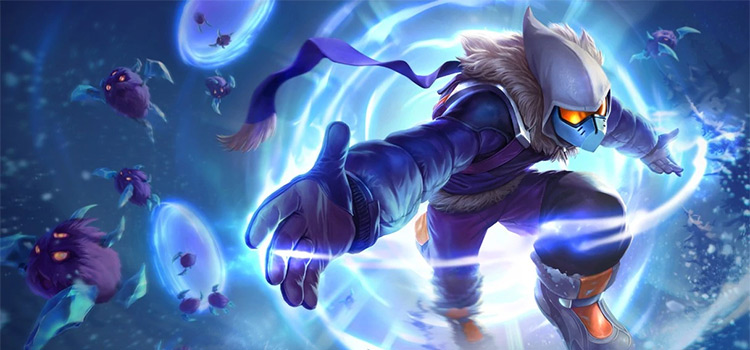 The best season by far in my opinion is winter.
Comfy sweaters, soothing fires, warm cups of cocoa – it's a dream.
Sadly, League of Legends hasn't exactly been in the "festive spirit" in recent years.
I mean, for the last few winters they haven't even blessed the Summoner's Rift map with a snowy look or Christmas jingles.
Luckily, there is still a way to turn the Rift into a Winter Wonderland, no matter the time of year. Simply pick up a thaw-dropping Snow Day skin!
7.

Snow Day Singed
Released: December 19th, 2013
Price: 975 RP
I'm really not a fan of this skin's character model.
The outfit, while has a winter feel, just doesn't suit Singed in the slightest.
It also looks (and feels) pretty clunky.
That said, the skin does have some redeeming points.
You get to whack your opponents with a sled and bring about a blizzard wherever you go.
Plus, your recall lets you ride a snowmobile-type device.
And let's be real: the skin is more than meme-worthy.
6.

Snow Day Ziggs
Released: December 14th, 2012
Price: 975 RP
Snow Day Ziggs is one of those skins that you either find insanely cute, or insanely creepy.
I'm personally in the latter group – I just can't get over how weird and scary his smile looks!
Nevertheless, the skin has tons of neat winter-themed qualities.
The bombs are giant snowballs, and the W is now an angry, exploding snowman.
Zigg's E ability also summons up tiny shards of ice (stepping on one of those is sure to hurt more than Lego).
5.

Snow Day Malzahar
Released: December 15th, 2014
Price: 975 RP
Okay, the character model is pretty derpy, but the skin makes up for this in heaps of other ways.
For starters, the particle effects are slick and bursting with wintery inspiration; snowflakes swarm in a flurry around him, and his voidlings are now little ice monsters that look like they came straight out of Frozen.
Animations are slick, smooth, and feel great to play with.
Visual clarity is also excellent, which is sure to help you land your skillshots.
The recall is a little disturbing – he essentially turns adorable poros into ice monsters – but I've got to give it points for creativity.
4.

Snow Day Graves
Released: December 14th, 2016
Price: 1350 RP
Snow Day Graves is a solid skin, with an excellent character model and unique particle effects.
He rocks a cozy winter outfit, red mittens, and a pair of badass snow boots.
His weapon has also received a distinct update, and is now a giant snowblower gun.
Animations are brimming with festive spirit, and your W even lets you shoot out the most adorable penguin ever.
The only problem with this skin?
The ultimate feels underwhelming.
But hey, at least they gave Graves a Christmas version of his cigar (a carrot).
3.

Snow Day Gnar
Released: December 10th, 2015
Price: 975 RP
Gnar is already a cute champion, but this skin takes his cuteness a step further, giving him an adorable winter coat, a fluffy scarf, and a classic trapper hat.
Now, his body might look like it has succumbed to frostbite, but it does get you in a winter mood.
Plus, there's heaps of snowy and icy particles, and his Mega Beast form honestly makes him look like he came straight out of the Ice Age (lore accurate!).
The best part of this skin though?
When in Mega Beast form, you get to throw frozen penguins at your opponents.
Yep. Death by penguins. It's hilarious.
Plus, the recalls are insanely cute, especially the Mega Beast recall.
2.

Snow Day Syndra
Released: December 10th, 2015
Price: 1350 RP
Okay, it's un-brr-lieveable how amazing this skin looks.
It's elegant, wintery, and utterly stylish.
I would wear it myself if it existed IRL.
Abilities and animations are equally stunning and feel ultra-smooth.
Syndra's orbs have been transformed into snowballs – so, yep, you can finally live out the snowball fight of your dreams on the Rift – and the ultimate is insane, allowing you to slaughter your enemies with razor sharp shards of ice.
The recall is also pretty fun; Syndra transforms her snowballs into a snow statue of herself.
1.

Snow Day Bard
Released: December 10th, 2015
Price: 1350 RP
No skin succeeds at putting you in the festive spirit quite like Snow Day Bard does.
It's the epitome of cozy, with a jolly look, a comfy outfit, and the most adorable scarf.
Your meeps are little penguins that waddle across the map, and your allies heal up by drinking some sweet coco (chocolate is truly OP).
Even your recall is cute, with the penguins helping you build a snowman of Bard's base model.
Visual clarity is phenomenal, and the sound effects all feel impactful.
Honestly, this skin makes me warm and fuzzy inside.
Everything about it just feels so right.
Note: this content was created under Riot Games' "Legal Jibber Jabber" policy using assets owned by Riot Games. Riot Games does not endorse or sponsor this project.
Browse:
League of Legends
Lists
Video Games