LoL: Best True Damage Skins (All Ranked)
This post may contain affiliate links. If you buy something we may get a small commission at no extra cost to you. (Learn more).
True Damage might not be as popular as K/DA, but it goes without saying that "Giants" was a smash hit.
Since its release, the song's YouTube MV has been viewed more than 170 million times and garnered over 2 million likes.
I've personally contributed at least a hundred views to that stat; it's the perfect song to hype you up before a ranked game, and its genre blending works insanely well.
And who can forget True Damage's debut at Worlds?
The futuristic effects, slick transitions, their flashy stage presence – it was a killer performance in every way.
Whether you're a diehard fan of True Damage, or simply want to slaughter your enemies while rocking out, these skins are sure to win over your heart (and ears).
5.

True Damage Senna
Released: November 10th, 2019
Price: 1350 RP
True Damage Senna looks nice overall, but it's far from a showstopper. The colors are dull, the animations feel lackluster, and the outfit doesn't exactly scream pop star.
Nevertheless, the skin does have a few neat touches.
The splash art is poster quality, and the weapon design is pretty awesome. Your E even has some nifty sound waves thrown in.
And if you're lucky enough to get your hands on the Prestige Edition?
Well, this skin goes from mediocre to one of the best skins in the game.
The Prestige Edition is the definition of a glow up. It solves every issue I have with the OG skin and adds heaps more swankiness.
The character model looks insanely badass and the animations are jawdropping.
Plus the weapon's new look makes you feel like you rule the stage (and Rift).
4.

True Damage Yasuo
Released: November 10th, 2019
Price: 1350 RP
This skin blends together sci-fi, pop, and a whole lot of hair gel, and it works insanely well.
The character model is flashy and the animations are smooth and flowy. Plus the blue color tones complement Yasuo perfectly (and, according to science, help you stay tilt-free).
The sound effects do get a little repetitive after a while, but they're distinct and don't feel jarring in any way.
What I love most about this skin though is its DJ-inspired backing animation.
It's a total mood.
Sadly, despite its quality, I can't give this skin a higher ranking than 4. The Prestige Edition is just too underwhelming.
Sure, you get some extra gold and bling, but the new animations actually feel like a downgrade.
3.

True Damage Qiyana
Released: November 10th, 2019
Price: 1350 RP
Qiyana might have given up the battlefield for the stage, but her empress status isn't going anywhere; she looks like a total pop queen.
We're talking an excessive amount of bling, a bold but stylish hairdo, and neon high heels.
Animations and particle effects are equally impressive.
Every ability shoots out colorful explosions, and the ultimate looks like a final battle boss move (of course, with some extra musical oomph).
And if you really want to show off your "bougieness?"
The Prestige Edition gives her weapon a Louis Vuitton-themed glow up.
And yes, I mean that literally: Louis Vuitton's artistic director, Nicolas Ghesquière, designed it.
2.

True Damage Akali
Released: November 10th, 2019
Price: 1350 RP
Right. I'll get this out of the way first: yes, this skin doesn't have the wow factor that K/DA Akali has. Nothing will ever top that skin.
But that doesn't mean this underdog, aka True Damage, isn't worth your buck.
In fact, certain elements of True Damage actually work better than K/DA.
The passive and animations are smooth, hip, and stylish, and the sound effects and recall blow K/DA's out of the water, or I should say, smoke screen.
Plus this skin's color scheme is much more eye-catching.
Now, K/DA's character model is unbeatable – but if you're after something that'll make you feel unbeatable?
True Damage is the surefire way to go.
1.

True Damage Ekko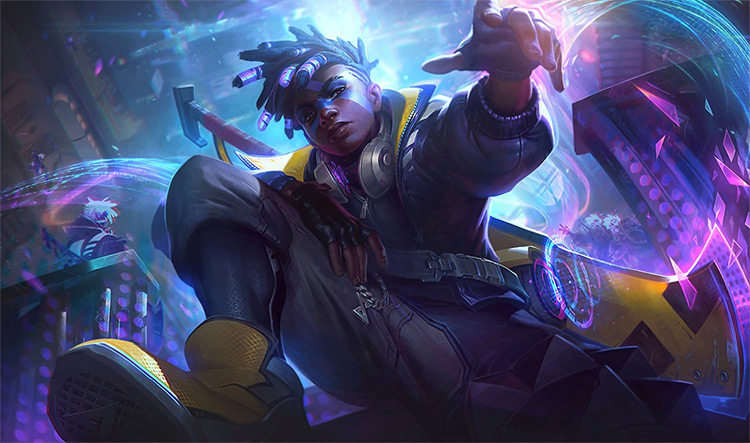 Released: November 10th, 2019
Price: 1820 RP
Everything about True Damage Ekko is awe-worthy.
The character model is trendy to a T, the recall is badass, and the animations are slick and transform the Rift into a light show.
Plus the sound effects are the definition of "music to your ears".
They're catchy and get you hyped up while remaining distinct and clear.
What really makes this skin a showstopper though?
The fact that you can summon up holographic backup dancers to strut by your side, and even BM your enemies with iconic memes.
Honestly, no other True Damage skin can match Ekko's.
It's flawless, with every aspect feeling polished and smooth.
Note: this content was created under Riot Games' "Legal Jibber Jabber" policy using assets owned by Riot Games. Riot Games does not endorse or sponsor this project.
Browse:
League of Legends
Lists
Video Games