The Worst & Ugliest LoL Skins, Ranked
This post may contain affiliate links. If you buy something we may get a small commission at no extra cost to you. (Learn more).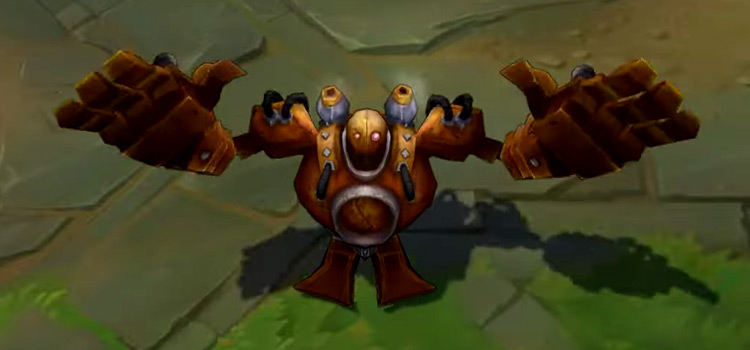 I've written dozens of articles about champion skins in League, but it's time to table those topics and look at the bad & the ugly.
With a mix of overall bad designs to ridiculous prices coupled with bad designs, there are quite a few skins to choose from that stand out as "the worst" among League's entire library.
So without further ado, this is my list for the worst LoL skins in history.
10.

Unbound Thresh
Released: July 29th, 2021
Price: 750 RP
When ranking Thresh's skins, I initially gave this one a bit of leeway.
But that stops now.
The skin itself isn't the ugliest. But conceptually it definitely sucks.
Thresh had an amazing design, and we all loved our skeleton dude warden.
So why exactly does he look like the next TikTok star now? I was angry enough as it is, but then I learned that this failed attempt at an E-boy is actually Thresh's default look in Wild Rift – and I just lost it.
Riot, please stop making every character hot. We already get bullied enough by our teammates. We don't need to also be depressed while walking to lane.
Sincerely, everyone.
9.

Commando Lux
Released: June 17th, 2011
Price: 520 RP
Commando Lux just seems counterproductive.
Lux's whole shtick is being a pretty upbeat sorceress. And once you take that away from her, she just looks way too generic.
The Commando skin line is generally a hit or miss type of deal.
And this one just massacred my girl.
Zoomed out, you look like an NPC that happened to stumble upon the Rift and tried to blend into the bushes or something.
In short, it's the type of skin where you're honestly better off just playing with no skin at all.
8.

Crimson Elite Riven
Released: September 14th, 2011
Price: 520 RP
Okay, enough with the sentimentality. This skin is just straight up ugly.
The color palette is extremely weird, and I honestly have no idea what Riot was even going for.
Riven's glove looks like a metal mitten that was decorated in sharpie. Her little scarf thing doesn't seem to serve any purpose either.
And the fact that she has a golden shoulder pad & helmet, and then a latex suit, just makes this skin seem like it was randomly generated.
The mere fact that Riot actually managed to get me to complain about latex is proof enough that there's something wrong with this skin.
7.

The Magnificent Twisted Fate
Released: May 17th, 2010
Price: 1820 RP
There's one thing this skin has that very few others do: the audacity.
Like seriously, this skin is barely worth 520 RP. And Riot had the nerve to slap a legendary status onto this thing?
It doesn't come with a single new animation, or at least some type of new particle! It gives you nothing new.
The character model is just Twisted Fate, but slightly fancier.
Your hat got bigger, your cape got red, and your entire outfit seemingly got frosted tips.
In conclusion, you're paying 1820 RP for a skin equivalent of Guy Fieri.
6.

Red Baron Corki
Released: March 24th, 2010
Price: 1820 RP
Corki mains must be an entirely different kind of mad, as their chosen champion has not one, but two complete rip-off skins.
Of the two, I despise Red Baron Corki a lot more, as Ice Toboggan at least changes the ship to a large degree.
Do you want to know what Red Baron does to your design after you fork up 1820 RP?
It just substitutes your propellers for wings, and then dyes the entire ship red. That's it.
Not only is it insane that a legendary skin would do so little, but I honestly feel like it makes you look worse since the little propellers made Corki look more interesting!
With this design he's just some old dude in a plane.
5.

Deadly Kennen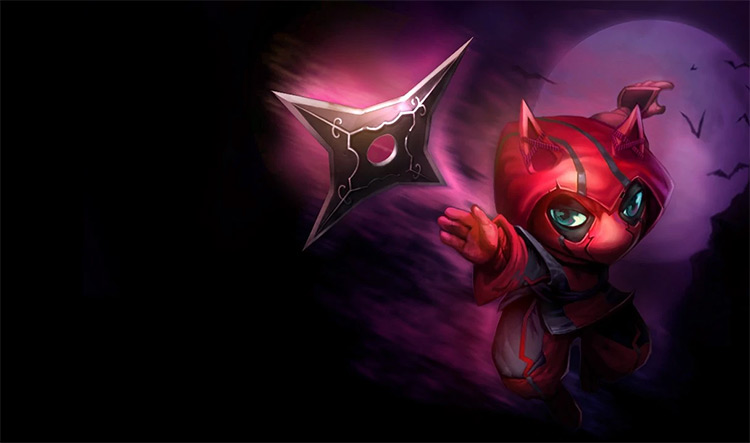 Released: April 8th, 2010
Price: 520 RP
It took me a bit of time to decide whether Deadly or Swamp Master Kennen deserved to be put on blast here – but I decided for Deadly Kennen since Swamp Master at least attempts to reach "make a Wish tier" Yoda, while Deadly Kennen is just an F tier chroma.
Like even the name is so bland and uninteresting that I really don't know why I expected the skin to be any better.
All in all, you're paying 520 RP for "Kennen but red".
And there honestly isn't anything more I can say about it.
4.

Vancouver Amumu
Released: February 12th, 2010
Price: 520 RP
Making skins for the Olympics was an incredibly cool idea.
But man were the standards low back then.
I can't even make the usual joke of "Amumu but X color" since this skin couldn't even commit to that – but rather it just spray painted his body blue, one leg red, and the other yellow.
It's also important to note that you're Amumu, and that your head takes up most of the space in your character model.
So it's not like you're even going to notice the different colors all that much.
Plus, even the splash art is just god awful.
Truly a lose-lose all around.
3.

Nightmare Cho'Gath
Released: November 20th, 2009
Price: 520 RP
Putting the word "nightmare" next to the name of a being that literally swallows up worlds really should summon a rather grim picture into one's head…
But then you see this giant bug that looks like it's on death's door from hypothermia, and all such pictures vanish into thin air.
Or in other words, "Cho'Gath but blue".
It's also worth pointing out that this skin uses Cho'Gath's old splash art design as well. So you can look extremely dated for only 520 RP. What a steal!
2.

Blackbelt Udyr
Released: July 18th, 2010
Price: 520 RP
Blackbelt Udyr is probably the only skin where you pay RP so your character looks more privileged.
Not only does your skin get whiter, but you also get a nice Riot logo right on your crotch, so that you truly feel important.
What does any of this have to do with martial arts and the possession of a black belt?
Absolutely nothing, and neither does the skin.
Like seriously, why even name it that when all he has around his hips is the usual rope-belt like in his default skin?
1.

Rusty Blitzcrank
Released: November 20th, 2009
Price: 520 RP
This is one of those skins that's so god awful that Riot just pulled the plug on it.
It's one of the rarest League of Legends skins out there – and I honestly think that's a good thing because man does it suck.
As the name would suggest, it's just the base character model, but rusty. That's it.
You pay RP to look worse than you do normally.
It also becomes extremely ironic and hilarious whenever Blitzcrank himself claims that "rolling golems gather no rust", since it feels like the champion himself is shaming you for not roaming enough. This skin truly is the worst.
Note: this content was created under Riot Games' "Legal Jibber Jabber" policy using assets owned by Riot Games. Riot Games does not endorse or sponsor this project.
Browse:
League of Legends
Lists
Video Games