Best Long-Sleeve Dress CC To Download For Sims 4
This post may contain affiliate links. If you buy something we may get a small commission at no extra cost to you. (Learn more).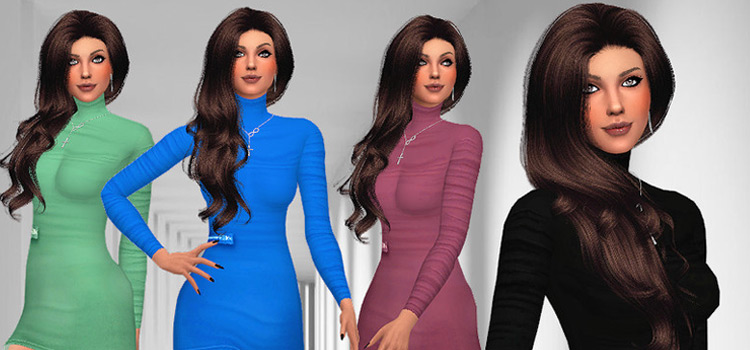 Admit it, we all want to have the best-looking Sim in more than one house lot.
We spend hours searching for custom content for hairstyles, eyebrows, eye color, everything. Because our Sim deserves nothing but the best.
Since I love playing dress-up, I wanted my Sim to have the best clothes for every occasion – emphasis on every.
And if there's one thing I just have to get right, it's formal wear. Yes, it's just a game. But I didn't spend hours befriending the whole neighborhood to throw social events just to look like a dollar store doll in front of my not-so-real friends.
Since the formal wear choices in-game just won't cut it, it's fun to indulge in the massive collection of CC online. But like in the real world, finding the right dress can be an exhausting effort.
But I did all that effort just for you (you're welcome) and compiled my picks for the most stylish long-sleeve dresses to unleash a Sim's inner queen.
10.

Long Printed Dress
This long printed dress from Sims2fanbg can be worn even in the most casual of days.
The dress has 8 different colors to choose from which you can pattern after your Sim's traits or the color scheme of your house furniture.
Whatever you choose, this flowy A-line dress will surely add a pop of color in your Sim's wardrobe.
9.

Turtle Neck Dress
From casual lounger to Sim seductress, this Turtle Neck Dress by Bill_Sims showcases how chokers and cut-outs can accentuate a sexy look.
Sure, you can still wear this every day.
But why not reserve this for a romantic date?
If you have the Dine Out expansion pack, surprise your potential lover with a dinner date at your restaurant and wear this sleek piece. Guaranteed 5 stars!
8.

Samantha Dress
Ah, this off-shoulder dress created by Sifix reminds me of Barbie movies and my dreams to be reborn into royalty.
I might not be a princess of Genovia but I can pretend my Sim is a princess in her world of codes and pixels.
With 15 colors to choose from, your Sim has all the time in the world to pretend and live her life as a stylish royal.
7.

Vintage Dress
I'm a fan of ChloeMMM's creations, and this Vintage Dress is one of my absolute favorites.
With puffed sleeves and a deep sweetheart neckline, this outfit screams Vintage Glamor.
And if you have that particular expansion, then this is the perfect dress to show off your Sim's classic style.
Relive the golden age of Hollywood and enjoy the spotlight with this chic ensemble. We all know you want to.
6.

Desislava Dress
Sims2fanbg gets another spot on this list with this Desislava Dress worthy of a red carpet entrance.
Finished with well-placed cut-outs and a thigh-high slit, this dress is what you wear to claim your fame. Or when you're already famous and you just want other Sims to see you walking down the streets of Del Sol Valley like a runway model.
Either way, you'll look famous as it is.
5.

Wardeness of the North / Growing Strong Dress
Say what you want about the ending of Game of Thrones, but the TV series gave an A+ effort in crafting high-fashion costume designs.
Sansa Stark's Wardeness of the North and Margaery Tyrell's Growing Strong Dress are tied in this list for serving ruthlessly elegant looks that would up your game at Spooky Parties.
Make it your party goal to get these dresses while you can.
4.

Sierra Gown
I got blinded by the crystals embroidered on this gown by April.
It's like shiny dripping water was sewn on the sheer material, creating an ethereal look that would dazzle under the lights.
Get to wear this dress on special occasions such as weddings or wedding parties if you want to outshine the bride.
It's also a good excuse to get the Luxury Party expansion pack and lord over other Sims who are just not as sparkly as you.
3.

Heather Gown
Now this dress from Elizabeth Mably is something I wouldn't be able to wear in real life.
But since our Sims are created the way some of us can only dream of, they are the perfect models to wear this gorgeous Heather Gown.
Incorporating a yin and yang concept of dualism, this dress is a work of art.
Although the other half of your Sim is mostly exposed to the world, there's a balance to this dress that will have you focusing on its overall composition, and not just the parts where it's revealing.
In other words, it's stunning!
2.

Elie Saab Fall 2014 Couture Collection III
Why wouldn't you have your Sim dressed up by an haute couture designer?
Taken from Elie Saab's own Fall 2014 Couture Collection, this sunrise to midnight ombre dress is the stuff of dreams.
Don't go wearing this when your Sim's cooking or painting!
Build a mansion, build a castle-looking house, get famous, be rich, do everything in your power to be worthy of wearing a dress like this.
We're talking about top-tier style here.
1.

Galaxy Dress
The best long-sleeve dress for this list literally reached for the stars. And it's divine.
According to creator Syld, this Galaxy Dress is "made from the night sky and the dreams of angels" (I didn't make that up).
I don't see any angels in The Sims 4. But this off-shoulder dress is heavenly.
I'm sure that whenever or wherever this dress is worn in the world, your Sim will always be the brightest star.
Browse:
Lists
The Sims 4
Video Games