10 Best Characters in Legend of the Galactic Heroes (Ranked)
This post may contain affiliate links. If you buy something we may get a small commission at no extra cost to you. (Learn more).
If you know Legend of the Galactic Heroes well, you'll know one of its key selling points:
The absolute wild cast of characters, and how different they all are! There's a little something for everyone, whether you like the tsundere style of Bittenfeld, the cultured and suave Mecklinger, or the effortlessly cool Yang.
In a cast of over a hundred characters, it was hard to pin it down for this list. How could I rank them when they're all so amazing?
Well this is my own personal top characters listing, ranked by how often I would bug my friends about how cool or interesting they are, and how much of an impact they left me on after I'd finished the show.
10.

Walter von Schönkopf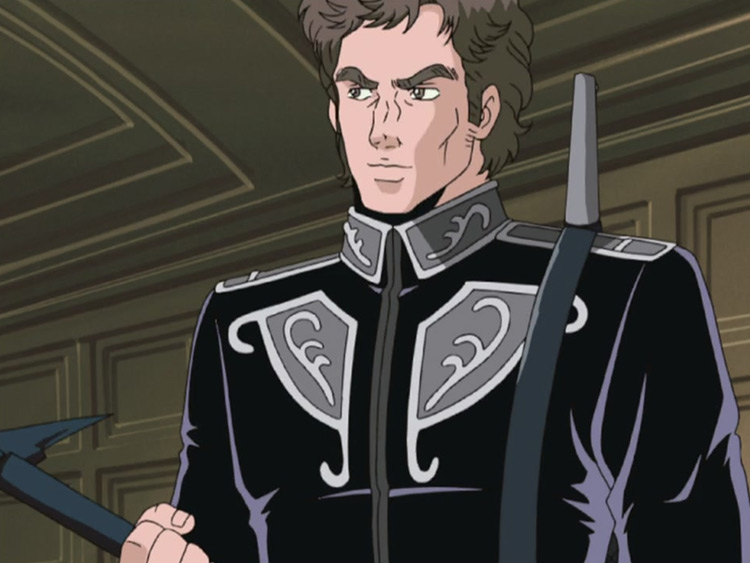 It's hard not to like Schönkopf, because he just has this "rule of cool" about him.
He always seemed level headed, like a man truly in charge.
It helps that he commanded the fearsome "Rossen Ritter", the most bad-ass group of hand to hand experts in the war, who loved to go hand to hand with their opponents with huge axes.
Schönkopf also had one of my favorite deaths in the series, going down after taking out almost a full troop of enemies. An absolute beast!
9.

Dusty Attemborough
Dusty was great because of his laissez faire attitude about being in the war.
While he was a tactical genius and the youngest officer to make it to Admiral, Dusty seemed like he didn't really care about the war.
With his salon fresh haircut and his delivery of the amazing phrase "We're doing this revolutionary war out of foppery and whim", it's hard not to admire the "Devil may care" attitude of this young Admiral.
8.

Paul von Oberstein
Ah, Oberstein! The guy we all loved to hate (But secretly loved!!)
This calm, cool, collected character was always one step ahead of everyone else.
I loved his constant contention with Bittenfeld, often referring to him as "Pig headed" or some other witty put down.
His loyalty to Reinhard was always so admirable, in part to his "genetic inferiority" which he claimed "Would have had him killed" under the Goldenbaum Dynasty.
I also loved how, at his deathbed, he made sure his dog was fed chicken. A great little twist to an otherwise cold character.
7.

Wolfgang Mittermeyer
The "Gale Wolf" himself, Mittermeyer!
Known for his swift decision making in the heat of combat, Mittermeyer was one of the most relentless admirals in the war.
Feared by his enemies and admired by his subordinates, Mittermeyer was a true force to be reckoned with.
I think it really helped when he put on that red cape too. Between him and Reuenthal, it was hard to pick out "Who looked more like some sort of King" when they appeared on screen.
A fiercely loyal ally, Mittermeyer was steadfast in his devotion to Lohengramm, but still admired his best friend in his rebellion.
Which leads me on to…
6.

Oskar von Reuenthal
Reuenthal just has this charisma about him which makes it hard to take your eyes off him when he's on screen.
Best friend to the aforementioned Mittermeyer, I loved the "Twin Pillars" in the Galactic Empire.
I loved the scene when Schonkopf caught him off guard when he was getting ready to evacuate, and Reuenthal held him off with a knife. A knife! When Schonkopf was coming at him in full power armor with an axe, looking to take off his head!
It's a shame he had to die in his rebellion. Because I feel he would have been such a great leader under Lohengramm.
Oh well, if you remember the old saying in LOTGH: "In every age, in every place, the deeds of men remain the same".
5.

Siegfried Kircheis
While he isn't necessarily my favorite character in the show, it's hard to argue the importance of Kircheis in how much he sets the entire plot in motion.
As Reinhard's best friend since childhood, Kircheis was always a stalwart ally. And he helped push Reinhard's ambition to rule the Universe.
I mean, he sacrificed his life to thwart Lohengramm's assassination. How could you ask for a better friend than that?
He also arguably has the second best fashion sense in the whole show.
4.

Ernest Mecklinger
How could I make this list without the "Artistic Admiral"?
Like Attemborough, he seemed kinda out of place in the great war, often preferring to surround himself with fine art and culture.
I struggle to remember him in almost any battle scene. But when I think back about Mecklinger, I often remember the time he played the piano, or was debating high society
And I mean, come on, don't you aspire to have a haircut and moustache combo like that?
3.

Josef Bittenfeld
Bittenfeld is one of the finest characters in any anime I've ever seen.
Epitomised by his brash "Never say die" attitude, I loved seeing the kinds of scrapes he was going to get into.
As the commander of the infamous "Black Lancers", Bittenfeld was always the first one in a fight. And as a result of this, he was often the first one to come out with a bloody nose, losing hundreds of ships!
I loved how he was desperate to one up Yang, which resulted in some very close scrapes for the FPA Fleet Admiral!
Plus nobody could dislike a character that tells his men "The goddess of victory is waving her underwear in our faces".
2.

Reinhard Von Lohengramm
It was hard to rank the top two characters. How could I pick between the two main protagonists?
In the end, I settled on putting Lohengramm here.
A true example of a leader, I always found it really resonant when Yang would describe him as "Not by the people, but for the people".
Lohengramm was great because he had true ambition, and I was always desperate to watch the next episode to see what he was going to do next.
Would he survive this attack? Would he get the better of Yang?
It's a shame he had to die at the end, as I would have loved to see a follow up series that examined the "Lohengramm Dynasty".
1.

Yang Wen-Li
How could I pick anyone else as number one?
Yang Wen-Li is not only the best character in LOTGH, but also one of the greatest characters in anime history.
A reasonable and nuanced man, Yang was always one step ahead of his opponents. And I mean always!
Probably the greatest tactical mind in the show, I would always hoot and holler when I found out that he'd managed to take out fleets much larger than his by using sound strategy.
His death was also so impactful. When I saw the ending shot in episode 82, I knew that "The magician would never return".
I wept, like Alexander, for there were no more worlds to conquer.
Browse:
Japanese Culture
Lists
Anime