Top 10 Super Mario Maker 2 YouTubers & Streamers
This post may contain affiliate links. If you buy something we may get a small commission at no extra cost to you. (Learn more).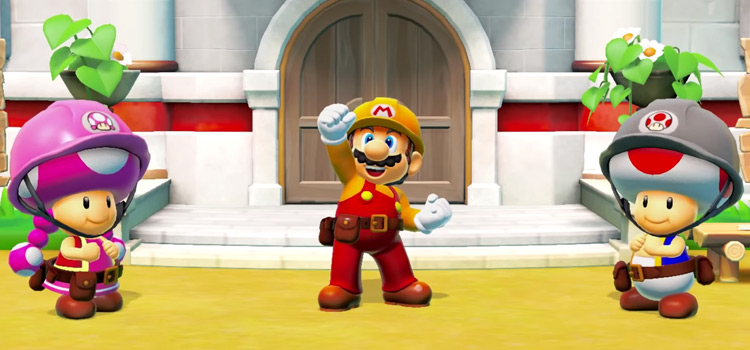 Back in the day, if you wanted to create your own Mario level, you either developed your own platformer or created a ROM hack based on an official game.
In 2015, Super Mario Maker changed the game by bringing the tools needed to create custom Mario levels to the masses – no programming knowledge required.
I've never designed my own Mario Maker level, but I love watching other people play cool and crazy custom levels on YouTube and Twitch.
Many people have built their careers around streaming Mario Maker content – and today, we're looking at the very best.
Let's-a-go!
10.

Manx Ninja Pig
Links: YouTube
Manx Ninja Pig offers some of the cleanest, most polished Mario Maker content on YouTube.
This prolific YouTuber from the Isle of Man pushes out excellent family-friendly content at least once a week.
Most of his content revolves around trying out Super Mario Odyssey mods, but he still hits SMM2 once in a while – and he has a ton of older SMM2 content.
Don't expect this channel to post hardcore zero-deaths SMM2 gameplay, though. Here, it's all about creativity.
Some of the best SMM2 videos include Making Squid Game in SMM2, and recreating Among Us in SMM2 Multiplayer Versus.
This creator is perfect for family-friendly content that younger audiences might enjoy.
9.

TheDragon1Feeney
If you're looking for a top-tier streamer with great community interaction and a steady stream of content, TheDragonFeeney is the way to go.
This charming Canadian began streaming Mario Maker content shortly after the original game came out in 2015. Since then, she has become a master of streaming and entertainment.
TheDragonFeeney is at her best when streaming live, but you should check out her edited content on YouTube too.
Start with the SMM2 playlist, then check out other Nintendo content like Mario + Rabbids: Sparks of Hope (2022) and Cadence of Hyrule (2019).
One of the best parts of joining TDF's audience has to be the Friday streams, where she eats pizza and spends some quality time with the chat.
8.

CarlSagan42
One of the most fun parts of SMM2 streaming is watching other people get their sanity sucked away by the most savage troll levels the community has come up with.
CarlSagan42 is a legend for his ability to tackle these levels seriously without losing his temper. This has much to do with his background playing ROM hacks of older Mario games.
I love watching this creator because he seems normal and unpretentious – then he starts playing, and you're reminded of your own inadequacies as a gamer. It's kind of hilarious.
After playing so much Super Mario, it's hard to impress CarlSagan42. His search for novelty has taken him through Puzzle levels, Troll levels – and even pushed him to create his own levels.
If you want a quick taste of what he's all about, this highlight reel of "Evil Levels" is a must-watch.
7.

ThaBeast721
CarlSagan42 is great, but if you want to watch someone completely decimate SMM2 levels, ThaBeast721 is the way to go.
This streamer is the kind of guy who does an Endless Super Expert No-Skip run as a warm-up.
Regrettably, he suffers from a common affliction among high-skill streamers: his voice and commentary can put you to sleep.
I'd recommend checking out his Stream Highlight Reel first, then moving on to SMM2 Multiplayer. If you liked that, then try to catch him live on Twitch.
6.

Pangaea Panga
For something a little bit more energetic, check out Pangaea Panga.
Like many other Mario Maker creators, Panga began his YouTube journey flexing his platforming skills by taking on challenging Super Mario World ROM hacks. He also did stuff like clearing SMW blindfolded, which is simply insane.
Since then, his content has remained consistently the same: tackling hellish Super Mario challenges wherever they can be found. In more recent years, that has been Super Mario Maker 2.
I found tackling uncleared SMM2 maps some of the most entertaining recent content, so check that out!
5.

FreakAndGeek
At around 20,000 subscribers on YouTube, FreakAndGeek is the smallest channel on the list – but don't let this keep you from checking it out.
The host, Geek, is a charming Australian gal who loves tackling troll levels in SMM2 and occasionally some Super Mario ROM hacks.
I love her channel because she still feels like a real gamer streaming from their living room. Her community interaction feels super authentic.
You can check out one of her 300+ SMM2 troll level videos or dive right into her full stream archives.
4.

Ryukahr
SMM2 content creators belong to two groups: the family-friendly type and the ragelords.
Ryukahr used to rage a lot. He'd get stuck in a level or fall to some cheap troll, and the swearing would kick into full gear. It was hilarious but also inappropriate.
Eventually, Ryukahr realized a good chunk of his audience was younger, so he decided to tone it down. Now, you can visibly tell when he's breathing deeply and trying to let that anger dissipate. It's still hilarious but in a very different way.
All that energy now goes into keeping up the good vibes with constant commentary and great humor.
He's also a top-tier SMM2 player, as seen in his Endless Expert and Endless Super Expert videos.
3.

GrandPooBear
GrandPooBear is one of the most influential SMM2 creators right now.
Among other things, he's the evil mind behind Iron Bros – a deathless challenge for SMM2 that has become super popular among streamers and YouTubers.
GPB's streams are chill, with hilarious commentary whenever he's not flexing his speedrunner skills.
If you're not much for long-form content, his YouTube channel is one giant highlight reel with excellent editing.
Along with SMM2, you might catch him playing high-difficulty Pokémon or SMW ROM hacks.
2.

DGR
Starting to watch a new streamer is like inviting a new friend into your life. Whatever vibes they put out, they'll pass them on to you.
DGR feels like he's enjoying every minute he spends playing SMM2 – even though he mostly tackles troll levels. He sometimes gets tilted but carries it with dignity and doesn't bring down the chat.
SMM2 is a game that benefits from the streamer constantly keeping up the hype, and DGR knows how to do that for sure.
His channel is full of creative experiments like letting an AI pick his SMM2 levels or checking out multiplayer troll levels.
If you want more, his entire stream archive is available here.
1.

SimpleFlips
What I'm looking for in a streamer is high energy, good vibes, and a great sense of humor.
SimpleFlips gives me that and more.
His Walkies series, where he attempts to reach S-Rank in SMM2 competitive multiplayer without ever running, might be the funniest SMM2 content on the entire internet.
Check out the Iron Bros playlist to see him flex his gamer skills.
You can also check out his YouTube Shorts channel for bite-sized fun, or browse his entire stream log for a life-long supply of good vibes.
Browse:
Lists
Super Mario
Video Games