The Best Minecraft Bedroom Mods (All Free)
This post may contain affiliate links. If you buy something we may get a small commission at no extra cost to you. (Learn more).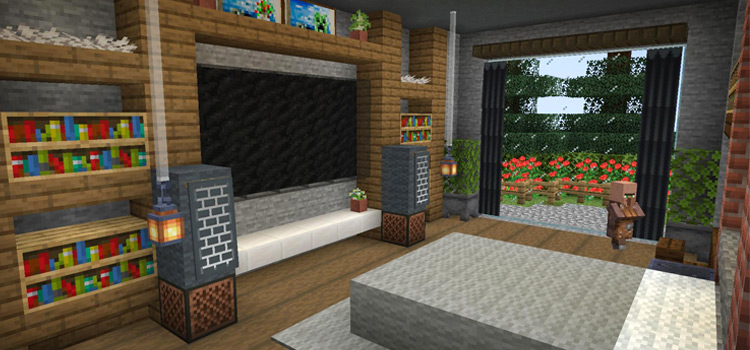 So you've just finished your beautiful new Minecraft home, and now you want to start decorating the interiors.
Why not start in the bedroom?
After all, that's where you'll be spending your nights cowering in fear of the spiders and endermen – so you might as well make it nice!
In this list we've collected some of the best mods out there to help you create your perfect Minecraft bedroom.
8.

Macaw's Windows
If you think that your boring vanilla glass pane windows are letting your Minecraft bedroom down, Macaw's Windows is a mod worth trying.
This adds around 100 new, openable windows to the game – all in a range of different textures and styles.
The mod also lets you add windowsills, and includes a selection of Venetian blinds that you can open to let the light in (or shutter for a bit more privacy).
7.

Botany Pots
Let's say you're tired with the sad, single flowers you can place in a standard-sized Minecraft flower pot. Maybe you dream of filling your Minecraft bedroom wall-to-wall with luscious rose bushes and perfect peonies.
Then Botany Plants is absolutely the mod for you.
This adds large-sized flower pots that can be used to grow full-sized versions of most plants, including some that can't be planted in normal flower pots.
In addition, with the Botany Trees add-on you can also grow cute bonsai trees.
The pots can also be made in a rainbow of colors using colored terracotta, and also comes in a hopper variant which automatically harvests any fully grown plants placed in them, before dropping them into the storage below.
6.

Macaw's Doors
The faithful Minecraft door has long been a staple of the game.
But you would be forgiven for thinking that the current options are a little limiting.
Maybe you dream of having the formal classiness of the dark oak door for your bedroom, but you can't stand the dark color bringing down the mood of the room. Maybe you're interested in having the more rustic aesthetic of a spruce door, but you're prefer it in acacia wood to better suit your peaceful savanna home.
Macaw's Doors solves this problem by letting you have any style of vanilla door with any standard wood texture, letting you engineer the door that's right for your bedroom.
The mod also features a variety of new doors, from sliding shoji doors (ideal for your sleek fitted wardrobes) to full-length glass doors (perfect for that balcony you're planning).
5.

Extended Lights
There's no denying that lighting options in Minecraft have definitely improved in recent years, with the arrival of lanterns in 1.14 and candles in 1.17.
However if you're still not feeling like you have enough choice when giving your bedroom a bit more mood lighting, Extended Lights can help.
This mod adds various lighting options to the world to give your bedroom a sleek new look, including modern electric wall, floor, and ceiling-mounted light panels – and bulbs and tower lights.
Or if you're interested in making your bedroom more like a gothic castle, you can also choose from atmospheric candle holders and candelabras in both gold and iron variations, as well as roaring braziers and mini jack-o-lanterns.
4.

MrCrayfish's Furniture Mod
MrCrayfish's Furniture Mod is a colossal effort which adds over eighty unique pieces of modern-style furniture suitable for every part of the house.
This includes beds, bedside cabinets, alarm clocks, blinds and ceiling fans, as well as incredible gadgets such as electric lighting that's controllable via wireless switches. Not to mention flatscreen TVs that play uploadable gifs of your choice.
You can also kit your shiny new en suite bathroom out with a range of beautiful bathroom fittings, including baths, sinks, toilets, and medicine cabinets.
Due to an ongoing code rewrite by MrCrayfish, certain furniture items are currently unavailable on more recent versions of Minecraft.
However, these items will be restored future updates, and the full range of items is still available on older versions of the mod.
3.

Good Night's Sleep
Usually when you're going to sleep in Minecraft, you'll just wake up the next morning.
Or explode, if you're in the nether.
But not with Good Night's Sleep, an impressive mod that adds two new dream dimensions to Minecraft that features an array of new mobs, blocks, and ores, all of which can only be accessed by sleeping in a Strange Bed.
The Good Dream dimension is a sugary world of lollipops and sunshine, populated by unicorns and Technicolor sheep.
By contrast, the Nightmare dimension is a lava-filled hellscape of poisonous plants and monsters – similar to an open air version of the Nether.
The mod is currently in beta, and future updates are expected to further expand the number of blocks, ores, and unique mobs.
2.

Macaw's Furniture
No bedroom is complete until it's beautifully furnished.
And Macaw's Furniture gives you everything you need to create the perfect living space.
The mod offers everything like nightstands, cupboards, dressers, wardrobes, tables, and chairs, all craftable using all wood types.
Plus this mod allows you to easily combine individual furniture blocks however you like to create larger furniture units, including desks and fitted wardrobes.
The furniture is also highly functional, including useable storage and 'sittable' chairs.
1.

Multibeds
Multibeds lets you create fully functional beds that can be used by both the player and villagers.
And these can be snapped together to create double beds and bunk beds.
This mod offers a range of bedstead styles including classic, vintage, modern, slab, rustic, and cot beds, which can be crafted in the style of any in-game block texture – no matter how strange.
Yes that's right, you can finally have a bed made entirely from dirt if you so choose.
However, the main draw of Multibeds is the custom bed sheets, which can come in a range of colors and embroidered with unique designs.
Create your own patterns, or choose from a selection of pre-made designs which feature pop culture references to icons such as Doctor Who and Super Mario.
Browse:
Lists
Minecraft
Video Games