15 Best Furniture Mods For Redecorating Minecraft
This post may contain affiliate links. If you buy something we may get a small commission at no extra cost to you. (Learn more).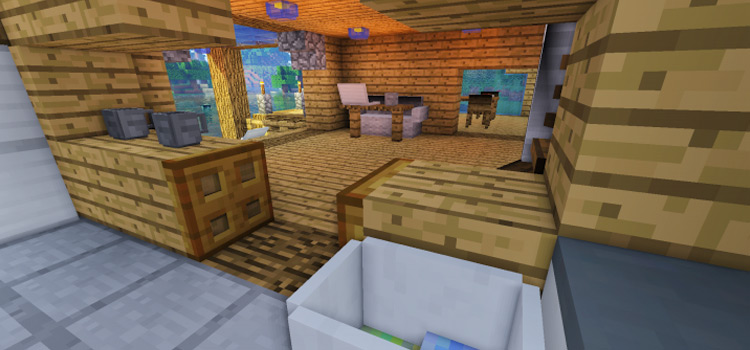 New furniture is one of the most requested things in Minecraft by all players.
People who love building houses tend to have to resort to all sorts of tricks in order to create "furniture". This sharpens creativity, but it would be much more fun to be able to place real furniture in the game.
That's why I've made this list featuring a bunch of awesome furniture mods to snag.
Keep in mind that not all of these are updated to work with the latest version of the game. So you might need to search out the mods that fit your release.
In any case, I think these add-ons will help you create some fantastic interiors to call home. Be sure to take full advantage of them!
15.

Tinker's Construct
Even though Tinker's Construct doesn't add a lot of detailed furniture, it does allow you to fully customize your placed items and change their shapes.
You'll be able to fully edit blocks and create shapes that shouldn't exist in Minecraft, which will allow you to make custom pieces of furniture and decorate your dream home like never before.
A neat little mod to look into if you still want to craft your own chairs and such.
14.

Jammy's Furniture Mod
Jammy has managed to create a cool set of furniture, and although his website is down at the minute of this writing…
But you can get his mod directly from the Minecraft Forums too.
Check out the whole bunch of new items that can be added to the game using his cool and simple mod!
13.

Carpet Mod
There's not much to say about this one, except that it adds new carpets to the game.
Which is definitely neat.
Although nothing out of the ordinary, I know.
But it's still quite a good addition if you want to decorate your dream home and make cool flooring patterns.
12.

Outdoor Craft for MC
This mod changes the look of certain trees and adds a few pieces of outdoor furniture that are sure to make any garden look vibrant and glorious.
Say goodbye to the days of your garden having random stairs all over the place as you attempted to replicate the look of outdoor chairs in the game.
11.

Macaw's Furniture
Macaw-s Furniture mod is one of my favorite Minecraft mods when it comes to adding furniture to the game.
It comes packed with at least a dozen new items that range from desks to closets and even smaller storage units like countertops.
It's not updated to the latest version of the game for now, but it does offer a unique selection of items that are sure to spice up the look of your in-game home.
Fun note: if you're looking to create a new studio, some of these items will work wonders for that purpose.
A truly majestic mod that likely took the creator a lot of work!
10.

ModernArch Mod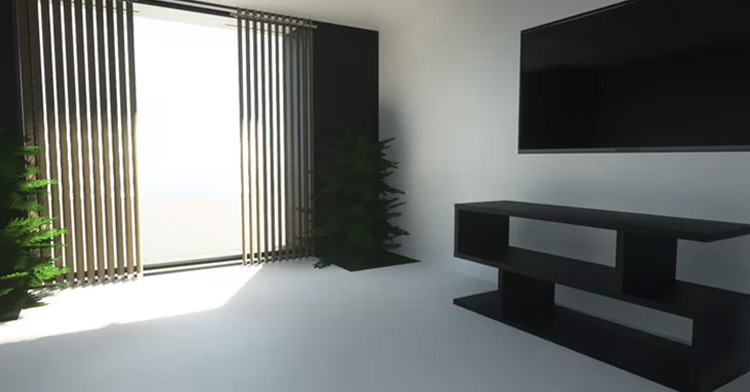 This absolutely magical mod allows you to craft furniture that you wouldn't be able to fathom without the use of mods.
Yes, you know what that means – *enter circular things*.
This allows you to create special tables and other stuff that have circular shapes.
It adds a whole lot of new furniture to the game, too.
Special plant pots, wall decorations, tables, chairs, and much more.
There are many new things that might not suit the game (as per their shapes).
But if you want to create complex builds with a whole lot of detail and unique furniture that don't look like you just took them out of their IKEA packaging, this is something you'll want to try.
9.

Kitchen ++
I'm kind of stretching it to call Kitchen ++ a furniture mod, as the only item that it really adds is a toaster.
However I think it still deserves a spot on my list because it complements the way your kitchen looks and adds a lot of cool recipes into the game.
As I said, it's not really a furniture mod… but given the surprising lack of furniture mods that I managed to come across on my search, this one actually does a pretty decent job of adding a realistic household item.
8.

Dany Furniture
Dany Furniture is like the ModernAch Mod but without the circular stuff.
It adds many new tables and items that come with the circular mod above.
But these ones are squares, which fit much better to the game.
And subsequently make this mod deserving of a better spot on my list. Reasonable opinion, right?
In any case, I really think that Dany Furniture is one of the best mods that I've seen when it comes to adding new household items.
All of the stuff added here looks as well-crafted as can be. Give it a try!
7.

The Hospital Mod – Facilities Pack
This mod allows you to create a hospital in Minecraft by adding key items that you often find in the facilities of a hospital.
Imagine roaming the halls of a clinic in real life – what do you expect to find there?
Phones? Fire extinguishers? A desk, maybe?
Yep, all of those can be placed in Minecraft with this freebie.
They don't serve any purpose other than as a decoration.
But hey – if you've wanted to build a hospital in the game, now's the time!
6.

The Hospital Mod – Pharmacy Pack
This is basically the second part of those looking to design a hosptal.
With the Pharmacy Pack you get items that you often find in a pharmacy(go figure) allowing you to create another wing of your Minecraft hospital.
Keep in mind that many of these items will serve you a good purpose for decorations outside of a hospital per se.
So even if you're building a home and you want stuff to play with, this might be a good one to check out.
5.

Medieval Architecture
You'll be able to craft certain types of furniture after installing this mod.
But its main focus is to grant you access to many new different types of stone blocks to help you create castles, or any of the other things you see in medieval paintings.
It mainly focuses on adding new content that can be related to the Romanesque and Gothic architectural styles. So if you're an art connoisseur, I'm pretty sure you're going to love this mod.
4.

Furniture Mod
Alright, I'm adding this one here because I find it absolutely hilarious that it's called "The Furniture Mod" but it literally adds no furniture at all to the game.
I'm not sure what this guy was thinking. But the fact this mod has such a name, it deserves a spot on my list.
The guy who made this is actually quite a visionary, though.
Many of the item types that he created were later added in other Minecraft versions (bear in mind this mod came out in 2012).
The sheer fact that most of his blocks were later implemented by Mojang makes me think this guy was actually someone from the Minecraft development team or modern-day Nostradamus. And he has a damn good sense of humor…
A fun mod to check out, but certainly a bit dated.
3.

Tamriel Treasures Mod
The Tamriel Treasures Mod is going to give you plenty of fantastic TES things to play around with.
Have you ever wanted those barrels that you often find in Skyrim? Well now you can.
The idea with this mod is to add new things that can be used by map creators to make a TES experience in Minecraft; but you can also use the items as you see fit.
Decorate your dream home with the many items that you can often find in the Elder Scrolls and enjoy a crossover experience like no other.
2.

Scarab's Missing Furniture Mod
This mod is going to give all the necessary items that you need to create an ideal Minecraft home.
Does your Minecraft studio lack a laptop?
Is your kitchen missing an espresso machine?
All of those problems will be gone once you've installed this generous add-on.
It's designed to add essential pieces of furniture that you often find in most homes, that simply won't ever be added to the game for obvious reasons.
1.

MrCrayfish Furniture Mod
After showing off so many fantastic mods on this list, it's only natural to expect that #1 is of the highest quality possible.
And indeed, MrCrayfish's Furniture Mod is (by a long stretch) the best furniture mod ever created for Minecraft.
Hands down.
All the furniture that comes with this mod is made using high-res textures, and the details that all of the items have are far better than you would imagine. With MrCrayfish, seeing is believing.
Yet somehow, they all still feel like they fit perfectly into the game.
It's a truly fantastic experience and your house will feel beautifully decorated yet very vanilla when you're done.
Browse:
Lists
Minecraft
Video Games