Minecraft: The Best Biker Skins (Boys + Girls)
This post may contain affiliate links. If you buy something we may get a small commission at no extra cost to you. (Learn more).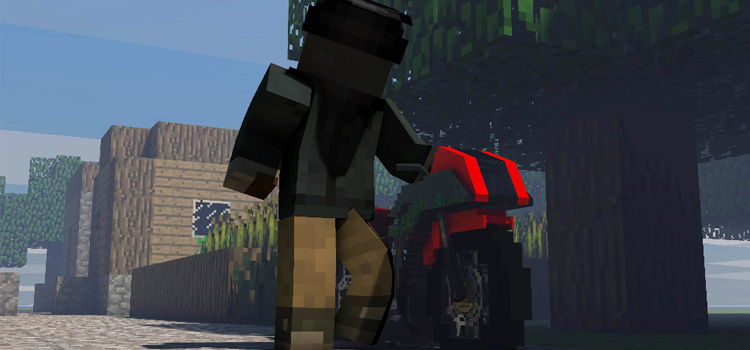 There's just something about the open road that calls to me.
Clear skies, hot asphalt, and nothing but miles for me to burn with my trusty bike.
Well, not really. I don't have a motorcycle, but that sounds cool as heck, doesn't it?
We all understand the biker aesthetic, don't we? The leather, the helmets, the bikes themselves. The biker look isn't only about the cool outfits; it's a lifestyle.
It's a lifestyle that I'm unlikely to be participating in anytime soon, since I don't have a motorcycle and am terrified of them.
But nonetheless, I can still live out my tough biker dream in the wonderful world of Minecraft, using some of the best biker skins around.
1.

Brunette Biker Girl
We're starting off the list with a skin that is perfect for opening the door into the rough and tumble world of bikers with this biker girl by creator Aquatta.
Here, we see a classic biker look from the stripes on the leather jacket to the fingerless gloves for ridin.'
Everything about this skin screams "biker," and I honestly love it.
Even the small details like the rough chop on the hair and the sunglasses add on to the design to give you a character that is tough and rad.
I doubt I'll ever be as tough or rad in real life.
But hey, in Minecraft I'm bad to the bone.
2.

Hotline Miami
Bikers don't have to be exclusive to the Harley-riding, leather jacket wearing crowd.
And bikers don't have to quite be the Sons of Anarchy to qualify as one of the biker nation.
I was pleasantly surprised to find skins like this are quite common amongst the biker skins in Minecraft.
Hotline Miami has a special place in my heart for the grit of its series and the contrasting, popping colors. I mean, look at the neons on this skin.
It jumps right off the screen. And hopefully into your next Minecraft server.
3.

Daryl Dixon
Bikers' rough looks have made them a fascinating character throughout popular media since, well, folks were riding around on motorcycles.
However, their dangerous history has lessened their prevalence nowadays.
Now one of the only mainstay bikers left on popular TV is The Walking Dead's Daryl Dixon.
It's no wonder the show decided to expand Norman Reedus' character considering how iconic Daryl has become.
Even through this skin, you can feel the grease and the intensity coming off of him.
I don't know about you, but that's the kind of gaming experience that I'm looking for.
4.

The Typecast
Oh, now here we go.
If you've been itching for a more traditional biker design then look no further.
Accurately named "The Biker" by creator DatMuffinMan, this skin is the ultimate choice.
Truly the most stereotypical biker look I have ever seen.
I mean, just look at the size of those shades, the leather, and the denim.
I can hear a motorcycle revving and popping already.
5.

Modern Biker with Helmet
The truth is that while our previous skin is what comes to mine and most people's minds when they think of "bikers", that's not how most bikers dress nowadays.
For one thing, anyone riding a bike needs a helmet, duh. Safety is important.
And this skin by SorenE shows that safety doesn't have to come at the price of coolness.
I love how realistic this skin is, and how true to form this outfit would be for someone who rides a bike.
The clothes even have a bit of bulk to insinuate they may be padded/structured for extra warmth and safety.
You love to see safe riders on the road.
6.

Biker Gang Dude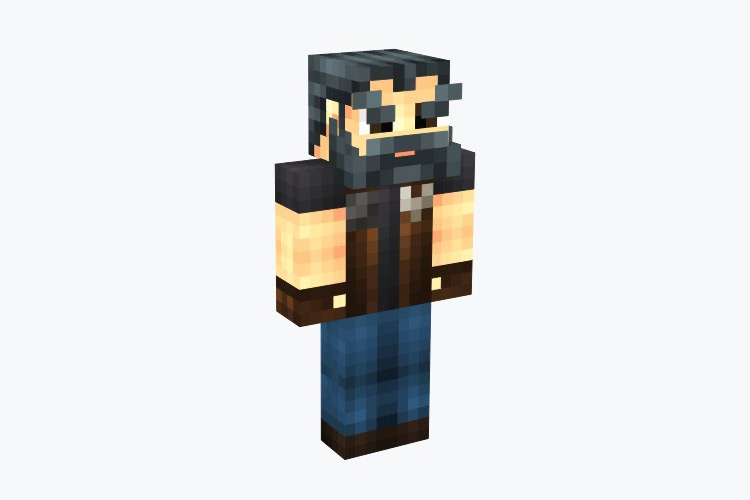 This skin is hilarious, and also what I want to be when I grow up.
The giant, over-exaggerated facial features combined with the burly beard and the biker vest make this the meanest looking Minecraft skin I have seen in a long time.
Is it weird that I love it specifically for that reason?
7.

Pumpkin Racer
The Minecraft community never ceases to amaze & delight with their creativity.
Never in all my days would I think that pumpkins and modern motorcycle racers could be mashed up into a cohesive skin.
Yet somehow, this skin by creator phlex_tape is just sitting here. Looking like a Halloween dream come to life.
With this skin's split face and sleek look, it's almost definitely about to become a staple in my skin rotation.
8.

Pink Cutie Biker
So many of these biker skins are focused on the leather and the denim, that they lose sight of what it really means to be a biker.
Being a biker isn't about the clothes you wear.
It's about who you are on the inside, as this hilarious skin by creator DragonsDungeon shows.
How this skin manages to be elegant and fearsome as a biker in a dress, I do not know.
But it's an undeniably stunning look that gets better and better the more you look at it.
9.

Biker Wario
If you don't love Biker Wario, are you even a fan of Nintendo, Mario, Smash… anything?
Look at the devilish grin on this handsome chopper-rider.
Look at that evil, twisty mustache.
It's Biker Wario.
Do I need to convince you to download it? I hope not.
10.

Mad Max '79
I know that Mad Max: Fury Road absolutely demolished the box office, and for good reason, but I have to recommend that everyone see the original Mad Max's with Mel Gibson.
Those late 70s/early 80s movies are the embodiment of punk and biker culture, set in a desert apocalyptic wasteland.
The resulting aesthetics (as this skin shows) are to live, to die, and to ride for.
Browse:
Lists
Minecraft
Minecraft Skins
Video Games