Best Black-Colored Hoodie Skins For Minecraft (Boys + Girls)
This post may contain affiliate links. If you buy something we may get a small commission at no extra cost to you. (Learn more).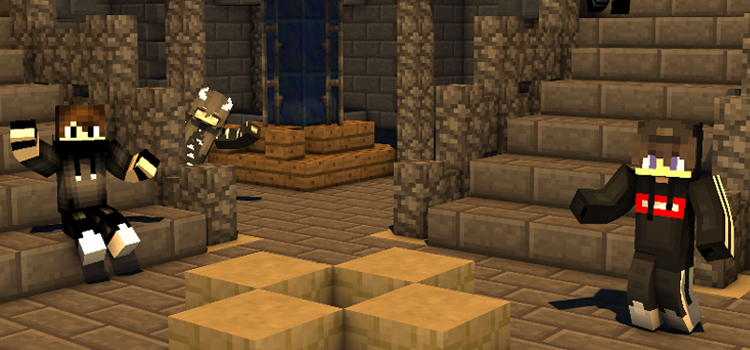 As someone who hates dressing up, hoodies have become a wearable sanctuary.
They're unisex, easy to style, super comfortable, and do a damn good job hiding holiday weight gain.
With that kind of sales pitch, who wouldn't want to own hundreds of hoodies?
1.

Cool Boy with a Black hoodie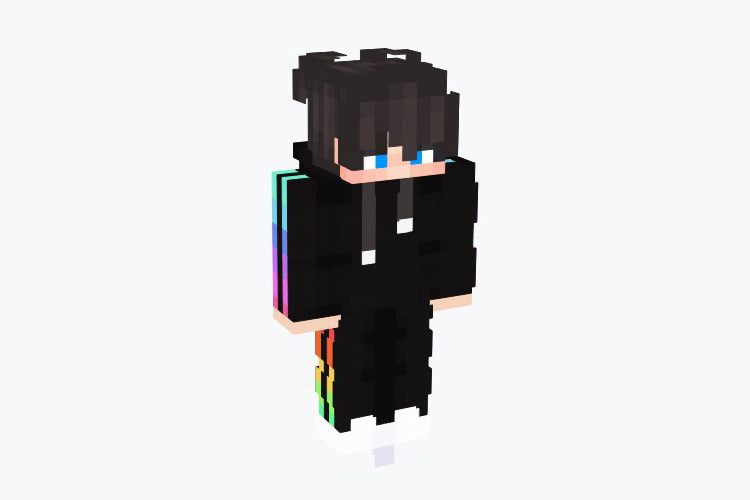 With the ongoing obsession with RGB lightning nowadays, this skin wouldn't look so out of place.
It features a simple black hoodie with colorful stripes that track down from shoulder to ankle on each side, making you look like a human RGB floor lamp.
Forget about Tron, this skin's the future!
2.

Neko Boy Green Black Hoodie
We've seen multiple variations of Catwoman played by Michelle Pfeiffer, Halle Berry, and Anne Hathaway.
But I bet you haven't met Neko Boy.
He's garbed in head-to-toe black, equipped with neon green accents and surprisingly adorable cat ears.
However, do not be fooled by his cuteness – he can kick your butt with his badass style.
3.

Cool White Hoodie
Speaking of comic book characters, this Cool White Hoodie by KingZealot would give Marvel's Shang Chi a run for his money.
Inspired by the yin and yang philosophy, this skin is bisected by light and dark shades.
At the back, the Yin-yang symbol dominates the space, providing an intimidating but minimalistic ensemble.
4.

White/Black Demon Boy
Contrary to KingZealot's Cool White Hoodie, White/Black Demon Boy is more chaotic, darker, and mutated – the perfect protagonist to a fantasy world.
He's not as creepy as a Creeper.
But he sure is an interesting anomaly to add to your unique skin collection.
Have a half-demon getup ready to roll with this design!
5.

Itachi Hoodie
Once upon a time, I fantasized about owning an Akatsuki cloak, for a reason that involved having a huge crush on Itachi Uchiha.
Call me crazy for liking a man with a Sharingan, but man, did he look good in that getup.
And now you can re-create Itachi's look in Minecraft with this well-detailed creation from Crazyskull.
And if you like this design then you'll probably love our collection of Naruto skins.
6.

Black Hoodie Boy with Mask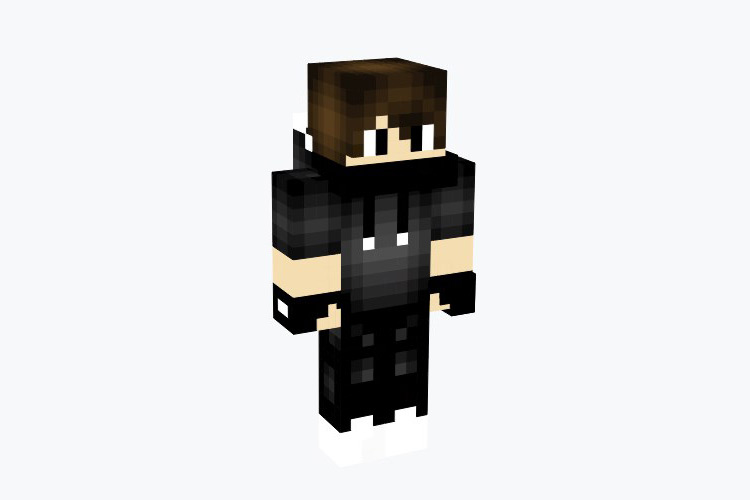 All black clothes? Check.
Fingerless gloves? Check.
A mask that covers half a person's face? Check.
Good news, ladies and gentlemen – we've found ourselves a modern-day ninja!
Dodge Slimes & other mobs by blending in with this seamless fashion, courtesy of skin creator Syncz.
7.

Dying Light 2 Hoodie
It should be obvious that the only way to survive a zombie apocalypse is,
1) build a bunker, and
2) wear a hoodie
Not only does it protect you from the elements and deadly viruses, but it also provides maximum comfort in an otherwise stressful environment.
Try it out for yourself – just grab this Dying Light 2 hoodie skin that has withstood years of zombie attacks!
8.

Fire Hoodie
Hoodies are made for cold weather.
But who says they can't make you hot?
CookieEllie has cooked up an awesome skin decorated in flames, creating a burning effect from wrist to shoulder.
To add to its fiery aura, a dragon's image hovers at the back, concluding this ensemble's fearsome style.
A brilliant look for anyone who likes fiery designs.
9.

Flame Girl Hoodie
If there's a Fire Hoodie for boys, then there's certainly a flame hoodie for girls.
ThatOneCat brought the heat here by coloring the model's hair in various shades of orange, paired with an equally vibrant pair of shoes.
Plus those yellow eyes could sear into someone's soul if they stare long enough.
10.

Pink+Black Hoodie Girl
Gathering materials, making tools, and hunting for treasure are tough tasks in Minecraft.
But that doesn't mean you can't look cute while accomplishing them.
Add a mix of pink and black into daily wardrobe in just a few clicks.
11.

Witch Girl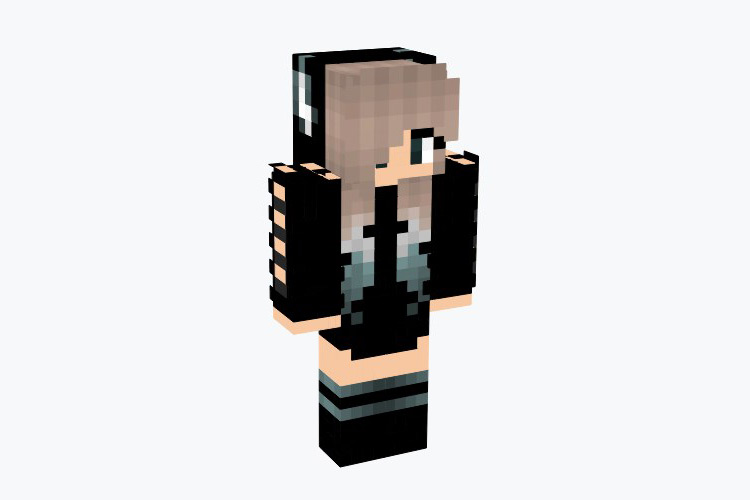 Did you know that hoodies are witch-approved?
Case in point, it was Wanda Maximoff's outfit of choice during her climactic battle with another powerful witch in WandaVision.
It's such a small detail to note. But it says a lot about how convenient hoodies are in any kind of scenario – even in witch battles.
Care to test out the theory?
Then go ahead and try this skin from sheleensimon.
12.

White Hair Ninja Hoodie Girl
It's not every day that someone pairs up the aesthetic of witches with ninjas.
But somehow, JustMoonlight made it work.
For some reason, though, the whole "discretion" part of being a ninja was thrown out the window here – due to the addition of shocking white hair and horns.
It's not the most covert look, I know.
But when can we ever have this crossover again?
13.

Black Hoodie Girl
If there's one hoodie that I probably wouldn't wash for months on end, it would be this piece created by NaturalMess.
It's such a plain yet classic look, improved by a cute hairstyle with buns on each side.
With this skin on hand, surviving Minecraft wouldn't be such a hard thing to do.
14.

Rainbow Black Creeper Hoodie Girl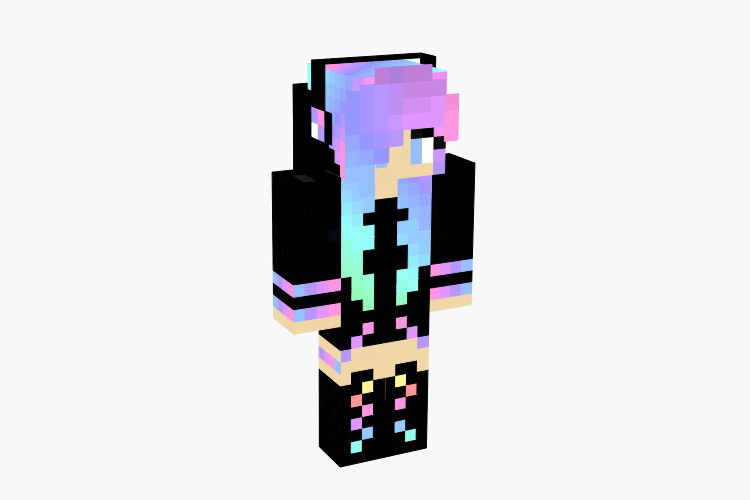 Hoodies have been around since the 1930s.
But I bet in the '30s they didn't make 'em like this.
And by "this", I mean hoodies with a unicorn's palette and a Creeper's face on the back.
As random as it sounds, why settle with the same old utilitarian style when you can dress like a rainbow?
15.

Black & White Cloud Girl
Seeing this hoodie at a glance, one might think that Avril Lavigne is creating skins for Minecraft.
But PlayerSlim just knows how to make a rocking hoodie design – even without the help of the Canadian singer.
Clad your character in this dark cloud-covered hoodie dress and fishnet socks, and you'll be ready to face any challenge.
Browse:
Lists
Minecraft
Minecraft Skins
Video Games