Best Blue Hoodie Minecraft Skins (Boys + Girls)
This post may contain affiliate links. If you buy something we may get a small commission at no extra cost to you. (Learn more).
It isn't a secret that everyone loves the color blue.
Numerous slam book pages and security questions have proven this, and I bet at one point, you fell in love with it too.
Every day we see it when looking up at the sky – and while searching for new beach wallpapers.
So let's become the picture of peace and harmony (while still looking trendy) with some of these hoodie-wearing skins for Minecraft, all adorned in shades of blue.
1.

Blue Creeper Hoodie
Nobody loves a Creeper – in Minecraft and in the real world.
Fortunately though, Creepers in Minecraft are much worse.
They spontaneously combust, appear out of nowhere, and are programmed to be hostile.
Not to mention they've given players their fair share of jump scares.
Still, no one would dare get rid of this iconic mob. Not when its creepy face is literally on the Minecraft logo.
As weird as it sounds, maybe having a Creeper face to watch your back can help you repel the menacing mob!
2.

Flower Hoodie
Whenever you're nearing a rage quit, don't smash your keyboard – wear this custom flower hoodie skin instead.
This sunny ensemble features a light blue color and sunflower designs all around.
It won't do much to keep Baby Zombies or any other mobs at bay. But as long you wear it, just remember to stay calm and play on.
3.

Light & Dark Blue Hoodie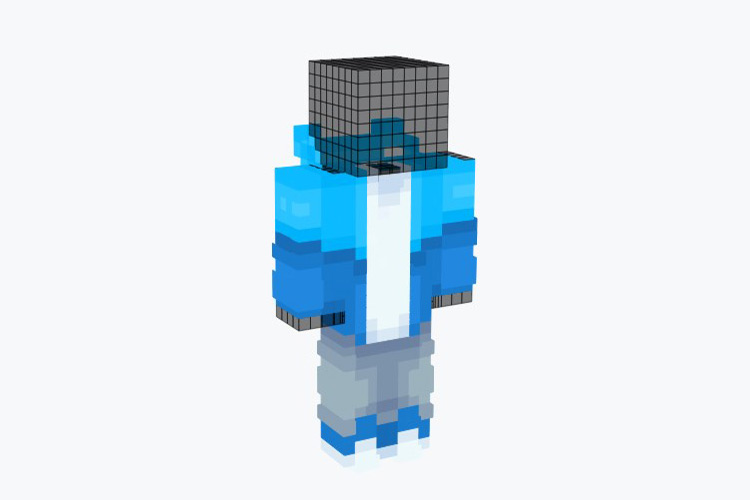 Not everyone who wears a simple hoodie would turn out to be like Mark Zuckerberg.
Plus, this skin by StealthyKnight looks way better than any of the Facebook CEO's college wear.
Get a cool two-toned hoodie paired with gray pants and blue shoes in this odd-yet-captivating design.
4.

Blue Hoodie Wolf Boy
For a hoodie inspired by an apex predator, this looks way too cute.
The skin displays light blue tones and wolf ears on each side of the hood like it's the most natural thing in the world.
Download this skin from Jason_school, and you won't have to wait for a full moon to channel your inner Teen Wolf!
5.

Cute Pastel Blue Dinosaur Hoodie (Boy)
Up next, we've got another predator's likeness turned into an adorable fashion piece.
AkemiIsMissing created a pastel blue hoodie that would fit right in Barney's official merchandise.
It's got a dinosaur's face in the hood and spikes at the back, offering no other protection whatsoever against the evil mobs of Minecraft.
Oh well, at least your character will look cute right?
6.

Blue Hoodie Boy with Panda Hat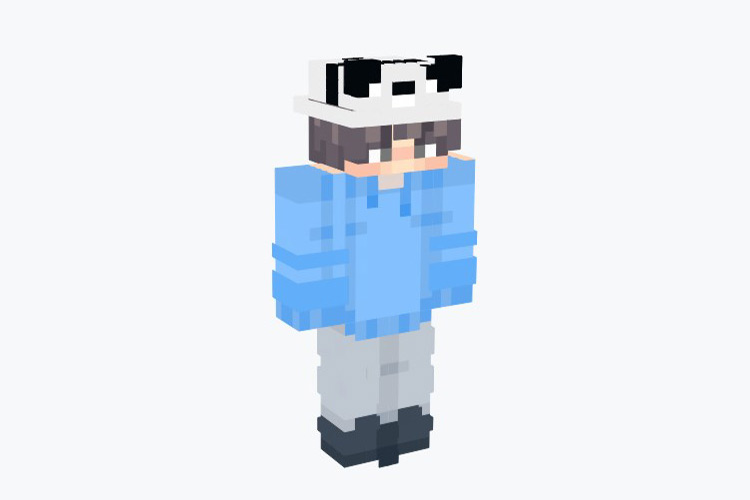 Now here's an animal I wouldn't mind near my head.
Pandas are one of the most effective stress relievers, as long as you don't steal their bamboo and annoy them for no reason.
They're generally peaceful IRL – so why wouldn't they look great with a blue hoodie?
Don a cute and comfy go-to look with this adorable skin by Mrdoggys.
7.

Mister Blue Sky
Billie Eilish, Kylie Jenner, Halsey, and many more have rocked blue hair and slayed.
But Mister Blue Sky hits different.
Skin creator Silvershard took it to the next level by pairing blue on blue from top to bottom.
If Jack Frost from The Rise of the Guardians could get any colder, this would be his go-to hoodie.
8.

Light Blue Hoodie (Boy)
Even though many players despise Creepers, they sure are popularly used to design hoodies.
This skin has a hoodie with a gradient tone, showcasing various shades of blue from hood to hem.
But what's its most noteworthy feature, though?
A Creeper's forever horrified face on the back.
But on the bright side, it's good enough to be your casual 'fit for Halloween.
9.

Cloud Hoodie Girl
This design has one thing to prove:
If you can't be on cloud nine, then you might as well wear it.
This skin is a multi-tone getup peppered with fluffy white clouds.
I'm also 99.99% sure that it's a cutout from Andy's bedroom wallpaper in Toy Story. Luckily we've got a list of Toy Story skins to keep you busy too.
10.

Blue Hoodie Heart Girl
Tired of wearing your heart on your sleeve?
Try wearing it on a hoodie!
Sure, this custom hoodied girl design isn't anything out of the ordinary. But it's enough to bring out any character's personality.
Give some love to Krazy_Kitten_16 and definitely download this one for your skins folder.
11.

Cute Bright Blue Hoodie (Girl)
Neon colors aren't really my thing – except when they're in the prettiest shade of blue.
Now you can be the most eye-catching brunette Alex model in Minecraft when you gear up in this adorable bright blue hoodie skin.
It isn't covering much, but some things have to go in the name of fashion.
12.

Cotton Candy Hoodie
It's ironic to have a user named DontHugMe create something as adorable as this skin.
Too bad we really need to give them one because this looks like a sweet deal.
Either way, now you can wrap your character in pastel hues from head to toe.
Isn't that something we all want to do at least once?
13.

Cute Unicorn Hoodie
My twelve-year-old self would've wasted all her Christmas and 11:11 wishes to receive this unicorn hoodie as a gift.
Can you imagine how popular it would be at slumber parties?
Not to mention that it comes with rainbow shoes – it's just the perfect conclusion to this fantastical look.
One thing's for sure: with this skin on, people are gonna notice you.
14.

Blue Poké Ball Hoodie (Girl)
I'm sure by now you've heard of Pixelmon Generations, a Pokémon mod you can apply in Minecraft.
It's as exciting as it sounds – the Pokémon universe converted into glorious pixels
It has arenas, customized biomes, Pikachu, and hundreds of other creatures. If you've yet to try it then definitely give it a go.
But even as amazing as that mod is… it doesn't have this awesome Poké Ball-styled hoodie from creator JoleneNg.
When you're out catching them all (in Minecraft) then you better make sure you have the proper uniform for the job.
Browse:
Lists
Minecraft
Minecraft Skins
Video Games