Minecraft: The Best Blue-Colored Skins (Boys + Girls)
This post may contain affiliate links. If you buy something we may get a small commission at no extra cost to you. (Learn more).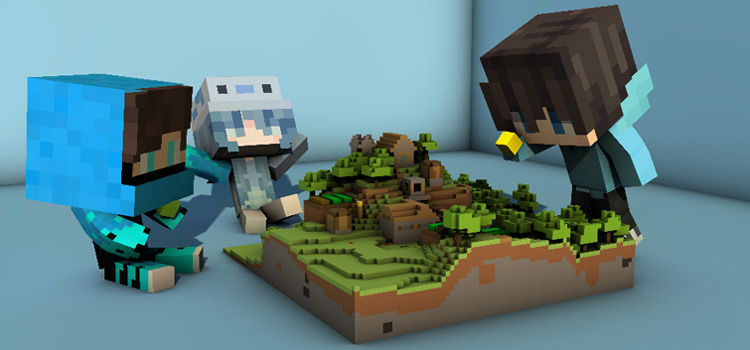 One of the first questions anyone's asked in elementary school is, "What's your favorite color?"
The list of colors runs through your head as you try to come up with an answer before the safe default "blue" stumbles out of your lips.
I, too, was a blue defaulter. Believing the color to be fine, but the safest answer.
Now I'm here to defend the color blue which shall no longer be known as the boring default answer for everyone's favorite color.
Blue can be bold, brash, and standout. Blue is widely seen everywhere in the world, from the ocean to the sky.
Fortunately, plenty of Minecraft skin creators agree with this color's brilliance – and have spent ages spinning this color into stunning outfits.
So I've taken the time to compile some incredible blue-colored skins, all easy and free to add into your Minecraft game.
1.

Blue Axolotl Hat
After the 1.17 Caves & Cliffs update, the adorable and ever-popular axolotl was added to the game.
It was only a matter of time before skins used the peculiar cuteness of the creature to their advantage.
This skin by Fearlicia puts the axolotl visage on the hat topping an all-blue egirl skin, complete with an overlong sweater and stockings.
How is it that Minecraft skins have outfits that make me envious in real life?
2.

Ocean Tide Outfit
Yet another ridiculously cool outfit, this time brought to you by IMakeSkins.
This boy skin has an ocean wave-like split down the middle, in which one half of the skin appears white, while the other transitions into a deep ocean blue.
Not only is the design rad, but the detailing on the skin is remarkable too.
From the textured rolled shirt cuffs, down to the socks visible above the sneakers, this skin is showing off with every pixel.
3.

Fionna and Cake
Here's a skin dedicated to a fan-favorite episode from Adventure Time, where Fionna and Cake are the gender bends of Finn and Jake.
The episode is worth watching in and of itself – but this Minecraft skin by Apple_Sauce manages to near perfectly capture the characters despite the pixelated barrier.
I mean seriously, this design looks incredible.
It has enough shading to almost make it three-dimensional.
And, it's bold and blue.
How could you not download it?
4.

Sky Blue Reaper
When it comes to the color blue, I don't know if too many other designs can top this Sky Blue Reaper by JoemarMunez.
The skin's cool ninja-esque design with a mask, cloak, and Reaper from Overwatch symbol looks great in and of itself.
However, the skin also takes blue and turns it up to 11, blasting those pixels with so much sky blue that it nearly pops off the screen.
If you want bold head-turning blues on your next MC skin, you need not look any further.
5.

Baby Blue Hoodie (Guy)
Creator gohanssj took the concepts of the previous design, and mellowed them into an outfit that not only makes a great skin – but also looks good enough to wear.
This skin's centerpiece, a baby blue hoodie, is bold and looks fantastic. Especially with the overlong texture covering some of the pants.
Really, this is a prime example of quality texturing that gives these clothes a modern & edgy look.
6.

Overalls w/ Mouse Hoodie (Girl)
The confidence and warmth this skin exudes is still perplexing me as I write this.
But take a gander for yourself and see what I'm saying.
IMakeSkins returns with another high-quality outfit.
The skin's one-shoulder white overalls look great, and they provide structure to the look. But the real star is the blue-grey hoodie.
It's sleek with plenty of layering and texture to give it a baggy look.
And the centerpiece, a mouse atop the hood, is immaculate and adorable as all heck.
7.

The Blue Wizard
This skin by creator 011235 is listed under only two tags: blue and wizard.
And just looking at the skin, the mysterious tagging makes sense.
The hooded figure shows little to no clues about their true identity. But what can be seen is that his outfit is super cool.
And the limbs on this skin pulse with scintillating blues and purples in a way that could only be magic, or really good skin design.
8.

Blue Demon Girl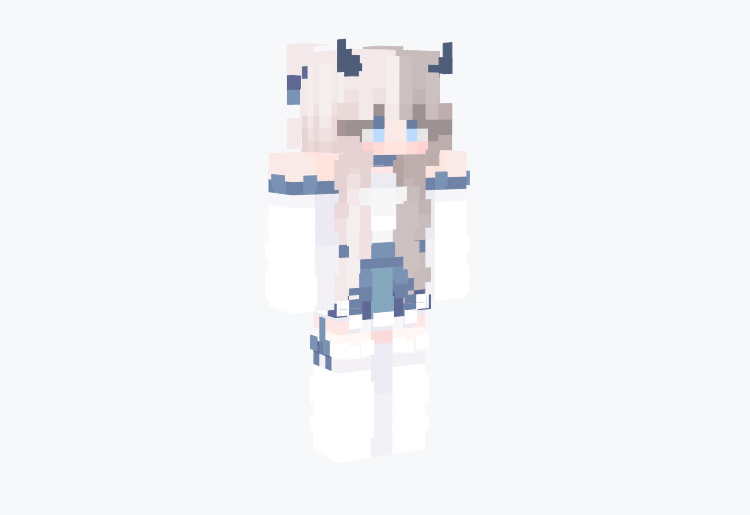 It never occurred to me that demon horns could elevate a Minecraft skin. But they certainly do here.
This Blue Demon by creator KuanBear takes an outfit equal parts egirl and schoolgirl and tags it with demon horns.
While it's a small touch, the points atop the washed blue skin's head add enough edge to make this skin memorable and cool as heck.
9.

Blue Headphones Boy
If edgy clothes aren't exactly your speed, I get it.
And so does creator Bor1234567.
This skin features a staple of Minecraft skins: the trademark creeper hoodie.
Between the deep blue hoodie, sneakers, and headphones, this skin rocks its theme and makes me want to reach into the closet to dress like it.
10.

Shade Egirl
The aesthetics of this skin are phenomenal.
Creator Luxurs went through the effort of designing an intricate egirl outfit with a striped sweater, fishnets, and hair buns.
The outfit has great structure, is eyecatching, and layered in blues.
But this creator took it another step further.
By bathing the whole skin in a layer of black, it has a shade-like appearance – something totally unique that works well with the contemporary outfit.
11.

V – BTS
BTS's meteoric rise to fame should surprise no one, considering the catchiness of their music and their stunning aesthetics.
This skin, featuring the blue jacket and outfit of BTS member V from their DNA music video, captures the saturated look that dominated a whole era of pop culture.
Beyond the skin's background, it looks plain good (I adore the loose tie with different shades of red and blue)!
12.

Cool Blue Girl
This cool blue flower girl is a monument of a Minecraft skin.
The simplified blue layers are easy to read and give the design a clean look, which is probably why it's been favorited over 400 times.
I mean really, who doesn't love a clean flower-child look?
Sometimes simple is better.
13.

Navy Blue Steve
This skin leaves me taken aback every time I see it.
The simplicity of regular Steve is stripped of his classic outfit, and put into trendy Navy blue attire.
With white sneakers, a navy flannel, and a bucket hat, this skin gives Steve some realistic human clothes that are equal parts cool and uncanny.
14.

Glowing Blue Boy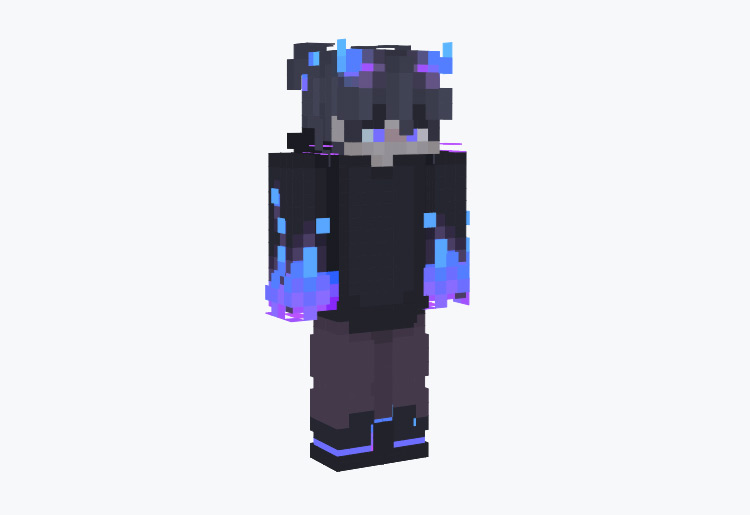 Here's a skin which I've dubbed "Glowing Blue" – and it refines a lot of the ideas we've seen in this list.
It takes the ever-prevalent hoodie, iridescent blues, and the modern shaggy hair of many models, to create a perfect middle-ground skin.
It features a wearable outfit that looks clean and contemporary, but highlights it with supernatural glowing blues and purple, topped with glowing demon horns.
The skin's… well, skin even looks to be pallid and pale – begging the question of what the backstory behind this supernaturally powered outfit is.
The beauty of Minecraft is that you can download the skin and create the backstory yourself.
And you'll look rad while you do it.
15.

Alice in Wonderland
In the context of this complete list, this skin feels like the original – a progenitor from which all the other skins got their ideas.
Because this Alice in Wonderland skin by CheekehPanda is a faithful recreation of the classic blue dress with a white apron, tailor-made for Minecraft.
With details like the small bow in Alice's hair, I'd say this is instantly recognizable and equally iconic.
Where it truly stands out though is as an early version of the trending egirl outfits that grow and evolve with each new skin.
Browse:
Lists
Minecraft
Minecraft Skins
Video Games