10 Fun Cartoon Maps To Try in Minecraft
This post may contain affiliate links. If you buy something we may get a small commission at no extra cost to you. (Learn more).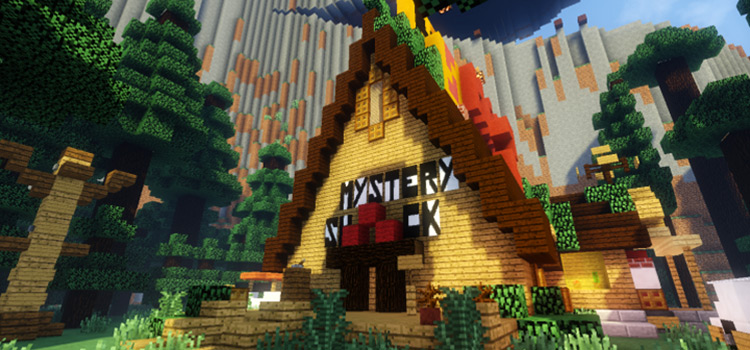 Cartoons are more than just a form of entertainment.
They're a way of life!
So why not bring your favorite shows into the virtual world? I can't think of any reason not too…
And with these fun cartoon-based Minecraft maps, there's a lot of exploring to do.
10.

Gumball Watterson's House
The Amazing World of Gumball follows the antics of blue cat Gumball and his family in the surreal city of Elmore, and this map aims to take you into their equally blue home.
There are other maps available that aim to replicate the inside of the Watterson house, but I chose this one because I felt it offered the highest attention to detail for players.
Which is impressive, because as map maker Pluvia says, "the cartoon house has an impossible floorplan."
9.

Adventure Time Adventure Map!
Here's a map that puts you in the shoes of Jake the Dog and Finn the Human, letting you explore the Land of Ooo and visit iconic locations such as the Treehouse, the Candy Kingdom, and the Ice Kingdom.
Adventure Time fans are sure to enjoy this one.
The map offers a selection of quests, too, many of which are based on episodes such as They Went to the Nightosphere, Beautopia, and Trouble in Lumpy Space.
Not to mention there's lots of crossover references from the show to discover.
The map may seem slightly dated by modern Minecraft standards (the map was first published in 2012) yet it still offers an authentic Adventure Time experience that's worth your time.
8.

Ultimate World of Naruto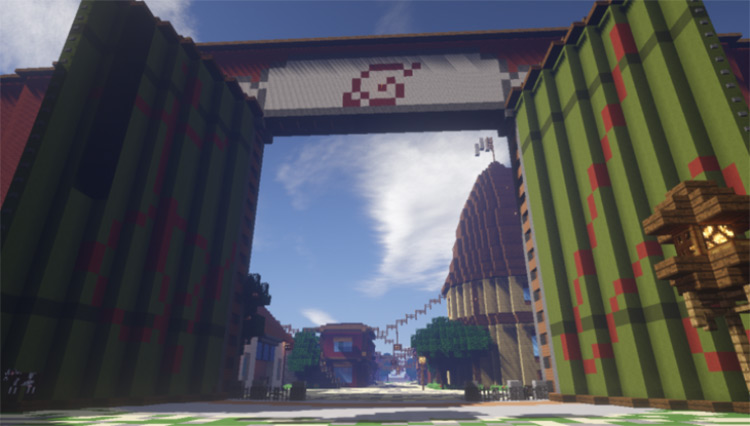 Naruto is the epic tale of a young ninja fighting to become the leader of his village.
And over the many years this anime was broadcast on our screens, it created a world with a rich lore full of colorful characters and awe-inspiring locations.
Venture forth from Hidden Leaf Village and explore the Five Great Shinobi Countries in this highly detailed map.
7.

Steven Universe Crystal Temple + Beach City!
Here's a Minecraft map with an impressively ambitious long name, yet it's definitely an aptly named add-on.
This map adds the entirety of the Crystal Gems' hometown to explore.
You can check out tons of locations from the show, such as Steven's house, the Big Donut, the Crystal Temple, and Greg's car wash, and then go home for pizzas!
The only downside to the map is its lack of a recommended resource pack to go with it. But even in vanilla textures, it's still unmistakably Beach City.
6.

Lakewood Plaza Turbo! OK K.O.! Map
Travel to the year 201X with this map, which adds the Lakewood Plaza Turbo strip mall from OK K.O.! Let's Be Heroes.
Check out the faithful recreations of the Plaza's many stores, including Gar's Hero Supply and Bodega, Fitness Dojo, and the Neo Rama Gaming Centre.
It's radical!
5.

The Simpsons House V2
Since the first appearance of television's yellowest cartoon family over thirty years ago, people have obsessed about their house.
From the ever-askew boat picture, to the rarely seen rumpus room and the disappearing basement door, many have tried to uncover the secrets of the Simpsons' pink-tinted abode over the years.
Well this map lets players explore the Simpson household at their leisure.
It features unique paintings, a redstone-powered front door, attic stairs, and garage door too. As well as a smattering of easter eggs to find along the way.
And if you're really feeling this crossover, take a look at our recommended Simpsons-themed skins if you're looking for more fan-made content.
4.

New New York (Futurama) Map
I can't be the only Futurama fan who wishes I could wake up in the wacky world of the 31st century like Fry.
Sadly, I don't have a sophisticated cryo-chamber on hand…
But with this New New York map for Minecraft, I can feel like I do!
The map adds in the Planet Express headquarters, complete with detailed interiors you'll surely recognize from the show.
Everything from the spaceship hangar to the professor's lab is here, with its collection of doomsday devices and universal translator (crazy gibberish!)
Despite the name, the map doesn't offer the entirety of New New York (unfortunately). But Planet Express is surrounded by detailed exteriors that really do help you feel like you're in NNYC.
And as luck would have it, we've also got some Futurama skins worth checking out too.
3.

Fire Nation Royal Palace
Fans of Avatar: The Last Airbender are in for a treat with this map, which adds the awe-inspiring and somewhat sinister Royal Palace of the Fire Nation to Minecraft.
Explore the heavily guarded heart of the empire, exploring famous locations from the series such as the throne room, the Agni Kai arena, Zuko and Azula's bedrooms, and the royal gallery.
If you're big into this fandom, then this map is sure to keep you busy for a while.
2.

Bikini Bottom V2
SpongeBob SquarePants combined fruit-based real estate and nautical nonsense back in 1999 – and the world has never been the same ever since.
It's another long-running favorite of the animation world, and so it was probably inevitable that someone was going to make some kind of Bikini Bottom Minecraft map.
That said, it didn't have to be this good!
This map by Edvisss (who also created the Simpsons House map above) does an excellent job of recreating the town of Bikini Bottom in block-based form.
The map lets players visit a mind-boggling number of familiar locations ripped directly from the show, such as Mrs. Puff's Boating School, Sandy's Treedome, and the iconic Krusty Krab. All of this fits alongside more obscure places such as Rock Bottom and the Nowhere Dimension from that one time travel episode where everything's… chrome.
1.

Gravity Falls Adventure Map
In the mysterious town of Gravity Falls, mysteries lie around every corner.
And with this Gravity Falls Adventure Map, you can look around those corners too, placing yourself into the role of Dipper Pines!
(We've also got some Gravity Falls skins to check out too)
This map claims to offer up to four hours of gameplay where you'll interact with characters from the show, such as Grunkle Stan, Mabel, and Soos, and it takes you to places such as the Mystery Shack, Lil Gideon's Tent of Telepathy, and even the haunted Dusk 2 Dawn convenience store (no need to do the Lamby Lamby dance though).
Plus this also includes eight main quests, taken directly from eight episodes of the TV show.
And that's not all!
There's also six boss fights along the way, and multiple cutscenes that occasionally make me think the map creator __Elsa__ is some kind of Command Block god.
Browse:
Lists
Minecraft
Video Games