The Best Chef Skins For Minecraft (All Free)
This post may contain affiliate links. If you buy something we may get a small commission at no extra cost to you. (Learn more).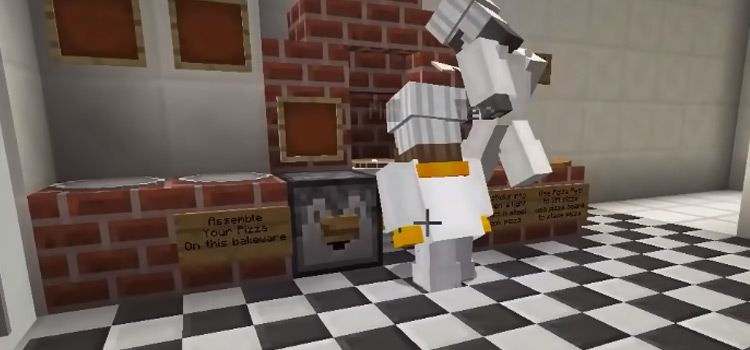 Feeling peckish?
Maybe you're in the mood for a nice porkchop, or maybe some mutton or a cake? Well, no need to worry.
These chef skins are the perfect remedy for your virtual hunger.
If you'd like to treat your friends to a meal in Minecraft, then you've got to look the part. So grab your chef's hat and fire up the grill, because I've got some of the best culinary skins for all your cooking needs.
Bon Appétit!
10.

Chef by LolImBad
Let's start with something simple.
This chef skin by LolImBad is the quintessential chef look. You've got your hat, coat, and everything you need for the trademark chef experience.
It may not be flashy, but it'll get the job done.
So if you're looking for the simple chef look – this skin is the one for you.
9.

Master Chef by mrwafflestache
Okay, I admit this may have been a typo.
Turns out if you search for chef skins online, a large proportion are accidental Master Chief skins from the Halo series.
This skin by mrwafflestache embraces the confusion and adds a lovely little chef hat on top of the Spartan's armor.
If you're interested in seeing what Master Chief would look like toiling away in the kitchen, then you'll have to try this fun skin.
8.

South Park Chef by Betrayus
Hello there children!
This skin by Betrayus features Chef from the animated series South Park.
This is ideal for South Park fans, or for those who just want to dress as a cool looking chef from a hit TV show.
Hopefully you can get some cooking done inbetween dealing with Kyle, Stan, Cartman and Kenny.
7.

Grill Zombie Dad by sleepyhead02
Sleepyhead02's skin is a loving homage to barbecue dads everywhere, with a nice undead touch.
This skin lets you grill steaks as Minecraft's most braindead enemy.
Fortunately, you won't need a living brain to cook delicious grilled snacks.
Just make sure brains aren't on the menu.
6.

Little Nightmares 2 Chef by Player
This custom skin by the creatively named "Player", is courtesy of horror game Little Nightmares 2.
In this game your character is pursued by a giant menacing chef.
Thankfully, the Minecraft version is a lot less spooky, but just as talented in the kitchen.
This should be your go-to skin for terrifying any of your friends who still have little nightmares about that terrifying chef.
5.

Chef Ratatouille by alessioals
Pixar's Ratatouille comes to Minecraft with this (slightly bizarre) chef skin.
If you've seen the film, you'll recall that it features a human man who's controlled by a rat in his chef's hat who helps him become one of Paris' greatest cooks.
In this case, alessioals has created a giant humanoid rat with a chef's hat.
So basically, the same thing…
4.

Salmon Chef by TurboSamC
Here's a fun idea by TurboSamC, and it's yet another 'food pretending to be a chef as it cooks other food' kind of skin.
With this skin, you can dress as a salmon adorned in a chef's coat and hat plus a nice necktie.
A perfect choice for those who love seafood, and for those who want to be seafood.
3.

Sushi Chef by TheWinterWonton
This lovingly crafted skin features a traditional Japanese sushi chef, ready to slice and dice any raw fish you may catch.
TheWinterWonton has created this detailed skin featuring designs on the uniform, a Japanese themed hat, and a convincing looking apron.
If you're looking to open a sushi themed restaurant in your Minecraft world then this is a must-try.
As long as you don't introduce him to the Salmon Chef.
2.

Chef Piggy by AnotherWun
The runner-up skin for our list is by a user named AnotherWun, who has created one of the most ironic Minecraft skins I have ever seen.
Chef piggy is dressed as you'd expect for a culinary master: white chef coat, black buttons, and the classic hat to complete the look.
I'd say this is a great skin for anyone looking to get cooking in Minecraft.
And hopefully he doesn't look too closely at those porkchops in the furnace.
1.

Chef Gordon Ramsey by Myify
IT'S RAW!
Of course, this had to be the pick for number one.
It's fair to say that Gordon Ramsey might be the most famous TV chef at this point.
The notoriously angry chef is rendered in all his blocky charm here in Minecraft.
And with this skin installed, you can finally insult all of your friends cooking skills with the pedigree of a Master Chef.
Browse:
Lists
Minecraft
Minecraft Skins
Video Games