The Best Cottagecore Minecraft Skins (Boys + Girls)
This post may contain affiliate links. If you buy something we may get a small commission at no extra cost to you. (Learn more).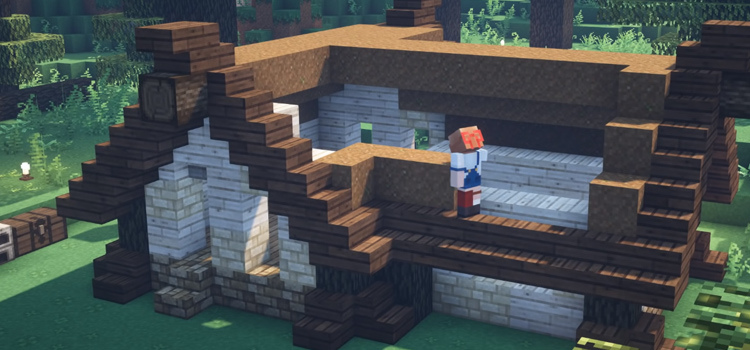 Cottagecore is a cozy aesthetic built around the longing for a simple life in the country, away from the stress of modern society.
And considering the general straightforwardness of Minecraft as a game (both in graphics and concept), it's no surprise how well it meshes with cottagecore.
Comforting simplicity isn't even the only thing the aesthetic has in common with Minecraft. Because both show a deep appreciation for nature's bounty and the self-sufficient life of a farmer.
If having a daily routine of planting crops, raising animals, and retiring to your cabin after a long day of work sounds like a dream come true, you've come to the right place.
1.

Chamomile (Girl)
Soft but bright, this skin would look most at home in a garden of flowers and mint.
Sporting adorable lime overalls over a shirt and shoes the color of spring blossoms, the warm tones of this cottagecore girl skin give it a very summery feel.
In contrast to the mild green outfit, the strawberry-blonde hair really stands out with its dramatic shading and layering.
Those of you looking for a basic pastel skin should definitely try this one on for size.
2.

Honest Worker (Male)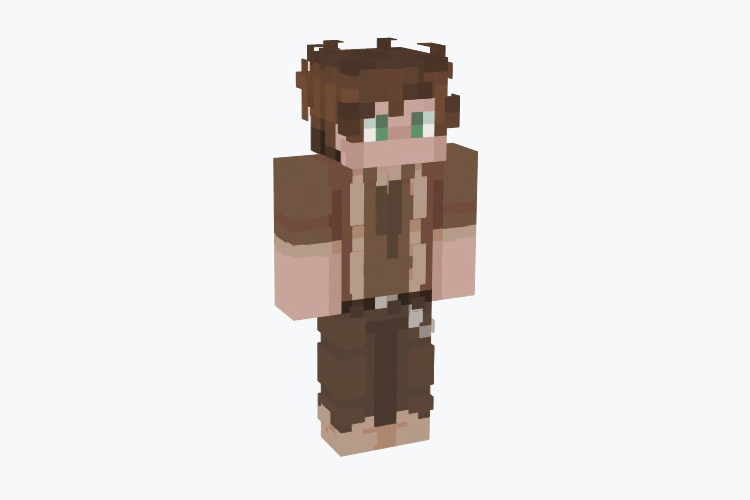 Despite cottagecore being considered a feminine aesthetic with femininity described as a core value, girls aren't the only ones who can enjoy the sweet mellow nature of this style.
After all, being diligent and respectful of the world around you is something everyone can do and benefit from.
It may not be the cutest, but this brown-haired boy skin has an undeniably earnest and gentle vibe.
Modest, earthy, and rustic, few wardrobe choices would better fit the farming lifestyle.
3.

Matcha Spring (Girl)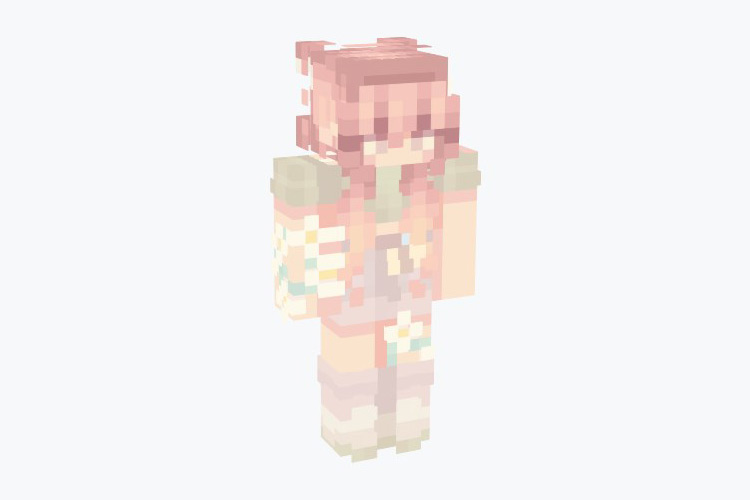 This floral skin takes a step away from traditional cottagecore fashion with a more modern set of clothes and a slightly fantastical connection with nature.
It appears she has become one with the flowers she grows, and is now part-flower herself, which is pretty neat.
Colored and shaded beautifully, this is an excellent choice for anyone looking for something magically stylish with elements of nature.
4.

Dandelions Girl
Here's a design that looks more down to earth than the previous skin – yet this lighthearted entry is absolutely adorable.
Quite literally full of life, the beige overalls and pale tan shirt really make the vibrant yellow shoes and flowers pop out from these pixels.
If the previous skin would have been right up your alley if only it had a touch more realism, this is one worth trying.
5.

Fluffy Brown Minotaur
Whimsical without compromising on conventional cottagecore themes, here's a skin offering a wonderful combination of fantasy and reality.
Living as a mythical creature would be strange and hazardous in our world.
But in a universe filled with such creatures, there may well be many who live comfortably as farmers and shepherds.
Although minotaurs don't yet exist in Minecraft, they're unlikely to be much more alarming than the pigmen or endermen already living there.
Assuming they're not hostile, of course.
6.

Flower Garden Kitty
Here's another bestial skin, and this one is even less likely to inspire fear in the denizens of Minecraft.
After all, who doesn't like cute cats?
This one is even wearing overalls!
That being said, unlike the normal-sized cats of vanilla Minecraft, this skin is sadly unlikely to protect you from creepers.
You'll still need a shield or smaller cat for that.
7.

Pumpkin Patch
Complete with denim overalls, long hair, and a plaid bandana on her head, this female skin is peak cottagecore.
Clothes torn at the knees from years of working with the ground indicate familiarity with the farming life. As does the sunny glow in her skin tone.
All in all, it's hard to compete with this skin in terms of style, execution, and compliance with the aesthetic – especially if you're into the white hair color.
8.

Cozy Cottagecore Brunette
Here's a design that looks comfy and accessorized with an assortment of flowers.
You really can't go wrong with this skin.
Being a combination of two skin bases, the resulting skin is vibrant enough to be eye-catching, but not so garish as to be an eyesore.
It's simple enough to be at home rooting around in the dirt, but cute enough to look good doing it.
Players with any love for cottagecore could wear this skin with pride.
The two original creators are clearly talented, and the person who combined their work evidently knows quality when they see it.
9.

Green Cottage Girl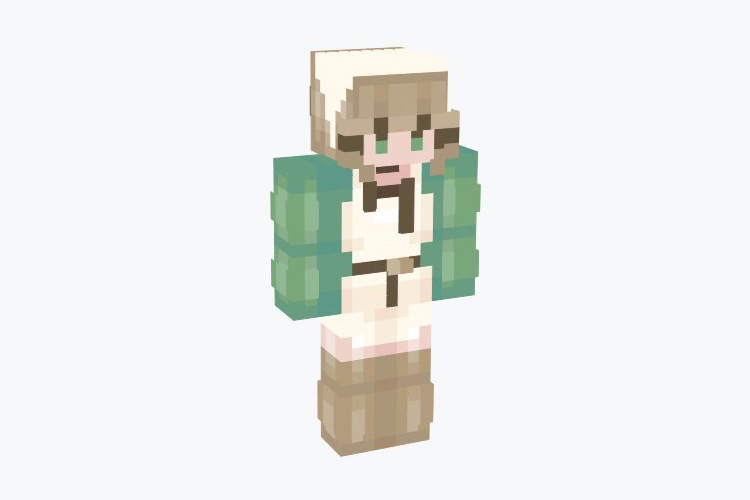 This is by far the most traditional of the skins on this list.
It features a dress in a style reminiscent of the milkmaid garments, that are making a resurgence in part thanks to the rise of cottagecore.
Modest but charming, this design comes complete with the very classic hair bandana and bow to tie the look together.
If you're going for a sweet and gentle vibe then don't sleep on this one.
10.

Flora Brunette Girl
Mushrooms are a common motif in cottagecore.
Probably because enjoying wild mushrooms and knowing which ones to gather is definitely a sign of knowing a thing or two about nature.
Minecraft mushrooms are far less dangerous than those in the real world of course – but it's the thought that counts.
Wearing this skin is a great way to show the world just how much you love mushrooms, hats, and comfy sweaters.
11.

Shroom Guy
My one complaint with this skin is that the creator had the opportunity to name it "Fun Guy" and didn't take it.
Pun potential aside, this skin is absolutely adorable and very well-crafted.
Despite somewhat simple shading on the boots and the back of the jacket, there's a distinct sense of depth to them from the expert layering used.
All in all, the skin stays true to the cottagecore aesthetic. And it would make a wonderful addition to any player's wardrobe.
12.

Mushroom Bear
Have you ever wanted to be a humanoid brown bear and wear chic plaid overalls with a mushroom embroidered on the front?
If the answer is yes, then that's a weirdly specific desire – but I have good news for you!
You can make your dreams a reality (at least in Minecraft) with this lovely skin.
If the answer to the above question was no, then the good news is that you can still be a fluffy Minecraft bear-person in a cute cottagecore outfit if that appeals to you.
13.

Dragonfly Girl
Fans of pastels will love the palette of this flowery skin.
Complete with gloves and an adorable updo, this girl leaves no room for doubt in regards to her love of gardening.
If your Minecraft farm has more flowers than food, this is the skin to try on.
14.

Daffodils Elf (Boy)
Elves are very compatible with cottagecore ideals, usually having a deep personal connection with nature.
Sometimes capable of communicating with the trees and often living as part of one, their love of flora is undeniable.
This mythical skin is perfect for anyone who wants a more fantastical Minecraft experience, even if it's only for a more magical farm.
15.

Nooks and Crannies (Girl)
I'd say this skin is a lovely mix of modern and historical fashion.
The pale brown dress features gold buttons, puffed sleeves, a decorative bow on the collar, and a bear face embroidered on the back.
Plus the braided hair is shaded beautifully, complete with a cute bow clip above the bangs.
It's truly a high quality skin for any lovers of cottagecore.
Browse:
Lists
Minecraft
Minecraft Skins
Video Games