Cutest Minecraft Girl Skins: The Ultimate Collection
This post may contain affiliate links. If you buy something we may get a small commission at no extra cost to you. (Learn more).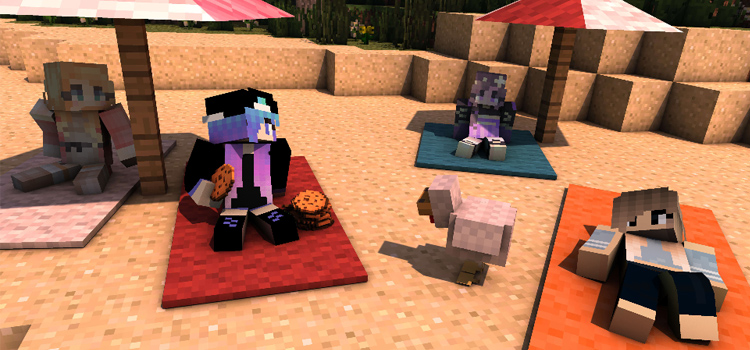 The idea that girls don't play video games(or not very well) is outdated yet persistent.
Fortunately, there's no shortage of skilled ladies who play Minecraft. And the community at large is generally quite welcoming to newcomers.
Given the fairly large number of female Minecraft players, it's no surprise that we can find a wide variety of feminine skins out there to choose from.
So if you're in the market for a cute girly skin, but don't want to spend hours sifting through hundreds of pages on the Skindex, you've come to the right place.
Whether you're a total nerd, a flawless fashionista, or somewhere in between, this list has a little something for everyone – and is sure to help you find your next Minecraft look.
1.

Alex (Revamped)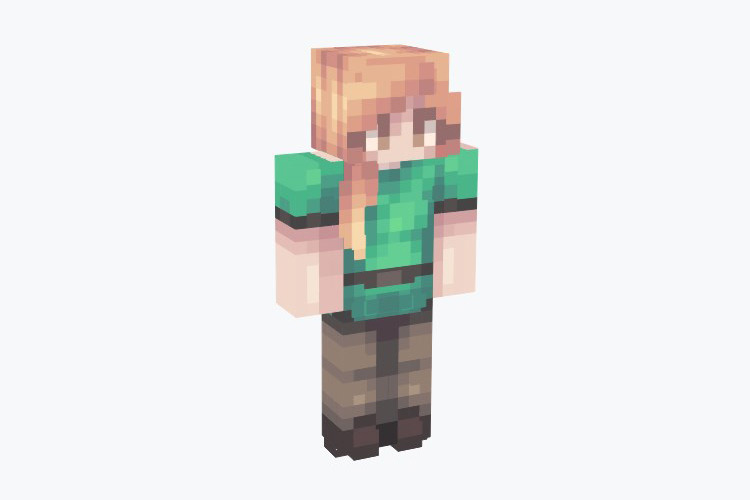 As exciting as it was to get a feminine default skin, there's a reason not many players actually use the default Minecraft skins.
They're simply not very good compared to what's readily available from the creative community.
And this elevated yet recognizable recreation of Alex is a prime example of that.
That being said, it really is the thought that counts when it comes to the default skins. And who knows, maybe some of you are looking for this!
2.

Candy Corn Queen
Love it or hate it, candy corn is an autumn staple – despite being quite possibly the most controversial candy in existence.
All that aside, this sweet skin is lovely to look at, and is highly unlikely to attract the same number of haters as actual candy corn.
If you want a cute, seasonal skin, this one is definitely worth giving a shot.
3.

Fox Mask Girl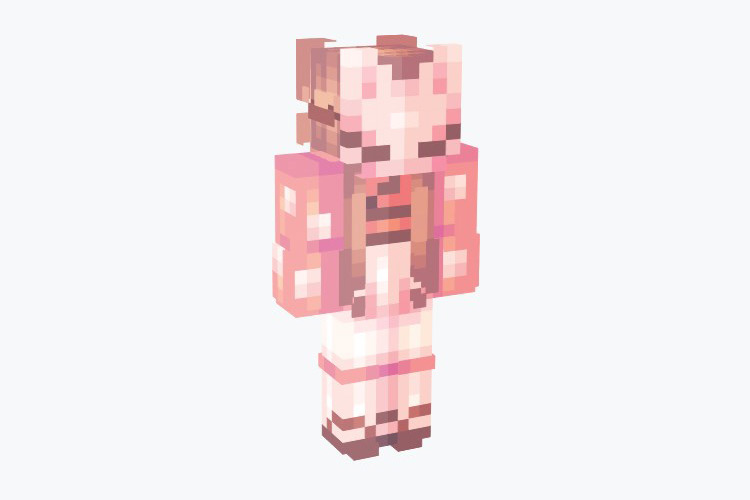 This Japanese-inspired skin is both lovely to look at, and a little intimidating.
The pink & pastel palette gives off a somewhat ethereal vibe – the perfect combination of beautiful and mysterious.
On top of all that, the shading and depth of this skin is quite impressive.
4.

Coffee Date Blonde
If you're looking for a slice of life style skin, this is worth a try.
This design isn't fantastical or outlandish by any means, choosing instead to keep things a little more realistic.
The sweet simplicity of this one makes it a great fit for pretty much any scenario.
5.

Poison Ivy (DC Comics)
These next two skins are for any DC fangirls out there.
Doctor Pamela Isley is an absolutely amazing villain.
And her relationship with Harley Quinn is a wonderful lesson in love.
This stunning recreation looks like she walked straight out of the comics and into Minecraft, complete with dramatic shading and vibrant colors.
If only wearing the skin could give you Poison Ivy's powers, too. You'd be unstoppable!
6.

Harley Quinn (DC Comics)
Despite beginning her villainy as little more than the Joker's insane genius of a lover, Doctor Harleen Quinzel is an accomplished mischief maker in her own right.
Although her portrayal in the DC cinematic universe—the one this skin is based off of—has yet to reach the same level of character depth as her comic book counterpart, she's still the iconic Maid of Mischief.
Of course, the comics have had decades to properly flesh out Harley Quinn as a character – so the comparison is hardly a fair one.
Regardless, this skin is a flawless depiction of Harley in Minecraft form, as well as a great skin in its own right.
7.

Meteor Shower Brunette Girl
The beauty of the stars is hard to capture in most mediums, but the creator of this skin does a stellar job of it.
With her hair and dress decorated with stars and crescent moons that seem to glitter even without dynamic light, this girl is truly the twilight sky incarnate.
Astronomy lovers should definitely consider using this skin.
8.

Just Like Magic Girl
If you like the aesthetic of space but the last skin was a little too plain for you, this one should be right up your alley.
As the name suggests, this skin is absolutely magical.
With multicolored hair that may well be made out of a nebula, and eyes like starlight, not to mention the gorgeous gown… this skin can only be described as "out of this world".
9.

Queen of the Clouds
Where the previous two designs were dusk and midnight, this skin is the dawn.
Despite the ethereal palette, the creator Jingles kept it more down to earth in their clothing.
Aside from the crown literally made of a sunrise, the rest of this girl's getup is fairly normal. Her hoodie and shoes are cute for sure, but fairly ordinary – which might be just the look you're going for.
10.

In The Clouds
This dual tone gradient skin is artistic, whimsical, and easy on the eyes.
A similar theme to the last three, this skin is all sunset tones and mellow vibes.
Whether as part of the day cycle set or to use on its own, this skin is worth keeping in mind.
11.

Catra Princess Prom Outfit
The new She-Ra series did a lot of things right, including the adaptations made to classic characters from both a visual and storytelling perspective.
On top of being the protagonist's love interest, Catra has quite possibly the most well written & in-depth character arc in the show.
Combine that with a handful of absolutely iconic looks and you've got yourself the recipe for a fan favorite character.
Speaking of iconic looks, this skin is a fabulous recreation of one of the best.
From the fashionably torn suit pants to the deliberately undone necktie, this skin really captures the mischievous essence of Catra's princess prom ensemble.
12.

She-Ra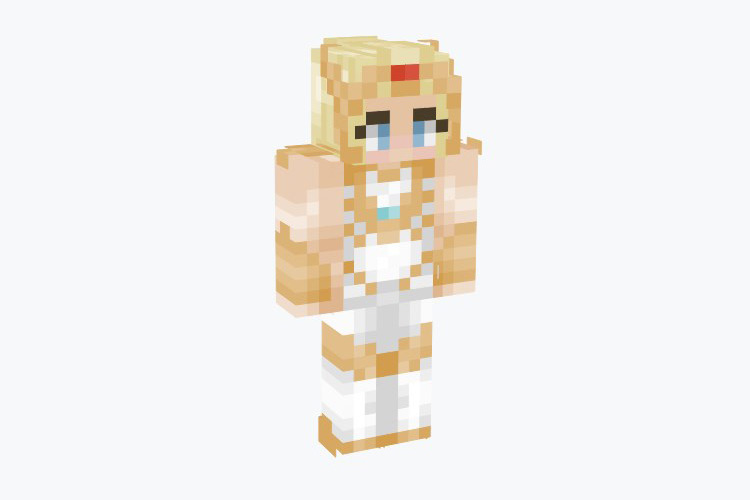 On the topic of She-Ra and adaptations, Adora's new and improved transformation outfit is a great example.
Incorporating aspects of her friends into the design, changing the overall costume to better reflect her usual style, and of course the inclusion of the ponytail and hair poof come together to better represent Adora as her own version of She-Ra.
This design translates each and every element of the new She-Ra into Minecraft perfectly.
Any fan of the show could wear this with pride.
13.

Legends Never Die (Crimson Red)
This bold and beautiful crimson skin gives off some serious Nether warrior vibes.
Asymmetry, although particularly popular amongst creators of feminine skins, doesn't usually look as nice as it does here.
Overall this skin is vibrant, stylish, and worthy of addition to any player's wardrobe.
14.

Queen of Roses
This elegant nature-inspired brunette has a distinctly dark magical quality.
With accessories made of thorny vines and a somber color scheme, this skin wouldn't look out of place in a witch's hut or a woodland mansion.
Maybe you're fashionable potion-brewing hermit, or maybe you simply like roses.
Either way this skin is an exquisite way to show it.
15.

Lady Galadriel (LotR)
Being one of the many gorgeous elves in the Lord of the Rings series, Galadriel is among the most powerful.
Dazzling in her radiance, Galadriel is also known throughout the series as one of the most beautiful elves.
Capturing that in a Minecraft skin is certainly not an easy task.
But creator BirbLover did a truly admirable job.
The skin itself is very high quality, as is the next one listed—probably because they were both made by the same person.
16.

Eowyn (LotR)
BirbLover hits us again with this incredible design.
Courageous to the core, this shieldmaiden was the deciding factor in winning the battle against the Witch-king.
Despite being told to stay behind by her uncle (King Theoden), Eowyn rode alongside the army disguised as a man, in order to assist him and the rest of her people.
During the fight against the Witch-king, he badly wounded Theoden, and boasted that no man could kill him.
Eowyn's iconic response was to remove her helmet and state that she was "no man" before stabbing the Witch-king in the face.
What a legend.
17.

Princess of the Sky
This angelic blonde beauty is truly a wonder to behold.
The detailing on the wings is incredible.
And the dress is simply stunning, plus the shading and depth leaves no room for criticism.
If you want an immaculate and divine female MC skin, this is the one for you.
18.

Sailor Moon
Seeking to portray the titular character of a classic anime, this skin has a lot to live up to—and it appears the creator Valkyrien was more than up to the task.
I mean just look at this! It faithfully translates everything from the uniform to the pigtails, without cutting corners on the shading or details.
This skin is a downright masterpiece, especially for Sailor Moon fans.
Those of you who enjoy the magical girl genre should definitely give this skin a try.
19.

Midnight Serenade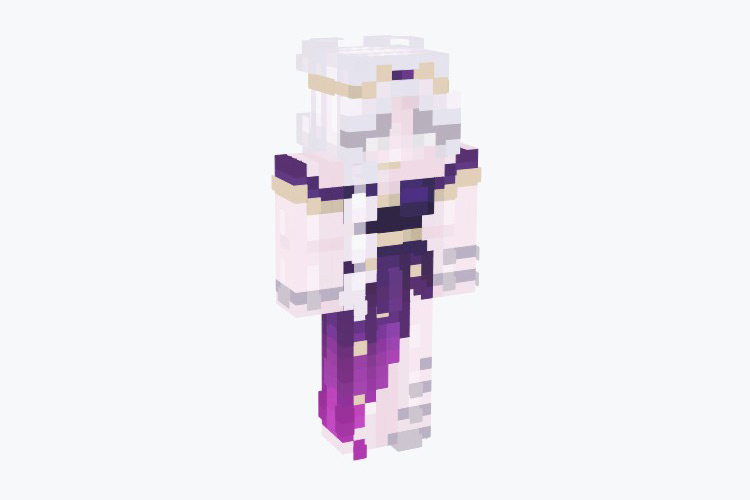 Elegant, formal, and extensively detailed, this celestial girl skin is absolutely gorgeous.
Utilizing pale gold and silver for accessories to contrast the dark gradient of the gown gives this an otherworldly vibe that enhances the astral theme tremendously.
If you're in the market for an intergalactic white-haired goddess type of look, this has you covered.
20.

Elsa (Frozen)
Elsa is Disney's queen of ice and singing. She was an instant hit with many of the young ladies in the world – as well as plenty of older women too.
Powerful and driven while remaining deeply compassionate, Elsa is an unsurprisingly popular role model.
This skin is a lovely recreation of the fan-favorite character after she learns to embrace her powers, although it sadly does not grant access to those powers in Minecraft.
Bummer
21.

Anna (Frozen)
Anna is Elsa's sister, and in many ways her polar opposite.
But among so many incredible traits, Anna's ability to wear her heart on her sleeve is an admirable one.
Awkward, sweet, and sociable, her popularity was similarly instantaneous after Frozen's initial release.
This skin by LadyLam does a wonderful job of capturing the bubbly and fun-loving queen of Arendelle within the world of Minecraft.
22.

Winterfall
Yep, a blue-haired girl skin complete with ram horns and ice armor.
The shading and depth on this skin are impeccable. And the colors are wintery yet inviting.
Interestingly, the design of the horns and shoes seems to be extremely uncommon (if not 100% unique) to this skin. So this is basically a work of art all by itself.
Truly an impressive design that would fit any player's skin collection.
23.

Neopolitan (RWBY)
Mute but unbelievably sassy, Neo is one of RWBY's most beloved and fashionable villains.
She's a complex character with clear motives and obvious skill. So it's easy to see why so much of the fanbase is interested in a redemption arc for her.
This skin (created by Valkyrien) does a fantastic job of bringing such a popular character to life in the world of Minecraft.
24.

Pyrrha Nikos (RWBY)
Being the undisputed best girl of RWBY, Pyrrha's enthusiasm combined with her strength and down-to-earth nature earned her the love and respect of heroes, villains, and fans alike.
Pyrrha's character design also makes for a very nice looking Minecraft skin, especially considering all the details in this one (it was also created by Valkyrien).
Fans of the show should absolutely give this a try, boys and girls alike.
25.

Ombre Purple-Haired Gamer Girl
As is tradition, the best skin gets saved for last.
We have a separate collection of gamer-focused skins for Minecraft.
But this girl really stands out among the others.
On top of the immaculate shading, this skin also includes subtle glow effects under the outfit, horns, and headphones – and all of that stuff really adds to the gamer vibe.
As if that wasn't enough, instead of a single well-shaded color for her hair, this girl instead gets a stunningly executed gradient ombre, going from lilac to pale blue.
This masterpiece from skin creator Jingles is truly beyond reproach.
And it's worth considering for any players trying to find a cool-yet-unique feminine skin.
Browse:
Lists
Minecraft
Minecraft Skins
Video Games