The Best Dad-Style Skins For Minecraft (All Free)
This post may contain affiliate links. If you buy something we may get a small commission at no extra cost to you. (Learn more).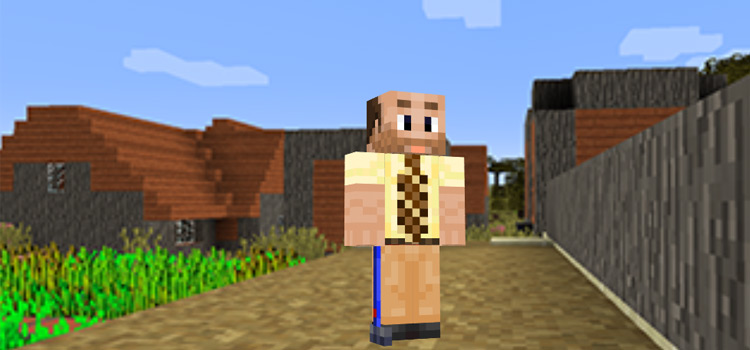 We're at that weird junction in gaming where there could actually be more parents playing at times than kids.
The generations that grew up with video games have had kids of their own, and they're playing too!
Whether for a joke, or for your channel, or just for your own casual playthrough, sometimes you just need to throw on a dad bod.
So as a nod to those of us that have kids now, here's some of the better dad-themed skins you can snag for Minecraft.
1.

Greg Universe
Dads come in all shapes and sizes.
And that's the best way to ease into introducing Greg Universe.
This is the old stereotypical dad bod for sure.
Balding hairline, white undershirt, jean shorts, and what has got to be one of the most obliviously happy facial expressions I've ever seen.
Greg could definitely be used more for a channel skit or bit, but either way he's a deserving fit on this list.
2.

Soichiro Yagami
Soichiro Yagami is an interesting addition, because he's probably the most normal and plain entry here.
Soichiro is simply an older style of dad, but he literally looks like any other older man you might pass in a store or on the street.
He's got the dad mustache and hairstyle, and the 'tweed' jacket just makes him feel like a homey business dad.
3.

Timmy Turner's Dad
If any style of media has gotten the stereotypical dad look right, it has to be cartoons from the 90's and 2000's.
To go along with that, here we have Timmy Turner's Dad ready to jump into Minecraft.
He's got the white button up shirt, professional blue pants, black tie, and that excessive smile that we all know so well.
Timmy's Dad is a walking meme just waiting to be used.
And this isn't even the only Fairly OddParents skin we've found!
If you really wanted to play along here, then it would be perfect to build the Turner house with the Dinkleberg's house right next door.
Dinkleberg…
4.

Irresponsible Dad (Happy Wheels)
Surprisingly, someone from the Happy Wheels game is making it into this list.
Irresponsible Dad finds his way here with this custom skin.
His golfer outfit with khaki shorts are the epitome of "dad style". And with his four pixel mustache and cap, he's the perfect addition to your next Minecraft game.
While there aren't any bikes in Minecraft, he'd still be perfect for a rail cart ride, or just a natural hike around the world.
Thankfully there are no bottle runs or spike falls in Minecraft.
5.

Grill Daddy
Ok. With this next one, you've gotta be able to cook every recipe in Minecraft.
That's just kind of assumed based off the name.
This is Grill Daddy, and he's exactly what he sounds like.
It's a skin that shows off what dad can do on the grill. He has his cookout uniform on & ready to go.
And to top it all off, he even comes with his own grilling apron.
There might not be a spatula attached to him, but this is about as close as you'll get to the summer weekend dad-style.
6.

Dad (Dexter's Lab)
My personal favorite on this list comes from one of my favorite cartoons from my childhood.
The dad in Dexter's Laboratory is a skin that's just spot-on.
Between the clothes, his orange tie, and the sly eyes behind his glasses, this is exactly how I remember the dad being from that show.
Again, the dads from old cartoons almost always fit the stereotype of a dad-style. And seeing so many of them being ported into MC skins makes this one an easy pick.
Browse:
Lists
Minecraft
Minecraft Skins
Video Games