50 Minecraft DIY Craft Ideas For All Ages
This post may contain affiliate links. If you buy something we may get a small commission at no extra cost to you. (Learn more).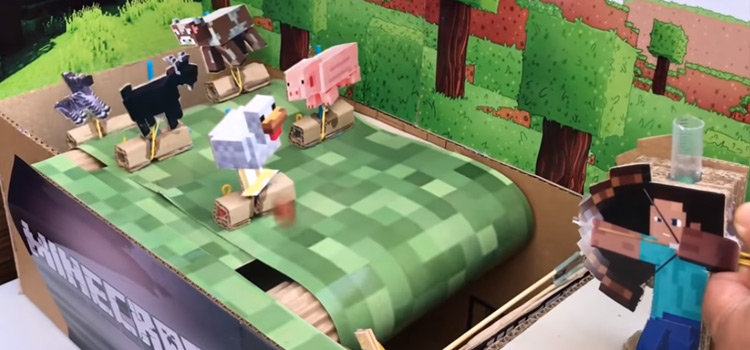 Minecraft is a game that most people have at least heard about.
It's the one that involves running around with friends mining blocks with equally blocky tools and exploring a world full of weird landscapes.
Being the blocky game it is with such a unique aesthetic, Minecraft definitely lends itself to the world of DIY. And that's exactly what you'll find in this list with a whopping total of 50 craft ideas you can make yourself or with the young ones.
1. Minecraft Tissue Box Cover
Turn something so ordinary into something so extraordinary, everyone will be impressed with your DIY know-how.
This Minecraft tissue box block looks exactly like a block of earth from the game. And it'll make reaching for tissues a pleasant experience for anyone familiar with Minecraft.
Made from a square tissue box, legos and tape, this pixelated tissue box cover will be right by your side the next time you're getting a case of the sniffles after pulling an all-nighter at the computer.
2. Minecraft Desk Organizer
Store all of your desk stationary in one of these creeper Minecraft desk organizers. Guaranteed to stay by your side while you dive into another session.
Naturally, being a game that is so simple with its pixelated art style, this Creeper desk organizer will be easy to pull off even if you're still only able to draw stickmen.
Boxes are the name of the game – both in Minecraft and for this desk organizer. So grab some cardboard and cereal boxes with a few cardboard tubes and get to building.
3. Creeper Dresser From Scratch
Same design, different craft.
This creeper dresser will perfectly store all of your clothes while turning your bedroom into something that looks like it could be straight out of the game.
As easy as grabbing some green and black chalk paint and getting creative with an existing dresser, this DIY is best seen at nighttime for that typical creeper sighting experience.
4. DIY Minecraft Stress Toy
While most things inside the world of Minecraft seem like they would be very hard and unpleasant to the touch, this project inverts everything you know about the world.
And in the process it makes things satisfyingly squishy.
Something that would make a great gift for kids who love Minecraft, or even a fantastic stress toy for work, these Minecraft soft foam toys are a great project to tackle for an easy DIY experience.
5. Simple DIY Tumblers
You might start to see a theme emerging with the first few crafts in this list, seeing as the Creeper seems to be creeping into many of them.
The ever-present creeper is always popping up when least expected, so it's fitting that it makes just as many appearances on this list. Not to mention creepers are all over the place in Minecraft so these are a natural focal point!
These simple DIY tumblers are perfect for any gaming session – especially if it involves Minecraft and a few friends.
6. Slime Plushie
Time for another resident of the Minecraft universe: the slime.
Recreate the familiar green blob in the more pleasant form of a soft plushie toy.
All handmade, this would make a great cushion or seat for a young kid. And this slime plushie is a fun way to bring some of the gaming world into the real world in style.
7. DIY Minecraft Creeper Piñata
You're probably used to taking a swing at creepers with whatever you happen to have at hand.
So recreate that experience around the house with this hanging Creeper Piñata craft. It's sure to be a hit with all the kids at the next birthday party.
A good piñata often takes the appearance of lovable Disney and Pixar characters which makes them far less likely to actually get broken. I mean, who wants to attack Elsa?
However this Creeper version will have everyone swinging for the fences.
8. DIY Minecraft Swords
One of the best parts of Minecraft is the amazing blocky tools and weapons at your disposal; well, once you have the supplies to be able to craft them.
The swords are a perfect example that you can find in this neat DIY project.
So see if your in-game crafting ability translates here by having a go at these simple to make cardboard swords.
9. Steve Costume
Minecraft Steve, one of the default skins for your character in the game, is definitely recognizable on sight by anyone with any experience in the game.
That's what makes this costume craft a brilliant idea for Halloween or any gaming-related party.
Using cardboard sheets, scrap foam, and lots of crafting essentials, you can make your very own Minecraft Steve costume to roam around in.
10. TNT Clock
One of the most infamous in-game explosive items, TNT, is distinguished by its red color and the letters telegraphing exactly what it is on the side.
If you've got the guts then have a go at making your very own TNT box in real-life, that also happens to double up as an awesome clock to tell the time!
This explosive idea is definitely a great way to add a clock to your home that isn't basic and will be the topic of many a conversation.
11. Minecraft Pinball
Customized pinball games are always fun to play, especially when the theme is of a classic video game that you just adore.
This Minecraft pinball game is no exception and it's an awesome craft that'll provide endless hours of entertainment to you and your friends as you try to avoid the TNT crates and navigate the blocky terrain.
12. Easy Kids Wall Art
A very simple but eye-catching wall art craft, this cute little display would look great in any kids bedroom.
Get some project bricks, styroglue, and a choice of paints to design the wall art in whatever way you see fit(a creeper's face is a great option).
13. Real Minecraft Sword
Another in-game object turned into a real-life craft, this DIY Minecraft sword project will keep you busy for a while.
Made with foam board, acrylic paint, craft supplies and a picture of the sword you're trying to reproduce in the real world.
This makes a great gift for the kids who want to pretend fight with something from their favorite game.
14. Fun Wall Art Decor
Turn your home into a Minecraft art gallery with these fun wall art decor pieces which can be mounted onto any wall.
Inject some blocky personality into your living room with these visual representations of characters from the game which will not go unnoticed by your Minecraft-loving friends on their next visit.
15. Minecraft Creeper Detector
As previously mentioned, the Creepers in Minecraft aren't big fans of early notice and will pop out whenever they see fit.
The downside of this is obviously you can get caught and ambushed by several of them when you least expect it. The solution?
This Minecraft Creeper detector which can be plugged into your computer and that glows brighter the nearer you get to any creepers.
Like something out of the Alien movies, this creeper detector will make your nighttime missions a tad safer and keep you well-prepared for ambush.
16. Creeper Santa Ornament
While Creeper and Santa are not two words you would usually put together, in this case it really is a great combination.
This Creeper Santa ornament will happily bring some festive gaming fear to the Christmas period and is absolutely a unique ornament to truly personalize your Christmas experience.
17. Piper Minecraft
A neat build-your-own computer craft, this Piper Minecraft device not only teaches a lot about how to assemble a computer and the inner workings, but also allows you to play the game upon completion.
Sounds like a win-win to me.
18. Cubed Minecraft Lamps
You'll need something in your bedroom to deter the creepers from entering your space when you're playing a late night session.
So try these cubed Minecraft lamps which could definitely come in handy.
3D printed and kitted with LED lights, these cubed Minecraft lamps would also make for a nice room decoration adding to an atmospheric gaming session.
19. Pillow Plushies
Let's hop back into a plushie design following these cute and fun pillow plushies.
These are more attractive than the slime mentioned earlier so maybe these are better suited to your living room if you don't have kids around.
Like having mini bean bags, these soft plushie pillows will help you relax and provide some comfy room decor for serious gamers.
20. Archery Cardboard Game
Definitely the craft on this list with the highest chance of keeping you and your kids entertained for a long time.
This archery cardboard game influenced by Minecraft has the potential to be your new favorite game in the entire world.
Bringing blocky animals towards your character on a conveyor belt while you try to knock them down with a bow and arrow. This is very creative and if you have the DIY skills to pull it off this is sure to provide hours of fun.
21. Creeper Candle Holder
A fantastic way to add some Minecraft ambience to a late night gaming session, this Creeper candle holder will make you think you've accidentally stumbled into the game world for real.
Definitely a cool gift for any friend who's into the game, or just to add into your own gaming room. This creeper candle will stay with you all night.
22. DIY Minecraft Shoes
A subtle yet striking way of showing off your love for Minecraft is with these funky DIY Minecraft shoes.
A neat accessory to add some personality to your outfit, these Creeper shoes will make you the envy of your friends real fast.
23. Minecraft Coffee Table
Have you ever dreamt of having your very own Minecraft workbench to craft all manner of items on? Or how about a custom piece for your living room?
Well now's your chance with this handy dandy Minecraft coffee table. This takes on the appearance of the workbench from the game, yet also fits perfectly as a natural coffee table if you can match the design.
The perfect surface to make your real Minecraft sword following any of these DIYs.
24. No-Sew Minecraft Chair Covers
An incredibly easy way of decorating a room with the Minecraft theme, these no-sew Creeper chair covers are perfect for your next gaming party or if you've got some kids coming over to hang out.
A lot of green fabric is really the only thing you'll need to make these for yourself.
25. Make a Minecraft Cake
No DIY list is complete without something edible on it.
For this list we have a Minecraft cake: delicious and adhering to the blocky art style we all love, hard to go wrong really.
26. Stuffed Creeper Doll
Sometimes it's fun to make the unlovable characters lovable.
Take these stuffed creeper dolls as an example. While they may not be the most adorable plushies you've ever seen, you'll still want to cuddle with them for movie night.
27. Minecraft Slime Eraser
Here's one for the kids to take to school with them and make the rest of their class jealous.
This Minecraft slime eraser will be the only eraser your kids will ever want to use.
A perfectly green cube with the recognizable slime features, this craft is a great one to start with since it's generally pretty easy.
28. DIY Minecraft Party Windsocks
A really fun way to decorate your home is with these Minecraft party windsocks(if you dare).
Hang them from a ledge and they will blow satisfyingly in the wind in all their blocky glory.
29. Minecraft Bedroom Wall
Never mind the cheap wallpaper and brightly colored paint for your kid's bedroom wall.
Have a go at this Minecraft wall design instead.
Any kid would love to have this thematic wall decor which is fun and cool to look at, meaning they probably won't grow out of it for a while.
30. Easy DIY Phone Case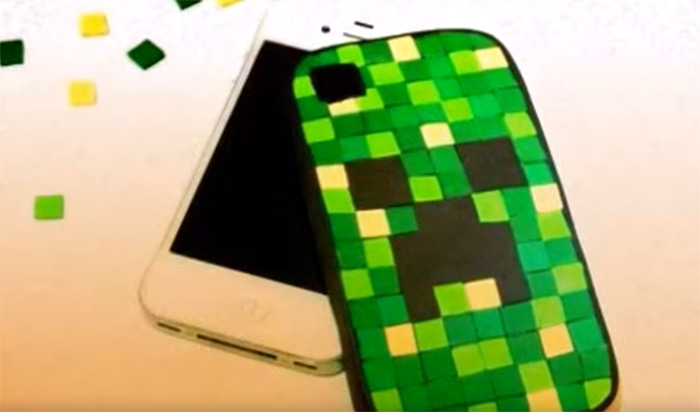 This Creeper phone case should be the only phone case you ever use.
Easily made by hand with foam so it feels good when you're using it, this DIY phone case is a fun way to make your phone look different from all the other mobiles out there.
31. Fun DIY Minecraft Items
We have the simple Minecraft sword in the bag, so let's look at a cool DIY bow.
Unique for the characteristically blocky aesthetic, the bow is one of the more fun items to use in the game so why not see if it's as fun to make in real life?
32. DIY Earbud Holder
Didn't think it was possible to store your earbuds in a way that isn't a chaotic mess of cables all over the floor?
Well it is! And it couldn't look better than with these Minecraft inspired holders.
Made from perler beads, these special earbud holders can travel everywhere with you and make sure you never lose your earbuds again. Now tangling, that's another issue.
33. Creeper Crochet Pattern
Introducing another interpretation of the very well-established craft inspiration of a Creeper. Except here we've got a crochet pattern that's a unique way to keep a Creeper around the house.
They haunt you in the game, so own their power over you in real life by making this crochet craft and show off your DIY skills in the process.
34. Minecraft Chest
Something ubiquitous across many gaming universes: the treasure chest.
This is a universally recognized symbol of randomized rewards and goodies.
Have a crack at this Minecraft inspired chest and fill it with goodies of your own to make for a pleasant surprise for guests, or just to store your extra junk in.
35. Delicious Minecraft Cookies
You didn't think we were only going to bring up one sweet treat on this list, did you?
These delectable looking Minecraft cookies will make for a brilliant batch for your next party.
Design with all your favorite characters and turn this one into a fun family project in the kitchen.
36. Diamond Necklace DIY
A neat DIY diamond necklace made with perler beads, this would make a thoughtful gift for someone special in your life who happens to value both jewelry and the wonderful game of Minecraft.
Just make sure you follow the directions since this one can be a little more complex.
37. Creeper Minecraft Shoes
Another take on Minecraft inspired shoe design comes with these Creeper shoes.
They'll have you sneaking around thinking you're one of the green monsters.
The subtle design also means that these can be worn as general stylish shoes too, in case you were worried about people finding out about your Minecraft obsession.
38. Wooden Heart from Minecraft
Next up is an outdoor craft which will put your woodworking skills to the test.
This wooden Mincecraft heart should keep you busy for a few hours and remind you that the garden is a place to go to heal up and restore your energy.
39. Make a Minecraft Pickaxe Lamp
An iconic item from the game, since you can't mine very well without one, is the trusty pickaxe.
This is the inspiration for this next illuminating craft.
An ingenious way to light up a room, this Minecraft pickaxe lamp will remind you of all the crafting you do in real life and in-game.
40. DIY Minecraft Paper Craft Toy
A simple Minecraft based toy that will certainly provide you with plenty of entertainment at your desk, or endless entertainment for any kid.
A good way to test out your DIY skills when it comes to using paper as the main ingredient, this toy is both fun to look at and play with but you'll need to practice quite a bit of papercrafting to get it right.
41. Creeper Duct Tape Bracelets
Quite possibly the simplest craft to get your Minecraft fix in, these Creeper duct tape bracelets are exactly what they sound like.
Get some green duct tape, Velcro circles, a black sharpie and some other crafting supplies. You can easily put together these neat bracelets to take wherever you see fit.
42. Easy DIY Mini Necklace
A mini DIY Minecraft necklace could be exactly the kind of craft you need to get into the world of DIY projects without a hitch.
These simple necklaces are made with a ball chain necklace, screw eyes and some other crafting essentials.
43. Magnetic Blocks
Here's quite a highly creative craft that'll let you play around with the very familiar looking blocks of earth and grass from Minecraft.
These magnetic blocks are fun to have around and pretty much a blast for all ages.
A perfect gift for the kid who enjoys solving logical puzzles and moving things around to fit them together, and certainly great considering these are all homemade.
44. Cardboard Minecraft TNT Box
Another take on the TNT boxes from Minecraft (like number 10) is what you get with these cardboard TNT boxes.
Nothing quite makes you feel like you're inside a game than seeing some red TNT boxes stacked on top of each other, maybe hanging outside on the deck or in the garden. This project is a fun way to bring fantasy to reality.
45. Easy DIY Desk Organizers
De-cluttering can be one of life's simple pleasures, which is where these easy DIY Minecraft-based desk organizers come in.
Tired of having stationary strewn across your desk not knowing where to find anything you need?
Then have a go art these Minecraft character desk organizers which provide a neat storage solution for any desk, while also showing off just how much you really love Minecraft.
46. Toilet Roll Creeper Craft
It's time for the obligatory toilet roll craft with a twist. Introducing the toilet roll Creeper!
No DIY list is complete without one of these from your bathroom. Taking such a basic everyday item and converting it into something eye-catching is always fun to do.
So grab all those toilet rolls lying around and get to work.
47. DIY Corner Bookmark
Simplicity is oftentimes king, and these DIY corner bookmarks are proof of that.
A ridiculously easy craft to pull off, try making these Minecraft bookmarks yourself and you'll never lose your page or have to dog ear them ever again.
48. Minecraft Vials
If you're looking for a fun decoration to put up on the shelf in your gaming space then these Minecraft vials should do the trick.
Full of all of the crafting materials and raw ingredients from the game, these vials will make you look like a true craftsman. Especially combined with that fancy new crafting bench mentioned earlier.
49. Minecraft Torch
Just like you can never leave home base without a sword or bow, you can never explore new areas at nighttime without a handy torch.
To explore the real world with the very same torch from the game you'll definitely want to make your own by following these DIY instructions.
50. Handmade Minecraft Inspired Desk
Ok, so you've got your Minecraft vials up on the shelf(#48) and you have your desk organizers.
What's left to be made for your gaming room? Other than a complete Minecraft inspired desk, of course.
Complete your blocky gaming space with this pixelated style desk to ensure you'll be immersed in the world of Minecraft every time you enter the room.
Browse:
DIY
Lists
Minecraft
Video Games