The Best E-Boy Skins For Minecraft (All Free)
This post may contain affiliate links. If you buy something we may get a small commission at no extra cost to you. (Learn more).
Ah, the E-Boy.
The chains, the ripped and oversized clothing, the long messy hair: tjos look has been a contentious one for as long as it's been around.
I wish I could recall when the e-boy rose to prominence.
The aesthetic hit its stride sometime in the late 2010's and has been going strong since.
But will the e-boy style become a mainstay of fashion? Or a cringey mark that we'll look back on like leg warmers and shoulder pads?
I don't have these answers. But I do have a list of some great e-boy skins that the Minecraft community has created.
Whether you're looking for fit inspo or trying to look the cleanest you can in your next Realm, this list has something for you.
1.

Sunset Vibes
We're starting off the list with an odd entry.
The e-boy aesthetic takes a lot of its inspiration from the emo movement of the 90s and 2000s, but that doesn't have to limit the style.
Creator IMakeSkins (a fitting name, indeed) pops off with this Sunset Vibes e-boy skin.
It has the edge and aesthetic of the e-boy with its ripped jeans and oversized clothing.
But the skin shines in its soft neutral palette.
From the light brown hair to the powder blue jeans, the skin is warm and inviting. Add on the sunset sweater, and it's no wonder the cheeks on this skin are so rosy.
2.

All-Black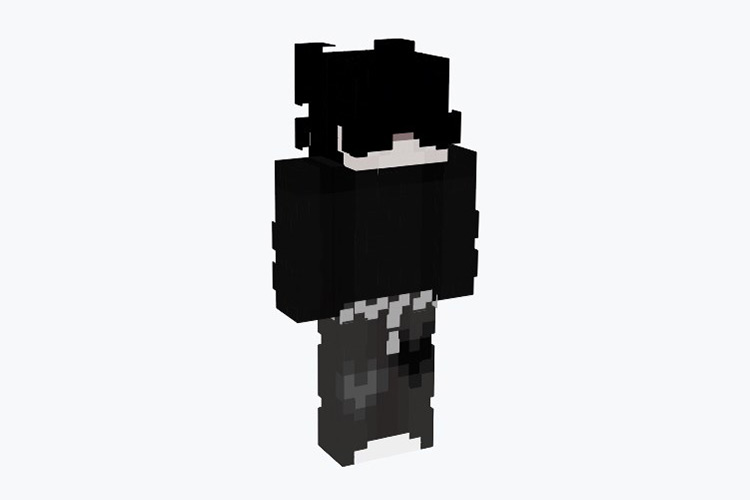 Now that we've gotten the warm and fuzzies out of the way, let's get into the meat of what the e-boy vibe is all about.
Nothing says e-boy like an outfit so black, it's altered the saturation of the entire skin, making it nearly black and white on the color spectrum.
I love the way this skin makes these jagged edges with texturing.
It emphasizes the baggy fit on all of the clothes and gives the skin this edgy look that seems to be pretty unique to the e-boy style of skin design.
3.

Off-White
While striped black and white sweaters are a staple of the e-boy wardrobe, I've noticed a trend that a mainstay in this style of outfit is the monochrome.
Creator Giovanka, who (spoiler) is a regular on this list for good reason, gives a perfect example of the monochromatic look with this off-white e-boy skin.
None of the colors on the skin are actually pure white.
They range from tan to light gray to a pale brown, but the combination of neutral tones makes this an eye-catching and envy-inducing white look.
4.

Pink Dye Hair
Dyed hair has been all the rage for years – and will likely continue to be for quite some time.
Whether you can dye your hair IRL or not, you can live your best life with this strong bubblegum pink dye skin by iWhyGonzah.
It combines all the edginess and softness of the Gen Z styles into one perfectly wrapped e-boy skin.
What's there not to like?
5.

BMO E-boy
Oh boy, when I saw this skin my heart skipped a beat.
I love it so much.
I'm not the biggest fan of turquoise skins, nor do I particularly care for oversized sweaters.
But when you combine those two things with BMO from Adventure Time, I'm all in.
This skin is totally unique in its pop culture reference, and manages to do so in a slick and pristine way that honestly makes me wonder if I can buy a BMO sweatshirt for myself.
I'll brb. I'm gonna go look into that.
6.

Split-Dye
Ah, the wondrous and perplexing split-dye, how you puzzle me.
I remember in the days of my early youth when mall goths were in decline that the split hair dye was a look that many considered too bold and completely out there.
Now with the e-boy and e-girl revival, it's back in full force.
And somehow, it looks better than ever.
With the added grayscale filter over this skin, the split-dye looks edgy and cool as heck atop the shredded clothing on this fit.
7.

Reindeer Onesie
While this skin may be cute, you shouldn't let the cuteness override the fact that this is an e-boy and he is edgy.
I find it very humorous that in the midst of this Christmas-y cute Reindeer onesie, the softest outfit one could imagine, the e-boy within is washed in shadow and grayscale.
But what are you gonna do?
The combination of soft and hard, of emo and adorable, is exactly what comprises the e-boy vibe.
This skin does that flawlessly.
8.

Sweater Vest
E-boys don't have to be all edge.
Sometimes, the looks don't have to be riffing on the over-the-top goth outfits from the late 90s.
Sometimes a sweater vest and some chinos gets the job done.
I wish I understood how this look manages to fit under the e-boy umbrella. I don't understand it, but it somehow makes perfect sense nonetheless.
It's perplexing, it's confusing, but it looks darn good. Nothing else to say.
9.

The Everyday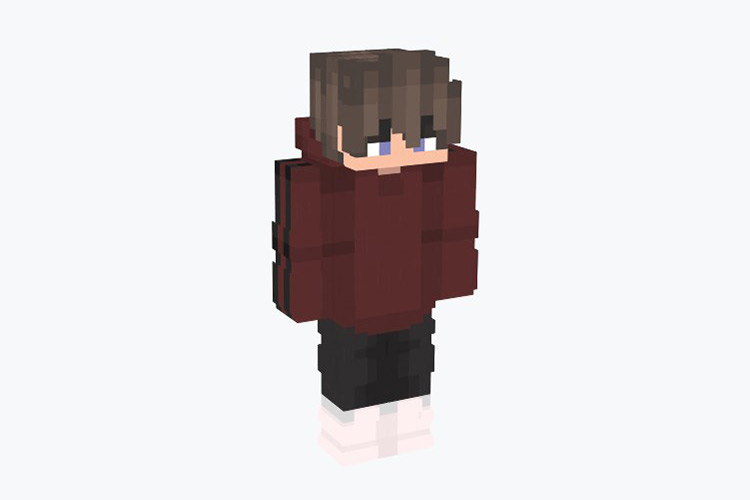 Most of the e-outfits here and abroad make me think one thing when I see them:
I don't think I could wear that every day.
Whether it's loads of chains weighing you down, or the amalgam of 14 ripped clothing items, I just don't think I could pull those off on a daily basis.
Thankfully, creator Supernormal has me covered with this sleek and comfortable everyday e-boy look.
Genuinely, this fit looks cool and cozy. And I wish I could wear it anytime of year. Oh wait, I can (in Minecraft).
10.

Christmas Cheer
Nothing beats the hyper emo gray filter combined with cute and festive outfits.
I believe in this statement wholeheartedly, and this skin is a testament to that.
How can anyone manage to look so gloom and doom while wearing a holiday sweater?
Because it's cool, that's how.
And frankly, even with the (ugly) Christmas sweater, this design does manage to look cool.
11.

The Uchiha
Anime's influence on aesthetics in recent years cannot be understated.
The once alien art form has blown up in popularity, especially amongst the youths of America.
And the result has been an increase in aesthetics that once could not fly becoming cool as heck.
This Naruto-inspired e-boy fit quite frankly rules.
I don't think I could ever pull off something so brash. But in Minecraft, I'm fixing to be living my best life.
12.

Bears E-boy
While this Bear skin by creator pup7290 may not look like the edgiest of skins… well, it's not.
This e-boy skin is all soft, all cute, and I love it.
I can't tell why it's so captivating… maybe because it uses the same skin-making techniques that other e-boy skins use, but instead of edgy clothes it's a cuddly bear.
Or maybe it's because this skin has a matching e-girl version too.
Fortunately, I don't need to be able to tell why I love it.
It's literally free to love it, and free to download whenever you want.
13.

Holiday Snowman
I must be in the Christmas spirit, because these e-boy holiday skins are hitting hard.
I think creator Giovanka might just be super-talented when it comes to putting together these e-skins.
From the detailing on the skins themselves to the specific color palettes chosen, their skins always look and feel so put together, and this one is no different.
14.

Denji
With inspiration taken from the protagonist of the manga Chainsaw Man, this Denji skin by creator aidnn looks sick.
The sleek and semi-professional tie look combined with the rough edges of the dyed hair and sneakers makes this the epitome of e-boy fashion, and I love it.
Definitely give this one a try if you can get into the aesthetic.
15.

Soft Boi
To cap off the full arsenal of e-boy skins, we're ending with a look that I consider to be the culmination of all the others.
That is not to say this skin by creator xCoco is so over-the-top it is what all the hyper-edgy and anime-inspired skins have been building towards.
Rather, this skin is a mixture of the elements of the others – perfectly fused into a skin that meshes the cuteness, the grunge, the emo, and the anime into a cohesive look.
The oversized flannel shirt, the light pink hair dye, the ripped black jeans, and the white bunny hat fuse to form a tried and true E-boy skin.
Browse:
Lists
Minecraft
Minecraft Skins
Video Games