The Best E-Girl Skins For Minecraft (All Free)
This post may contain affiliate links. If you buy something we may get a small commission at no extra cost to you. (Learn more).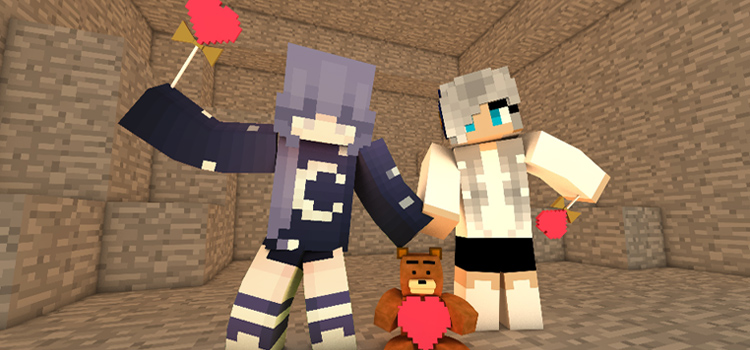 The e-aesthetics have been haunting my feeds for some years now.
At first, I fought it.
"These edgy looks with their chains and their anime-inspo don't work," I would think to myself. But as time goes by, the aesthetics, the e-vibes have sunk their claws into me.
Let today be the day that I have turned to the dark side, to the e-side. It's time for me to stop denying the truth: e-boy and e-girl skins are rad.
If you don't believe me, then let's take a stroll through some of the best e-girl skins that Minecraft has to offer. Then we'll see whether the truth is revealed.
1.

The Emo Girl
In classic e-girl/e-boy fashion, this skin by creator stzrk is bathed in a dark filter, washing the skin in black and dark gray tints.
If that filter alone wasn't edgy enough for you, the bulky oversized clothes and (what appear to be) metal attachments to the pants might seal the deal for you.
There's no way around it.
This emo-themed skin looks sick – and it goes hard as heck while doing it.
2.

Axolotl Hat E-Girl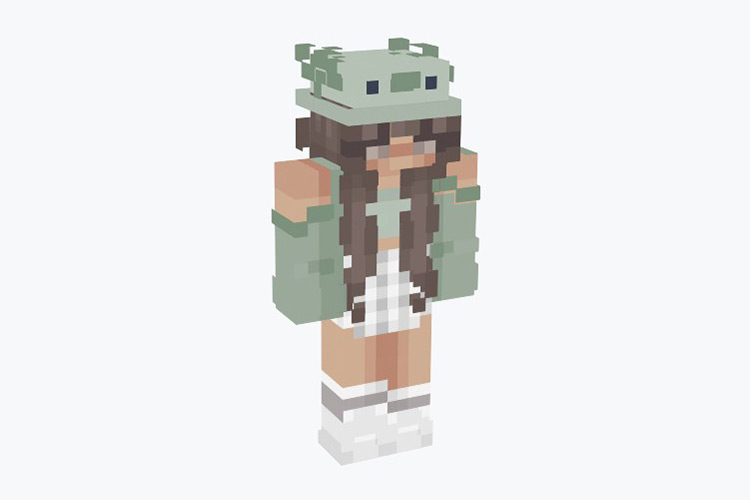 Not all e-girl skins are about rocking the edgy and emo energy.
Some (like this one by creator astockto) embrace a cuter aesthetic that rules just as much.
The 1.18 update saw sweeping updates in mountain and cave biomes, but the highlight for me and for many others was the addition of the cute, cave-dwelling critter known as the axolotl.
These amphibious salamanders have clearly made their mark on the community with skins like this opting for a themed hat that makes this green toned skin extra nice.
3.

Flower Power
I know that everyone has different styles.
But I'm here to say that the black and white flower aesthetic on this skin by creator Giovanka should be a mainstay for everyone.
Yes, the skin's character model has great hair design and a good frame.
Yes, the accompaniments from the big eyes to the endearing eyebrow shapes add to the vibe.
But the real key to the success of this skin is that all of it is tied together flawlessly by a simple black sweater with embroidered flowers.
The design is simple but crisp and totally readable.
It manages to weave cute and edgy stylings together effortlessly. This design should be the gold standard for e-girl vibes; I have declared it.
4.

Winter Wonderland
I'm beginning to think that creator Giovanka might just be really good at making these Minecraft skins.
The pale blue color palette on this snowman-inspired skin doesn't just look good… it looks absolutely incredible.
I honestly don't know how the colors on this were blended so well to create the variance and gradient it has.
All I know is, this should absolutely be part of your Christmas collection of Minecraft skins.
5.

All Pink Girl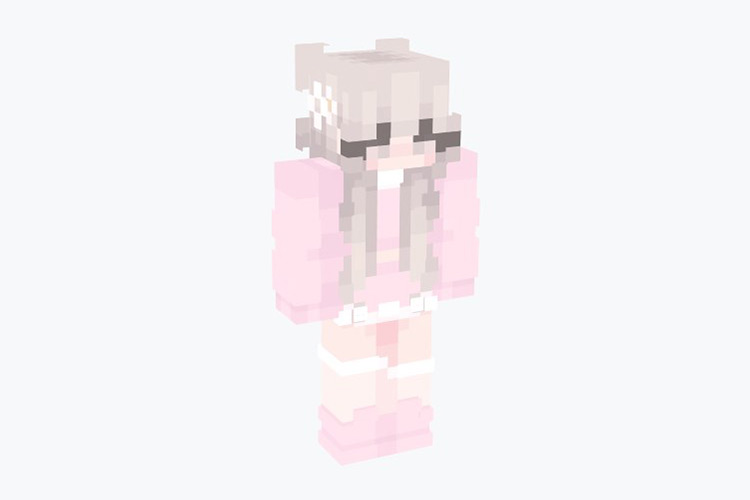 Within the color spectrum that the e-girl aesthetic uses, pink might be the hardest one to harness.
Pink works in all its forms, but mastering its use is a challenge in itself.
Giovanka has no problems doing that with this skin which utilizes these desaturated, flowery pinks masterfully.
The shades of this skin scream e-girl gaming setup – and I for one am all for it.
6.

Stitch Onesie
There are many Minecraft skin designing conventions that don't get enough credit.
And I think the onesie might be one of my favorites.
I know that onesie skins are quite popular because they're easier to texture and look cute, but that doesn't mean they don't also look amazing.
This e-girl onesie looks so good that it'd be worth buying in real life.
You don't even need to be a fan of Lilo & Stitch to appreciate the cozy blue suit, but the nostalgia factor does play a role in this skin's charming appeal.
7.

Cardigan
Nothing rounds out a sophisticated and casual look quite like a quality cardigan.
That rule counts for real life and for Minecraft, of course.
Creator latehrs understands exactly how to adhere to that rule with this skin.
The hair in buns paired with the oversized sweater and the plaid skirt make a vibe that's unparalleled as far as I'm concerned.
I love the way this skin's e-girl filter gives it a little bit of desaturation, but the brown tones make it surprisingly warm. All around, it's a great look.
8.

The Hayley
I have to believe this skin takes inspiration from the great Hayley Williams.
The vibrant red hair is a calculated mess.
Her sweater is striped, oversized, and edgy.
And she has a subtle but definite bloody knee.
I've never seen an e-girl skin lean harder into the 2000's alternative grunge looks, and I've never seen an e-girl skin pull anything like this off nearly as well.
There's no way around it – you have to give this skin props, because it hits hard.
9.

Dreamy Night
It shouldn't be hard to tell that I love my Minecraft skins to be themed.
And this piece by creator Eartrix sticks to a very precise theme.
The cool purples and blues tie into the starry night sweater perfectly, and give this night sky-themed look a definitively sleepy energy.
Honestly, the sweater alone would be enough to get me to sign on. But the accompanying e-girl accoutrements from the one-sided hair to the tall socks have me singing its praises from the rooftops.
10.

Frog Fit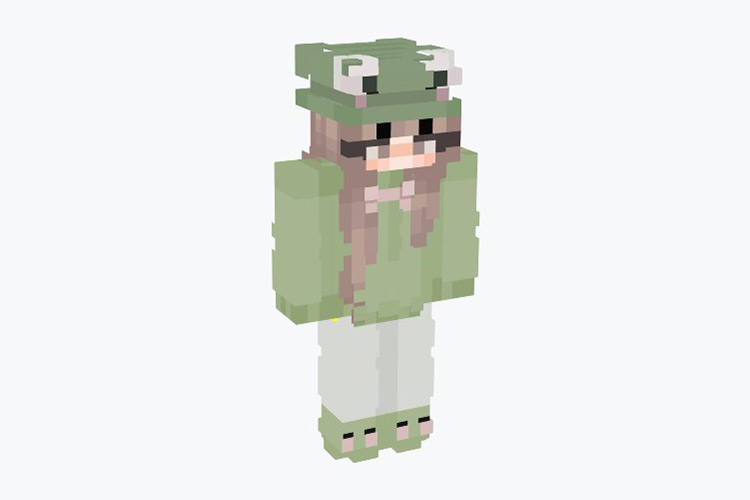 I'm a sucker for greens – and green this skin is.
Even if you're looking for something edgier, girlier, or cuter, there's no way you can see this skin complete with frog hat and think it's anything but amazing.
Even her shoes have little blushing frog faces on them. I love Minecraft skins.
11.

Demon Academy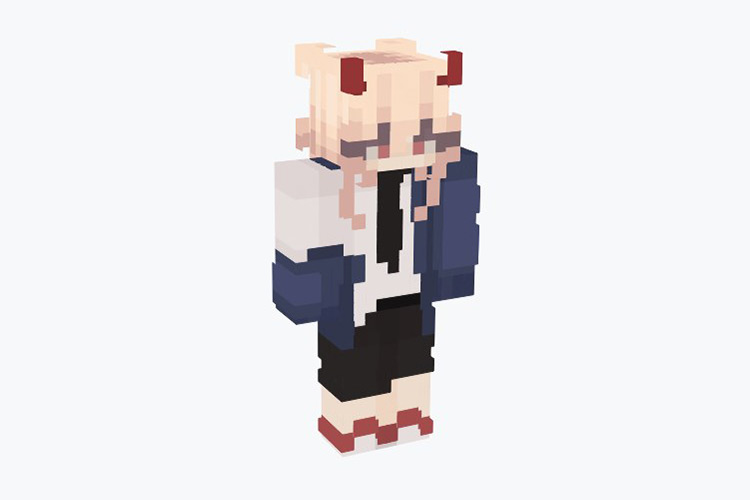 With inspiration taken from the manga Chainsaw Man, this shonen e-girl design rocks some 2000s edgy staples.
Oversized shorts and an off-shoulder blazer define this disheveled private school outfit, and I hate how much I enjoy it.
Even the demon horns manage to elevate this skin to the point where not only am I downloading this for myself, but I'm also looking into another manga to read.
12.

An OG
This custom skin by creator LuvSarahh takes aim to create what is, in my mind, the prime example of the e-girl aesthetic.
Before the edgy goth 'fits and the kawaii anime 'fits came this staple.
The checkered sleeves and high-waisted pants scream of trendy skating outfits, but the split-dye wraps it all together into something definitively e-girl.
I think if I had to choose one skin on this list to last the longest, it would be this one.
I'm not sure why, but this just feels like an immortalized great among trendy looks.
13.

Cozy E-Girl with Bow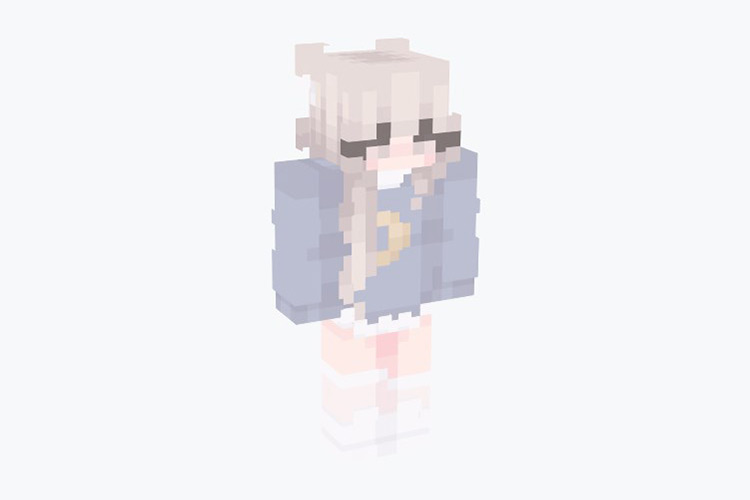 Even with all the great looks we've had, e-girls still need to have outfits that are oriented for comfort over trend.
That doesn't mean that a cozy look needs to sacrifice any style though.
Creator Giovanka hits another homer with this comfy & cozy pajama-wearing girl skin, with a pale blue sweater featuring a crescent moon.
I love all of this creator's skins. But something about the simplicity and comfort of this design calls to me like a warm bed does after a long day.
It's not something I want, it's something I need to have.
14.

Hot Dog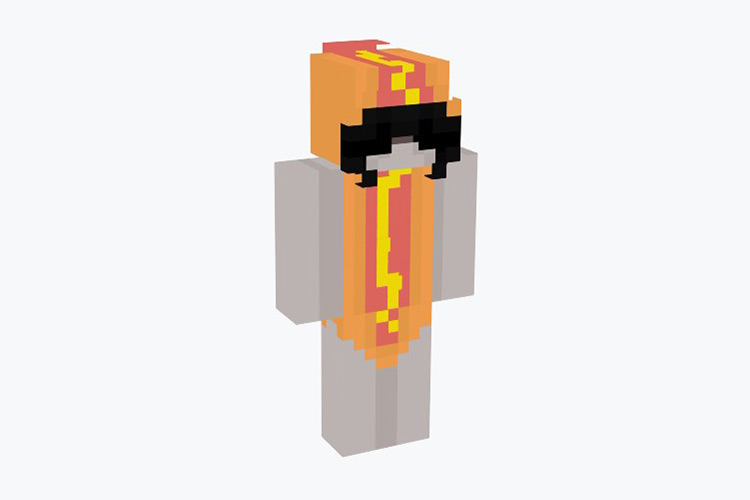 I'll be honest:
This is here because it is utterly hilarious.
The e-girl and e-boy aesthetics are focused on looks and complex outfits, much more so than other styles of fashion from recent years.
So much that almost all of these skins feature a filter that desaturates the skins to make them edgier or more emo.
This skin turns that desaturated filter up to the max. But instead of donning a cute or edgy outfit, the model is wearing a hot dog outfit.
It's beautiful, simple, and delicious perfection.
15.

E-Girl Bear Outfit
This design feels like the ultimate version of all the soft vibes that have been going on in this list.
Created by pup7260, this skin is part of a pair, with a matching e-boy design.
That in and of itself makes this a must-have for any Minecraft players going into game with a special someone.
However, even without that someone, this skin is just so cozy and cute – it simply had to make this list.
Browse:
Lists
Minecraft
Minecraft Skins
Video Games