Best Flannel Skins For Minecraft (Boys + Girls)
This post may contain affiliate links. If you buy something we may get a small commission at no extra cost to you. (Learn more).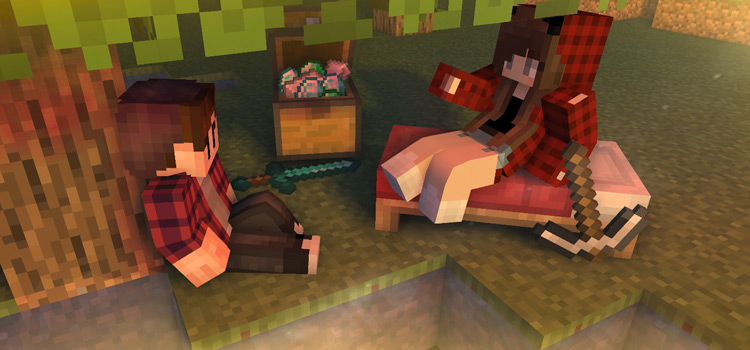 Whether you're chopping down some trees in a forest on the cliff, herding your livestock into their pens outside your house, or even mining down in the caves, there's no better style than flannel.
That's right: flannel is the go to choice for most people who actually have careers like that. So why not carry it over to your Minecraft world?
Maybe you actually wear that style in real life. Or maybe you like the style but have always been nervous to try it out.
And any case, we've collected a whole but of awesome flannel skins, all worth trying out.
1.

Hipster Boy in Flannel
Yes, I know it says hipster in the title.
But honestly this is one of the cleanest flannel skins out there.
If you're looking to just wear the design as a statement, this is the perfect match for you.
Or maybe this is actually your style! Either way, this boyish skin is great for using as your persona in streams or recordings.
And this would be a great skin for anyone looking to create a persona for their own channel. With a red flannel shirt, black pants, and well-kept hair, it's an easy go to.
2.

Lumberjack Guy
Going along with the stereotype of flannel wearers, lumberjacks come into play.
With his burly facial hair, a dark red flannel, and pants with buckle, he's the perfect example of what you might think about for this style.
Go ahead and grab your axe and go chop some trees. Because with this getup, you can't help but play along.
It almost makes you want to play some nature sounds in the background and reenact some Ron Swanson funny moments.
3.

Lumberjack Girl
This is a skin I thought was awesome.
This female lumberjack is (naturally) the girl counterpart to the previous skin.
And it's the perfect rendition of another flannel wearer. Whether you've got a guy lumberjack to play along with, or maybe you're playing strong on your own, either way this one can fit great.
Between the red flannel with the cap to match, long hair that shows from underneath the cap, and the work boots, this might be the best way to camp in a forest biome.
4.

Flannel Girl
This is just a girl in flannel, and I'm sure most of you have either seen someone's style just like this, or you are her.
With the red hooded flannel that keeps her hair flowing out the front, the blue jean shorts, and white sneakers on her feet, this is a style that almost single-handedly brought flannel into the mainstream.
And this skin would be another perfect option for anyone looking to setup a persona for their YouTube channel, or maybe to play on PvP servers.
Granted this isn't the everyday skin you'd find in the game all the time, so with this on you would definitely be one of a kind.
5.

Flannel Shirt Guy
Yep, it's as basic as it sounds.
This skin makes it onto this list because he reminds me of something more than just flannel.
The style totally reminds me of the emo rock scene back when artists like Panic At The Disco were a huge hit.
The dark red flannel with the one eye covered by his hair, plus that checkerboard belt, and what I can only assume are Converse sneakers, all point to this design bringing us back to simpler times.
And it'd be perfect for anyone looking to make custom music videos while following a specific theme.
6.

Fall Boy
Yes, it's always autumn with this skin on.
This boy is perfect for anyone looking to setup base in the snow biome, too.
With his flannel coat and scarf, plus those winter boots, he's the perfect addition to any seasonal theme.
There would be no better way to welcome in the new season than to show off your persona dressing appropriately.
And for a category of skins that has surprisingly well groomed hair, this male skin adds a nice change of pace, with a hairstyle that looks a little more realistic.
7.

The Hiker
Going back to well-groomed skins, this custom hiker design is one to consider.
First and foremost… the beard.
The beard on this guy is so illustrious that it'd make anyone jealous (in-game and out).
I'd say this hiker skin comes with a getup similar to the lumberjack design I mentioned before, but with a different face and an added backpack accessory.
So this would be great for anyone looking to make a comedy skit on their channel (maybe some videos like Bear Grylls).
Or it's great if you just want the beard.
8.

River Fisherman
Go ahead and craft your boat, grab your fishing pole, and head out onto the water.
We're ready to catch some tasty fish and cook you up some dinner in this outfit.
This fisherman skin is ready to go, and he's one of the cleanest skins with a flannel design.
With his matching hat and vest, red flannel shirt, and waders, this guy would be the perfect addition to a flannel community.
9.

Emo Girl Attempt
Whether or not the emo scene is where you normally find yourself, this attempted emo girl skin is one of the most stylish on this list.
The aqua hair alone is a nice change of pace. But if that's not enough, there's more!
The shoulder cut red flannel contrasts perfectly with her hair.
And the cut black pants add to the aesthetic that make this emo design a truly fantastic skin.
Browse:
Lists
Minecraft
Minecraft Skins
Video Games