Best Galaxy-Themed Minecraft Skins (Boys + Girls)
This post may contain affiliate links. If you buy something we may get a small commission at no extra cost to you. (Learn more).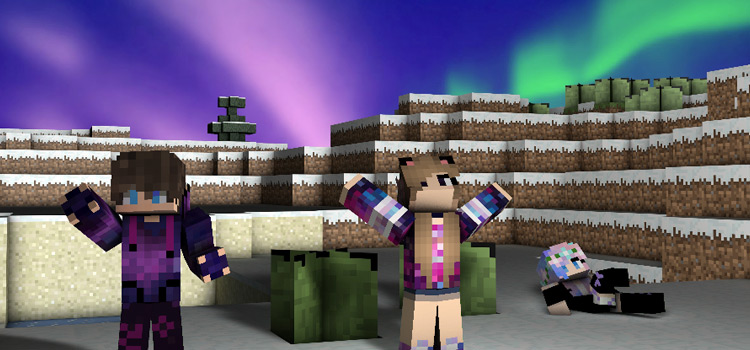 If you were to say that space doesn't interest you, I'd say you need to learn more about space.
I mean, there's good reason why space is considered the final frontier, after the Wild West and Alaska. Space holds just about infinite possibilities for discovery.
One of my all-time favorite aesthetics has to be the deep space/interstellar cloud look. Those massive collections of cosmic dust with stars shining through them, dispersing crazy purples and blues and oranges – I don't think there's anything in the whole universe quite like it.
And here's our collection of skins matching this aesthetic, all created bythe Minecraft community.
1.

Galax-egirl
Any self-respecting Minecraft list these days must begin with an e-girl or e-boy skin.
That's an exaggeration and not at all the truth. But there's a plethora of quality e-people skins out there – and I just so happen to really like them.
Creator JustUzui uses some of the most common e-girl skin tropes around, from putting a darker filter on this skin to having lowered eyes and a focal point hairpiece.
However, this skin stands out so much because of how remarkably *space* it is. The galaxy theme isn't just something that the e-girl wears, it's dyed into her hair. It dips into the fabric of her being.
That concept and this execution are just too cool for me to not put onto a list.
2.

Galactic Fox
When I think of space, rarely do foxes come to mind.
When I think of foxes, space doesn't often pop into my head.
Yet now that I've seen this skin, those two are going to be forever intertwined.
I've seen this style of 3D optical illusion used before on Minecraft skins, but never in such a fitting aesthetic. The ruffled texture blends seamlessly with the galactic color gradient.
I still have no idea why the masterful techniques used by creator Hakuriyu1 are on a fox, but at this point, I'm no longer questioning it. I'm downloading it and about to wow all of my friends.
3.

Galaxy Boy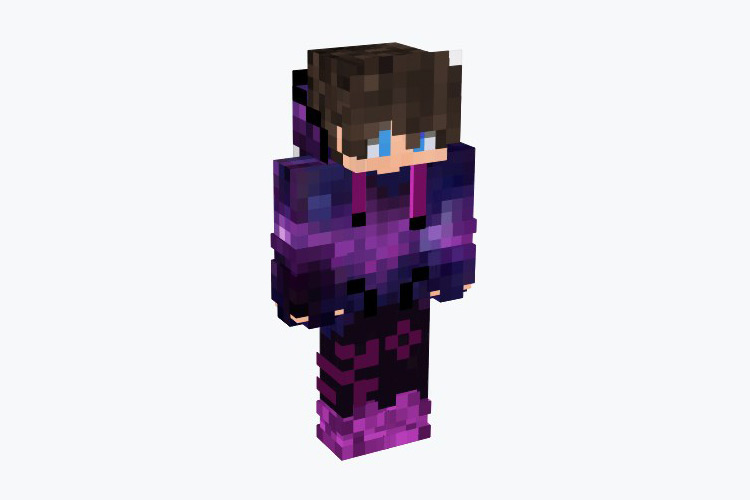 While this skin is phonetically similar to the first skin, I don't think creator iNiqht_'s Galaxy Boy skin deserves an "e" place in front of it.
This skin goes against the grain of modern skin-making trends by not making it particularly edgy or out-there in terms of fashion.
This skin focuses on giving a wholesome, night sky themed outfit that I can't help but adore. I've said it before, and I'll say it again. Sometimes, you need a skin that just feels like you instead of a character or a crazy design.
I think that everyone can feel a little bit of themselves in a skin like this.
4.

Lost (Space Astronaut)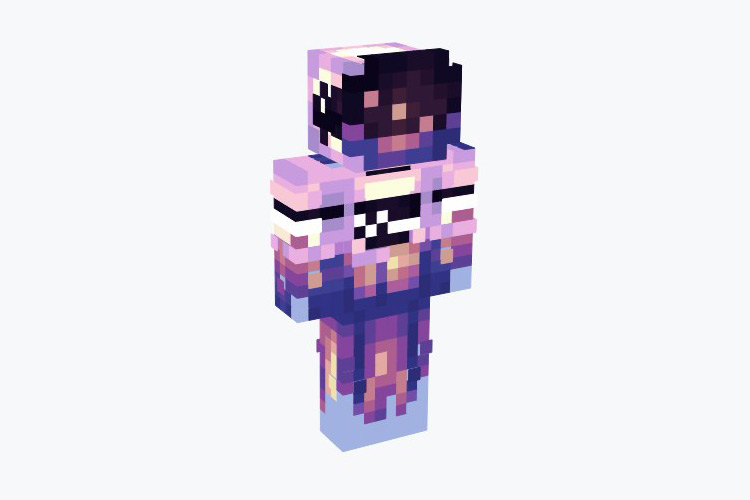 I've stumbled upon creator twiig's Lost skin a number of times.
Every time I forget about how brilliant it is. Then, once I see it again, I'm blown away just like I was the first time.
The skin's description has a brief excerpt about its concept: a wrecked ship in deep space, the last moments of a wayward astronaut as the power shuts down.
The idea is stunningly pretty, and frankly, so is the skin. The way the astronaut suit is tattered, the faint purple hues of cosmic clouds seeping into the suit's white, it's all impeccable.
5.

Horsehead Nebula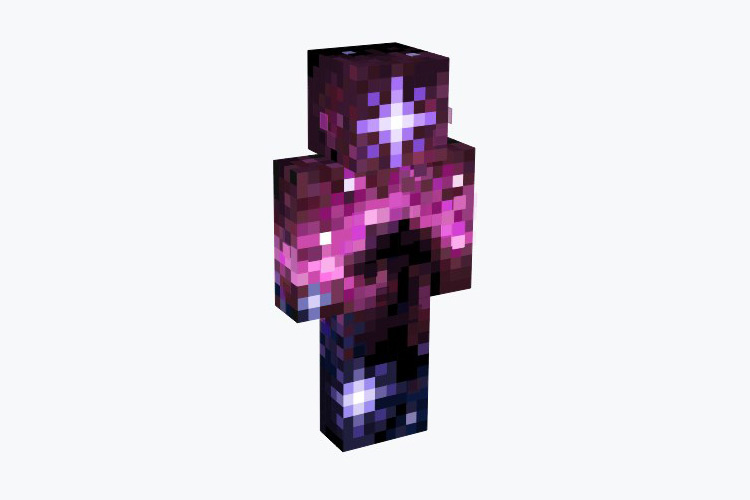 Most skins that focus on a theme tend to make characters out of the theme.
For space, that would be astronauts, aliens, or people wearing clothes that have designs inspired by the theme.
That's not the approach creator Aspirin60 took with this one.
This skin is a walking, mining, and crafting embodiment of the Horsehead Nebula, which can be found within the constellation Orion.
The creativity of making a skin just a literal nebula is amazing to me, but when I look at the execution of the Horsehead and how accurate it is… I'm speechless.
6.

Night Time (Girl)
I suppose it makes perfect sense that space, galaxies, and the like would be associated with the night time, as that's when we're able to see out into them.
But, I still wouldn't have thought that a pajama-themed skin would execute a galaxy theme so well.
The creativity of creator Vanillamint to have a girl with regular, cozy pajamas represent a galaxy not by clothing but by her hair is remarkable.
The skin's theme may be hard to spot at first, but the back of the skin shows the character's hair, a sleepy blue, speckled with stars and spacey shading. I can't get enough of it.
7.

Cutoff Crop Top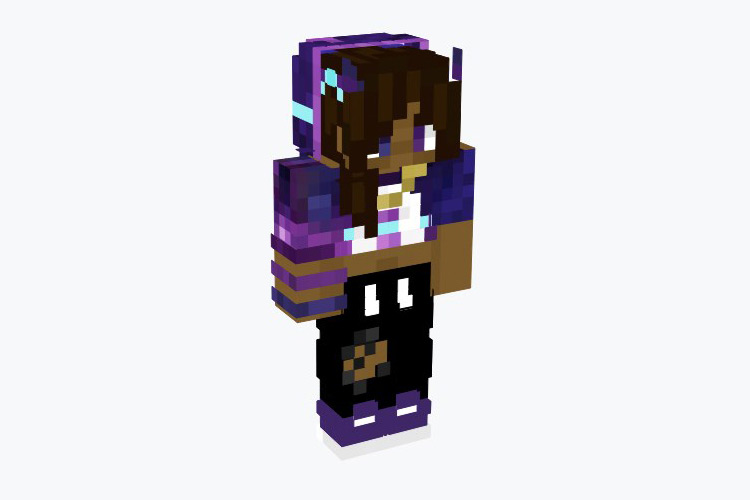 While searching through skins for this list, I spotted creator Nematon's cutoff galaxy skin, and I knew immediately that it was going to make the cut.
This style of outfit is a fairly common one these days – but is rarely seen in Minecraft skins for some reason.
I love the way the crop top hoodie looks along with the armbands and the joggers. Pair that 'fit with the deep purples and faded blues of the intergalactic theme, and I'm all over this skin.
8.

Rift in the Void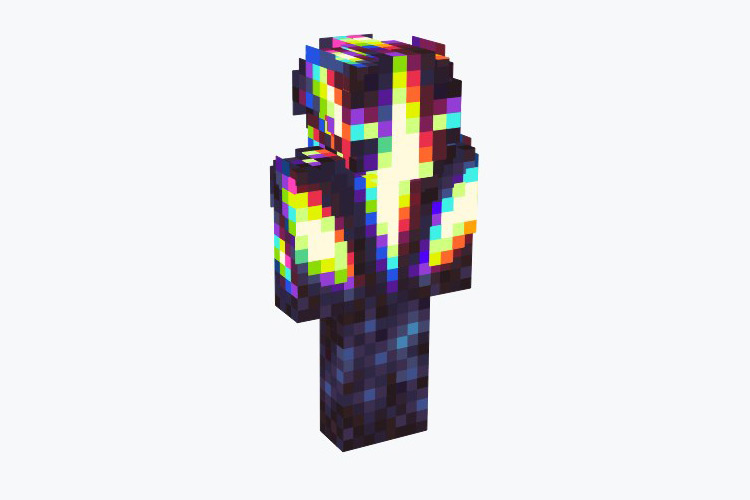 Creator Nighthearted has blown apart my perception of what I thought skins could be with this one.
I knew that skins didn't need to be people or characters, but I didn't think that skins of inanimate things could be done so well.
The Rift in the Void combines a masterful amount of dark space texturing with the craziest technicolor brightness I've seen in a Minecraft skin.
The result is one of the coolest skin concepts and executions around.
Gosh, I love these galaxy skins.
9.

Galaxy Pastel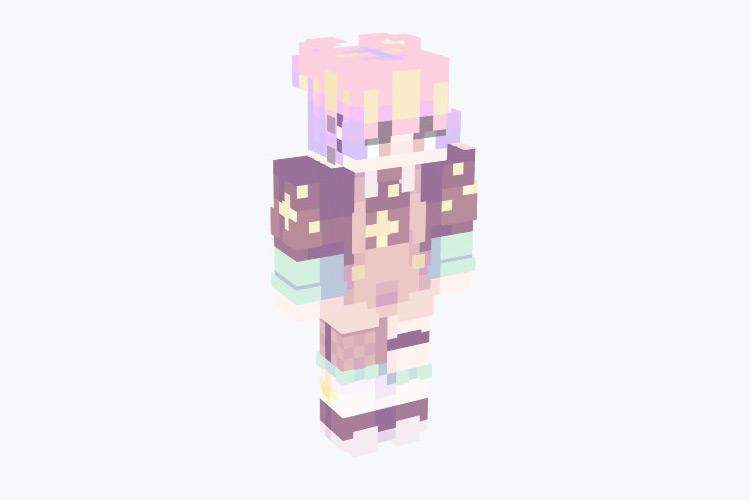 I almost didn't recognize this skin while I was searching for galaxy themed Minecraft things. My eyes had adjusted to the deep night blues and purples that permeate this list, but then I spotted this.
Creator littlesono decided to make a skin with a galaxy theme, but also said that they didn't need to limit themselves to just purples.
Stars and the cosmos can be just as easily represented by some bright and fun pastels.
While the two tones blindsided me and don't readily overlap in my brain, that precise mismash, along with the fact that this skin is excellently crafted, makes this skin stand out like no other.
10.

Trippy Eye
Creator Fangirl was messing around one day and created… this, whatever this is.
Aptly named "eye," this skin is a freaky, experimental mish mashing of color tones and eyes. It's scary, eldritch, and very evocative of deep space all the time.
Honestly, I don't know if I've seen anything like this in my life. It freaks me out a little just looking at it.
I kind of love that.
11.

Cosmic Hair (Girl)
When skins that are highlighting crazy cosmic themes blend their ideas with every day, normal designs, I'm sold in no time at all.
Creator karma put together this breezy summery outfit, but highlighted it by making their skin's hair shine with waves of galactic greens and blues and purples, an interstellar, iridescent ombre.
While it doesn't scream galaxy quite like the literal nebula on this list, it's a fitting aesthetic that I think works any day of the week.
12.

Rings (Boy)
Now here's a skin more suited to the "e" category.
Creator 0hSad's galaxy skin features a relatively normal outfit bathed in a dark filter. I think the subtlety of its 'fit makes the quiet ringed planet on the sweatshirt stand out all the more.
The skin feels like a quiet, late night listening to melancholy music, and that's a vibe that fits this list in a way I was not expecting.
13.

Galaxy Bunnies (Girl)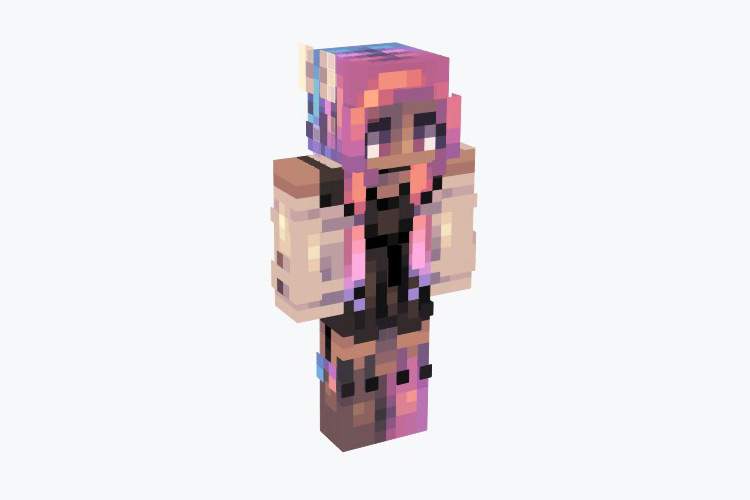 I'm not sure how to begin describing creator Oblivion's skin, Galaxy Bunnies.
The has many of the key features that have peppered the galaxy skins in this list, from a space-themed color gradient, to a fun edgy outfit, but it does it like no other.
Oblivion made this skin as part of a skin swap back in 2015. And because of that, the skin feels like a prototype to the e-girl aesthetic that has dominated the past few years.
I suppose it shouldn't be surprising that a galaxy skin by a great creator would be years ahead of its time, but I can still commend it on looking as good as it does.
Browse:
Lists
Minecraft
Minecraft Skins
Video Games