50 Best Girl Hoodie Skins for Minecraft (All Free)
This post may contain affiliate links. If you buy something we may get a small commission at no extra cost to you. (Learn more).
If there were one clothing item to rule them all, I'd have to go out on a limb and say it's the hoodie. They're so comfortable and stylish.
What other clothing item can be a sweater, a top, and a blanket all at once?
No one manages to rock hoodies as well as girls. From the massive oversized hoodie to the cute crop, girl' fashion has the hoodie down pat.
For the hoodie lovers out there, here's a list of notable girl hoodie skins, all created by members of the Minecraft community.
1.

Arm Stripes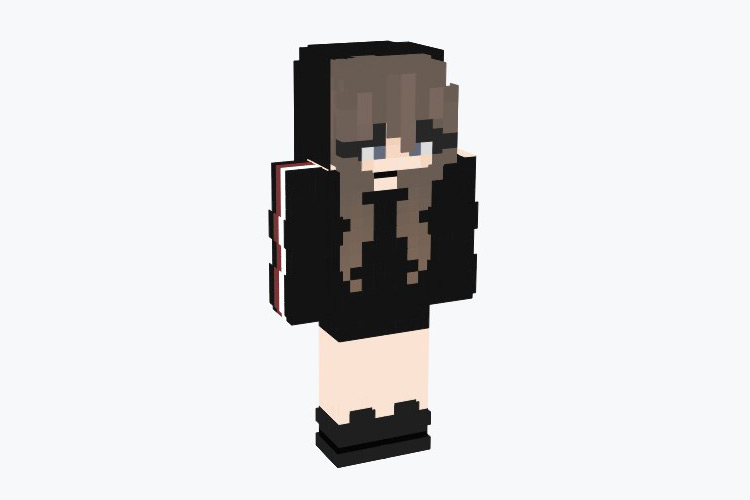 The arm stripes on this hoodie feel so quintessential to the modern hoodie look.
Honestly, everything about this skin from the XL fit to the small shorts feels like the epitome of the modern hoodie look, and I love it.
2.

Red Hair
I'm not sure if this skin is trying to emulate any kind of animal with its all-white hoodie fit, but it's so remarkable that I had to give it credit here.
The red hair, the stockings, the balanced color palette, everything works together to make a striking e-girl look.
3.

Everyday Girl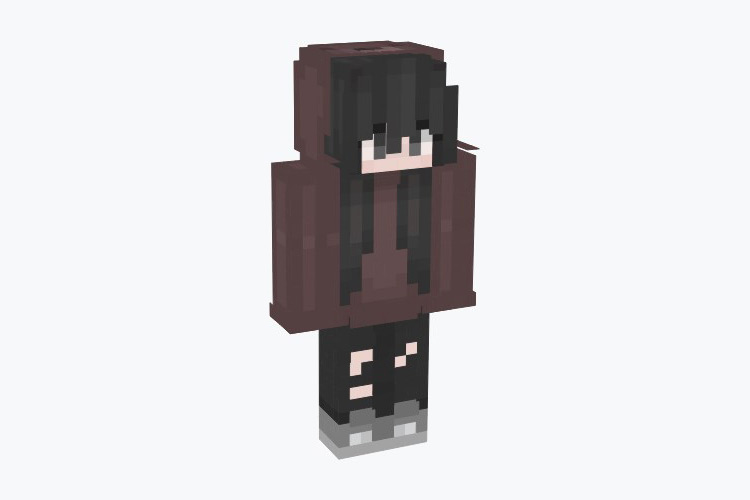 I can only speak for myself, but I love these basic styled skins, and I feel like they deserve more credit.
The edgier and more extreme designs are fun, but there's something so pleasant about a simple, flawlessly done hoodie skin like this one by creator Nevermxnd.
4.

Pastel Dream
Creator IMakeSkins is back at it again with another S tier skin.
The pastels and the overall softness of this skin look so good and are so strong that I couldn't give this one enough praise if I tried.
5.

Flowers Hoodie
Between the extra-long hoodie, the pink hair, and the flower crown, this skin takes little details from cold weather and warm weather and mixes them together effortlessly.
The result is a skin that has immaculate vibes for any season, all year round.
6.

Turtle Hoodie
You better believe the moment I laid eyes on this turtle hoodie, I knew it was making this skin list.
How could a hoodie designed to look like a turtle be anything but the best?
7.

Creeper Fit
Creeper hoodies are one of the oldest skins in the book as far as Minecraft is concerned.
What I love about creator stravberries' work is that not only is the creeper hoodie styled off-shoulder, but the rest of the outfit has creeper stylings too to highlight the creeper fit.
8.

Shy Girl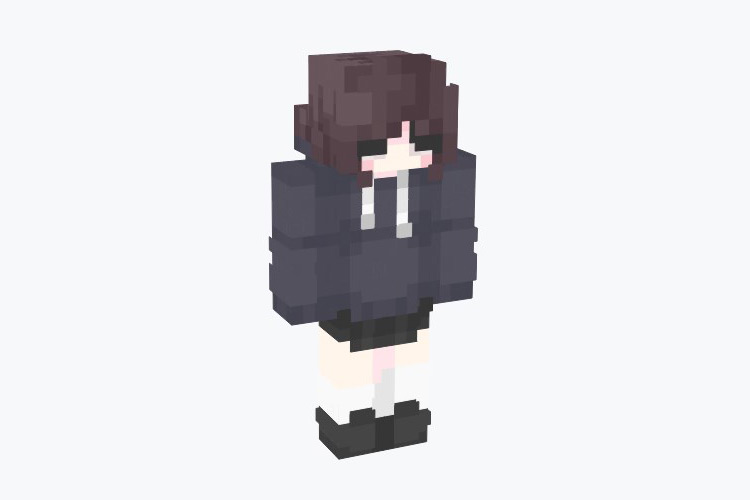 The short hair and slight blush on this skin give off an impression of shyness that can't be described as anything but cute as heck.
9.

Bee-Themed Hoodie
If you know me, I love just about anything bee-themed or bee-related.
It shouldn't have been a surprise then to expect a black and yellow, flower-themed hoodie skin on this list. Especially considering how pristine creator BumblebeeEmpress' work is.
10.

Frog Hoodie
Whatever your opinions on hoodies and/or frogs are, I refuse to believe anyone could look at this skin and say it's anything but utterly adorable.
The hoodie overhead but also pulled up over the mouth must be one of my favorite looks of all time.
Make it frog? I'm sold.
11.

Charizard Hoodie Girl
Correct me if I'm mistaken, but I think this is an e-girl skin with an oversized patchwork Charizard hoodie.
If these exist in real life, I need to get one. For now though, we'll have to struggle with only having this impeccable skin.
12.

Schoolgirl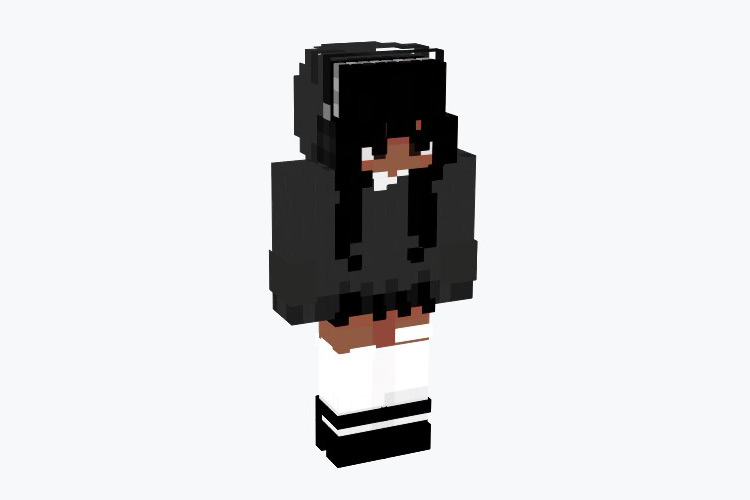 It never occurred to me that hoodies could mesh so well with the classic schoolgirl outfit, but creator longlasted fused the two into a seamless and scary good-looking skin.
13.

Peach n' Horns
I'm a big fan of creator MissEurope's skins, and this one is no exception.
Between the peach hair and the tiny demon horns, you might miss the fact that this skin has one of the cleanest and nicest hoodie outfits on this list.
14.

Frog Hoodie Alt
I know that we had a frog hoodie on the list just a few skins ago, but c'mon.
If this frog hoodie skin doesn't make your heart sing, I think you need to find some more joy in your life.
15.

Plaid Skirt + Hoodie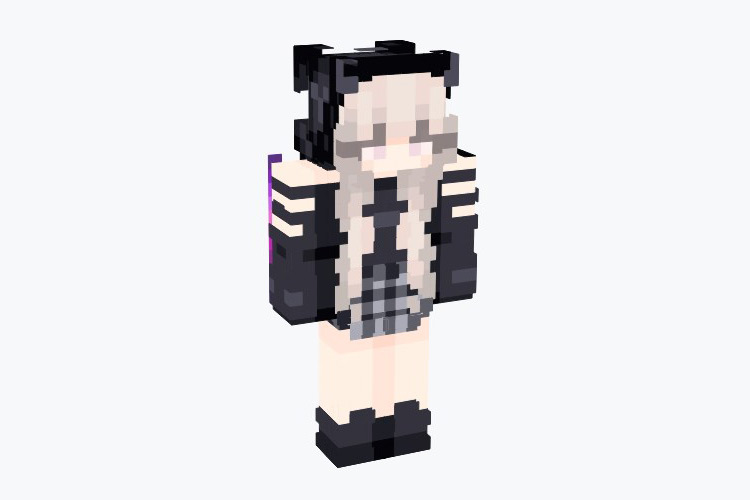 A plaid skirt paired with a hoodie is a bold combination, but in the hands of creator MissEurope, just about anything can work.
Seriously, even the bomber jacket-style shoulder puffs on this hoodie somehow work seamlessly with the plaid.
16.

Sheep Hoodie
I'm beginning to realize that I may just love hoodies that have an animal design to them.
I thought this skin was cute at first, but then I spun it around to see the goofy sheep face on the back.
Hilarious.
Adorable.
Take my money please (just kidding, it's free).
17.

Pale Girl
E-girl skins have a style so refined that it's hard to do anything but talk them up.
I love when a creator like Jordaeh turns that stylization up to the max and makes a skin as pale and contrasting as this between the whites and almost black greens.
18.

Classic Diamond
I've been featuring mostly recent skins on this list so far because the designs for girl hoodies have come a long way.
That being said, girl hoodie skins have pretty much always looked great as is evident by this diamond hoodie skin from back in 2012.
19.

Gucci
The cleanness of the colors on this skin, how everything looks distinct and clear, is so remarkable.
The blue on the tattered jeans and the Gucci colors on the hoodie are so pristine, I have no idea how creator MissEurope managed to put this one together.
20.

Brown Bear Hoodie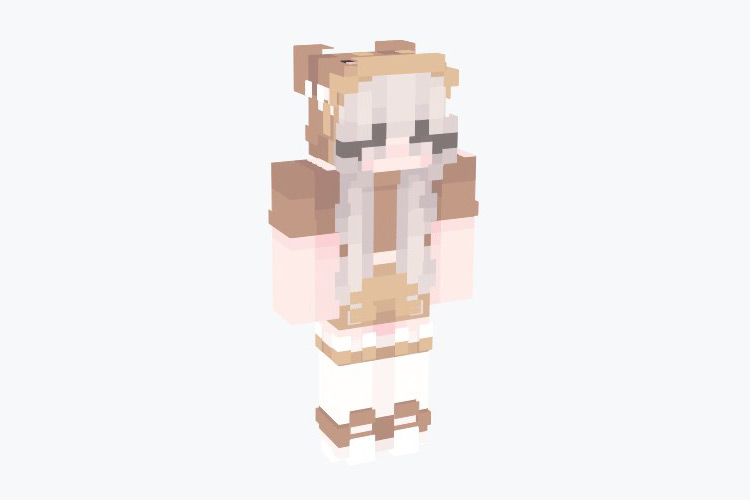 Creator Giovanka's designs are pretty much always flawless.
This brown bear hoodie skin serves as a testament to that fact.
The aesthetics, the color palette, the everything on this brown bear hooded onesie are so good that it almost feels wrong that you can download this skin for free.
21.

Cat Girl with Moon Hoodie
I'm starting to grow more and more fond of the trend to give skins these smiling anime eyes.
Between that, the baggy fit on the hoodie, and the cascading hair, I can't help but kind of love this skin.
22.

Dinosaur Hoodie
I'm not sure when the pale green and white color combo became the de facto palette for dinosaurs, but I can't complain. Certainly not when creator Giovanka is using them.
This pajama-adjacent hoodie skin is pretty much the pinnacle of cute and cozy.
23.

Adidas Hoodie
The Adidas stripes strike again on this light blue hoodie skin by creator snowymochi.
For how clean and pristine this skin looks from the streamlined design to the flower crown, it's hard to believe it was released in 2016.
This skin feels way ahead of its time.
24.

Sunset Girl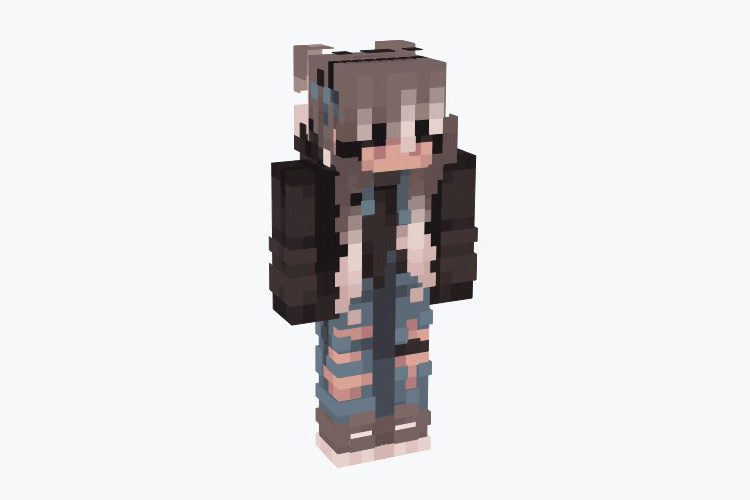 One of my new favorite trends among skin makers is when they apply a color filter to make it look like the skin is outdoors at a specific time of day.
You can't tell me that the summer sunset tones on this skin don't look so good that they make you wish you were outside at golden hour.
25.

Tied Up
We've been through it before, and absolutely nothing has changed since. The tied up hoodie, slightly covering the face, is an adorable look, and that's a fact.
26.

Pale Orange Hoodie
I don't know if pale orange has a fancy color name like chartreuse or something, but with how good this skin looks, I feel like it should.
The hue on this skin is honestly breathtaking, and I feel like this outfit should be complimented at any and every given opportunity.
27.

Brown Rabbit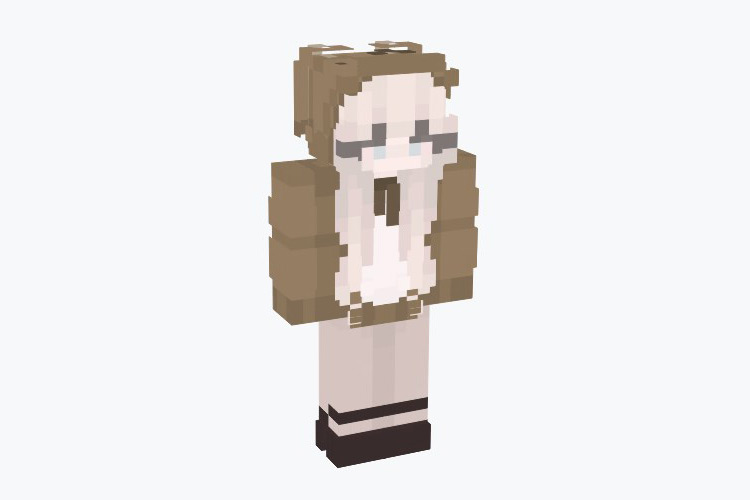 This brown rabbit designed hoodie is bordering on the edge of a full on onesie, and I'm more than okay with that.
28.

Ice Demon
Guy skins on Minecraft will frequently get crazy and weird while girl skins tend to have the better aesthetics.
It's refreshing to see a girl's skin have an out there, ice demon design while still looking immaculate.
29.

Blue Camo Girl
I never thought that I'd be advocating for this blue, tactical camo pattern, but here, I am.
I honestly couldn't stan the way this hoodie skin looks enough. The Call of Duty camo pattern somehow looks way too cool, and as much as I'd like to, I can't lie about it.
30.

Overcast Hoodie
Creator SierraaNoell hit a design piece with this skin that, as far as I can tell, is unique to this hoodie skin.
While her hoodie is up, the hood casts a shadow over the girl's face. I don't know how something so simple adds so much, but I love the way the skin looks because of it.
31.

Off-White Hoodie
Why is it that this off-white, barely gray color works so well on skins?
I feel like not too long ago I was fervently against monochromatic skins like this, but now, I couldn't even pretend that this skin doesn't look fire.
32.

Ukraine Flag Hoodie
Creator tortelinni made this hoodie, skirt combo skin feature blue and yellow, the national colors of Ukraine.
While this may date these skins, we appreciate when creators and the internet show support for those against war.
33.

Oversized Red Hoodie
It's not too often when I see a clothing piece on a skin and think "oh I need that."
But, I need that oversized red hoodie.
Even on the Minecraft model, it looks like a XXL, and there's nothing better than an oversized, cozy sweater.
34.

Blue's Clues Hoodie
While this skin has no affiliation to the show, something about the large size of the hoodie, the stripe, or the softness of the skin gives off Blue's Clues vibes in the best way imaginable.
35.

Washed
I will take a washed out color palette like the one on this skin any day of the week. The design, the hoodie, and the hair are so clean and modern.
*Chef's kiss*
36.

Creeper Hoodie Rainbow Girl
I've been a fan of this custom design for many, many years.
And I'm excited to give the skin some love and attention whenever I can. This list included!
37.

Red Dye Hoodie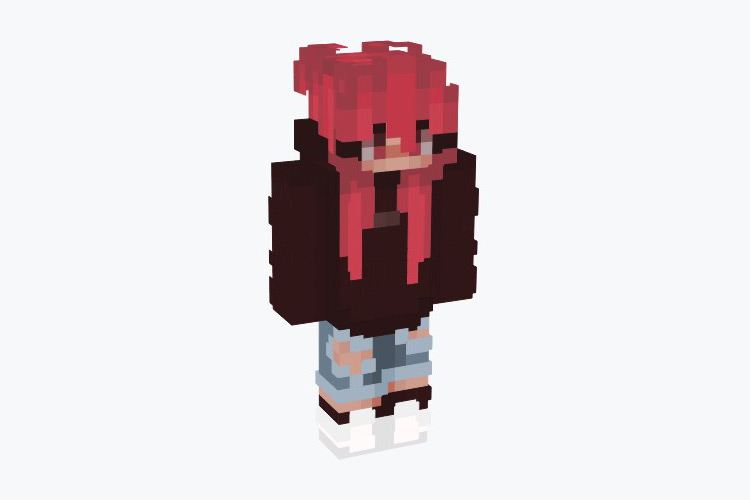 The red dye on this skin is somehow more striking than it is on most of the other skins with dyed hair.
The baggy fit and the shaggy dye has big skater energy, and I'm a fan.
38.

Unicorn
I know unicorns aren't everyone's cup of tea, but if you don't like unicorns, c'mon.
Who doesn't like unicorns?
39.

Cute and Blue Hoodie Girl
The crop, the blush, the buns, the curls: everything about this skin is so well made.
I couldn't praise it enough if I tried.
40.

Too Cool Girl
Between the rad sunglasses and the literal crown, there's no doubt that this hoodie girl is just too cool for you.
41.

Blue Girl Listening To Music
This ice blue music hoodie skin is very reminiscent of a specific era of the internet and Minecraft, and though my age is showing, I kind of love it.
42.

Tactical Vest
I don't know if I ever really understand the e-girl/e-boy trend to wear tactical, bulletproof vests as fashion pieces, but I don't really need to get something to recognize that it looks good.
Today I learned, tactical vests on top of hoodies look pretty darn nice.
43.

Eevee Hoodie
This Eevee hoodie was made with the explicit purpose of looking cute as anything.
You can tell me if you disagree, but I think it did what it sought out to do.
Or if you want even more ideas then check out our collection of Pokémon hoodie skins – there's a lot of 'em!
44.

Totoro Hoodie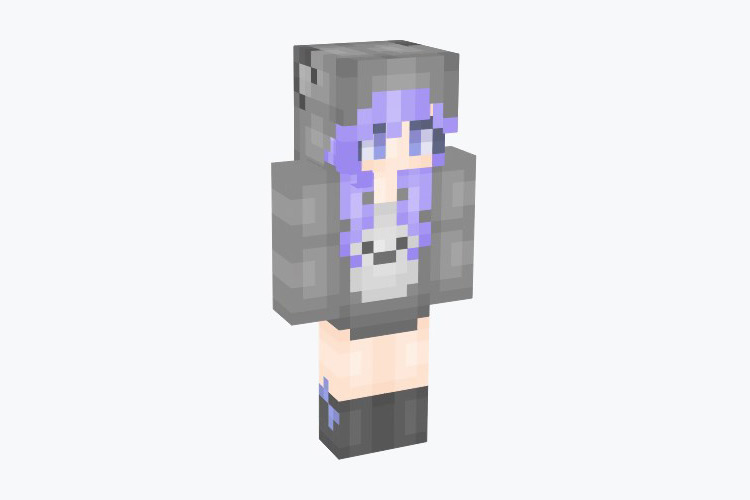 I love My Neighbor, Totoro with all my heart – and by extension, I love this hoodie skin just as much.
Seriously, how could anyone not like a hoodie that iconic and that cozy looking?
45.

One Shoulder Cat
The off-shoulder hoodie always looks good.
But if you make it anime and even cuter, there's no way it could miss.
46.

Curls (Red Hoodie Girl)
For a skin from way back in 2014, I'm amazed at how stand out and immaculate the hair on this skin is.
From the volume to the distinct curls, I can't get enough of them, especially when paired with a nice hoodie.
47.

Umbreon Girl
Umbreon is probably my favorite Eevee evolution.
And this hoodie is probably my favorite of the Pokémon hoodie skins on this list.
What can I say? The black and yellow design is too cool to ignore, and Umbreon still has all the cuteness that Eevee does. That's just good design.
48.

Pink and Emo
The e-girl combo of "so emo, we're pretty much black and white" and "hot barbie pink" that works so well for me.
I couldn't tell you why it works so well, but there's a bear face on the top of the hood, so I don't need to explain myself. That's an instant download if I've ever seen one.
49.

Bape Hoodie Girl
It's been a long time since I've heard Bape mentioned, but even with that hiatus, I can't help but think this camo hoodie looks way too cool for its own good.
50.

Butterfly Hoodie
Butterfly designs aren't always up my alley, but creator Lcveee's skin pulls off the look so subtly and pristinely that I can't help but love the color palette.
The thigh high e-girl sock, bow in the hair, and hoodie combo always looks great.
But on this skin, it's so clean that I couldn't help but give the butterfly credit where credit is due.
Browse:
Lists
Minecraft
Minecraft Skins
Video Games