The Best Minecraft Kitchen-Themed Mods (All Free)
This post may contain affiliate links. If you buy something we may get a small commission at no extra cost to you. (Learn more).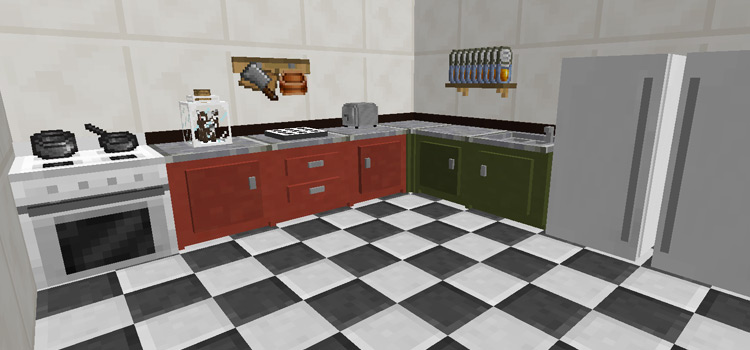 The kitchen is the heart of the home.
So let's give it the love it deserves with these kitchen and cooking-themed mods for Minecraft, that'll help you get the most out of your custom blocky kitchen area.
10.

The Veggie Way

If you're looking to go meat-free in your Minecraft kitchen, then you may be interested in trying out The Veggie Way.
It's a vegetarian-friendly mod which lets you cook a range of high nutrition food without ever having to kill one of those lovable blocky animals.
The mod primarily adds recipes which use existing food items found in vanilla Minecraft.
But it also adds four new crops for some extra added diversity to the experience. The new crops are red quinoa, corn, lentils, and soybeans.
Cookable recipes include apple, melon, and sweet berry pies, pumpkin soup, fresh tofu, fried eggs, energy bars, and superfood smoothies. Yum.
9.

Eat the Eggs!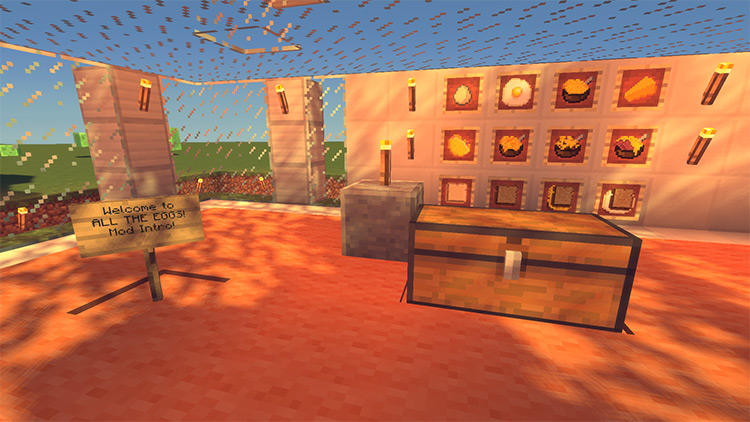 Trying and failing to eat eggs in Minecraft is a rite of passage that every player goes through.
Sure they look like food.
And their real life counterparts are food.
But the instant you try to scarf one down in-game, you discover that they're actually projectiles.
As a result, they mostly just end up clogging up the cupboards of your Minecraft kitchen – presumably slowly going off.
Eat the Eggs! is a simple mod with one simple goal.
A goal that's basically explained by its name.
Now you can cook eggs in a variety of exciting ways, including scrambled eggs, cheese omelets, and fried eggs, as well as variations including scrambled eggs with bacon and fried egg sandwiches.
If you're looking to do more with eggs in your kitchen, Eat the Eggs! is a nifty addition to your game.
8.

Pizzacraft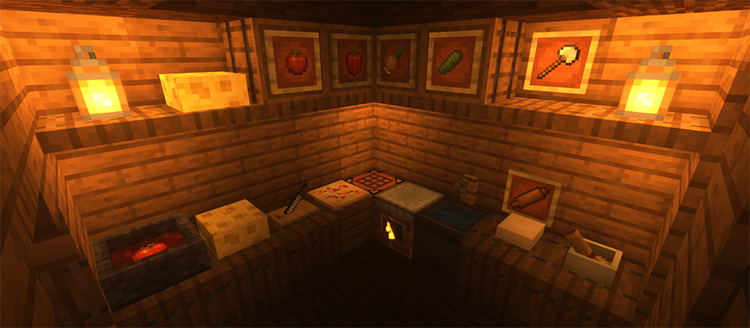 Or if you're looking to cook something unhealthy in your Minecraft kitchen, then try Pizzacraft!
This mod lets you create your own delicious pizzas from scratch, grinding your own flour with the mortar and pestle, mixing and rolling out your dough with the rolling pin, and adding your choice of toppings from 11 different pizza flavors, all before baking in the pizza oven.
The mod even includes a full chef outfit complete with hat, which you can wear around your kitchen to really feel like Minecraft's answer to Gordon Ramsey.
Plus you'll get craftable pizza boxes for that authentic take-out experience.
7.

Farmers' Delight
Some of you currently building a kitchen might want to go for a more rustic look than your traditional Minecraft kitchen mod offers.
Well Farmers' Delight may be the best choice here.
In addition to adding new crops and recipes to try, this mod also adds a range of cottage kitchen items to decorate and use.
These items include crackling stoves, cast iron cooking pots, chopping boards, and baskets.
These are all functional & add a pleasing rural aesthetic to your Minecraft kitchen.
6.

Simply Tea!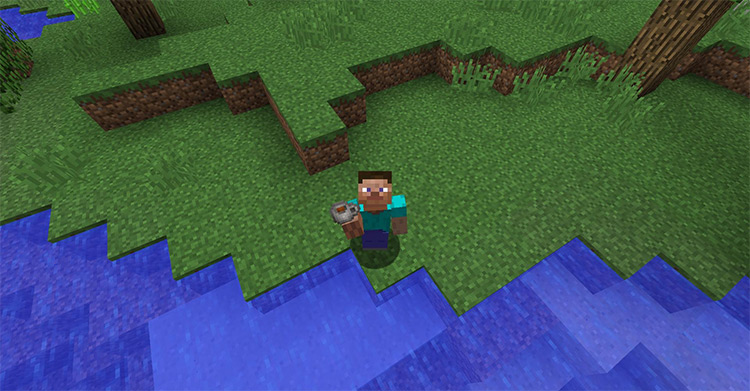 There are few things more enjoyable than settling down to make a nice hot cup of tea.
And with the Simply Tea! mod (yes, it is written with an exclamation) you can bring that joy to your Minecraft kitchen as well.
This mod adds six different kinds of tea into the game, each with different effects.
The list includes green, black, chai, floral, chamomile, chorus, and apple iced tea, as well as the ability to turn cocoa beans into hot chocolate!
5.

Spice of Life: Carrot Edition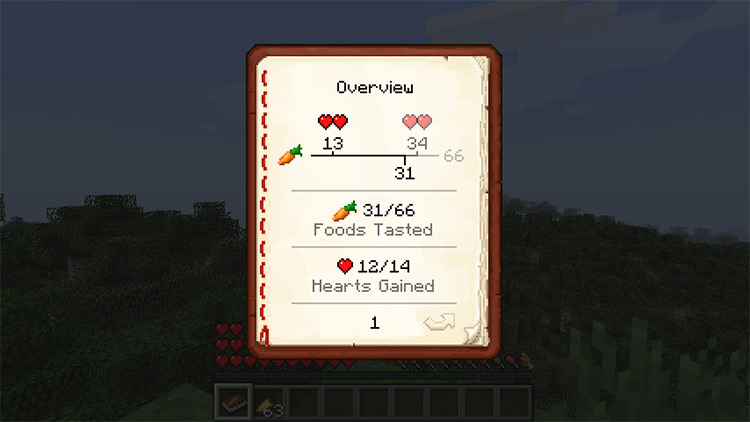 Get Spice Of Life: Carrot Edition
Get Spice Of Life: Potato Edition
It's all well and good having the perfect Minecraft kitchen.
But that doesn't mean you're using it to its fullest potential.
How many times in Minecraft have you just eaten stack after stack of bread?
Spice of Life aims to encourage you to add some variety to your eating habits, making it so when you eat the same food too many times, you slowly debuff its effects.
This forces you to carefully consider your meals in advance and get more adventurous when cooking in Minecraft.
The mod comes in several variations, including the Carrot Edition, which rewards players for eating diversely rather than punishing them for being boring.
Then there's the Potato Edition, which expands on the Carrot Edition, but adds more complex rewards for players with adventurous appetites.
4.

MrCrayfish's Furniture Mod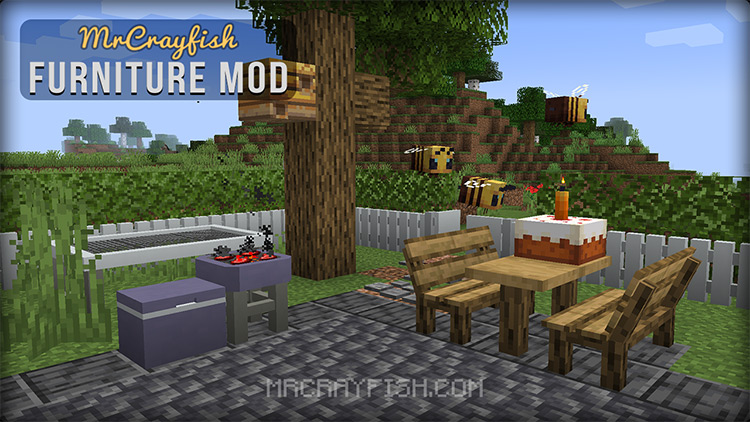 MrCrayfish's Furniture Mod is a massive modern furniture mod containing a total of 80 unique pieces.
This adds new decorative items to Minecraft for every room in the house, including a glorious range of modern kitchen appliances and fittings.
More specifically, this mod includes kitchen counters with customizable colors, kitchen sinks, ovens, fridges, fire alarms, microwaves, toasters, and (if you're good with these in your kitchen) a washing machine.
The mod also includes a range of other furniture items you can use to spruce up your kitchen space.
Want a TV to watch while you bake? This mod has you covered.
Getting hot while you cook? Try the fully functional ceiling fan.
The mod's creator MrCrayfish is currently undertaking an extensive code rewrite too, so some furniture items are currently unavailable for more recent Minecraft versions.
However, these items are planned for reintroduction in future updates. And the full range of items is still available on older versions of the mod too.
3.

Culinary Construct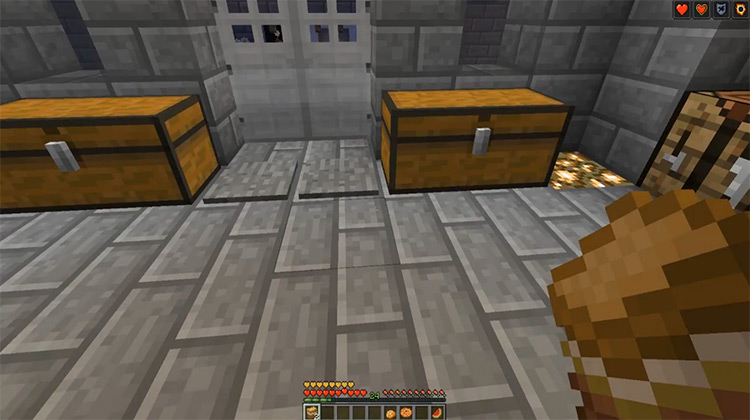 Sandwiches are great.
Portable, convenient, and easy to fill with all your favorite foods. These tasty morsels are the ideal basic meal to cook in your Minecraft kitchen, if the vanilla game allowed it.
Culinary Construct is a mod which realizes this dream, allowing you to build an almost endless variety of sandwich combinations.
It even features a new crafting table called the Culinary Station, created by combining a Crafting Table with a wooden slab.
After that, it's just a matter of combining bread with up to five fillings of your choice.
The result will be an easily portable snack that contains the total combined food value of all the ingredients you put into it.
2.

Cooking for Blockheads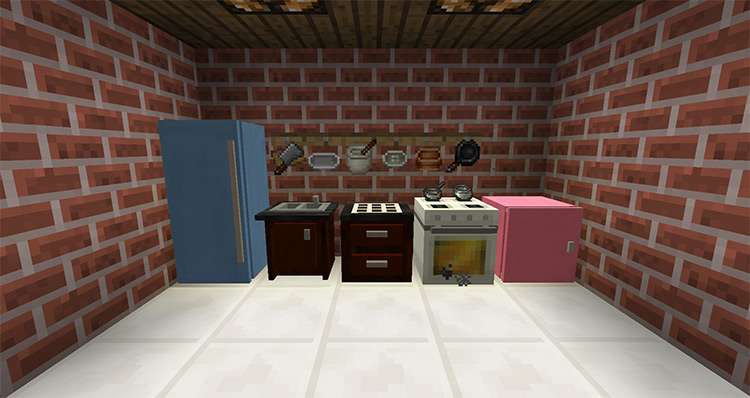 Other mods may enhance the aesthetics of your Minecraft kitchen, but Cooking for Blockheads goes one step further by giving you a fully functional kitchen.
Simply use the cooking book or cooking table to find out what delicacies you can create with the ingredients in your inventory, and you're ready to go.
The kitchen is modular and easily expandable, too. It also features a wide range of storage including cupboards, drawers, and even a nifty spice rack.
Other items include includes modern conveniences such as upgradable refrigerators and ovens, a kitchen sink, as well as a few more bizarre offerings – such as a tiny cow in a jar which can be used as an infinite milk supply.
The mod is designed to be compatible with both vanilla recipes as well as a broad range of food mods, and is recommended alongside Pam's Harvestcraft 2, which leads us nicely into…
1.

Pam's HarvestCraft 2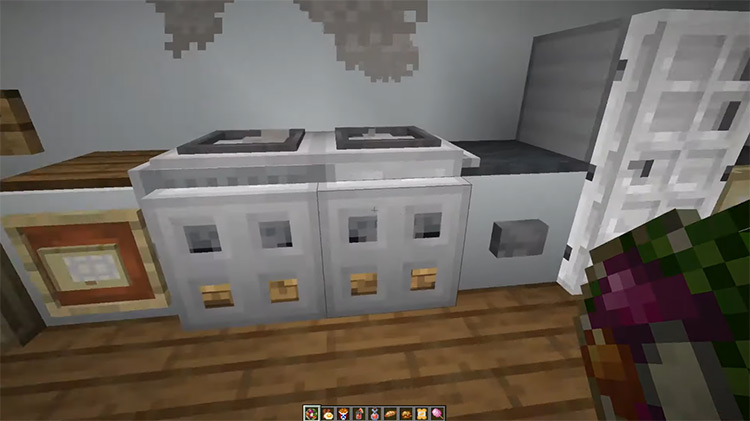 So you've created your perfect Minecraft kitchen.
But what are you planning to cook?
Vanilla Minecraft doesn't offer too many options for the refined palate beyond bread, stew, and cakes.
This is where HarvestCraft 2 steps in.
HarvestCraft 2 is subdivided into four separate sub-mods, which can be installed separately or together according to your needs.
This includes Food Core, which adds over 120 new food items that can be crafted from basic vanilla ingredients such as wheat, eggs, milk, and apples, as well as new tools to craft them with.
You also have Crops and Trees, both of which add a host of new plants and base ingredients to the game which you can harvest.
And then there's the 4th sub-mod called Food Extended, which adds a further 400+ food items for you to craft from the ingredients found in the Crops and Trees submods.
Yeah, it's a lot.
And with this mod installed your kitchen will get plenty of use.
Browse:
Lists
Minecraft
Video Games