The Best K-pop Skins for Minecraft (All Free)
This post may contain affiliate links. If you buy something we may get a small commission at no extra cost to you. (Learn more).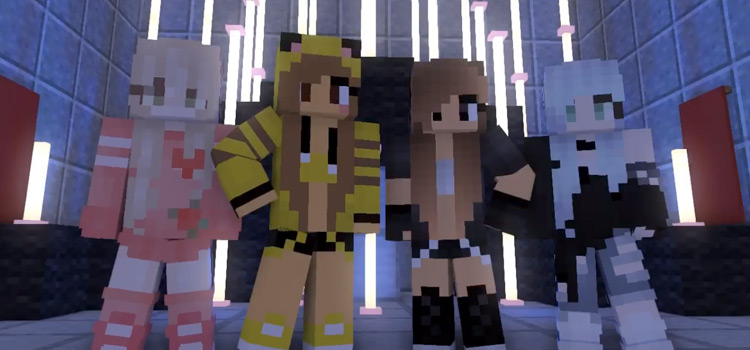 By now, everyone has probably heard of K-pop or danced to "Gangnam Style" at some point in their lives.
The hallyu or Korean Wave has finally crashed and settled into mainstream success, all thanks to the hundreds of idols who perform like a well-oiled machines.
Every hit song, choreo, fancam, and fan service grew K-pop into a billion-dollar industry, and it shows no signs of slowing down.
Say "Annyeong!" to some of the most popular idols in K-pop, backed by millions of fans, all from inside Minecraft.
1.

Jennie (Blackpink)
Right from day one, I knew that Blackpink would make it big, and it was all because of Jennie.
She may be just one of the members of the world's most popular girl group, but she's proven time and time again that she's a one-woman powerhouse.
Starting her training at the incredibly young age of 14, she quickly became YG Entertainment's secret weapon thanks to her many talents, unparalleled beauty, and untouchable taste for fashion.
Now that I'm done gushing, I got to ask: How you like this skin by Chereshkii?
2.

Lisa (Blackpink)
Out of the 4,000 who auditioned for YG in Thailand back in 2010, Lisa was the only one who got accepted, and for very good reason.
The entertainment giant saw her unbridled talent and passion, so they immediately made her Blackpink's main dancer, lead rapper, and supporting vocalist.
A decade later, and she's already dominated the world. Even those who've never heard a note of K-pop know exactly who she is.
Now she's set to dominate Minecraft as well with this skin by T4EKOOK that features her dress from the "DDU-DU DDU-DU" music video!
3.

V (BTS)
I'd be totally mad at V if I wasn't so helplessly in love with him.
It's just so unfair that a single human being could be that perfect!
His dance moves are smoother than butter and his expressions melt me every time.
Apparently, he's also an art and greek history lover, an amazing actor, and a saxophonist. How does he find the time to do all that?
Meanwhile, I'm over here rewatching every single BTS music video in existence.
4.

Jimin (BTS)
Obviously, Jimin needs to go right after V to respect their nearly lifelong bromance.
Jimin was an obvious stand-out from the start, and based on the fact that he's the first BTS member to achieve 100 million Youtube views on a solo music video, I'd say many ARMYS would agree with me.
He's just such a joy to watch because you know he's genuine 100% of the time, and that easily translates from the screen and the stage.
I don't know what I'd say if I met Jimin in person, so good thing this skin by Purpling is accurate enough for me to practice on.
5.

Jungkook (BTS)
Despite the level of success that BTS has gotten, the group's main vocalist, Jungkook, never stops grinding.
In a variety show called "You Quiz on the Block," he said that he stopped doing hour-long vocal trainings and instead began to practice 24/7.
The hardwork has certainly paid off. You don't need to be a die-hard ARMY to see that he's just oozing with talent and backed by a powerful stage presence.
As a fitting tribute to Kookie, here's a skin by Jayla103 based on his outfit from the "Fire" music video.
6.

Kai (Exo)
Kai isn't EXO's main dancer for nothing.
You can find hundreds, if not thousands, of his fancams on YouTube. Some of them have even gone viral over the years.
He's so good that even some of the top choreographers in the game have sung their praises for his moves.
Aside from that, he's got impeccable fashion sense which landed him a gig as the first Korean global ambassador for Gucci.
Honestly, this skin doesn't do Kai's god-level style just (sorry, Shadow) but it's a decent recreation of his outfit from this live performance of Obsession.
7.

Nayeon (Twice)
It's a shame that Chibikandy couldn't add Nayeon's smile on this skin, because everyone knows about her signature "bunny teeth" grin.
It has a sweetness to it that can only be matched by her stunning singing voice.
Now that she has her first solo EP, the aptly titled IM NAYEON, there's no reason why my personal favorite from TWICE won't win the world over.
Give in to Nayeon's charms when you download this skin today!
8.

Seulgi (Red Velvet)
Red Velvet easily won the world over with their awe-inspiring harmonies and their down-to-earth personalities.
At the center of what Billboard called "the best idol group alive" is Seulgi, their lead vocalist and main dancer.
Despite having immense talent and fame, she's able to stay humble by always showing her appreciation for her fans. Let's hope she would also love this skin by MrOoP.
9.

Johnny (NCT 127)
K-pop is everywhere right now, and one of the reasons why is this boy group called NCT.
Currently, they have over 23 members with a handful of sub-units that sing in different languages.
That's obviously a lot for one group, but that didn't stop Johnny Suh from catching our attention.
From the NCT 127 sub-unit, he towers over everyone with a height of 6'1, and he brightens up every room he walks into with his hilarious jokes.
This skin doesn't fully capture Johnny's big personality, but it's wearing his killer outfit from "Kick It" so I have no complaints.
10.

Taeyong (NCT 127)
Aside from Johnny, one of the NCT 127 members that I simply can't get enough of is Taeyong.
As the leader of the group, he sort of acts as everyone's big brother. He's very protective of everyone and is always working hard to make sure they stay at the top.
If you want to see his leadership skills in action, check out the music video for "Cherry Bomb"!
11.

Ryujin (ITZY)
If there's one thing you need to know about the girl group ITZY, it's that they have choreographies that are to die for.
Case in point: Ryujin's unforgettable shoulder dance at the beginning of "Wannabe."
The video became so viral that everyone and their mother got to their feet immediately and started learning it.
Not sure if I can dance with the same level of grace on Minecraft, but I can try with MandarinkaHyung's Ryujin skin.
12.

Yeji (ITZY)
Being a leader of anything is never an easy task – let alone being the leader of a highly successful K-pop group.
Yeji, though, is somehow able to make her job seem so effortless. She dances with precise movements paired with facial expressions that will make you melt.
In between breathtaking performances, she snacks on chocolate and plays with her red poodle named Hongsam.
I can't even begin to imagine how she does it, so I'll just stay here and continue writing about Minecraft skins for a living.
13.

Hyunjin (Stray Kids)
If you want an awesome dancer who raps a mile a second, you can't go wrong with Hyunjin from Stray Kids.
You don't need to watch countless videos of him like I did (don't judge) to know that he is charisma personified.
Really, the only thing you need to see is the group's music video for "God's Menu," then you'll know why he's dubbed the "4th Gen it Boy."
14.

Solar (Mamamoo)
I honestly hate the term "kween" because it just makes me cringe everytime someone says it non-ironically.
But I do have to make an exception for Solar, the leader and main vocalist of Mamamoo, because she deserves it.
I can go on and on about the spectacular things that she can do on-screen and onstage, but I'd rather highlight how she promotes gender equality and philanthropy.
That's something you don't see every day in the world of K-Pop.
15.

G-Dragon
Last (but definitely not the least) we have G-Dragon!
How can we ever forget the King of K-Pop?
Not only is he the leader of one of the genre's pioneers, but he's also behind some of the group's biggest hits as both a songwriter and a producer.
Now let's see how good he can be at mining with this skin by NekoDako.
Browse:
Lists
Minecraft
Minecraft Skins
Video Games