The Best Minecraft Overwatch Skins (All Free)
This post may contain affiliate links. If you buy something we may get a small commission at no extra cost to you. (Learn more).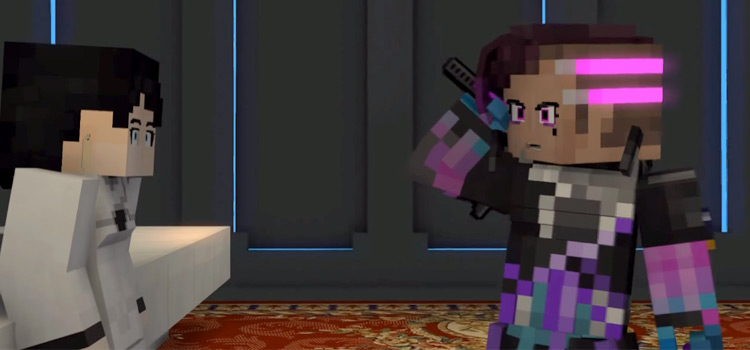 In 2016, Blizzard released what would come to be a smash hit in the form of Overwatch. It's hard to pin down exactly what made the game become as successful as it did.
Some will argue that the hero-based PvP was the main draw, while others will say that the smooth gameplay and teamplay were Overwatch's main draw.
I think, however, that Overwatch is all about its amazing character design.
Each hero is its own unique idea with iconic designs, color palettes, and accents. The character design was so successful that Overwatch heroes quickly became some of the most recreated figures in pop culture.
And if you don't believe me that Overwatch characters are as cool as they come, take a look at these characters turned into Minecraft skins, and tell me they don't look as cool as anything.
1.

D.Va
Is there any Overwatch skin more cosplayed or emulated than baby D.Va?
The gamer turned mech pilot turned actress turned Overwatch hero is one of the title's most beloved characters for a mixture of reasons. Mostly, because she's darn cute.
This skin by creator Bianka is a perfect recreation of D.Va without her mech, harnessing all the cuteness that powers her giant robo-mech.
While I can't guarantee you'll be piloting a self-destructing mech into a crowd of creepers in an act of heroic revenge, I can guarantee that the folks on your server will compliment your new digs.
2.

McCree
It only takes one look at this skin to feel the sun beating down on your skin, hear a whistle on a dry wind, the dreaded phrase: It's High Noon.
McCree's phrase and look are as iconic as they come – cowboy down to the cybernetic bone.
Whether you're dreaming of gunslinging, being a marauding, train-robbing cowboy, or just want to spam "It's High Noon" in your Realm's chat, check out this McCree skin by creator HazelOrb.
3.

Widowmaker
Few Overwatch characters inspire as much dread as a good Widowmaker.
One whisper from that French accent means there's nowhere to hide from an expert marksman, and you'd be lucky if she showed you any mercy.
Now I don't know about you, but that's exactly the type of energy that I'm trying to bring into my Minecraft Realms.
Relive all the joy of playing Overwatch and getting a killing spree in your next PvP world with creator sixfootblue's Widowmaker.
4.

Lucio
When I ask this question, I mean it genuinely:
Is there a more fun video game character than Lucio?
The Brazilian freedom fighter is equal parts soccer star and DJ, support and carry. He's always having a blast regardless of where he is, while literally enlivening his teammates.
There's no character I'd want to emulate more.
And thankfully, Callr's Lucio skin for Minecraft is so legit that I'll be able to do just that.
I for one can't wait to give this a download to have a ball… or, I guess, a square in my next server's adventures.
5.

Winston
If he's said it once, he's said it a thousand times.
He's not a monkey. He's a scientist.
Winston has to be my favorite Overwatch character. A super-intelligent gorilla/scientist inside a jet-pack space suit armed with a Tesla cannon: name something cooler, I dare you.
While it's genuinely impossible to get the size and scope of a gorilla into the small and blocky dimensions of a Minecraft skin, this skin gets awfully close in portraying a near perfect Overwatch Winston.
6.

Echo
No hero in Overwatch quite captures the smoothed edges and sleek style that Blizzard managed to imbue the game with quite like Echo.
Her stark white and blue design communicates pristine futurism in the coolest of ways.
What a treat it is to have creators like elfie_ who managed to capture that in the pixelated world of Minecraft.
7.

Bastion
This amazing Overgrown Bastion skin by QUWELU is my own personal way to get around the money it costs to acquire the actual skin in Overwatch.
The green-tinted Bastion skin has always been my favorite, and somehow it looks utterly fitting rendered into Minecraft's 2D-style.
I suppose it makes sense, considering Bastion's blocky figure. But that does nothing to stop my excitement for this design.
8.

Ashe
The only problem with having McCree in Overwatch or your Minecraft server is that you can't just have one cowboy.
Where one exists, another is sure to follow.
That's why Ashe steps into the world and this list.
Not only is creator Nudle's Ashe skin a rad interpretation of the rebellious gunslinger, but it's also the best example of simple styling that I've seen.
This skin isn't too heavily-adorned or detailed, but instead has just the right amount of detail to be able to perfectly read who this is modeled after.
Sharp work and sharp shooting.
9.

Doomfist
I can't get enough of the design of Doomfist.
The stripped down (literally and artistically) hero launches himself around the battlefield behind a gigantic, mechanized fist.
It doesn't get any cooler than that. Except maybe with gab51299's Doomfist skin.
This is a classic rendering of character into Minecraft's world.
Now all that's left is to imagine how much cooler Doomfist would be with a diamond sword in one hand and the doom fist in another.
But let's stop imagining and make it happen!
10.

Ana
When Ana was released in Overwatch, her design was new and innovative: a support that shot healing and damaging needles as ammo.
She was mysterious and wholesome, a through and through hero.
For this reason, I'm overjoyed that creator Violet managed to capture the signature that defines Ana's character.
Violet's Ana skin combines the sleek and smooth colors and textures of Overwatch with the pixelated renders of Minecraft to bring this support to life in a way that's instantly recognizable and somehow welcoming.
This skin gets two thumbs up from me. And that's not just because I'm an Ana player.
11.

Zenyatta
For a character designed around fluid motion and throwing spheres, Zenyatta translates really well into Minecraft.
I can't tell whether it's the character's design or creator Aegean_Blue's monumental effort that made this Zenyatta look this good and this clean. Because this skin looks great.
It's easy as pie to tell what character you're looking at between the monk robes and the speckled robotic eyes.
I might prefer this skin to any of Zenyatta's actual skins in Overwatch.
That just goes to show it really is hard to beat something as simple as Minecraft.
12.

Reaper
I love the way that creator Jin-chr used color on this Reaper skin. Yes, I mean color.
It may seem counterintuitive to be talking about color on a character who's dressed in all black, but that's where this skin shines.
It provides enough lighter colors in greys and reds to draw the eye and make the deep, dark, pitch black of Reaper's cloak look endlessly menacing, even in pixelated form.
Those praises don't even include how good this Reaper mask looks (spoiler: it looks really good).
13.

Soldier 76
Overwatch's art style lends itself well to imitation in many forms, from cosplay to other video games.
In fact, this list is full of great recreations of iconic characters.
So how exactly does ChillZenPvP's Soldier 76 look so spot on?
I mean seriously, this skin could pass as playable in Overwatch if you gave it Soldier's assault rifle.
The colors, the design, the jacket, the visor: everything is perfect.
All that's left to do now is download the skin and get moving, soldier.
14.

Genji
Now that I've spent some time writing about the topic, I realize just how awesome the Overwatch character ideas are.
Genji is a cyborg ninja that throws shurikens and wields a dragon-powered katana.
Of course something that cool is going to look equally as cool in Minecraft.
While the aluminum browns and grays of Genji's skin don't pop like some of the others, the angular design and ninja/robot exterior more than make up for the lack of hues.
15.

Tracer
No Overwatch list is complete without the character that is arguably most synonymous with the game.
Tracer's lively sprite and quick movements have come to define the game, and it's not hard to see why just from this Minecraft skin.
Tracer's look is as iconic as they come.
It's so bright and fun that just looking at this skin almost has me hankering to boot up Overwatch and play some myself.
Maybe after I save this to my Minecraft skins folder, I'll give that a shot.
Browse:
Lists
Minecraft
Minecraft Skins
Overwatch
Video Games