Best Purple Hoodie Minecraft Skins (Boys + Girls)
This post may contain affiliate links. If you buy something we may get a small commission at no extra cost to you. (Learn more).
A few things in life can bring instant comfort to people.
My top three?
Coffee, my dog, and an oversized hoodie.
The first two are universally loved, and I'd like to believe that hoodies are too.
Because what other piece of clothing can feel like a warm hug during a cold, lonely night?
Hoard these must-have hoodie designs for Minecraft, all coming in various shades of purple!
1.

Pastel Hoodie Girl
Society has come a long way in accepting women to dress in only oversized hoodies.
And I bet this ensemble is waaaay better than wearing a floor-length skirt in the middle of summer.
Our present-day situation might not be in the best condition – but let's appreciate how it enables us to dress comfortably every day.
Look cool and unbothered in this light purple hoodie design by starrinq!
2.

Purple Heart Hoodie Girl
If Avril Lavigne played Minecraft, this would be her go-to skin.
KaylaStitch has created a hoodie that every girl in the early 2000s would've wanted as they sang their heart out to "Complicated."
Because with that giant heart slapped on the back, why would anything be simple?
3.

Purple Gamer Girl
Look like a badass walking RGB lamp with this skin by VeryAwkward.
It's got the perfect shade of neon purple to let everyone know you're a gamer through and through – as if the headphones aren't a dead giveaway.
4.

Pan Pride Purple Hoodie Person
It's quite unfortunate that we might never know who created this skin – they deserve to be recognized.
This anonymously uploaded work of art perfectly captured the spirit of LGBTQ+ in stylish ways, especially since the color represents precisely that.
With tri-color bands around the wrists, no one would doubt that the creator made this ensemble with pride.
5.

Espeon Hoodie
If you're lazy but want to look cute when building a world from scratch, then say hello to this Espeon Hoodie.
Below the neck, this skin by smoochies might look like any other purple hoodie you see online.
Above that is where it gets extremely kawaii, thanks to cat-like ear add-ons on the hood.
Every Pokémon fan should have this skin in their collection.
6.

Bubblebunny
What is it with bunnies and their power to make anything adorable?
And what is it with pastel purple hair that makes me want to go to the nearest salon ASAP?
I admit, this skin is drowning in purple shades. Yt it works to showcase a unique character to play with.
Check out more of lavenderlatte's works if you like this as much as I do!
7.

Purple/Blue Hoodie Girl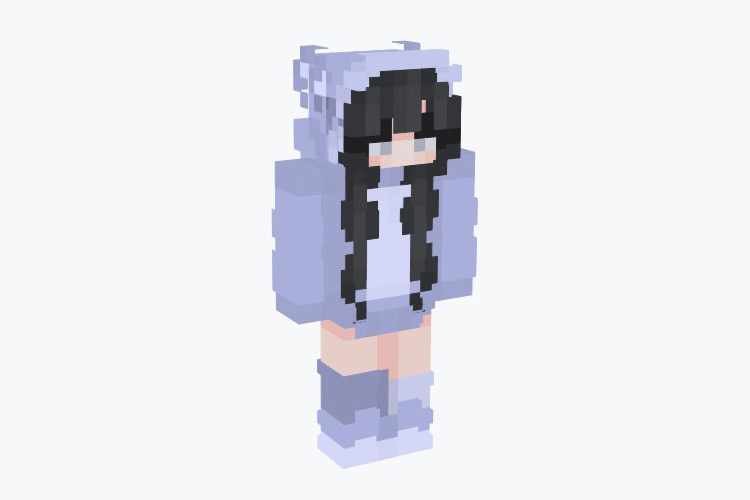 In case you missed it, Pantone decreed that Very Peri would be the 2022 Color of the Year.
Not green, not blue, but "a dynamic periwinkle blue hue with a vivifying violet-red undertone."
Yeah, whatever, Very Peri is purple – and this hoodie is too.
8.

Purple Dino Hoodie
If you're a big fan of Barney, then there's no need to scour the internet for a costume and embarrass yourself – you can just download this skin.
This sweatshirt creatively incorporates a dinosaur's face in the hood, with multi-colored pixels on the back that serve as spikes.
The creator also added a gradient tone to the hoodie, making it more dynamic and acceptable for everyday wear.
9.

Purple Hoodie Emo Boy
Every emo boy's origin story has three things in common:
Edgy bangs covering one eye, Skullcandy headphones, and a hoodie.
This skin is basically just Pete Wentz, but back in Fall Out Boy's heyday.
Don't punk out now – grab this skin from Masouri for some emo nostalgia.
10.

Black-Purple Hoodie (Boy)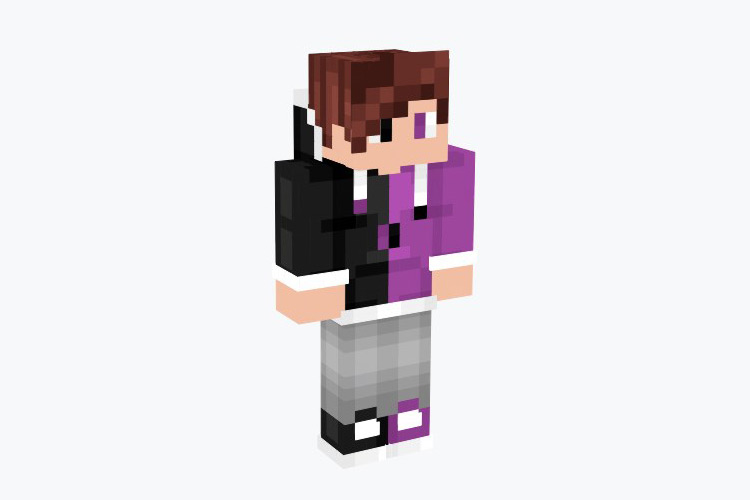 Why settle for one color when you can have two?
Two-tone styles have been gaining traction these past couple of years, with designers going crazy over all the possible combinations.
But let's keep it simple with this black and purple hoodie from skin creator SlipE.
11.

Galaxy Hoodie
Creator Arvaaz understood the assignment when he reached for the stars.
The result?
This awesome galaxy-themed hoodie with matching hair dye!
If you want a skin that'll make you shine day or night, then look no further and download this one.
12.

Purple Clouds Hoodie Boy
We all need that one hoodie that'll last with us through thick and thin, through sickness and in health.
A hoodie that no matter how worn out it has become, we'll still be able to say, "Hey, I love this hoodie. Even though it smells."
Yup, I've found that hoodie design right here – in this skin by creator OnePoint.
Sure, it looks like a pair of kid's pajamas.
But don't tell me that this cloudy pattern isn't cute!
13.

Space Bear Hoodie
Bears and space might sound like a weird pairing.
Yet M3lkshake did a hella good job in this skin, convincing me that it should get paired up more often.
Despite working with Minecraft's pixelated aesthetic, the design is pretty detailed and clear enough to depict planets – and an unmistakable bear face.
Plus the multi-colored shades of purple add depth to an otherwise bland base, making this one of my fave skins on the list.
14.

Purple Creeper Hoodie Ninja
Have you ever zipped up your jacket/hoodie at the very top, pretending to be a ninja?
No?
Well now's your chance to experience a fun childhood! (in Minecraft)
Dress up like a Lego Ninjago with this white hoodie accented by purple streaks.
It's a bit flashier than traditional ninja attire, but at least you'll be surviving zombies in style!
15.

Toasted Xmas Tree Hoodie
Capping off this list is the coziest Minecraft hoodie you'll find online.
Snug into this light purple hoodie that looks and feels like waking up on Christmas morning.
But if you still doubt whether this skin fits the holiday dress code, well, there's a huge Christmas tree on the back.
And yes this guy looks blazed, but I'm sure you can play Minecraft all the same.
Browse:
Lists
Minecraft
Minecraft Skins
Video Games