Best Rainbow-Themed Minecraft Skins (Boys + Girls)
This post may contain affiliate links. If you buy something we may get a small commission at no extra cost to you. (Learn more).
I strongly believe that everyone could use a pop of color in their lives.
It doesn't matter whether you've been bogged down by school, work, and other stressors in life or you just need a little bit of shine added to your life. Color goes a long way in brightening up your day.
From LGBTQ supporters to appreciators of nature, the rainbow has long been a symbol of hope, beauty, peace, and beyond.
And now we can add some color into your life with this variety of rainbow skins, all tailor-made by the Minecraft community.
1.

PridE-Girl
All Minecraft skin lists have room for an e-girl or e-boy skin. I decree this to be true, and true it is in regards to rainbow skins.
This pride e-girl skin by creator am2nda is a perfect example of the uplifting aesthetic power that rainbows have.
Not only does this skin look cool and sleek, but the way the rainbow adds to the pastels on the skin makes it invigorating, like a breath of fresh air.
Who wouldn't want a little more color in their Minecraft world?
2.

Rainbow Bear
I'll be 100% honest:
If the title "Rainbow Bear" doesn't get you immediately excited, I don't think we can be friends.
Rainbow bear is a hilarious combination of words that only the internet and Minecraft community could mash together.
This skin is basically a polar bear that's fully surrounded by a translucent, iridescent glass texture.
It's otherworldly, utterly unique, and I adore it.
3.

High-Waisted Girl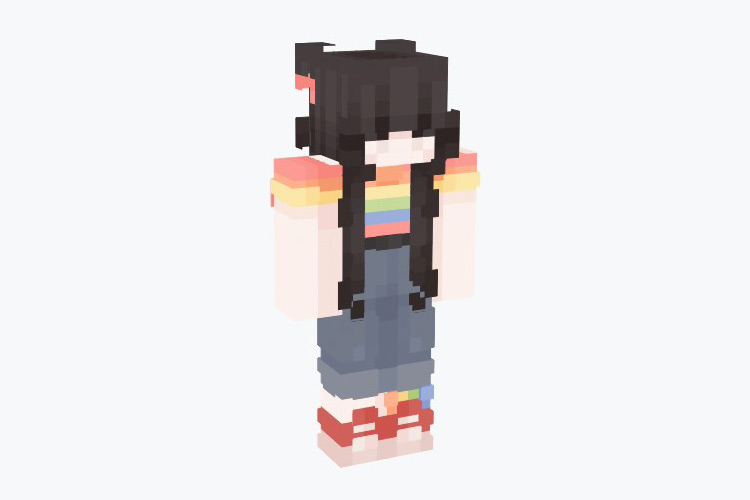 This girl skin by creator kohvs falls firmly on the high-waisted side of the pant-waist spectrum.
While plenty of folks choose to rock the late 90s/early 2000s low-waisted look, the high waist paired with a classic rolled-sleeve rainbow shirt and socks makes this skin as iconic and proud as any I can think of.
This skin looks great and screams Pride from the 2010s, and I'm glad it's around.
4.

Rainbow and Overalls (Boy)
Why do rainbows and overalls go so well together?
Maybe it's an 80s thing. Or maybe it's a me thing. I can't really tell, but I don't have to.
Why would I ponder whether this look is vintage or forward-thinking when I could simply appreciate how rad the combo looks?
In all seriousness, I'm envious of this outfit.
But as with most of these fits, I can live freely and vicariously in the pixelated world of Minecraft.
5.

Rift in the Void
This skin is taking a bit of a sharp turn from the other rainbow skins.
We've grown accustomed to rainbow outfits and pride icons, but creator Nighthearted made something totally unique with this one.
The color choices in this rainbow rift in the void are spectacular, popping off the screen in this glitchy, cyber, technicolor effect.
I couldn't tell you what the skin is or why it exists. But it's completely unlike any skin I've seen – and for that reason alone, I shall cherish it.
6.

Rainbotic
I'm beginning to realize I love when creators like Daxins make rainbow color gradients wash over a skin. I can't help it. It looks so cool!
I'm not sure what kind of robotic creature is beneath the iridescent film washing over the skin, but I have taken the steps to dub this skin "Rainbotic."
It's like "rainbow" and "robotic" mixed together.
7.

Rainbow Slime
I refuse to hide my love for the Minecraft skin color gradient.
This rainbow-focused skin list is the perfect time to let it shine – and shine it will.
Creator SporadicEcho combines two of my favorite tropes here: the rainbow color gradient with making a mob a PC skin.
The rainbow slime won my heart immediately, and I hope it wins yours too.
8.

Dot Party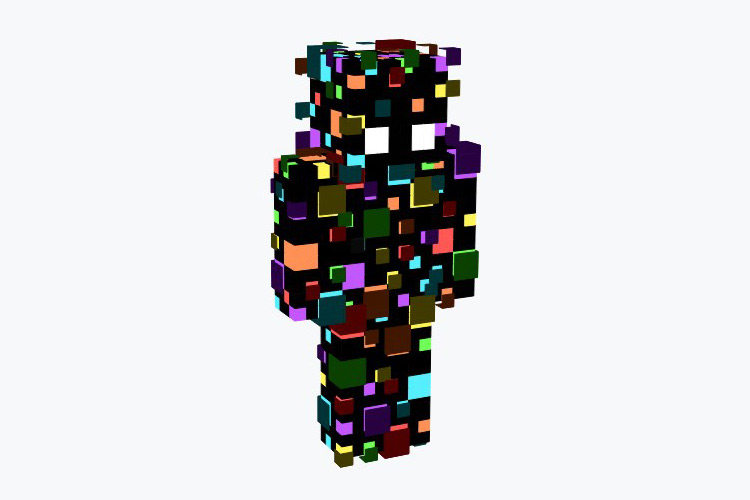 I don't even know where to begin describing this skin.
Remember the Rift in the Void skin above.
That concept was crazy: a skin that's basically the void of space with a rainbow colored hole appearing in it. This skin somehow manages to be even wilder.
I'm not even sure what I'm looking at, nor do I know how it was made. The rainbow dots are amazing and intricate, surely fun as heck to look at.
This might be the most 3-dimensional Minecraft skin I've ever seen. I'm transfixed.
9.

White Hair Rainbow Guy
It took me a few minutes to pull myself away from that last skin, but I've freed myself and have come back to my comfort zone.
I don't know how anyone can look at a sleek e-boy type skin like this with a color-popping rainbow color gradient and not want to download it immediately.
I understand that perhaps white hair might not be everyone's cup of tea.
But if you're anything like me, white hair is perhaps your favorite hair color.
I mean, we'll all get white hair eventually. Why not speed up the process and wear a crazy rainbow sheen while you're at it?
10.

Rainbow Boy
While I do love the crazy Minecraft textural effects on this list, sometimes you're looking for a skin that is more normal, more attainable.
Sometimes, you're looking for Rainbow Boy by skin creator Fentabob.
Sometimes, you want a perfectly made outfit with a swirled, tie-dye hoodie.
That's okay, reader. I've found the skin you're looking for.
11.

Mr. Fox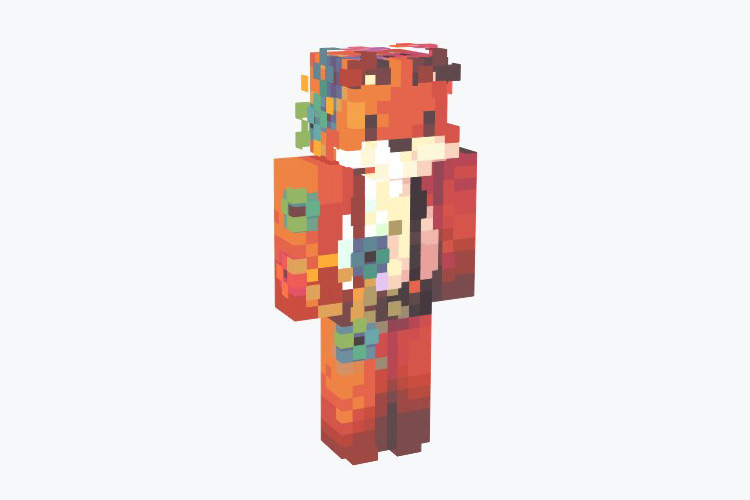 Whether Fantastic Mr. Fox is your favorite Wes Anderson film or your favorite Roald Dahl book, this skin shines for all people equally.
Most of the skins on this list are explicitly rainbow themed, but this Mr. Fox by creator Kawaii is subdued and tender and just flawless.
I could gush about this skin all day, literally. The shading on this skin is immaculate. It's a Minecraft skin standing alone that looks like an animated figure standing in soft, autumnal light.
The details, the flowers, the face, everything about this is a monument to great skin-crafting.
And I have to commend the creator on it.
Somehow, even without a visible rainbow, this skin makes me feel how a rainbow looks.
12.

Derp Face Rainbow
Whew, I was getting a little too sentimental on the last one – so let's get back to goofy fun with this derp face design by ItsRekitz.
I love how this skin looks like one of those rainbow sour candy strips that I can't remember the name of for the life of me.
Yet despite its bold and dumb derp face, the actual colors and detailing are so refined that the skin feels polished and welcoming.
It's a surprisingly good skin that earns its spot on this list.
13.

The Rainbow Illusion
Heck yeah, back we go to trippy rainbow, abstract, nonsense skins.
Much like the Rift and the Dots from above, the Illusion, named and made by creator Silenced Wolf, is an intricate weaving of bumped, iridescent textures over a pitch black skin.
I don't think the skin is based off of any characters in particular. I think the Illusion is just a fun skin to look at.
Look long and hard enough at the rippling, rainbow waves, and it'll start to feel like they're moving. Or, if you're wearing it in Minecraft, they will be moving.
An illusion, indeed.
14.

Rainbow Beat (Girl)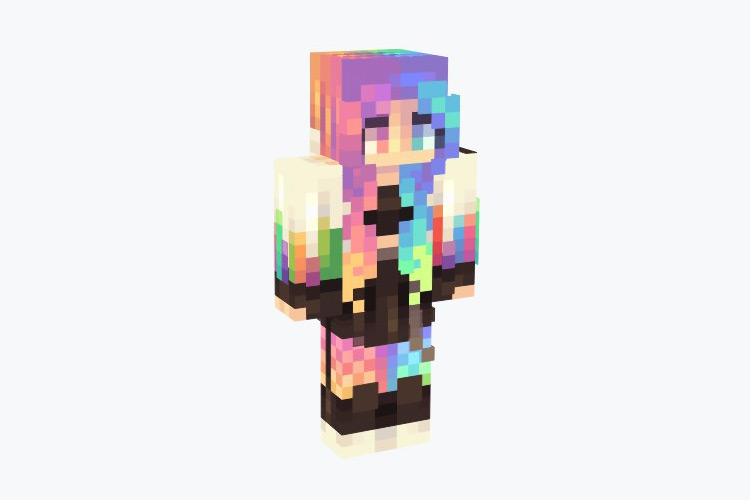 I'm not going to lie:
I'm somewhat astounded this skin was originally published in 2013.
Back then, Minecraft was barely a released game with hardly any of the bells and whistles that we've come to know and love.
Most skins from that era didn't focus on creating depth or texture.
But creator Oblivion really nailed both of those facets with the Rainbow Beat skin. The outfit is layered with clothing and hair. The rainbow coloring makes every inch of the skin pop.
This was ahead of its time – from the detailing to the pride, and I'm all about it.
15.

What We See On TV
I'm beginning to love these wacky & surreal skins.
Creator Bubultux has me hypnotized with this one.
From the neck down, this is another trendy rainbow hoodie skin, a standard but fashionable outfit.
From the neck up, this is an old box TV with a color test on it.
Put them together and you're a walking, talking, mining, and crafting rainbow television set.
You have to see it to believe it.
Browse:
Lists
Minecraft
Minecraft Skins
Video Games