Sesame Street Minecraft Skins: Elmo, Cookie Monster, & More
This post may contain affiliate links. If you buy something we may get a small commission at no extra cost to you. (Learn more).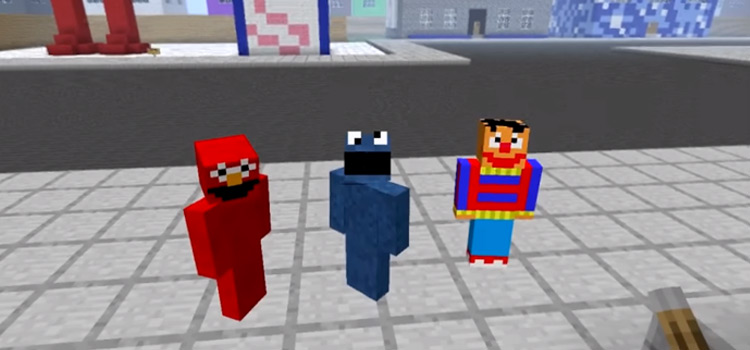 With all the great films and shows America has produced, I'm hard pressed to think of one better than Sesame Street.
I know, I know, that's a hot take. But Sesame Street has been a titan of kid's programming for over 50 years. It's entertaining, informative, and holds up to this day.
Some of the most recognizable and beloved characters ever have come from the series.
Elmo? Cookie Monster? Oscar the Grouch? It just doesn't get better than these.
So let's take a look at some stand-out Sesame Street skins and rediscover that childhood magic.
1.

Elmo
I'm talking about Sesame Street. Elmo is the first skin on this list.
That just makes sense.
Believe it or not, Elmo wasn't even close to the first character on the show. Sesame Street began in 1969, and Elmo didn't debut on it until 1980.
However, almost immediately, Elmo's popularity shot off with the "Elmo's World" segment, and the world hasn't looked back since.
2.

Cookie Monster
While Elmo might be the face of Sesame Street and the most recognizable character, everybody knows the Cookie Monster is the life of the party.
The blue muppet monster has been gracing American screens since before Sesame Street even aired in special commercials that Jim Henson did back in the '60s.
It makes sense why Cookie Monster has been such a long-lasting, fan-favorite character. From little kids to grown adults, everybody agrees that they wish they could just demolish as many cookies as their heart wanted.
3.

Bert
How is it that Jim Henson managed to make some of the best comedy duos the world has ever seen?
The Muppets have Statler and Waldorf. Sesame Street has Bert and Ernie.
I love the backstory behind these muppet characters because their dynamic was based off of Jim Henson and Frank Oz's actual friendship.
One of them would come up with an out there idea and be convinced they need to do it while the other would do their best to talk them out of it.
4.

Ernie
Whether or not you're familiar with the Bert and Ernie sketches, I'm of the opinion that everyone needs a friend dynamic like theirs in their life.
The only question is: are you a Bert or are you an Ernie?
Are you the upright, exasperated friend trying to keep you and your people out of trouble?
Or are you creator Antis77's Ernie, ready to make questionable decisions and be the life of the party?
I know which one I am.
5.

Oscar the Grouch
The older I get, the more I get it, Oscar.
Sometimes, you don't want to deal with other people and their shenanigans. Sometimes, you just want some time with yourself and your favorite thing: trash.
Oscar has always been my favorite of the Sesame Street bunch just because of how weird he is.
Having seen creator Foob's Oscar the Grouch skin, Oscar might be rising to the ranks of my favorite Minecraft skin, period. The trash can & muppet design on this skin are phenomenal, and I love the creative flair to take off the bottom of the legs.
6.

Grover
I feel like Grover is underappreciated amongst fans of Sesame Street and the muppets at large.
While there are dozens of iconic characters who get their spot in the limelight, Grover's name doesn't get thrown into the conversation enough.
This lovable blue monster is one of the oldest and longest lasting muppets on Sesame Street and has been educating kids with the power of song for literal generations.
That sounds pretty super to me.
7.

The Count
The Count has to be one of the best character designs/names to exist in all of history.
His name is Count von Count. And his job is to, well, count.
That's enough of a joke and pun combo to entertain me for a lifetime.
Add on to that the fact that for some reason on this children's educational program, they decided to include a vampire parodying Bella Legusi's Dracula, and I'm as entertained by him now as I was when I was a small child.
As if that wasn't enough, skin creator JesusPadawan made the Count into a hilarious and true-to-form Minecraft skin.
8.

Big Bird
If I'm going to be honest, Big Bird has always terrified me just a little bit.
Most of the muppets are small, cute, hand puppet sized creatures that sing and dance and count and whatnot.
Big Bird is an 8 foot 2 inch tall yellow bird. Child me was not prepared for that difference in scale.
That being said, I can now appreciate a giant bird monster muppet character, and I certainly appreciate creator Marsh_King's Big Bird skin. Especially so, since this is an old timer skin from way back in 2011.
9.

Yip Yip
I would not have guessed that in the pantheon of muppet and Sesame Street characters that Yip Yips would have cracked into the Minecraft community, but I would have guessed wrong.
Creator unktenchi nailed this skin of a blue Yip Yip, the alien/Martian visitors from the Sesame Street cinematic universe.
Despite the large, roughly Steve size of the skin, this skin is undeniably Yip Yip to the core.
10.

Hoots the Owl
If you aren't about Hoots the Owl, then I'm not about you.
Hoots took the strangeness of Sesame Street into a direction that I absolutely fell in love with. Plenty of people associate owls with stuff like night and books and glasses.
But jazz? Now that's what I'm talking about.
How could anyone dislike a jazz playing owl?
In the same vein, how could anyone dislike a jazz playing owl skin?
It's not possible. I rest my case.
11.

Rosita
Sesame Street was hitting the representation game far before other shows were making it a priority.
Rosita with her guitar playing and Spanish speaking made her first appearance on the street back in 1991.
If you aren't familiar with Rosita, you should give her a listen. I think she's added a ton to the Sesame Street cast and has the undeniably most pleasant color of any of the muppets.
12.

Rubber Ducky
Sesame Street has always popped off with their original songs for the youths of America. It's a genuine question as to whether any of those songs have been as popular as Ernie's 1970 hit "Rubber Ducky."
I'm sure that parents for generations have been driven mad by "Rubber Ducky." I know I drove my folks crazy with the endless repeat.
Fortunately, they don't have to listen to me any longer as I hum the tune to myself with this skin on.
13.

Muppet Elmo
The muppets are, by design, puppets, many of them hand puppets. However, the majority of these skins make the characters look like, well, Minecraft skins and not puppets.
Creator Wargram's Elmo plays with the Minecraft pixel design to stretch Elmo's head to look more like a puppet.
The result is one of the most creative versions of a classic skin I have ever seen, and I couldn't give it enough credit if I tried.
14.

Kermit
I know that Kermit isn't a character from the Sesame Street cast, but what kind of list containing Muppet characters wouldn't include at least one Kermit.
This little frog is one of the most beloved characters in all of western media and has shaped the childhoods of probably millions.
It does help that creator YoshiMegaBoss's Kermit looks as good as it does. A skin this clean deserves a mention.
15.

Frazzle
If I'm being completely frank, I did not know who Frazzle was until I made this list.
I saw the skin named "Frazzle" and thought it might have been a joke, but no, Frazzle is indeed a muppet on Sesame Street.
Frazzle's character concept is that he's a frightening looking monster who just wants to be included in things, and if that doesn't melt your heart, then I don't know what will.
Beyond the concept, the goofy, scary muppet just looks too hilarious to pass up. Even not knowing who Frazzle was, I found this skin and knew that this puppet needed to find its way onto a list.
Browse:
Lists
Minecraft
Minecraft Skins
Video Games