The Best Snowman Skins For Minecraft (All Free)
This post may contain affiliate links. If you buy something we may get a small commission at no extra cost to you. (Learn more).
It's never too early—or too late—to start getting ready for winter.
Stocking up on hot chocolate and marshmallows, bringing out the coats and scarves, and getting your seasonal cosmetics in order for all of your favorite games.
Vanilla Minecraft may not have seasons yet, but that's no reason to sleep on finding yourself a winter-themed skin!
With snow being something of a winter special, snowman skins are a perfect way to welcome its return.
Fortunately, the Minecraft community has plenty to choose from – and these are some of the best.
1.

Typical Snowman
Starting off the list is a skin that keeps it simple, with only a cozy blue scarf to set it apart from the others of its kind.
Generic yet charming, this skin is nicely shaded and overall well executed, if a bit lacking in the flair department.
But there's nothing wrong with blending in with the crowd if that's what you want.
Those of you looking for something jolly that won't make you stand out too much, this is the snowman for you.
2.

Snow Golem Fighter
Fierce yet festive, this is the skin for anyone looking to start a snow golem army in celebration of winter.
This design is immersive, well made, and a wonderful way to bring the joys of winter to Minecraft.
Just don't forget your pumpkin helmet when you lead your fellow snowmen into battle!
Or just shear the helmets off of your soldiers, because apparently that's a thing you can do.
3.

Christmas Snowman
This adorable snowman is a perfect way to spread Christmas cheer, full to the brim with festive spirit.
It comes complete with a Santa hat and mittens, too.
This skin is simple but sweet and ready to celebrate.
If your favorite holiday is Christmas, consider showing your love to the (Minecraft) world with this cute snowman.
4.

Red Snowman
Speaking of cute, look at those big ol' button eyes!
With a face that's hard to resist, this snowman is downright delightful and the red details on the hat and buttons are a very nice touch.
This skin is a true winter wonder – and it belongs in every player's wardrobe.
5.

Blue Wavy Snowman
Featuring a wonderfully poofy striped scarf and top hat, this snowman is dressed to impress.
Dauntingly dapper, it's hard to imagine this snowman being anything but a perfect gentleman.
If you're looking for a friendly but formal vibe, this is definitely the skin for you.
6.

Snowman Crewmate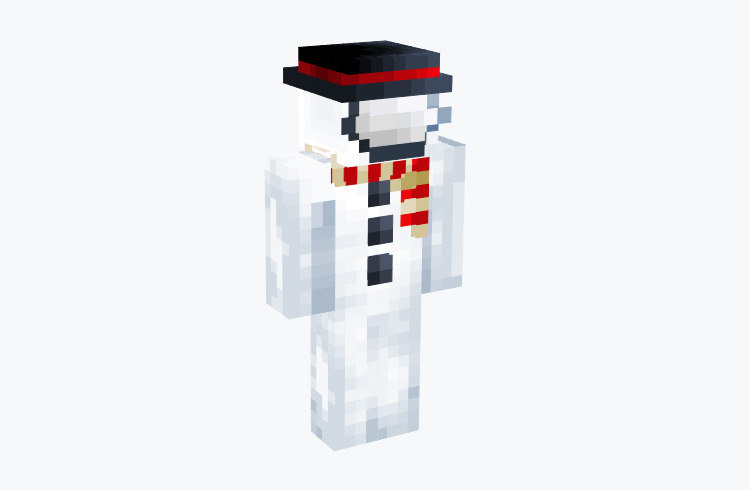 Okay, this one looks a little sus…
Oh well, it's probably not a horrifying alien imposter pretending to be a snowman.
Right?
This lovely homage to Among Us is the perfect way to show your love for both the winter season, and a fantastic deception game.
7.

Olaf
Olaf here looks charmingly chubby, despite the limited options creators have when making a Minecraft skin.
But this faithful recreation of a beloved Disney character is one of the few snowman skins you can wear year-round without getting any weird looks.
After all, Olaf doesn't have to worry about melting in the heat like other snowmen — he can enjoy the world's festivities all year round with just a little magic.
Fans of Frozen or Disney in general should absolutely consider adding this skin to their collection.
8.

Frosty the Snowman
Frosty clearly wasn't wrong when he said he'd be back again someday.
As a modern take on a truly classic winter tale, this skin is more than deserving of a mention on this list.
You'll notice minor changes to the design, like the lack of a pipe and a carrot in place of a button for his nose, which makes this Frosty a little different than the song describes. But all that really matters is the dashing magical top hat sitting comfortably atop his head.
That being said, the singular best change this creator made to Frosty's original design is the addition of absolutely adorable snowman boots.
In the end, a lot of time and effort clearly went into this loving reimagining of Frosty.
And the end result is a skin that any player could wear with pride.
Browse:
Lists
Minecraft
Minecraft Skins
Video Games