Minecraft: Best Sonic Mods, Skins & Maps (All Free)
This post may contain affiliate links. If you buy something we may get a small commission at no extra cost to you. (Learn more).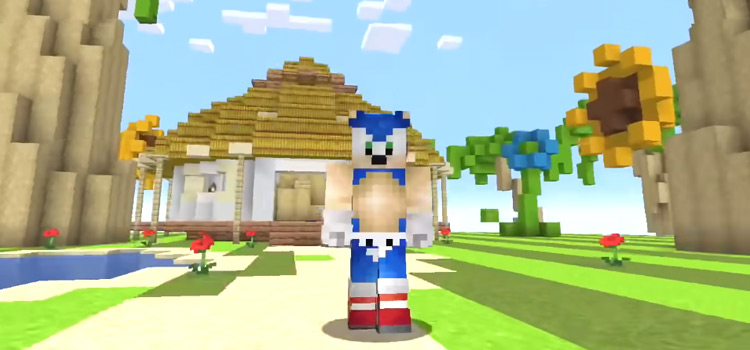 Sonic the Hedgehog has had its ups and downs.
But the whole franchise has been a success in every way.
From 3D to 2D masterpieces (with some exceptions), Sonic has been immensely influential to the videogame industry and its standards.
And not only in the video game industry, but Sonic has also become a legend in itself all over the Internet. Memes, parodies, fan games, and maybe too much fan art…
So if you're looking to bring all that into your Minecraft game, well, here's a handful of Sonic-themed skins to get you going:
Sonic the Hedgehog Map
Let's start with a fan-made adventure map!
I love these little projects.
This one is a parkour map of a Sonic-like level. The design tries to mimic the usual design on the first Sonic levels on most games.
It features a timer, checkpoints, and fail-safes in case you fall.
You can also see how well you've done at the end of every round!
It's a tiny minigame map, but it's certainly fun to try and beat your own personal times. It's also nice to align the TNT jumps and fly around.
If you want to try it out, make sure to blow the dust off your old 1.4.7 version of Minecraft.
It's mind-blowing that this was made almost 7 years ago!
Miles "Tails" Prower
Our flying buddy makes an appearance in this skin.
Although "hover" would be a better word…
Unfortunately, the Tails' tail is not so visible in Minecraft, and I'm afraid you won't be able to hover everywhere without cheating.
But this skin is totally worth a try for fans of the series.
And this design just looks so cool in Minecraft. Very distinguishable from other skins thanks to the saturated palette.
The layering also really sells it.
Sonicraft Mod
The perfect way to combine Sonic and Minecraft is with an infinite Sonic-themed world, coming with its own custom textures.
But do you think I would just add a mod that only has terrain generation and textures?
C'mon now.
This mod also features new biomes, bosses, items, plus custom skins and countless new areas to explore.
Truly a full-fledged Minecraft experience with a Sonic touch!
And it gets better:
The mod is still being developed today, but you'll need to use it in 1.16.5 with Forge (as of this writing).
Fingers crossed for a newer update in the near future.
Knuckles the Echidna Skin
Since I really liked the design of the previous Tails skin, I decided to search for something similar for Knuckles…
And I found it!
This is the face of the incredibly popular "Ugandan Knuckles" meme, among other memes like "Knuckles approves".
We all recognize this critter, right?
I mean, Knuckles (much like Sonic) has a pretty strong personality, hence why they both get a lot of attention.
Granted, this skin is not as saturated as the other one I mentioned earlier. But it doesn't need that style: the red is already very visible.
And who wouldn't be able to recognize Knuckles at this point?!
Sonic the Hedgehog Skin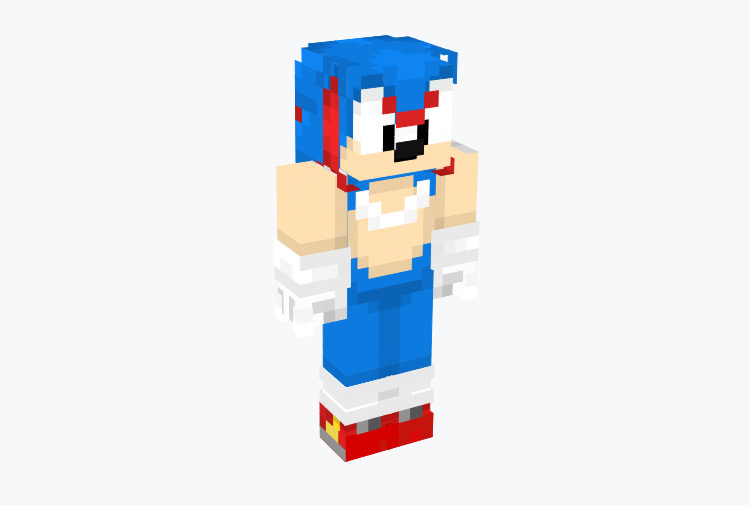 There was no chance I'd skip over a skin like this.
Sonic is the main boy of every game. He's been in dozens of games, all played by (probably) millions of people.
And one thing we can all recognize: being fast is a very powerful attribute.
So I like this skin for a few reasons:
The palette is pale, which reminds me of a more classic sonic – modernized versions of characters are always oversaturated.
And the shading is simple and blocky, which blends perfectly in the Minecraft world.
Browse:
Lists
Minecraft
Video Games