Best Minecraft Space Mods & Modpacks To Travel The Stars
This post may contain affiliate links. If you buy something we may get a small commission at no extra cost to you. (Learn more).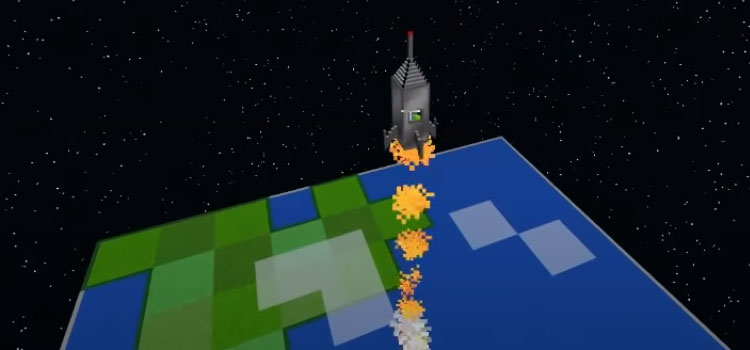 In a game like Minecraft, it's hard to imagine running out of cool things to do.
But once you've done everything you can in your terrestrial land, what's next when you want to take things even further?
Here we'll be going over some of the best space-related mods for Minecraft that'll take you to the stars and beyond.
We'll be taking a look at everything from new tech mods to building spaceships, and even some new planets which you'll be able to fly to and explore for yourself. So let's go!
10.

Advanced Technologies
Advanced Technologies takes the bottom spot on this list considering it isn't 100% a space mod per-se.
The mod allows you to take advantage of better technologies in the game to become more efficient at processing resources, such as chemicals and ore.
The end game here (of course) is that you'll eventually become capable of building rockets that will allow you to travel to different planets outside your own.
The mod comes with a few pre-built rockets, which at most times, are actually some of the best ones you'll find on this list. Surprising, I know.
But it's definitely worth a try before starting your space journey.
9.

Solar System Mod
The Solar System Mod is a more space-focused option for players who just want to explore.
Here you're given access to your very own solar system within the game, allowing you to travel between Mars, Jupiter, Neptune, and Saturn, among other planets from the Milky Way.
Another unique feature is that instead of using rockets to get around, you utilize portals. Much like the one you would use to enter the Nether.
8.

The Space Invasion Mod
Now here's another great option that takes a unique approach vs. other mods on this list.
Here, things are reversed: instead of taking you to the depths of outer space, the mod brings space right to your front door.
As the story goes, aliens have begun their invasion of your Minecraft world. And it's up to you to stop them.
In order to do so, this mod equips you with new space-themed tools, armor sets, and weapons to fight off the alien mobs.
The Space Invasion Mod even includes a new biome to discover, plus a new boss to defeat, and achievements to keep things interesting as you progress.
7.

The Space Age Mod
I personally am all about the building aspect of Minecraft. And if you're anything like me, you're likely to enjoy The Space Age Mod by nanorover59.
As long as you have the necessary components, you'll be able to build your very own custom spacecrafts with Minecraft blocks. Fun stuff.
This mod also gives you access to the tools you'll need on your space exploration expeditions, like space suits. And you'll even be able to build your own bases and biodomes once you make it to your destination.
6.

Advanced Rocketry
Advanced Rocketry is one of the most popular space mods for the game, adding tons of new tools and components to help you build even more advanced ships.
All the ships in this mod are highly customizable, where maximizing different parts will affect your ship's performance.
Once you've gotten a decent spacecraft up and running, you'll be able to explore different planets, space stations, and other solar systems outside your own.
To infinity, and beyond!
5.

Galacticraft
When it comes to Minecraft mods, Galacticraft has to be one of the best space-themed mods out there.
This is the most expansive among the space mods, offering a wide variety of ships to build, each with their own specific purposes.
You'll also be able to do pretty much anything you can think of. Other than building ships and space stations and travelling between planets, you'll also be able to take part in space races, craft new space-themed items and weapons, and fight the different alien mobs included in the mob.
4.

SpaceCraftX
What could possibly come after I just gushed about Galacticraft?
Well, one of the best features of Galacticraft is that there are loads of addons you could get for it. Sort of like mods-within-a-mod. Modception?
SpaceCraftX gives you a completely new set of rocket ships to play around with, sort of like an add-on by itself.
You'll now have access to the FalconCraft 9, DragonCraft capsule, as well as new oxygen and fuel loaders, and tons of other new tools to make building even more exciting.
3.

Galaxy Space
Having so many different options to get yourself out into space wouldn't make much sense if there wasn't a lot out there to discover.
Galaxy Space solves that by giving you completely new planets and moons to discover as you continue to make your way across the great unknown.
Each planet will even have unique mobs and bosses to defeat as you progress along your journey.
2.

4Space
If you're still looking for more, you definitely can't go wrong with 4Space.
This mod adds in yet another new set of planets and moons to explore, along with new ores, decoration blocks, tools, and armor to discover.
Of course, with all that new equipment, you can expect to encounter a few new alien mob types to fight as well.
Plenty here to keep you busy for hours on end.
1.

ExtraPlanets
ExtraPlanets has become one of the biggest Galacticraft addons out there, as it's also one of the oldest expansions still available.
There's no shortage of new content here. From the new planets and moons, to even adding in tier-4 to tier-10 rockets to make your space exploration all the more efficient.
One of the coolest features of this mod is that it even introduces pressure and radiation systems that can affect some of the new planets in here.
All in all, ExtraPlanets is your best bet if you're looking for exciting new content to play around with.
But if you're gonna install this one, definitely snag Galacticraft first.
Browse:
Lists
Minecraft
Video Games