The Best Spider-Man Minecraft Skins (All Free)
This post may contain affiliate links. If you buy something we may get a small commission at no extra cost to you. (Learn more).
What a time it is to be alive in the age of Marvel.
I know that opinions on all things Marvel range from undying fanaticism to utmost hatred, but everyone's got to admit: superheroes are cool.
From the technicolor Inkblot comics of the 40s and 50s, to the CGI-powered behemoths of modern Marvel movies, generations have been enthralled by superheroes in entertainment. And I would argue that no one does all that as well as Spider-Man.
I mean, the character has had 4 separate movie series within 20 years!
And if you love the web-slinging antics of this friendly neighborhood guy, then you're bound to enjoy these Spider-Man Minecraft skins.
1.

Classic Spider-Man
Throughout the ages, Spider-Man has had dozens of different looks, each with their own unique twists and flairs.
But nothing beats the classic blues and reds of an original Spider-Man.
Seriously, in a world overflowing with superhero concepts and costumes that are all focused around flashy designs that grab the eye, do any of them have as signature of a look as Spider-Man?
The raised white eyes combined with the red and blues in layers… the webbed design and the symbol on the back:
This skin captures all the sheer perfection that has made Spider-Man an institution today.
2.

Infinity War Spider-Man
One of the highlights of the Marvel movies is that they upgrade and modernize the technicolor classics born from the 50s and beyond.
Infinity War saw Spider-Man get an upgraded suit equipped with iron spider claws and fully-functional kill mode.
While those are unfortunately unavailable in this skin, the sleek aesthetics are on full display.
Creator SkeletronMK666 captured the darker, metallic tints of this iron spidey flawlessly.
I can't lie; it's got me hankering to view Infinity War again.
3.

Homemade Spidersuit
Can anyone dispute that one of the most endearing moments in all the Spider-Man origin stories is when they fashion their own homemade costume from a hoodie and some goggles?
The answer is no, because it's endearing as heck and also hilarious.
I don't really know how creator Terreh managed to capture the baggy and loose look of the homemade costume from Spider-Man: Homecoming in Minecraft.
But they sure did – and it looks phenomenal.
4.

Miles Morales
If you noticed above when I said Spider-Man had 4 separate film series, I hope you realized the 4th is the amazing & undeniable Into the Spiderverse.
This animated behemoth created one of the best animated movies ever, along with one of the best superhero movies ever, all while living up to the expectations set by the giants around it.
If that doesn't have you itching to hop in Miles Morales' ultra-cool black-and-red Spider-suit, I don't know what will.
Probably a look at this epic skin. That'll get you going.
5.

Spider-Man PS4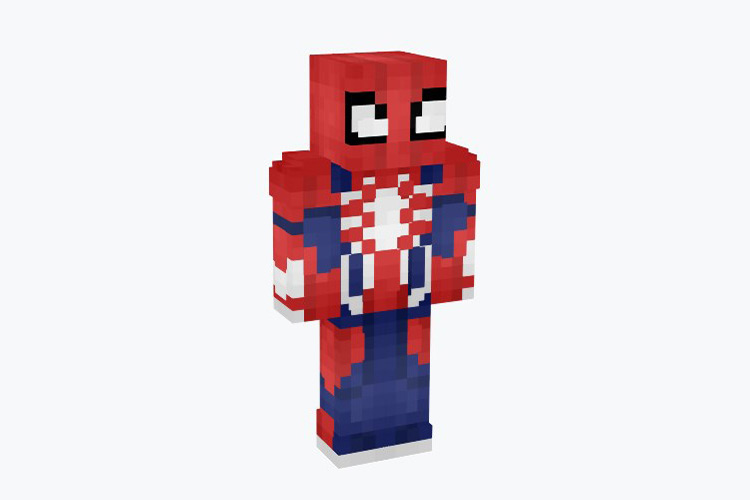 It should come as no surprise that a list of the best Spider-Man skins had to include this icon from Spidey's PS4 debut.
The smash hit had some of the best designs, web-slinging, and action that this generation of video games had to offer.
And on top of that, it gave us this rad design.
Seriously I love the white highlights to the iconic symbol and suit.
It's sleek, modern, and perfectly captured by creator TheSheriff1999.
6.

Homecoming
Tom Holland's affable and down-to-earth rendition of Spider-Man is a force of nature.
There's no doubt about it. He rules.
One look at the Spider-Man outfit from Homecoming (including the Academic Decathlon jacket) shows exactly why Spider-Man is so beloved.
This look resonates relatability and comfort.
It was a genius design move for the film, and it's a genius replication here by creator Jeef.
7.

Venom
This list could have easily been exclusively different Spidey-suits – but I spotted this Venom for Minecraft and I couldn't stop myself.
The villain turned anti-hero turned movie star is a great foil for Spider-Man.
And this skin is a great foil by design.
Of course, the all-black Venom suit looks cool.
But where the other Spider-Man skins are structured, this skin goes wild with an oversized face, mouth, and tongue.
I can't commend Planet Minecraft creator Hybrid Warrior enough on this skin's creative use of the limited 2D space. Amazing stuff.
8.

Spider-Gwen
For another rip from Into the Spiderverse, I couldn't in good conscious construct a Spider-Man list without at least a reference to Spider-Gwen.
Not only is she the best part of Into the Spiderverse, but this skin is the best version of Spider-Gwen around.
The stark white suit with blue and pink highlights is amazing.
And unsurprisingly, it looks equally amazing in Minecraft.
9.

Spectacular Spider-Man
I think part of the beauty of Spider-Man is that there's a different form or "kind" of Spider-Man for every mood – whether that be epic and cool or homey and cartoony.
This skin is taken from the 2008 is animated series, and it perfectly fits into that "homey and cartoony" feeling.
Creator RuotaCheGira distilled all the cozy comfort of Saturday morning cartoons into one skin – and it has a distinct cartoon influence in every pixel.
10.

Spider-Man Noir
As an actual version of Spider-Man that got hammed up for Into the Spiderverse, Spider-Man Noir might be my favorite on this list.
Reasons?
One: I love the hilarious over-the-top performance by Nicolas Cage in the movie, but two: I couldn't love this design any more if I tried.
The subtlety in the blacks and grays of the Noir suit are remarkable, almost entirely soaked in shadow but actually full of intricate detailing.
This one is going to become a staple on my next Minecraft server. I'm sure of it.
Browse:
Lists
Marvel
Minecraft
Minecraft Skins
Video Games