Minecraft: Best Summer-themed Skins To Try (Boys + Girls)
This post may contain affiliate links. If you buy something we may get a small commission at no extra cost to you. (Learn more).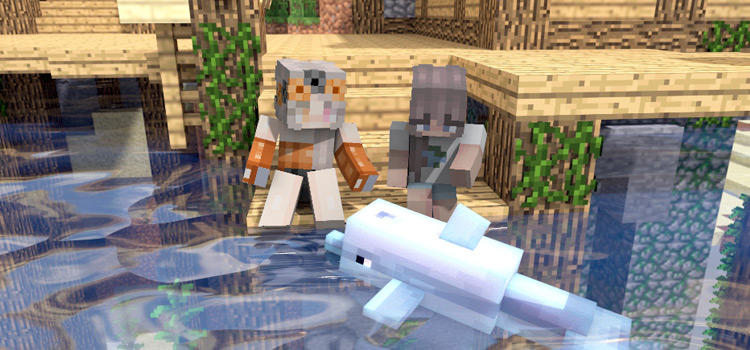 Let's all be honest. Summer just is the best season, right?
You get summer vacation in school, endless opportunities for socializing and vacationing. It's sunny all day long, so you have more hours in the day for activities and hanging out with friends.
And on top of all that, the outfits are more fun.
If you want some bright, breezy, and fun Minecraft skins to rock going into the summertime, we've got ya covered.
1.

Summer Mint (Girl)
Mint isn't always the first thing I think of when I think of summer, but creator Oblivion transformed the herb and color into one of the most fun and light skins I've seen this week.
Loads of Minecraft skins share this specific style with large eyes and an emphasis on detailing the body of the skin.
This style's versatility cannot be understated.
From the flowers on her leg to the sunny shading on her mint green hoodie, the skin breathes summer. It's making me long for some warm weather, myself.
2.

Suns Out, Garfield's Out
Once it's summertime, even our favorite lasagna-loving Monday-hating cat is ready to put on a Hawaiian shirt and hit the beach.
I don't care who you are, everyone under the sun has to find this skin of Garfield in a wide open shirt and tattered board shorts a little bit funny, at least.
At most, this skin by creator 1842 is a lifestyle to emulate. Heck, I'd wear that to the beach. And even if there's no beach around, I'll wear it to a Minecraft beach and hang out with some sea turtles.
Tip: True fans might also like our Garfield skin list made solely for the lazy orange cat.
3.

Hawaiian Shirt Guy
Nothing quite shouts summertime like a Hawaiian shirt.
It's probably because the shirts are associated with those Pacific islands that are renowned for having a perfect climate, great culture, and the world's greatest beaches.
I guess if you have all that going on, it would make sense if you're associated with summer.
Nonetheless, this slightly sunburnt man in a Hawaiian shirt and swim trunks by creator Wyborn is as close to my summer dream as I can get.
4.

Flower Top Girl
While it could be argued that this skin rides the line between spring and summer, creator MissEurope can do no wrong, and this is a prime example.
The off-shoulder top with flowery sleeves and flowers in her hair – that's the brightest dose of warm weather energy I've gotten since last winter.
This is just one of those skins that once you've seen it, it all of a sudden becomes significantly more difficult to be in a bad mood.
That's exactly the vibe I'm going for in the summertime.
5.

Rolled Sleeves Guy
This skin by MOOSE_OFFICIAL feels like a spiritual summer pair with MissEurope's above.
The rolled up sleeves on the black, flower-printed Hawaiian shirt along with the polka dot swim shorts are so summery they smell like saltwater when you look at them.
I'd say this skin deserves to be cruising down the street with the windows rolled down, or at the very least flying through the sky with an elytra and a full stack of fireworks.
6.

Fish Foot Dude
I am endlessly fascinated by this trend amongst skin makers in the Minecraft community where they put a fish on one foot of their skin.
What's this fish for?
Where did it come from?
Why are there separate kinds of fish depending on who made the skin and what the skin is about?
Most importantly, why the heck does the fish add so much to the skin?
Without the fish, this is a fun skin of a fella about to go swimming. With the fish, this skin transcends summer into something beyond, something fishy.
7.

Duck Attire (Girl)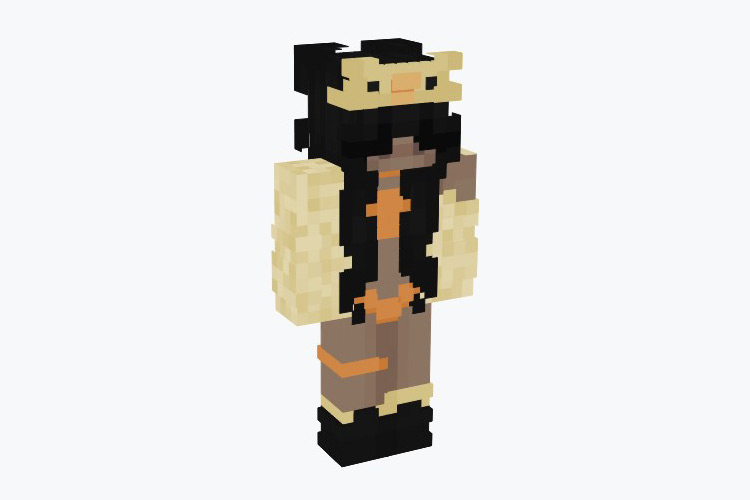 E-girl and e-boy skins have slowly taken over all of the skins I've seen. And at this point, they've taken over me too.
The aesthetics are edgy, fun, and creative. I couldn't even fault them if I tried.
Try as I might to resist the e-takeover, this duck-themed swimsuit skin is undeniably rad. The dark filter over the skin contrasts the cute rubber duck styling. It's a weirdly perfect combo.
8.

Summer Pig
If I've said it once, I've said it a hundred thousand times. I love when skins for players look like mobs in game.
A player playing as a pig already hits my funny bone like no other.
Creator IamJorgitoYT dressed up that pig to be a cool, sunglasses-wearing dude in the summertime.
Can I insert that meme of a guy slamming their credit card on the table? I know the skin is free, but just let me buy it already.
9.

Earth Day (Girl)
While the skins on this list have been focusing on flowers and bright colors to represent the pop and warmth of summer, creator IMakeSkins focuses on classic, timeless white and blue to give this earth-themed skin a summery feel.
Honestly, it makes sense that this skin works so well. I couldn't tell you a more classic, summertime look than a white t-shirt and blue denim.
With white sneakers and an image of the earth, this skin is as lovely and summery as any other on this list.
10.

Seagull
I'll be honest. This one makes the list because it made me laugh too much.
Have you ever seen a seagull in a season outside of summer? These buggers are the bane of any coastal residents life.
They appear in swarms when the tourists arrive, feeding on the litter and pickings that travelers give to them. They're loud and poop just about everywhere.
In reality, seagulls are a minor inconvenience and are cute birds.
But wouldn't it be hilarious to play Minecraft as one of these seafaring devils?
11.

Summer Tourist
With the advent of e-aesthetics and the revival of all things vintage, there's a fine line to be drawn between cool Hawaiian shirts and tourist Hawaiian shirts.
What that line is, I'm not entirely sure.
All I know is that I'd rock every goofy piece of this skin from the brimmed hat to the high socks and sandals.
All this skin needs is a fanny pack, and this could probably be anyone's dad on vacation back in 1992.
12.

Green Bunny Ears
I'd be lying if I said I was one of those people who tanned and prepped for the summertime. On those first bright, warm days of summer vacation, I was ghostly pale.
This skin feels like it gives me some solidarity in that experience.
Creator iSanrio's green summer-y skin kills it in both the summer aesthetic department and the creativity department – as it doubles as a summer and subtle bunny skin.
13.

Sunset Ombre Hoodie (Girl)
I appreciate creator Glum's approach to this skin with my whole heart.
They got inspiration from ombre'd hair and an ombre'd sweater, and the result of that was this seamless, summery, sunset skin.
There's just something so entrancing about the warm hues of a sunset, something that reminds you of good memories and good times to come.
14.

Summer Hater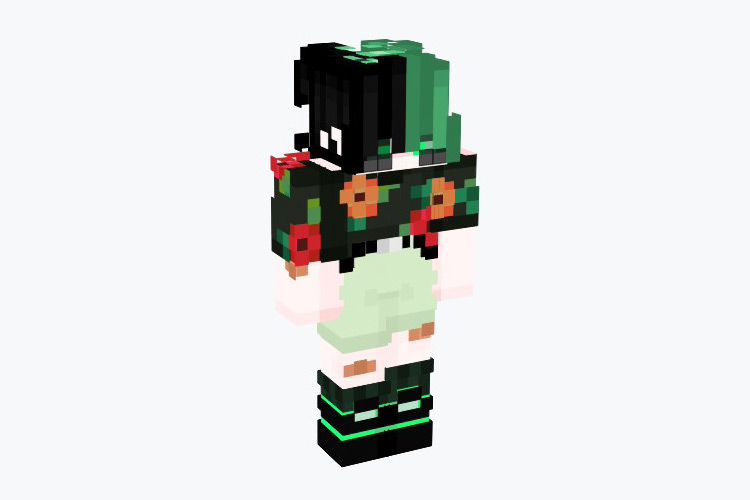 I've been gushing over the summertime, but let's be real. There are plenty of summer haters out there. I'm a reformed one myself.
While there's no guarantee that the creator of this skin made it with summer loathing in mind, the emo aesthetic helps make the point that even for those who aren't into bright colors and beaches, there's still plenty of ways you can rock during the summertime.
I love the semi-grungy vibe on this skin and how it subtly shows its cheer by wearing these lime green, high-waisted shorts.
15.

Flower Crown
Creator MissEurope dropped another gem of a skin in this flower crown skin in a celebration of all things warm weather.
I think part of me likes this skin so much not only because the outfit is S-tier (obviously) but because the color scheme is strictly autumnal, full on Halloween.
Borrowing orange and black from the fall to make a summery skin feels like a cheat code that has absolutely worked in making a 10/10 skin.
16.

Summer Rainbow (Girl)
Summer thunderstorms can put a downer on days and make driving a huge pain, but with rain comes rainbows.
And let's be real, who doesn't love rainbows?
Skin creator Oblivion makes another entry on this list with this brunette girl donning a flowing dress in a rainbow color scheme.
I personally adore the way creators will create iridescent and rainbow color palettes to make their skins seem dynamic and moving, but Oblivion doesn't actually do that here.
Their rainbow skin is subtle yet concrete, like watercolors splashed onto a white dress. The design is beyond impressive and reminds me of walking around on summer afternoons after a hard rain in the morning.
17.

Buzzcut Season (Boy)
I've got to give creator bunyeet credit right off the bat for naming this skin after a Lorde song (great taste).
You know what, while I'm here giving props, I might as well give props to them for dropping this awesome overall skin as well.
I'm a sucker for pastel color palettes and pretty much any use of overalls in a skin. The two together have me reeling.
The only thing I could take points off for is the fact that the skin doesn't have a buzzcut – but then again neither do I, and I just listened to buzzcut season yesterday.
18.

Zombie's Day Off
This doesn't get talked about enough. It's hard work being a zombie.
Night in and night out, you're expected to spawn in and chase down much faster and better armed players. Best case scenario, you meander around the woods with your skeleton friends. More likely scenario: you get murdered or burn to a crisp when the sun comes up.
Sometimes, all a zombie wants to do is put on some floaties and spend a lovely day at the beach. Is that too much to ask?
19.

Beach Day (Boy)
Well, well, well. The fish foot strikes again.
While this skin hits many of the same styles as some of the other skins on this list, there was just something about creator ImXam_'s pink and green color scheme that won me over. The combo is just too summery for me to deny.
But beyond the fact that I want to wear this outfit and this skin, the fish foot makes a return.
The fish foot haunts me and every moment I dream of wearing summer skins or going to the beach.
20.

Summer Blues (Girl)
Despite its name, Summer Blues doesn't read as being particularly sad or blue to me.
In fact, creator Oblivion seems to have made this skin with the same flowing and breezy design as they've made their others on this list.
Summer blue features a lovely dress and cardigan combo in all the blues of summer from the bright sky to the deep ocean waters.
The contrast works really well together. And on top of that, the boots add kind of a lot to the look as a whole.
Browse:
Lists
Minecraft
Minecraft Skins
Video Games