Best Minecraft Skins with Sweaters (Boys + Girls)
This post may contain affiliate links. If you buy something we may get a small commission at no extra cost to you. (Learn more).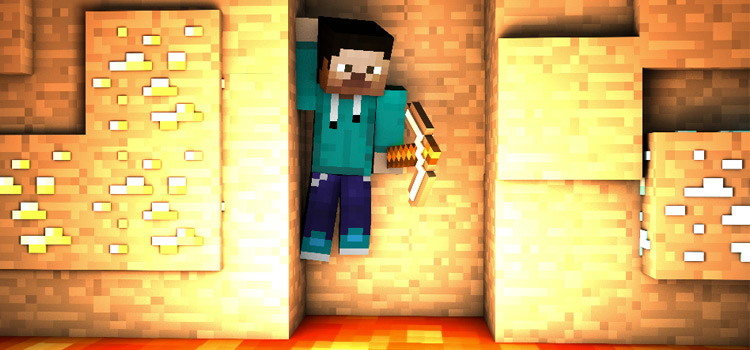 In the immortal words of one SpongeBob SquarePants, "the best time to wear a striped sweater is all the time."
I would go so far as to say that the best time to wear any type of sweater is all the time. Sweaters are cozy, customizable, and stylish all at the same time.
I'm not saying they're the best article of clothing, but I am saying these Minecraft skins are certainly worth trying on – you might find yourself feeling cozier than usual.
1.

Christmas Sweater Girl
Let's be real. There's no type of sweater more iconic than the Christmas sweater.
Sure, they may be considered the ugly duckling of the sweater family, but they scream home and family time.
While the Christmas sweaters you remember from your youth might have been itchy and overly hot, in Minecraft you get to enjoy all the holiday cheer without any of the holiday discomfort.
2.

Aesthetic Plant Boi
"Aesthetic Plant Boi" has to be one of the best skin names that I've ever come across.
Actually, "Aesthetic Plant Boi" has to be one of the best sweater skins I've ever come across. It did make this list after all!
Seriously, the lovely greens and foliage theming is so pleasant that I could stare at this thing for hours.
3.

Black and White Sweater
Creator xCoco hit a home run with this Christmas sweater skin.
Yeah, it's a Christmas sweater.
You might have a hard time identifying it as a Christmas sweater given its dark and brooding appearance, but hey, sometimes Christmas isn't a fun time. Sometimes, the holiday season needs a little edge to get you through it.
4.

Flanneled Up E-girl
Flannels are underrated articles of clothing considering 1. how versatile they are and 2. how good they look on a Minecraft skin like this.
xCoco doesn't miss with these e-boy/e-girl themed skins.
5.

Headphones Boy
Something about a striped sweater and headphones makes this skin so agonizingly soft boi that I can't get enough of it.
Granted, I'm a sucker for those green and brown earth tones, but I still just love the way this skin comes together.
6.

Horns n' Sweater
The pairing of the e-boy horns with the softest blue Christmas sweater this side of the Mississippi works flawlessly. I don't get it, and I absolutely don't care.
7.

Starry Sweater Girl
There are too many fine details in this skin to praise.
From the starry night sweater to the rainbow sock to the impeccable angel wings, everything about creator LaurenAngels_ skin looks incredible.
8.

Moon Sweater (Boy)
The comfort and coziness of sweaters must get me and Minecraft creators in a sleepy mood because these night-themed sweater skins are abundant.
I can't say I'm complaining though when they look like creator Giovanka's blue moon e-boy skin here.
9.

Mabel Pines (Gravity Falls)
This skin made the cut not only because Mabel Pines (and Gravity Falls, in general) rules, but because this skin comes with over 15 alternate sweaters to choose from.
10.

Cool Steve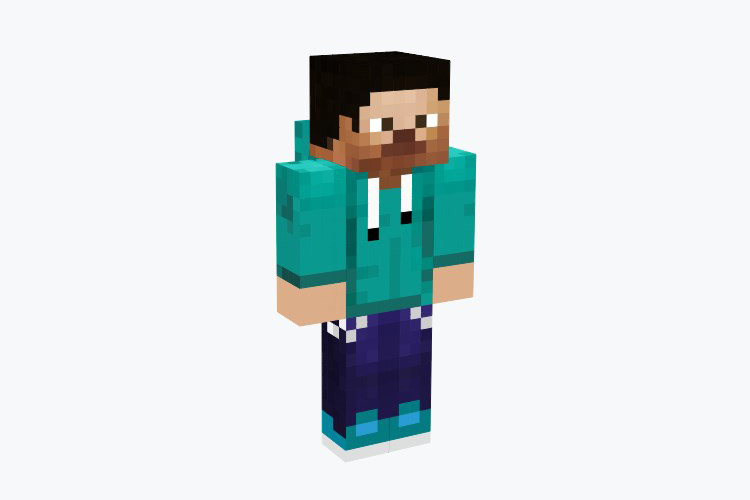 Cool Steve is another fantastic skin name and another fantastic skin, especially since the thing that makes this Steve so cool is the fact that he's wearing a hoodie.
I mean, hoodies are pretty cool.
And custom Steve skins are even cooler.
11.

Cottagecore Boy
Before I saw this skin, I didn't know what cottagecore even was.
But now that I have seen it, it's become rapidly apparent that I need more cottagecore in my life. Starting with this custom boy MC skin.
12.

Turtleneck Fox
The versatility of sweaters really can't be understated. Just under the umbrella of "sweater," we've gotten everything from Christmas to hoodie, and now we're at turtleneck.
Turtlenecks are already funny sweaters with their long, turtle-like necks.
Put that on a fox, and I'm ready to pay whatever sum you want for that skin.
13.

Daydreams
The coziness and briskness of winter are perfectly encapsulated in this skin by creator Beverly.
I adore this style of skin with big, cartoonish eyes but so much detail put into the outfits and stylings. It's making me wish I was back in winter, putting on boots to go stomp around in freshly fallen snow.
14.

Landscape Sweater (Boy)
This skin almost has too many cool details for me to admire.
There's the wall-to-wall landscape design on the sweater that looks incredible. There's the textured detailing on the hair and pants. There's the little duck foot.
I can't… it's just too good.
15.

Honey Sweater (Boy)
I don't think I'll see something cuter today than a bee themed sweater.
The warm yellow tone of the honey color and the small white and brown highlights make this just about the sweetest sweater you could find.
16.

Team Seas Sweater Boy
Creator IMakeSkins made this sweater for TeamSeas, a fundraiser run by MrBeast to help clean up our oceans.
The fundraiser raised over 30 million dollars, and if it had efforts nearly as good as this skin looks, it's not hard to see why.
17.

Pastel
If you know me, you know I could engorge myself on these desaturated pastel colors all day. Something about them looks so good and sleek to me.
18.

Creeper Sweater
For the folks who have been around for a while, you'll know the creeper parody song of Usher's "DJ Got Us Falling In Love."
This skin was made in honor of that parody, and that's a blast from the past that I didn't know I needed today.
19.

Don't Blink
The TV head and the crying eye sweater make this exactly my type of skin: interestingly designed, well-made, not sure what I'm looking at.
20.

Cute Winter Boy Sweater
If we're being honest, a big part of the reason we like sweaters is because they're darn cute. Any oversized, comfy clothing item makes you look cute in no time.
That effect is only amplified by the winter's rosy cheeks.
21.

Taco Sweatshirt Girl
I don't know what the original inspiration for this sweater skin was, but it's a massively oversized taco hoodie.
Do I need to say more?
22.

Envy Revolution
Why limit yourself to cool and mostly realistic sweater designs when you could opt for a cool and somewhat unrealistic sweater design like this one?
No, but seriously, who wouldn't take a glance at this crazy anime priestess look and not at least think "maybe I could pull that off?"
23.

Cat Lady
While this skin is a self-designated "crazy" cat lady, there's nothing wrong with having one or forty five cats…so long as you have a nice sweater to boot.
24.

Ghost Sweater
Anything Halloween-inspired, and I'm in 100%.
Between the flower crown and the spooky sweater, there's no universe where I'm not downloading this skin.
25.

Preppy Sweater Boy
I don't know what influenced me to the point where I am now into these prep school outfits with the tie and sweater over top.
Just kidding, I do know what influenced me: this skin by creator akkamarine.
26.

Moonlight Girl
The starry blue ombre on the hair looked so good that I barely even recognized how cozy and pleasant the grey knit jumper on this skin was.
27.

Pumpkin Sweater (Girl)
While lots of other spooky or Halloween-themed skins have a darkened color palette, this adorable pumpkin-themed one has a slightly washed look, making it look extra cute and festive.
28.

Sweater Girl with Bag
Nothing rounds out a strong all-white look like this like a bag statement piece. Seriously though, the way this fit is put together works in every way, and this skin deserves way more attention.
29.

Wilbur Soot
This skin by creator OhWowItsAndy is for fans of the YouTuber and Twitch streamer Wilbur Soot – or for anyone who likes a quality sweater and beanie combo.
30.

Sweater Vest E-boy
Though it doesn't have all the components (namely the sleeves), the noble sweater vest deserves its rightful spot on this list. Especially considering how popular the trend has become in the last few years.
So if you need yet another e-boy skin idea, look no further.
Browse:
Lists
Minecraft
Minecraft Skins
Video Games