20 Best Minecraft Texture Packs & Texture Mods To Download
This post may contain affiliate links. If you buy something we may get a small commission at no extra cost to you. (Learn more).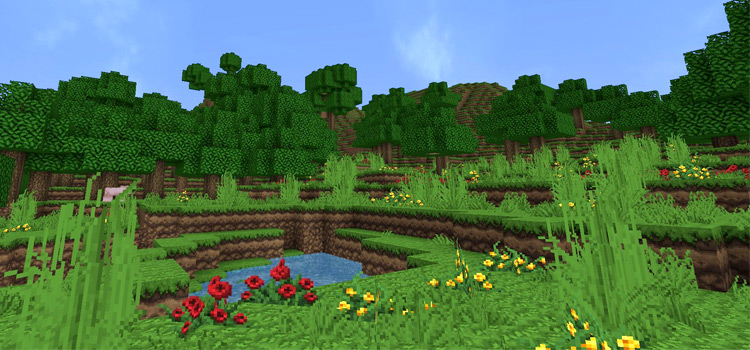 Minecraft is known for its blocky appearance.
Some love it, some don't, and some want things a little… different. Minecraft modders aren't far behind the curve since they're constantly finding new and exciting ways to upgrade the game's visuals.
You can do this yourself with all the free texture packs online. But where do you get started? No worries, I've organized a bunch in this list.
Do note that getting deep into texture packs may affect gameplay and performance depending on your PC specs, so always try to test 1 at a time if you can.
20.

Faithful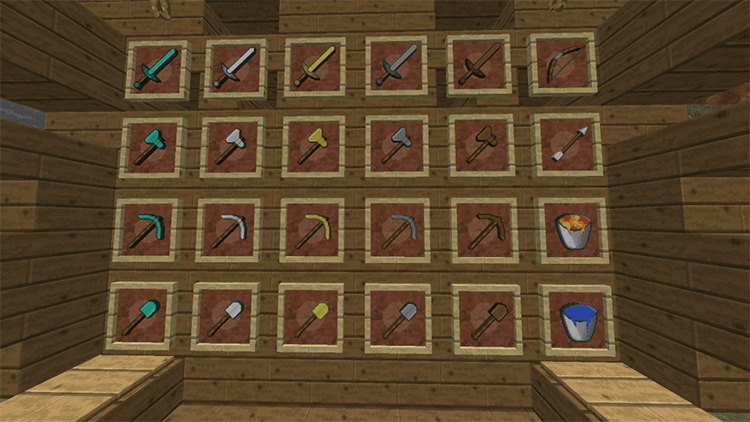 The Faithful texture pack is one of the most used in Minecraft. If it isn't obvious from the name, Faithful has a very simple task: to remain true to the original textures seen in vanilla.
But to improve the overall look making everything more visually pleasing.
With Minecraft's default blocks coming in 16x resolution and the original Faithful pack providing 32x textures, there's a big difference.
And the newest packs even offer 64x resolution!
Tripling the resolution of the vanilla version, there's no better starting point to get into textures than this mod. This is essentially the vanilla version that just looks far better.
19.

Improved Default
Now this is a simple pack that keeps all the default textures intact: but again, makes them better.
Although there are a few updated mob textures, the pack doesn't really change much of the game's appearance. However you'll find that the most noticeable update is how some blocks blend with each other.
Grass and stone blocks are no longer just separate squares, instead blending together giving the game a more natural look.
If you're a fan of the vanilla textures but open to some minor visual upgrades, you might like what Improved Default has to offer.
18.

Default 3D
If you're looking for an updated modern look to the game, but don't want to change too much of the appearance, Default 3D is a good place to start.
It veers away from the flat look of the original blocks, adding depth and detail.
Cobblestone, bricks, and floors now have more of a 3D look with grooves that show the actual texture of the material.
This not only helps make each block more easily identifiable, but makes them look much more realistic as well. All while still keeping them as blocks.
17.

oCd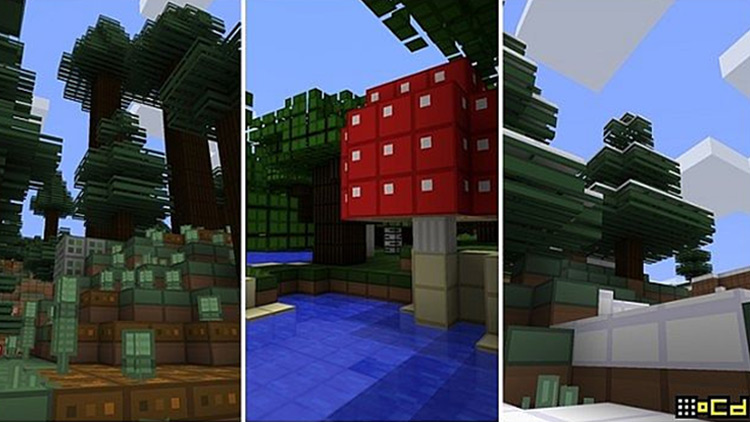 For those of you who can't stand any kind of mess or clutter, oCd is the perfect texture pack.
With a highly simplified aesthetic, the oCd pack aims to make everything a lot easier on the eyes.
Focusing on keeping everything neat and symmetrical, you can enjoy the game without having to worry about your OCD kicking in.
As an added benefit, players with lower-end PC's should have a smoother experience as the simplicity here makes it less resource-heavy.
16.

Realistic Sky
You'd be surprised how much this little texture mod could change the visuals with one install.
Basically this lets you play the game with a visually stunning sky backdrop. Supporting weather and time settings in the game, the sky is replaced with a beautiful realistic backdrop of either sunrise, sunset, noon, or night.
As this is one of the best sky textures available, you could choose to combine this with other texture packs as well to make for a more realism-centered Minecraft experience.
You may even find yourself taking breaks from your game to just relax and appreciate the sun or stars every once in a while.
15.

Dokucraft
Dokucraft is a great texture pack to get into, and it's one of the few still being updated.
With continuing improvement and support for the latest versions of the game, grabbing and installing updates is relatively simple.
A medieval/fantasy themed pack in 32×32 resolution, Dokucraft comes in 3 different types: Dark, Light, and High.
Doors are more detailed, with added detail similar to castle doors you'd expect to see in most fantasy RPG games.
Further adding to the immersion are the custom sounds included in the pack.
If you're looking to start a medieval castle build, you're sure to find something between the 3 Dokucraft styles. Definitely worth checking out!
14.

Modern HD
The building aspect of Minecraft has been one of its highlights for content creators of the game.
The building community has made recreations of so many popular games, movies, and TV worlds over the years.
Anything from King's Landing in Game of Thrones, Columbia from Bioshock, the Titanic ship, and Hogwarts from the Harry Potter series have been built with Minecraft blocks.
Whether you're looking to build your dream house or would like to play through the setting of your favorite TV show in Minecraft, Modern HD should be on your list of go-to texture packs.
Let your imagination run wild with Modern HD as your structures come to life just as you imagined them.
13.

Wolfhound
Probably the most expansive fantasy pack out there, Wolfhound comes in 7 different variants.
With that many to choose from, you're sure to find the Minecraft experience you're looking for.
Depending on your preferences you can choose between the heavenly, dungeon, fairy, asian, seasons, fantasy, and classic medieval variants.
Though the pack is in a medieval/fantasy theme, it isn't as dark as other popular medieval packs. Overall it takes the fantasy theme in a brighter, more fun direction.
With so many choices, you'll be spending countless hours on new builds with the Wolfhound pack.
12.

Pastel Craft
Pastel Craft aims to give Minecraft a fun visual upgrade, repainting the world in pastel colors.
Maintaining the simple looks of most blocks, Pastel Craft focuses on making your game brighter through color.
If you're looking for a more fun, bubblier look for your next run, check this one out.
11.

SpongeBob SquareCraft
Anything SpongeBob is always cool. And what a better way to multiply the fun than a crossover with Minecraft?
SpongeBob SquareCraft takes us to Bikini Bottom, where you'll find friends Patrick, Squidward, Sandy, and Mr. Krabs.
You'll notice mob textures have been updated to match the theme as well. Zombies are inspired by The Tattletale Strangler, cows are based on Sea Bears, creepers look like Karen, and Skeletons are based on Smitty.
Textures for the world have been modified as well – with beds, doors, chests, and windows looking like the ones you'll find in Bikini Bottomite's homes.
This one's a must have for fans of the yellow kitchen sponge.
10.

Super Mario Craft
Speaking of crossovers, here's a must-have for Mario fans.
The perfect way to merge everything Mario-themed with Minecraft. From goombas, piranha plants, sunflowers, and even Yoshi!
Aside from the textures, the pack even includes custom sounds from the Mario games. It can be very relaxing to build your own Mario world with the iconic music playing in the background.
9.

Mine Wars
Probably the best Star Wars texture pack out there, as it compiles textures from the best Star Wars packs released in the past.
With most Star Wars packs being discontinued, modder yokoolio built on the previous releases adding his own contributions.
Though the pack hasn't been updated in a while, this is still the best way to recreate your Star Wars experience in Minecraft.
With lightsabers, blasters, and character models, Mine Wars still makes for a fun space adventure.
8.

John Smith Legacy
Another fantasy/RPG themed pack, John Smith legacy is one of the more popular in the genre.
With continued support to this day, this is still compatible with modern Minecraft builds and super fun.
Perfect for builders looking to recreate the look and feel of old medieval fantasy structures, giving the game a darker, grittier look.
If you're going for a more realism-centered rustic look then go ahead and grab the John Smith Legacy pack. You won't be disappointed.
7.

Silent Hill
If you're familiar with Silent Hill, you should remember that the game just makes everything look creepy.
That eerie, uneasy atmosphere the game sets is unlike any other in the horror genre.
So any horror fan is going to have loads of fun with this texture pack. Recreate the mysterious feel of the worn-out, weary town of Silent Hill with these dark textures.
With updated mob textures, especially the Enderman now being reminiscent of the hated Pyramid Head, who knew Minecraft could be so scary?
You're definitely not going to want to play this alone at night.
6.

Soartex Fanver
If you're the type of gamer who can't stand anything horror, then you're probably looking for something that's the opposite of Silent Hill.
Luckily we have Soartex Fanver. A fun texture mod that gives the game an overall happier look, with vivid colors and cheery mob textures.
Some would argue that Minecraft is a fun and happy game by default, and it should stay that way. Well Soartex Fanver gives improved visuals that keep with this happy look.
If that's your sort of thing, this should be right up your alley.
5.

Glimmar's Steampunk
Modifying almost all textures and lighting, this pack makes Minecraft feel like an entirely different game.
Explore the Victorian-era science-fiction themed world to appreciate steam-powered trains, ships, and olden-day factories.
Aside from immersing yourself in the steampunk world, check out the updated mob textures as well.
Adding textures for robot factory workers and mechanical horses, this is definitely unlike any other Minecraft experience you'll find.
4.

Retro NES
The Retro NES pack is cool just because the NES is one of the most important consoles ever released in the history of video games.
The NES hosted a number of classic Nintendo games like Metroid, Mario, and Mega Man to name a few. Without NES, there would likely be no Minecraft.
One thing that can easily trigger nostalgia for gamers is the unmistakable aesthetic of the NES graphics. The bright color palette and 8-bit style that the NES brought can be applied to Minecraft as well. And who would've thought they could fit perfectly in this game!
If you miss your old NES or just want a fun blast from the past, this will definitely hit the spot.
3.

BladeCraft
Much like previous entries on this list, medieval/fantasy/RPG style themes are more common in Minecraft mods.
That just makes BladeCraft all the more special.
Based on the sci-fi hit Blade Runner, this pack gives the game a more futuristic approach to its aesthetic.
With this mod's impressive recreation of the Blade Runner dystopia, this successfully captures the dark feel of the futuristic Los Angeles streets. Maybe not the most fun to play with forever, but very fun for a couple builds.
2.

LB Photo Realism
One of the more drastic packs on the list, LB Photo Realism aims to upgrade the game's visuals to make it look as realistic as possible.
The pack is very popular. While maintaining the signature blocky appearance of the game, each of the blocks are taken to a whole new level detail-wise.
If you look closely you'll be able to see the detail in the strands on the wool blocks and the stains on the wood blocks. Nice!
More than just the world, the mob textures get upgrades as well. The zombie, wolf, and spider textures just look insane.
With the LBPR pack you'll find yourself spending loads of time just appreciating how good everything looks.
1.

Sphax PureBDCraft
Here's another very popular texture pack, and one that deserves a top spot in this list. PureBDCraft makes major changes to the game's visuals.
Blocks, creatures, and items receive upgraded high-definition textures. But what's really cool is the unique comic book look.
Instead of aiming to make Minecraft look more realistic, it gets a beautiful cartoon aesthetic.
With the comic book art style and color palette, transform your game to make it look and feel like you're in the newest Marvel or DC release.
Just take a look at the hexagonal animations of the fire, lava, and water blocks. This texture set just breathes so much new life into the game, but still makes it feel like a game. And I know that's what a lot of Minecraft fans are going for.
Try it for yourself and see how you like it.
Browse:
Lists
Minecraft
Video Games