Minecraft Toy Story Mods, Skins & Maps (All Free)
This post may contain affiliate links. If you buy something we may get a small commission at no extra cost to you. (Learn more).
Toy Story is a legendary franchise.
Did you know it was the first significantly big 3D animated movie of all time?
The amount of challenges those animators must have come across seems crazy – not to mention that the sequel film almost wasn't released because half of it was accidentally deleted.
To Pixar/Disney's credit, the animation of Toy Story has aged pretty well.
So if we're going to bring Toy Story into Minecraft, one thing's for sure:
It's not going to be as realistic as the real deal. But like all crossovers, this list is sure to have a lot of fun stuff for Toy Story fans.
Let's dig in.
1.

Benson Skin
Let's start with a bad guy, cause why not?
This is one of Gabby Gabby's loyal servants, a ventriloquist dummy helping her to steal Woody's voice box.
Ventriloquist dummies are known to be pretty scary (at least to me). And this skin is no exception.
He looks so… soulless.
2.

"The Claw" Aliens Skin
That's right, you can play as those three-eyed claw Aliens from the first movie.
But be careful, don't let Sid take him.
If you were around for the first Toy Story, how could you ever forget about the famous claw scene!
This skin is pretty recognizable and well-made, so it's worth checking out.
And it's also easy to edit if you want to tweak the colors a bit.
3.

Toy Story 2 Adventure Map
Here's an incredible Toy Story adventure map, designed & tested up to Minecraft 1.16.1.
It also features multiple parts from the movie in the form of amazing builds.
You can complete the quests this map offers alone or in multiplayer, it's all good fun.
And when you're done, don't forget to go into spectator mode and see the whole build. It's huge!
A lot of work went into this map, and it shows.
4.

Buzz Lightyear Skin
He believes he's a spaceman, but he's more of a trouble maker!
And now Andy doesn't know which toy is his favorite, what a mess…
This skin aims for a pastel color palette that makes the whole design feel a bit more original, in my opinion.
Granted the colors are still recognizable, but it's like a customized Buzz Lightyear.
If you like the design but the colors aren't for you, try turning up the saturation to see if that helps. And if it does… don't forget to go to Infinity and Beyond!
5.

Sheriff Woody Skin
This is Andy's favorite toy, and for a good reason!
With this skin we get the original design of the toy. And what a toy it was – you could move all of its fabric parts individually, and imagine him in all sorts of situations.
And the vintage cowboy doll essence is captured pretty well in this skin, with the colors being a perfect match.
Plus, this Woody skin is also simple enough that the expression can be easily changed (if the poker face he has isn't your thing).
6.

Mr. Potato Head Skin
Ah, the funny and cynical potato with detachable parts.
He's yet another important Toy Story character that has been the force of many memes on the Internet.
The format of the original Mr. Potato Head toy is not easy to turn into a Minecraft skin… I mean, it's pretty short right?
But this is probably the best version I've seen out there.
The colors match and, if my measurements are correct, the parts of the body are also right.
7.

Buzz Lightyear Resource Pack
Buzz Lightyear might not be able to fly.
But you can do it in his name with this small Minecraft resource pack.
Glide around with this Buzz Lightyear-themed elytra resource pack, including the item texture and the actual armor one.
This creator also went ahead and added the broken version of the item too, so you can tell when you're about to lose it.
8.

Female Buzz Lightyear Skin
Ever wondered how Buzz would've looked if he was a girl?
This skin creator sure did, and tried to create it in their own image.
And all things considered, they did a good job.
The skin is fairly simple, but the head is swapped with a girl's face with long purple hair.
Since the head is pretty standard, you could even change the color of the hair and the eyes to match something else, if you're comfortable editing skins.
9.

Sid Phillips Skin
Do you like being the bad guy?
Because this is a really bad guy.
"Maniac" would be a better word to describe this toy-destroying madman!
I will never forget Sid's room in Toy Story, with all of his destroyed and mutated toys lying around.
Pixar surely did a good job of making broken toys into something to be scared of.
Plus if you're up for the job, you can add some shading to this skin to make it look more detailed.
Maybe an angry expression on his face would fit well with Sid!
10.

Detailed Woody Skin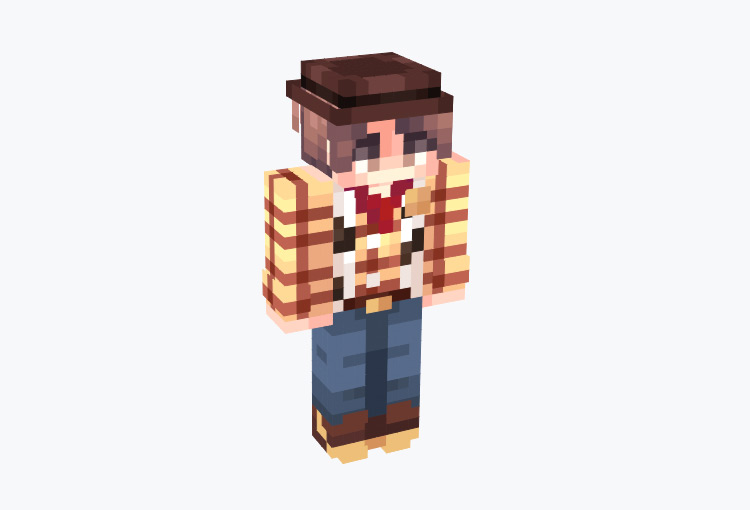 This is the second Woody skin on this list, and it's here because it's just so unique.
It really looks like nothing else out there, at least in regards to Disney/Pixar skins.
This design feels like a more "Minecraftized" version of the Woody skin mentioned earlier.
The head is like many others, but the amount of detail and shading is much more complex.
I'd say this feels more like a Woody costume skin than the actual toy… but that's fine! That means you can swap his head with another and it'll still look great.
Anyone picturing Minecraft Steve in a Woody outfit?
11.

Emperor Zurg Skin
Wait, another antagonist?
Why not, I love them!
And Zurg is the sworn enemy of the Galactic Alliance – along with Buzz Lightyear's archenemy.
For some reason, I like enemies in movies. Maybe that's why this skin jumps out so much.
But my opinions aside, this skin really is designed great, and looks super professional.
It's simple, but the shading is well-done, and the colors are a perfect match to the movie.
This could be a good pick if you plan to fight Buzz in PvP!
Browse:
Disney
Lists
Minecraft
Pixar
Toy Story
Video Games