Minecraft Vehicle Mods: Cars, Airships, Helicopters & More
This post may contain affiliate links. If you buy something we may get a small commission at no extra cost to you. (Learn more).
Ah, the joys of Minecraft.
The worlds you can explore are massive, with so much to see. So what better way to make exploration more exciting than with a few new vehicles?
If you've ever looked into the massive lists of Minecraft mods, you know there's a lot at your fingertips. And there are so many cool vehicle mods that it's difficult to just pick a few.
If your hard drive is big enough then hey, go nuts! But if you really want to whittle it down then we've curated a nice list of some top vehicle mods worth snagging.
10.

Iconic Movie Vehicles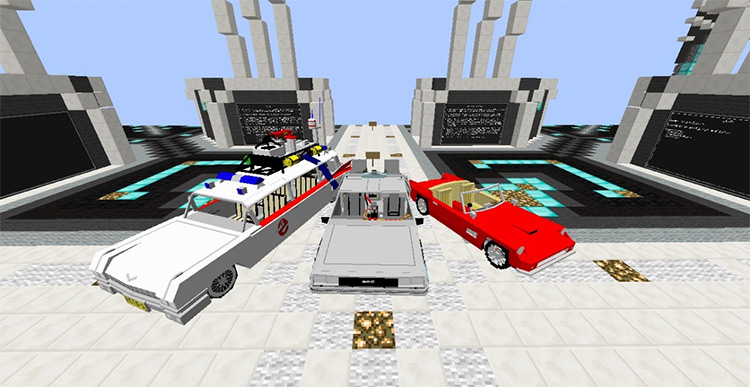 Roads? Where we're going, we don't need roads!
Roads are, effectively, pretty useless when we're talking about the three cars included in the Iconic Movie Vehicles pack.
I won't lie here: I love the DeLorean Time Machine best, in case you couldn't already tell. But there's no denying that the Ghostbuster's Ecto1 and Ferris Bueller's Day Off: 1961 Ferrari GT California look just as nice.
If you're a movie buff then consider this your first (but probably not last) vehicle mod pack.
9.

Bat Vehicles
Time to join the Bat family in the most glamorous of ways.
This Bat Vehicles mod adds custom rides that have been used by Batman over the years, such as the Batmobile taken from the iconic movie directed by Tim Burton.
But we also get slick wheels like the Batmobile Tumbler and even the Batcycle from the corny 1966 TV series, among a few others.
Just use the vehicle caller included in the mod and you'll be ready to fight crime and supervillains in blocky style.
8.

Ships Mod
Have you ever wondered what lies beyond the ocean?
I used to, but now I wonder no more thanks to this huge mod pack full of custom ships to ride.
Build your own ships with different blocks, and enjoy realistic physics (and the thrills) that only a sea voyage can give.
And if you enjoy playing Survival Mode, well having access to the raft will also make your life much easier at the beginning of each game. This mod really has everything for every sea faring voyager, doesn't it?
7.

Star Wars: The Skywalker Saga
I'm never surprised to find custom Star Wars mods for pretty much any game.
We've already seen these crossover mods for Minecraft, but how about a vehicles mod pack (and a little more?)
The Skywalker Saga is a massive modification that introduces tons of Star Wars content to Minecraft, such as 90 mobs including Luke Skywalker and Darth Vader, new weapons, and explorable planets like Tatooine and Dagobah.
All of these can be explored more easily by using the excellent recreation of the many different vehicles from the saga, too.
Landspeeders, spacecrafts, or whatever else you want. You name it, you get it!
6.

Golden Airport Pack
My, how far we've gone in Minecraft.
From blocky wild and inhospitable lands to fully functional airports.
The Golden Airport Pack gives us the first fully-functional airport in Minecraft. It comes complete with airliners, fuel trucks, baggage trucks, and all those vehicles you expect to see in a real airport.
Take that, Flight Simulator 2020. There's a new boss in town.
5.

Traincraft
Nothing is more practical than a rail network. Well, at least in video games.
And nothing is more practical than Traincraft to build one!
This mod is among the best vehicle mods ever released for Minecraft, as it not only lets you create the most amazing rail networks you could imagine, but also allows you to use networks that have been created with other mods.
That way you can actually stack those long man-hours spend in the game. Handy, right?
4.

RC Mod
Let's not deny it: everyone loves remote-controlled vehicles.
But not everybody can afford to have them. Or make time for them in real life…
Only if they don't play Minecraft, that is.
This RC Mod is pretty straightforward, but so much fun. You get realistically simulated remote-controlled vehicles ranging from cars to boats to a quad drone, and even a submarine!
With advanced physics simulations to boot, controlling these vehicles almost feels like controlling real ones. Great for immersion and certainly enough here to keep you busy for hours.
3.

Transport Simulator – Official Vehicle Set
By far one of the coolest packs for some off-the-road fun.
While not particularly varied as far as vehicle types go, this Official Vehicle Set includes an incredibly interesting selection of planes. Yes, we're going airborne here.
This includes fighter aircrafts, but also has cars and even a small fire truck. Just in case you shoot one too many missiles and have to prevent those darn forest fires.
2.

Immersive Vehicles
As far as modded vehicles go, it hardly gets much better than the Immersive Vehicles mod.
While the mod by itself does not include any additional cars (you have to download additional packs) the mod does give us an amazing framework that brings realistic physics, joystick control/mouse support, fully working lighting, and an in-game manual that provides tons of useful information on driving.
Remember those times when you were forced to close Minecraft and get help from wikis? A thing of the past, my friends.
If you're looking for new features along with new things to drive, absolutely consider this mod first.
1.

Mr. Crayfish's Vehicle Mod for Minecraft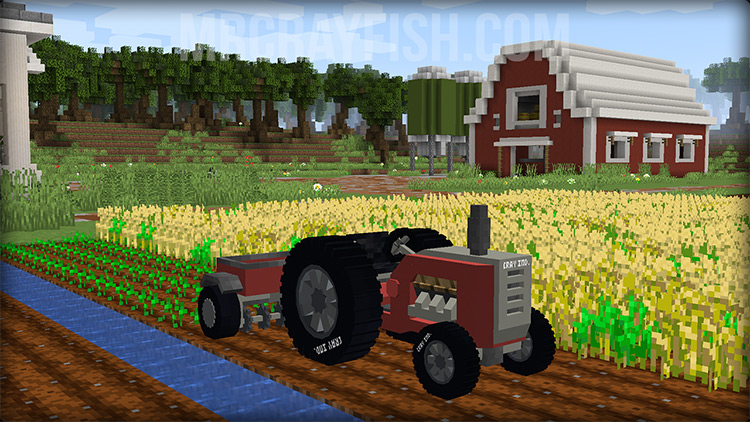 The "Immersive Vehicles" mod would have been the undisputed #1 Minecraft vehicle mod of all time… if it weren't for Mr. Crayfish's Vehicle mod.
And once you get this installed, it's easy to see why.
This mod adds over 20 new vehicles all easy to ride from the start.
But it also brings a streamlined fuel production system into the game, so that you can use them to your heart's content without always having to keep an eye on gauges and the like.
With a full customization system and support for datapacks to introduce even more new vehicles, it really doesn't get any better than this.
Browse:
Lists
Minecraft
Video Games