30+ Minion Crafts, DIYs & Handmade Trinkets For Despicable Me Fans
This post may contain affiliate links. If you buy something we may get a small commission at no extra cost to you. (Learn more).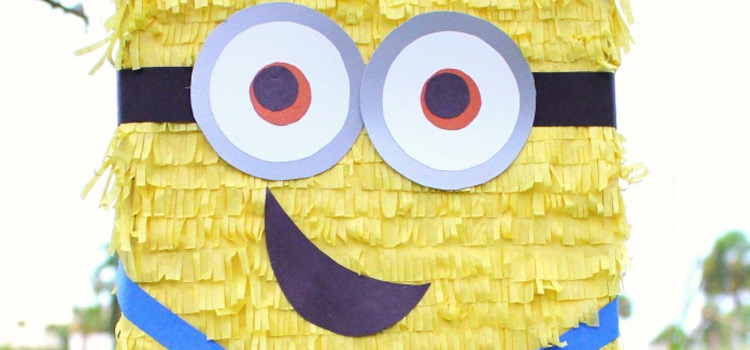 Minions. The hilarious small, yellow creatures that we've all come to know and love from the big screen.
What more needs to be said?
Let's get stuck into these awesome minions inspired crafts that are perfect for all Despicable Me lovers.
1. Trio of Minion Costumes
Ideal for your next costume party, these larger-than-life minion costumes will definitely make you stand out from the crowd.
Bumbling along like one of the little yellow creatures, you can really take on the minion personality in these costumes.
A craft you'll want to use over and over again no doubt. These minion costumes will be responsible for a lot of laughs and good times.
2. Minion-O-Lanterns
Halloween is a time of the year to get creative with the house decor and fill out your home with pumpkins for some reason.
This year it's time to step your game up and make these awesome minion-o-lanterns to scare off… well, nobody really.
But I can promise that they'll blow the trick or treaters away and give them a night to remember.
Spray paint the pumpkin yellow and then get artsy with a marker to make a minion out of any ordinary pumpkin.
3. Recycled Minion Piggy Bank
An adorable minion piggy bank made out of only color paper and a plastic jar, this craft couldn't be simpler.
A great birthday gift for any kid, this minion money-storing beauty is sure to put a smile on their face as they fill it up with pocket change.
4. Cute iPhone Charger
Making something so ordinary into an item so fun is just a blast. This cute minion iPhone charger should definitely be on your todo list.
Not only will you look forward to charging your phone every 2 hours, you'll never lose your charger again as it's impossible to get confused!
Spray paint at the ready this one requires some artistic talent but not much more other than a can-do attitude.
5. DIY Minion Bookmarks
This next craft is for the kids who just can't get enough of the mischievous minions.
These DIY Minion bookmarks are really fun to make a book come to life, and this little project comes with the added side effect of encouraging your child to read more. Two for one!
6. Custom Minion Shirts
Have you ever dreamt of having a family of Minions?
OK maybe it would be a tad overwhelming, but you can at least pretend with these cool custom minion shirts for the whole family.
Perfect for a family photo with a different style, these loud shirts will definitely help you spot your child should they run off anywhere.
7. Create a Papercraft Minion
Taking on the blocky, Minecraft-esque style is these papercraft minions that are quirky and fun to decorate the house with.
Easy enough for even the most incapable of DIYers, placing these papercraft minions by the front door would be a great way to greet visitors and maybe even make nice decorations for a birthday party.
8. Handmade Minion Piñata
Oh the unbridled joy of swinging a bat at a piñata to smash it open and lay claim to all the goodies inside.
You can recreate this joy with this handmade minion piñata which will make any birthday party 10x more fun.
Made with an XL cereal box, some colored tissue paper(yellow of course), construction paper, and other typical craft materials, this is one not to pass up since it's so darn easy.
9. DIY Christmas Ornaments
Christmas is a time for fun and positive energy. So lighten up the living room with these cute Minion Christmas ornaments to hang on the tree.
A sure fire way to make your tree stand out from the others in the neighborhood, these homemade Christmas ornaments will be something you'll break out on a yearly basis. At least until the next big movie fad overtakes them.
10. Tissue Roll Minion
You probably could have seen this one coming: the tissue roll minion craft makes so much sense considering the minion shape is just so… toilet paper roll-ish.
It would be a shame not to make the most of this opportunity to decorate a simple TP roll and re-use it in the best way possible. Hey, who knew upcycling could be so fun!
11. DIY Minion Planter
A genius craft to liven up your garden while housing your plants, this brilliant Minion planter consisting of tires is all you'll ever want to use.
A really fun project to do outdoors when the weather is nice, or basically on any nice day really.
This minion planter only requires some spray paint and a talent for minion art so I think anyone could do it.
12. Minion Wreath
Back to Christmas again with this joyful wreath.
Using a foam board, acrylics, and some other bits and bobs around the house, this minion wreath craft makes for an ideal homemade Christmas decoration that'll add personality to your Christmas décor that kids will simply love.
13. Plant Watering Robot
This highly intelligent plant watering Minion robot is designed to inform you whenever your plant needs something to survive and thrive.
How does it do that, you ask?
Well, record your best high-pitched Minion voice and program it into the device so that you'll really think there's a Minion living with you. Granted you'll need some techie skills but I say it's totally worth it.
14. Minion Craft Project
It's pretty amazing what you can do with some colored cardstock paper and a marker.
For example, you can make minion-based covers for all of your favorite movie candy.
Perfect for your next big movie night in! These cute minion covers will add an extra layer of excitement to the unwrapping sounds of candy, popcorn and drinks.
15. Recycled Minion Bowling Game
Now let's see what you can do with some construction paper and a few plastic bottles.
How about this addictive minion bowling game? This craft will have you playing all day long regardless of age.
If you're struggling to find a way to keep the kids entertained for a while, or if you just wanna have some fun at home, then this craft should definitely do the trick.
16. DIY Minion In A Jar
One of the more artsy interpretations of the mini yellow creatures, these DIY minion-in-a-jar crafts will look good in any living room.
Using blue and yellow colored paints along with mason jars with silver lids, your DIY essentials, you can have one of these on your desk in no time.
17. Minion Marshmallows
I think it's time for something edible.
These minion marshmallows are the sweetest treats that you never knew you needed.
Already a super fun thing to eat, this marshmallow recipe makes the best base for the lovable yellow Minions.
Hide these in the cupboard to make for the perfect surprise for any family members with a sweet tooth.
18. Minion Sugar Cookies
Moving onto the next delicious sweet treat we have these minion sugar cookies.
An awesome craft to get the kids involved with, these sugar cookies can be designed to look like their favorite minions for any occasion. Yes, being hungry is a valid reason.
Bake a batch of these irresistible Minion cookies and then stick on Despicable Me and you'll be in for a great evening.
19. Minion Pretzels
If you prefer to mix sweet and savory then you're in for a real treat with these minion pretzels.
These would be great to put out in a bowl for a kids' birthday party or even just for a fun weekend snack.
You might struggle to make it perfect on the first batch but it's really easy once you get the hang of things.
20. Despicable Me Pencil Topper
If your kids are always talking about minions then maybe they need one of these Despicable Me pencil toppers so they can chat with their very own minion friend.
Having a pencil topper to bring to school means the Minions can go with them anywhere! This craft is definitely worthwhile to add some fun to the school day. Or maybe just for some pencils you have around the house.
21. Minion Clothespins Craft
It's time to introduce the most simple minion craft on this list: minion clothespins.
Requiring just clothespins, paint, and googly eyes, you have no reason to skip over this one cause it's just so darn easy.
You definitely won't regret it when you go to hang your clothes up and realize all the clothespins are Minions. I feel like that'd make a good animated short of some kind…
22. Minion Madness
An interesting way to re-purpose an old propane tank, this minion madness craft will watch over your home from the porch or patio, or anywhere you can think of really.
A fun way to make your front garden more exciting, this will stand guard and welcome all visitors with its super friendly appearance.
Only trouble is getting your hands on an old tank and making the time to build this sucker.
23. Minion Light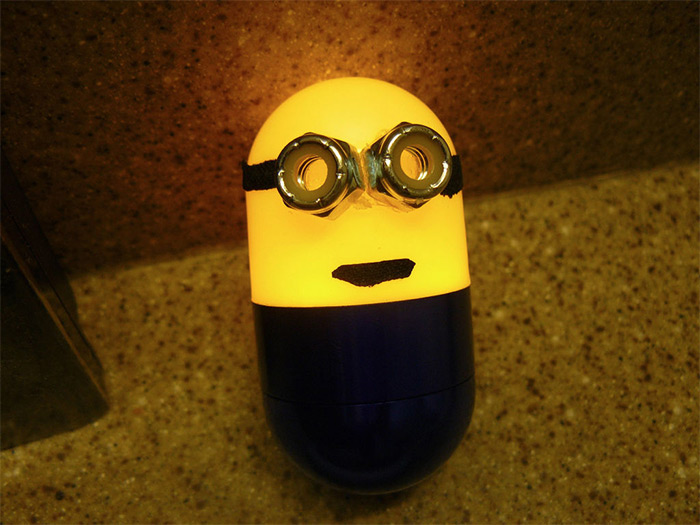 If there's one thing cooler than a minion craft it would be a glow-in-the-dark minion craft.
This minion light doesn't disappoint on that front.
An awesome way to light a small room or just to use as a handy torchlight, this craft is exactly what you need for your child's next sleepover party.
24. Minion From Polymer Clay
This friendly boomerang-slinging minion made from polymer clay is just asking to find its way to your home.
Another one for the porch, or maybe even just to decorate the living room, this adorable ornament isn't one you'll want to throw away in a rush.
It'd also make a great gift for the young ones or any cousins, nieces, anything like that.
25. Hand-Painted Back To School Shoes
Have some fabric paint and shoes handy?
Then why aren't you jazzing them up with this funky minion design? It's classy, fun, and pretty darn easy!
Suitable for both fun-loving adults and children who are looking to spruce up some older shoes, this project is bound to draw some looks of envy and admiration.
26. Minion Pencil Case
Since you'll need something to put with the minion pencil topper(#20 on this list) you best get started on this minion pencil case.
It can be hard to make any pencil case stand out at school these days with all the funky designs and patterns available. So the only true option is to make your own.
And I have to say this specific Minion pencil case will be the coolest one in any classroom.
27. Egg Minion Craft
A craft using eggs? What an Eggcelent idea!
Incredibly easy to do, these minion egg crafts are for those who would prefer to design their eggs than eat them.
Of course, it goes without saying that you'll need to be egg-stra careful not to break them as you're working on them! I'll see myself out.
28. Minion Shoulder Bags
A perfectly practical craft that will be anyone's new favorite bag, this minion shoulder bag will be all the rage once you start the trend.
Made from felt, these soft and cozy shoulder bags will be the only bags you'll ever want to leave the house with. Perfect for school and kids of all ages.
And who wants a basic brown bag when you can make your own vibrant yellow minion shoulder bag? I think we all know the answer.
29. Tall Minion Costume
So you want to walk around as a Minion huh? Then today could be your lucky day.
Guaranteed to be a really fun craft to make, this tall minion suit will be the only costume your kid ever needs(or you, I'm sure it can fit adults too).
Made from lots of cardboard, plaster paris and foam, this ultra-durable minion costume will be fantastic to bring to life and dance around in.
30. DIY Minion Plushie
Impossibly cute and hard to ignore, these DIY minion plushie toys are perfect for snuggling with.
When I was young beanie babies were all the rage, and if you didn't sleep with at least 10 of them in or around your bed you were doing it wrong.
These days the stars of the Despicable Me movies are just as popular. So why not turn the lovable yellow minions into adorable soft toys? They'll make great movie companions as you re-watch the film series again for the 7th time.
31. Minion Lawn Darts
Last on this list of crazy minion crafts is perhaps the zaniest of them all.
Introducing: Minion lawn darts!
These minion-shaped darts are intended for use in the garden and would make for great entertainment during the family BBQ – provided they're thrown well away from family members, of course.
Made using big plastic soda bottles and nails, this is a craft best made without the kids at first. But these minion lawn darts are a fun alternative to the more traditional garden games and they are pretty safe once you teach everyone how to play.
Browse:
DIY
Lists
Cartoons
TV & Movies