36+ My Little Pony DIYs & Crafts Perfect For MLP Lovers
This post may contain affiliate links. If you buy something we may get a small commission at no extra cost to you. (Learn more).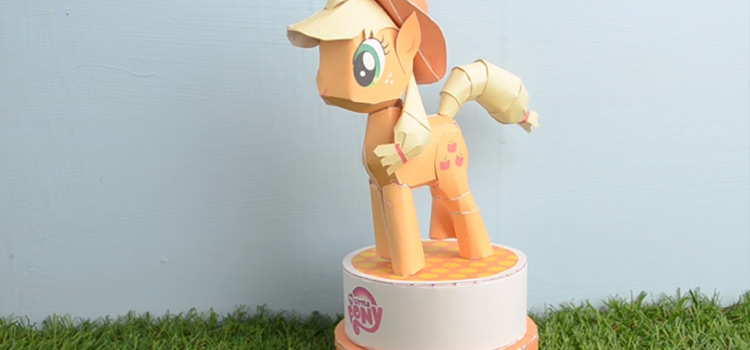 My Little Pony, MLP for short, is a huge TV series with a massive following that was created based on the popular toys from many years ago.
Alongside Beanie Baby toys, MLP was one of the leading toy collections and made millions of little kids ecstatic in their childhood(even today!).
So with appeal to both the modern generation and even older ones, these MLP crafts are well worth looking into if you're in the fandom yourself, or if you have young ones that love these ponies today.
1.

MLP Name Letters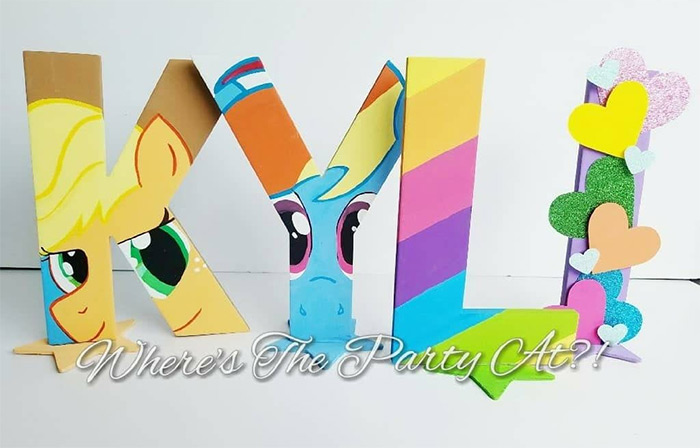 Spell out a kid's name on their birthday with these vibrant MLP inspired large letters.
A simple way to personalize a room just in time for any birthday, these boldly designed letters will add a splash of character and rainbow colors to the party.
A handpainted wood craft, this can take a bit of time and these letters require some artistic talent. But it won't be too challenging to pull off so this could definitely be a great last-minute homemade party decoration.
2.

DIY Snowglobe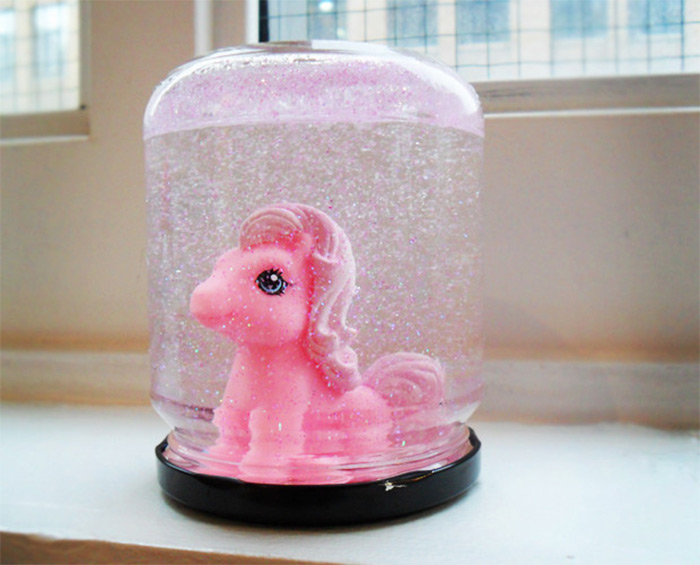 Combining two of everyone's favorite things: MLP and easy-to-shake snow globes:
These My Little Pony inspired snow globes are sure to be a hit with any age. A fun MLP twist on a classic Christmas ornament, shake this up and squeal gleefully as the glitter rains down again and again.
3.

Hand Soaps
An adorable and creative fix to boring and basic bath hand soaps, these My Little Pony soaps take on the form of the colorful ponies and provide plenty of scope for customization.
After all, there are 6 unique ponies each with their own personalities. What's not to love?
Plus if you're not big into soap making you snag this craft straight from Etsy and get your own handmade items without the stress.
4.

My Little Pony Cookie Cutters
There's nothing better than baking up a fresh batch of your family's favorite cookies. If your kids are fans of the popular TV show or the toys then they're going to love these My Little Pony cookie cutters.
And they're gonna love them even more if you actually bake up some cookies!
Invite your kids to get involved with the baking process with these fun cookie cutters and then enjoy the fruits of your labor. Or if you're a bit MLP fan maybe bake some for yourself—why not?
5.

MLP Necklaces
It's time to accessorize with these awesome My Little Pony necklaces!
Taking anyone's favorite miniature My Little Pony toys that might be gathering dust in the toy box, and some other crafting supplies, you can put together these colorful pony necklaces with ease.
6.

Bath Set
My Little Pony lends itself perfectly to fun crafts like bath bombs.
The explosion of color that occurs when you submerge bath bombs in water is hugely satisfying. Especially when it comes from one of these MLP variants.
Add some fun to bath time by transforming a chore into something you're kids will look forward to. Or alternatively you can throw them into the bath yourself for some relaxing time away from it all.
7.

Cake Toppers
Struggling to think of an easy way to make a birthday cake fitting for the occasion?
Well look no further than these super simple My Little Pony cake toppers.
All you'll need for this one is fondant, edible paint, and edible glitter. And some knowledge of your favorite My Little Pony characters (or your kid's favorites) to really spruce up the final delicious treat.
8.

Vanilla Bath Bombs
Based on the character Rarity from My Little Pony, this aromatic vanilla scented bath bomb is suitable for kids and adults alike.
If you like the idea of a purple and white swirl of color in your bath – to match that of Rarity – while the room is filled with the scent of vanilla, then you are going to love this little handmade treat.
9.

My Little Pony Piñata
Proving that piñatas can be seriously cute, this My Little Pony craft will look fantastic in the fe, brief moments before the kids swing for the fences.
Have a go at this piñata and fill it with your favorite candies to help make for a truly special occasion.
10.

Bottle Labels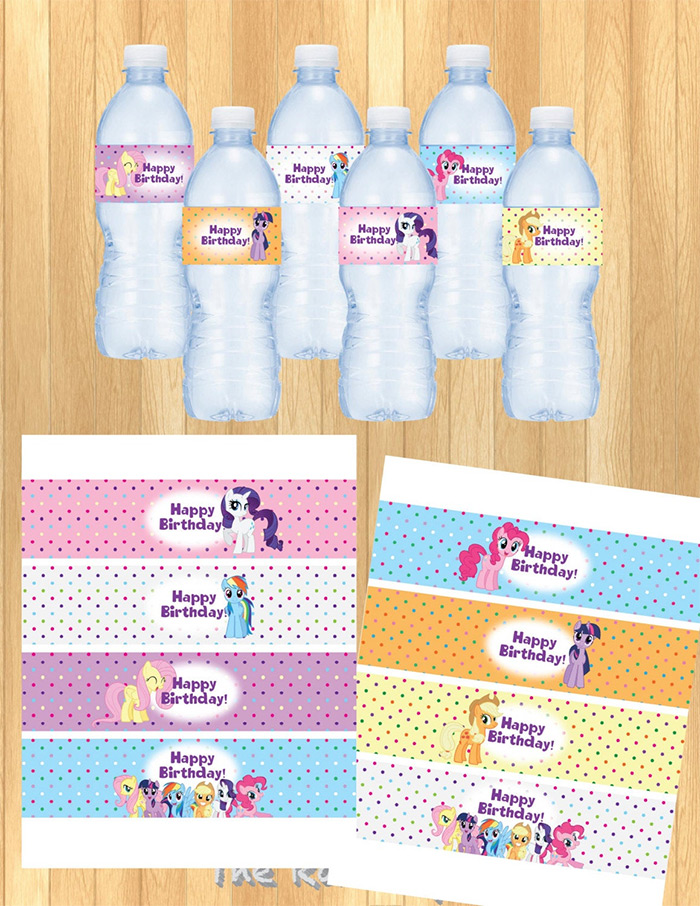 A sneaky way to make sure your kids are drinking plenty of water in between running around and destroying the piñata.
Stick these awesome My Little Pony customizable labels on any bottles of water you like. Before you know it your kids will be asking for more water and guzzling it down like nobody's business.
11.

Twilight Sparkle Play Collar
Twilight Sparkle from My little Pony is the center of this DIY.
This kitten collar will somehow make your kitten even more ridiculously cute than it already is, and ensure you'll never lose your furry friend too.
Powerfully pink and purple, this kitten collar craft is essential for pet lovers everywhere who also happen to love their MLP.
12.

MLP Mason Jar Centerpiece
It truly is amazing what you do with a simple mason jar.
Mason jars are to the craft world what friendship is to the My Little Pony world: essential.
There are infinite possibilities with mason jars and this cool MLP jar centerpiece shows just one of its uses.
Accustomed to taking center stage, the ponies will flourish and look fantastic in all their sparkly glory.
13.

Rainbow Ribbon Gift Wrap
If you want to make your gift extra special and inject a healthy dose of rainbow colors into the wrapping then try this rainbow ribbon gift wrap.
Complete with your favorite My Little Pony characters, this easy but effective gift wrap idea will make your thoughtful present stand out from the crowd.
14.

Mini Lunchbox Favors
A fun way to make sure all of your party guests leave the birthday party feeling satisfied is to give them away these mini MLP lunchbox favors to take home.
Show your crafting prowess creating these unique lunch boxes and spreading the My Little Pony love.
15.

Papercraft Magic
Paper crafts can be tough. Especially when you haven't quite yet acquired the necessary DIY know how.
However, the results are always impressive and this My Little Pony papercraft proves just that.
Rearing on its hind legs, this My Little Pony craft would make a great decorative piece to have on display in your kid's bedroom.
16.

DIY Papercraft Project
This slightly more modest MLP papercraft is bound to be a lot of fun to make and much easier than the previous one too.
Based on Applejack, this adorable craft is worthy of any toy shelf and can satisfy your kid's My Little Pony obsession.
17.

MLP Handcraft
Here we've got a project based on the MLP movie.
These colorful masks come from the main characters that give your kids an opportunity to be magical ponies for a day.
A super simple way to add some MLP fun to the party. The only tough part of this craft is deciding which mask to put on!
18.

Eye Mask
Suitable for your kids next slumber party, or even suitable for you if you want to wear one at night!
These MLP inspired eye masks will make sure anyone gets a good night's sleep while dreaming of the ponies and their wild adventures.
Make several of these in different colors based on the different ponies and you'll never want to let them go.
19.

MLP Headbands
Using a headband that you already own and some different colored felt, have a go at these MLP headbands complete with horns and the ponies' distinctive hairstyles.
Just like the DIY masks in #17 above, these headbands can be used to dress up as your favorite MLP stars.
20.

Magical World
Bright colors, unicorns and rainbows.
Sounds like every kid's dream, right?
Well if you have a cardboard box lying around and some basic craft supplies it could be their lucky day.
Unbelievably simple to make, this magical unicorn world is all you'll need to make to ensure your kid has somewhere awesome to play with their MLP toys.
21.

Unicorn Horn Headband
A no-frills version of the other headband on this list(number 19), this unicorn horn (a pretty satisfying term to say aloud) is the minimalist answer to the fancy headband.
Pretty much everyone has wanted to be a unicorn at some point in their life. So bring the fantasy into reality and have a go at being a real life unicorn for a while.
22.

Shoe Wings
If you're looking for a cool way to customize your shoes, this is the craft for you.
Make these awesome MLP inspired wings for your kid's shoes(or even your own) and watch as they race away believing they're about to soar into the sky like their favorite characters from the show.
23.

Rainbow Dash Costume
Transform your child into the most adorable rainbow colored pony with this cute costume craft.
This is a tricky one to make if you've never done costumes before. But if you have the tenacity to work through it I'd say the end result is really something else.
24.

My Little Pony Headbands
Another colorful headband craft, this one is a great option for a group of friends looking to team up as the MLP crew.
Role-playing as their favorite MLP stars, kids will have so much fun with this at any party or special occasion.
25.

DIY MLP Hair Clips
A slightly different hair-related MLP craft, these cute and colorful hair clips can add personality to any look.
As simple to make as you can imagine, grab a few hair clips and your chosen colors of thick ribbon and get cracking! Very creative and very fun.
26.

Light Pencil Case
Make sure your kid goes to school knowing that they have the coolest pencil case in the classroom.
While the many colorful and creative designs of most pencil cases based off TV shows and movies are great, few kids will be able to say they had a hand in the making of their own pencil case.
That's what makes this one extra special.
27.

Unicorn Hair
If you're feeling especially adventurous and in the mood for something to upgrade your look for the day, well how about this outrageously eye-catching unicorn?
Be the talk(and envy) of town with this striking style which will definitely set you part from the crowd.
28.

Handmade Patches
Proudly display your affinity with one (or a few) of the stars of MLP.
Are you more of an Applejack or Fluttershy?
Whatever the response, you'll be pleased to have one of these neat handmade patches. And you can even pick these up custom made so you save the hours DIY'ing it yourself.
29.

Custom Party Straws
Like the MLP bottle labels from number 10, these custom party straws provide a fun reason to stay hydrated when the activity levels are high.
An interesting twist on common straws, these custom straws will be the only ones your kid will want to drink with. It may even blend into regular meal times.
Plus, being made of paper, these straws are 100% eco-friendly.
30.

DIY Plushies
No DIY list is complete without the inclusion of some kind of plush toy design.
This MLP plush toy is perfect to decorate your kid's room, and is definitely suitable for use in the magic world you created earlier from number 20.
Note you could even DIY this yourself and keep it in your own bedroom. It's really the perfect gift for any MLP fanatic.
31.

MLP Velvet Decal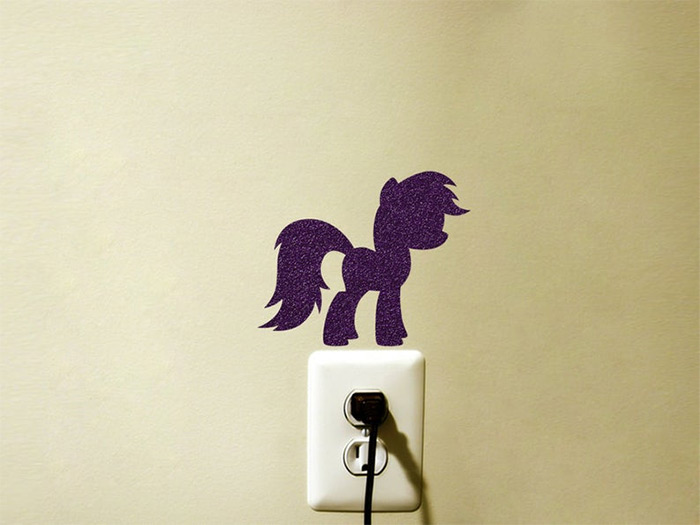 A small velvet decal, this MLP craft is highly versatile in the ways you can use it.
Whether you need a new sticker for your laptop, desk or car, this cute decal has you covered. And it's easy to pick up one handmade to save yourself the process of custom printing.
32.

Rainbow Ruffle Party Hats
Turn an ordinary party hat into a rainbow ruffle with this creatively named craft idea.
With even a small space to write the name of each party guest, these vibrantly colored party hats bring the necessary splash of color to any party.
33.

Finger Puppet Designs
If you've got younger kids around who enjoy the action-packed MLP TV show and also enjoy the good old-fashioned entertainment of a puppet show, then they're in for a treat with these finger puppets.
Easy to pick up from Etsy and 100% handmade, add this into your storytime or make for a fun afternoon playing around the house.
34.

Small Travel Wallet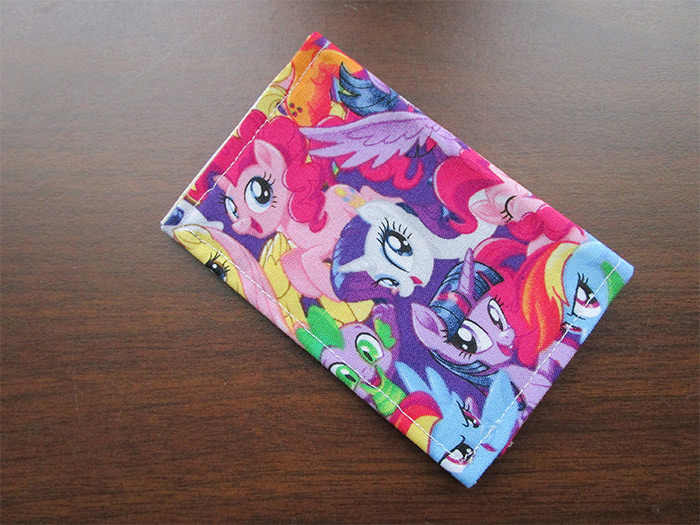 Capable of holding all of your valuable cards, cash, and documents, these small MLP travel wallets can help alleviate some travel-related stress and keep you in a good mood for that family trip abroad.
Pretty cheap considering it's fully DIY'd for you, but you could also make this yourself given the proper materials and a true passion for MLP merch.
35.

Felt Rainbow Topiaries
Rainbow trees to cover those ugly night lamps? Yes please.
These fantastically bright and colorful rainbow tree MLP designs could potentially bring more light into a room than the light from the lamp itself!
A surefire way to make sure you get out on the right side of bed in the morning with a spring in your step, these rainbow topiaries are an essential MLP project for any household.
36.

MLP Light Switch Plate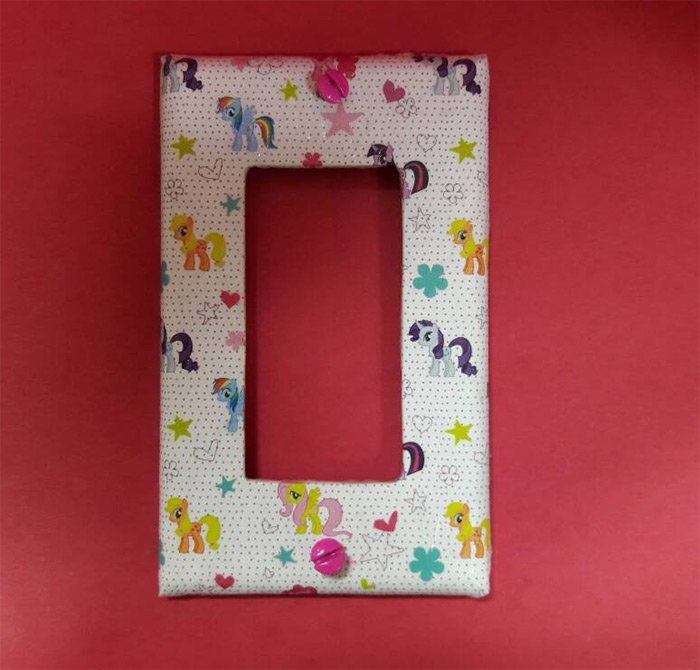 A border for your light switch with plenty of character, this MLP inspired plate design is more than enough to remind you to turn off the lights when you leave the room.
Mostly since it's impossible not to stop and look at them as you pass by.
37.

Princess Celestia Acrylic Nightlight
Princess Celestia is the inspiration for this last MLP DIY craft.
Glowing majestically in the dark as if she were there in person, Princess Celestia will keep your child company at night and illuminate every room effortlessly – almost as if by magic.
Browse:
DIY
Lists
My Little Pony
Cartoons