Top 10 Best OSRS YouTubers & YouTube Channels To Follow
This post may contain affiliate links. If you buy something we may get a small commission at no extra cost to you. (Learn more).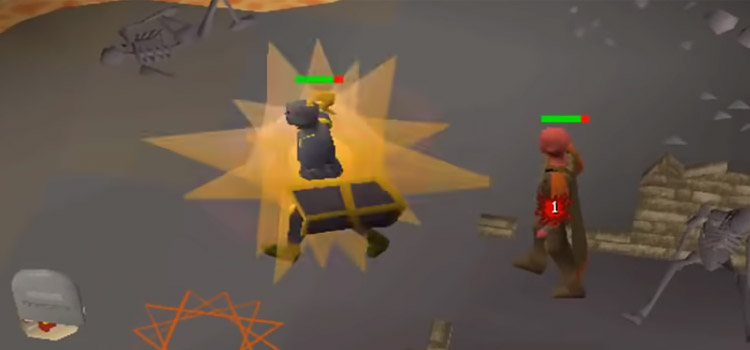 OSRS has a massive online community. Whether on Reddit or YouTube or anywhere else, there are plenty of content creators showcasing the latest updates, Pk'ing others, or just taking on interesting challenges.
The community has some highly prized YouTubers who also have quite famous reputations among OSRS players.
I personally watch a number of OSRS YouTubers, partially for entertainment, and also to learn about new exciting training methods – or just to get some fun ideas for things to do in the game.
So which OSRS YouTube channels are most worth checking out?
Let's dive in and see:
10.

Link's Ocarina & Rargh
Check Out LinksOcarina's Channel
These two YouTubers work together on most of their content, and often challenge each other to various PvP fights – with a twist!
They're quite new on the YouTube scene, but have made quite the splash already.
For these YT fights, they'll usually put up some kinda stakes too.
The often set a goal that requires getting a bunch of items/gear from tasks that are randomly assigned. And then once each of these players completes their tasks, they'll fight each other to the death!
Both are definitely charismatic and fun to watch.
9.

25 Buttholes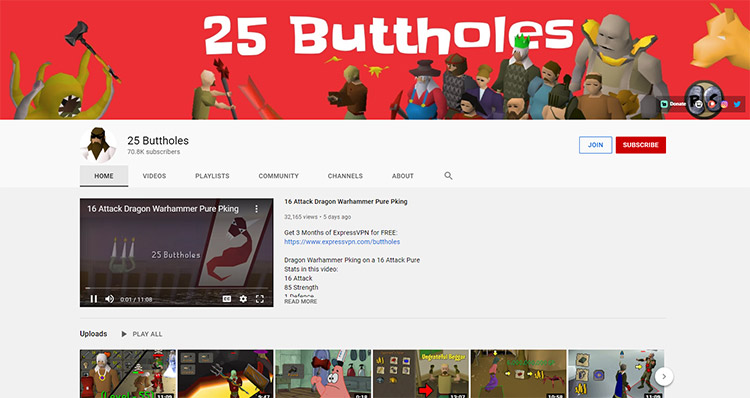 Check Out 25 Buttholes' Channel
This is one of… those YouTubers.
With a name like 25buttholes, you can imagine exactly what kind of content this guy makes. And if you can't imagine, just check out his channel.
Most of his content is made with a "Google voice" modifier, and he often makes fun of serious issues in OSRS – like scamming or botting.
He's almost like an anti-hero on YouTube.
But beyond that, he's made a few very funny RuneScape Music videos that are all worth a watch.
8.

Slayermusiq1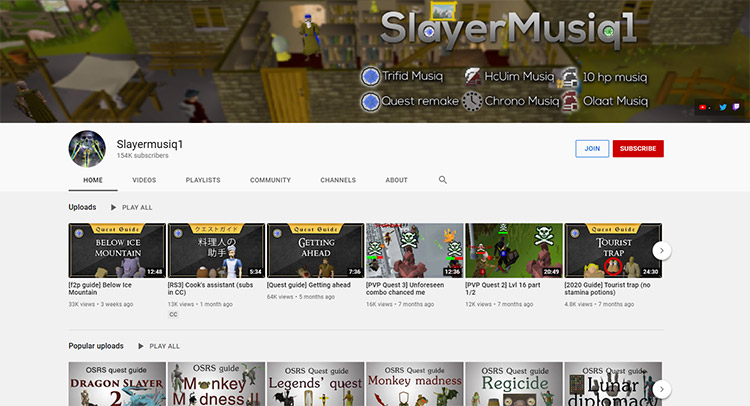 Check Out Slayermusiq1's Channel
"Hello, and welcome to my guide!"
You've probably heard these words if you've watched Slayermuiq's guides before on YouTube.
This dude is a god-send. He's responsible for most of the YouTube quest guides, and his channel has a guide for every single quest where he does the quest, and explains all the items needed, the requirements, and methods to complete each part.
Really, if you need help with quest, consider starting here.
I think most of the OSRS community has used his guides at least once. So if you plan on doing Mourning's End Part II definitely check him out!
7.

Woox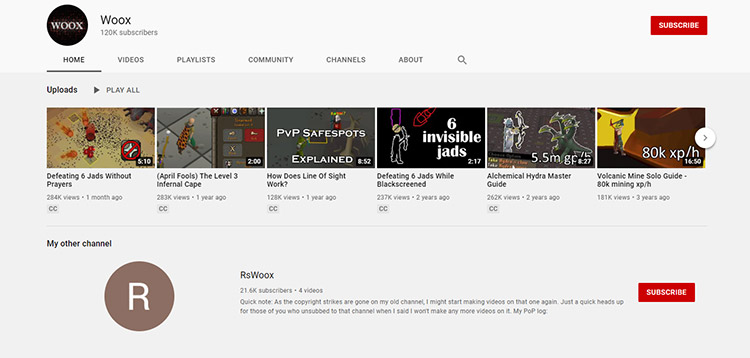 Woox is just… well insane.
He's the unofficial best player on OSRS, as he's done things most people can't even comprehend.
This man must have a super-computer in his brain too, because the things he's doing, are also things that nobody else would dream up.
He literally helped Jagex design the Theatre of Blood, which is one of the toughest raids in OSRS. And then he was the first player to solo it, when it was said to be impossible to solo!
He's beat 6 Jad's without using prayer too.
Woox was the first player to complete the Inferno, which is the hardest challenge in the game, paving the way for the rest of us. He's truly a mind blowing player.
And his YouTube channel documents his insane PvM accomplishments. So if you really want to be wow'd then I recommend giving his channel a watch.
He doesn't upload often, but his uploads are all entertaining.
6.

Theoatrix OSRS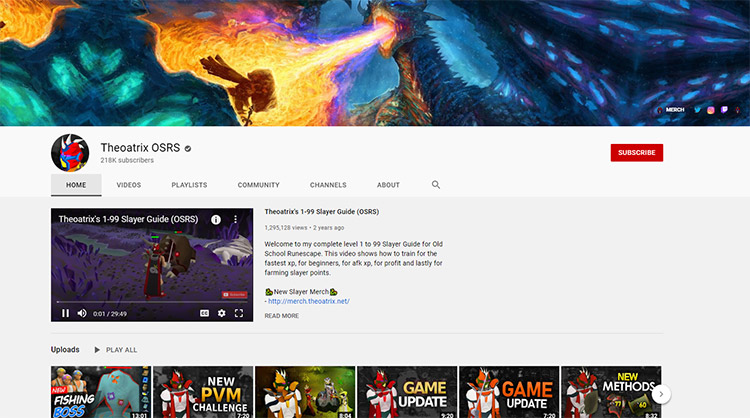 Theoatrix is a fantastic all-around content creator who often gives us the low down on the new updates and new content that gets added into OSRS.
He personally tests the content, and gives us his feedback, in video form.
Beyond this, he also has a ton of level 1-99 skill guides – which are all really useful and up to date. Not to mention a few of his boss guides all seem great too.
He's even covered a few other topics like botting and nerfs. But his focus is primarily on content that helps players progress with their accounts.
Just skim his library and you'll find a bunch of of tips and tricks watching through his content. I highly recommend him to new players.
5.

Sir Pugger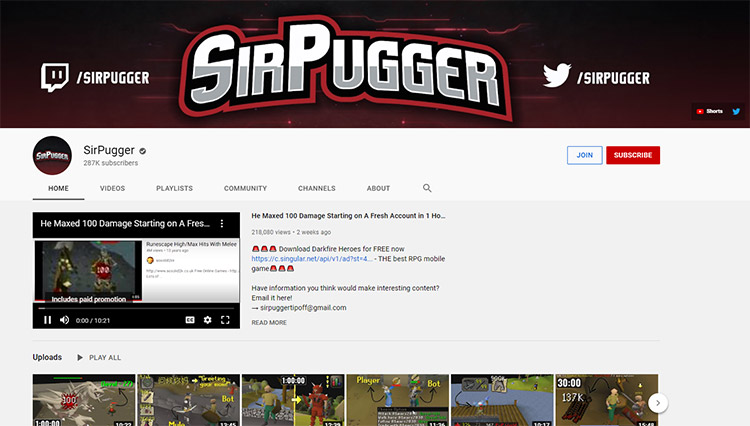 Check Out Sir Pugger's Channel
Sir Pugger in recent months has been focusing on combating the botting and gold farming problem in OSRS, and has made countless videos showing where bots are active and what they're doing.
He has recently even worked with JMods to get a few bot farms banned.
All of these videos are very informative and entertaining – especially when he gears up to try and take em down.
He's also covered exploits and done some pk'ing videos, all of which are pretty fun to watch.
I personally find his video of pretending to be a wilderness lever to be damn funny and ingenious.
If you're looking for some fun & engaging content, go check out his YouTube channel.
4.

Sparc Mac
The boys in the tribe will know Sparc Mac and his antics all too well.
He recently maxed his account after a very long grind, and a big celebration in the community was had.
He often streams on Twitch and uploads fun videos onto YouTube, most of which are him just, well… having fun with the community.
He has held massive Pk'ing events, house parties, done huge drop parties, and of course has been to the duel arena maybe once or twice.
Sparc Mac is well known in the community, and is a very rich player, which allows him to test the new gear and spend money on whatever he likes.
His bank is currently in the tens of billions!
And his Deadman Mode content is also very fun to watch, so I'd recommend checking that out if you've got the time!
3.

C Engineer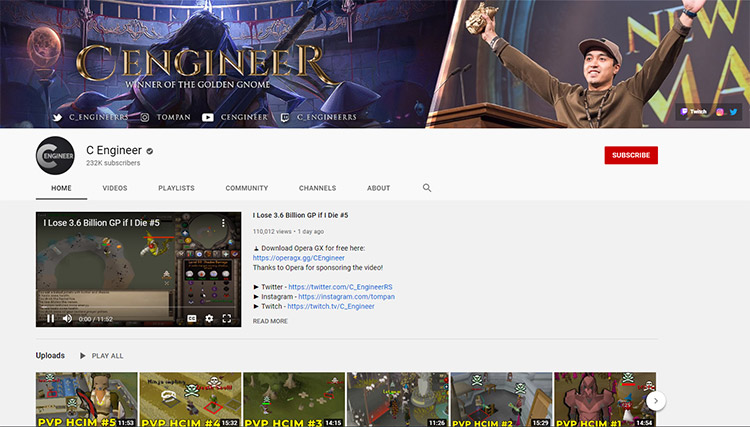 Check Out C Engineer's Channel
C Engineer is certainly one of the most innovative and creative OSRS content creators.
He started out by doing your challenges in-game. Basically you'd write a challenge on his latest video, and if you're lucky he would try doing it.
Some of these were really funny to watch, and extremely entertaining!
He recently has been responsible for creating the trend of HCIM locked in PvP worlds, and then kinda went on a rampage and killed most of them who followed his example.
And he's also started a new HCIM locked to PvP. Let's see how long he lasts, since he has a 2b bounty on his head (as of this writing).
But either way, this guy's a very proficient Pk'er. And I really enjoy his content.
He also uploads often so it's well worth subscribing to his channel.
2.

Torvesta
Torvesta is a Pk'er through and through. And one of the best Pk'ers at in OSRS too.
The man with a bird's nest for a head can switch flawlessly, and will make you sit faster than you'd think.
He also has a very chill personality, and some of his funniest content comes from trolling OSRS streamers.
I'll admit that the videos where he specifically targets another Pk'er "Skill Specs" might be some of the funniest content I've ever watched on YouTube, hands down.
And Torvesta has built various accounts and tried countless methods of Pk'ing. In recent months he started his own HCIM, and has even done a bit of Pk'ing on it.
Overall his content is fun and exciting, and I'd definitely give him a watch to see what you think.
1.

Settled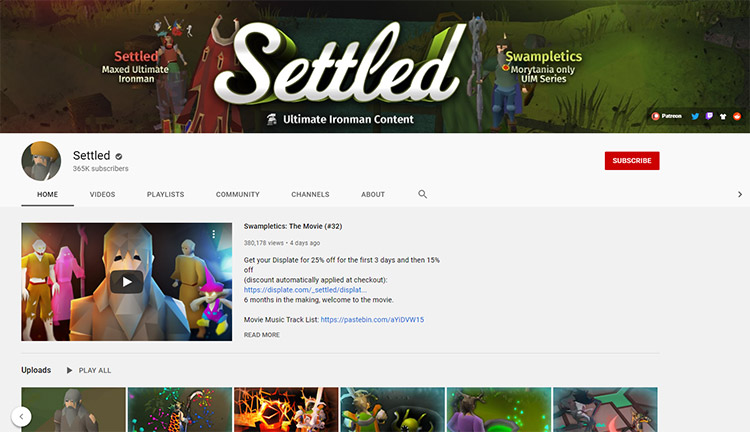 While most people who start an Ultimate Ironman are viewed as crazy, Settled maxed one, which is an unbelievably amazing feat only managed by a few hundred people.
But he wasn't satisfied with that.
So he basically started the most popular OSRS series on YouTube with an Ultimate Ironman named Swampletics.
He was an Ultimate Ironman locked to the Morytania area with the goal of completing the Theatre of Blood.
The series saw its fair share of setbacks, but was ultimately very entertaining to watch. And the community couldn't get enough of it.
He has recently moved back to his maxed Ultimate Ironman with a new goal:
To obtain the rarest and most powerful items in OSRS for his Ultimate Ironman, which would make him one of the only players in the game to have such crazy items on an ultimate.
This guy is committed and very entertaining. If you're big into Old School RuneScape, his channel is worth the time investment.
Browse:
Lists
RuneScape
Video Games